The Training Room: Week 4 Injury Updates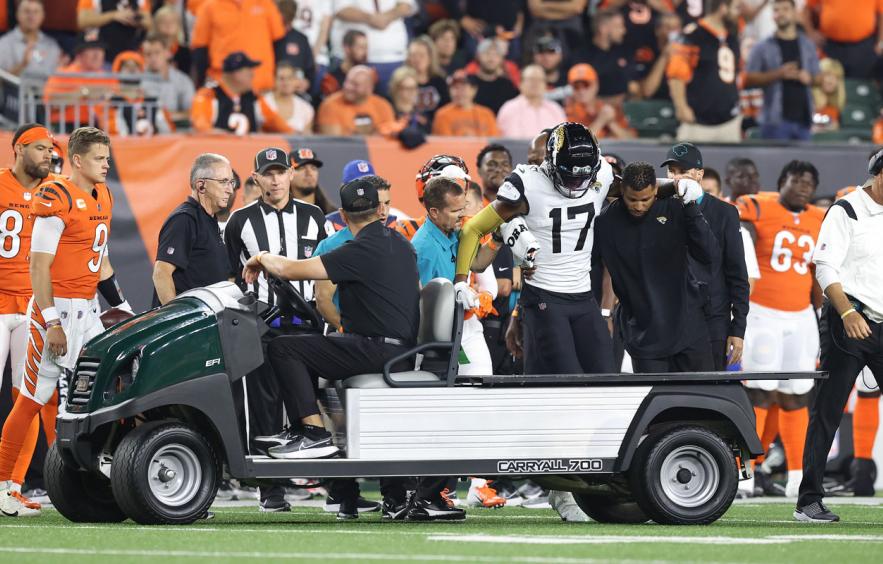 Andy Lyons/Getty Images
Any dog lovers out there? Of course, there are. Who doesn't love dogs? These loyal companions instantly become a part of our families. Always by your side, our dogs are nothing short of best friends. For those who don't know, my dog Mattie is a huge part of my life. If you follow me on Instagram, you will inevitably see a post of Mattie weekly.
Mattie is a golden retriever (the best breed of all time - yes I am extremely biased). Like most dogs, Mattie likes to get into stuff: dirt, mud, ocean water, lake water, mulch, etc. You get the message. Because of her mischief, Mattie's beautiful coat tends to get dirty. My wife and I are diligent about cleaning her but sometimes the fur is beyond repair and needs to be cut out/removed. I hate doing it because she has such a great coat but after a while if I don't, it gets out of control. She needs to be groomed.
As we roll into Week 5 of the NFL season, it's time to cut bait on some players. Remove them from your roster before your record gets out of control. Unfortunately, some of this roster trimming might involve cutting injured players simply because you need a healthy player so you are able to compete next week. I have been a big advocate of holding Jerry Jeudy despite the possibility of him missing 6+ weeks. Uttering "high ankle sprain" makes fantasy managers quiver because of how it affects running backs in the NFL. Typically the effects on wide receivers is less severe. Going back to 2010, RBs see a 20% dip in fantasy production for the rest of the season, compared to only 7% for WRs. For this season I believe Jeudy could return to form when he is able to get back on the field. But if your fantasy team is struggling with three or four losses, I understand if you need to let him go among others. Despite your roster looking pretty after the draft, it might need some grooming.
Joe Mixon

, RB Cincinnati

Bengals
Injury: left ankle sprain - likely high ankle
Timetable for recovery: 1-4 weeks
Potential Replacement(s):
Samaje Perine
Initial Thoughts:
An injury that happened early this week but might have been forgotten about is the injury to Joe Mixon's left ankle. Mixon's injury has seemingly been swept under the rug after his head coach, Zac Taylor called his injury "minor." Reviewing the video it would appear that Mixon sustained a high ankle sprain. Although the severity of this high ankle sprain might be minor, this injury typically is associated with a few games missed. It would not surprise me if Mixon sat next week, making Samaje Perine a sneaky waiver wire stash.
D.J. Chark

, WR Jacksonville

Jaguars
Injury: ankle fracture
Timetable for recovery: NA
Potential Replacement(s):
Marvin Jones

Jr.,

Tyron Johnson
Initial Thoughts:
Very early in Thursday night's football game D.J. Chark exited the game with an ankle fracture. By now most have heard but this injury will effectively end his season. He is safe to drop in all redraft leagues.
Rob Gronkowski

, TE Tampa Bay

Buccaneers
Injury: rib fracture
Timetable for recovery: 4-6 weeks
Potential Replacement(s):
Cameron Brate

,

O.J. Howard
Initial Thoughts:
When I wrote about Gronkowski's injury in last week's Training Room Article, at that time we were told that Gronk did not have any fractures, however, it would need to get some additional tests done. Turns out those additional tests found that Gronkowski actually did have a fracture, several to be exact, with a punctured lung. It could take several weeks for Gronkowski's fractured ribs to heal.
Elijah Mitchell

, RB San Francisco

49ers
Injury: shoulder
Timetable for recovery: 1-2 weeks
Potential Replacement(s):
Trey Sermon
Initial Thoughts:
When Elijah Mitchell originally popped up on the injury report, we were told that he was dealing with a stinger. Later Kyle Shanahan informed the media that Mitchell's injury was a little bit more severe than just a stinger. It is possible that Mitchell was also dealing with an AC joint sprain since stingers usually do not result in a multi-week absence. The average games missed for an RB with an AC joint sprain is two. I am optimistic that fantasy managers who spent a majority of FAAB on the 49ers RB will have him back in Week 5.
David Montgomery

, RB Chicago

Bears
Injury: knee (unspecific)
Timetable for recovery: 2-6 weeks
Potential Replacement(s):
Damien Williams
Initial Thoughts:
Late in the game vs. the Detroit Lions, David Montgomery sustained a scary knee injury which ended his day. Initial testing is optimistic that Montgomery did not sustain a season-ending injury (such as an ACL tear) but that does not mean he is out of the woods. Montgomery's left knee is blocked in the game replay, but word is that it was a hyperextension injury. This means there are a lot of possibilities regarding how much time Montgomery could miss. A bone bruise could mean Montgomery could miss ~2 weeks, while damage to his MCL, LCL or PCL (knee ligaments that could be injured when the knee is hyperextended could mean that Montgomery ends up on IR and miss 4-6 weeks. We will have more information this week, but make preparations to be without Montgomery in the near future.
Dalvin Cook

, RB Minnesota

Vikings
Injury: ankle sprain
Timetable for recovery: 1-2 weeks
Potential Replacement(s):
Alexander Mattison
Initial Thoughts:
Early in the second half, Dalvin Cook re-aggravated his right ankle and exited the game briefly before returning. Granted, Cleveland has a stout run defense, Cook did not have a great afternoon, averaging under four yards a carry. Minnesota could elect to shut down Cook the next two weeks to give him time to fully recover, as Alexander Mattison has proved to be competent in the past.
Logan Thomas

, TE Washington

Football Team
Injury: hamstring strain
Timetable for recovery: 2-4 weeks
Potential Replacement(s): Ricky Seal-Jones
Initial Thoughts:
Logan Thomas left the game early on Sunday with a hamstring injury and did not return. We have seen the dreaded hamstring injury pop up many times this season and thus far it has resulted in a few missed games. Hamstring data for tight ends is similar to other skill positions, meaning that Thomas could be out a minimum of two weeks.
Will Fuller

, WR Miami

Dolphins
Injury: hand (unspecific)
Timetable for recovery: NA
Potential Replacement(s):
Jaylen Waddle
Initial Thoughts:
Will Fuller injured his hand Sunday and did not re-enter the game. His last target in the second quarter did not show an obvious injury. If Fuller fractured a finger he could miss 1-3 weeks while a more serious injury like a UCL sprain could mean 3+ weeks missed. Hopefully, by early next week, Miami relays the severity of the injury.
Teddy Bridgewater

, QB Denver

Broncos
Injury: concussion
Timetable for recovery: 1-2 weeks
Potential Replacement(s):
Drew Lock
Initial Thoughts:
Teddy Bridgewater will be in concussion protocol this week. It is not uncommon for quarterbacks to miss a game due to a concussion. Each one is different, there is no grading system for the severity of each concussion. Eligibility depends on how the player is able to respond during the following week. On a positive note, players listed as questionable with a concussion on the final injury report played 90% of the time. Typically if a player is going to miss, they are ruled out sooner. Follow Denver's practice reports for insight on Bridgewater's Week 5 availability.
Jimmy Garoppolo

, QB San Francisco

49ers
Injury: calf strain
Timetable for recovery: 2-4 weeks
Potential Replacement(s):
Trey Lance
Initial Thoughts:
Jimmy Garoppolo is no stranger to lower-body injuries and was hit with another when he was removed prior to the second half with a calf injury. There is concern it could be a serious injury, as Garoppolo will get an MRI this week. Soft tissue injuries like calf strains can take 2-4 weeks to fully heal which leaves the door open for Trey Lance to steal the starting job.
Past Injuries Discussed: