Underdog Battle Royale Picks: Week 10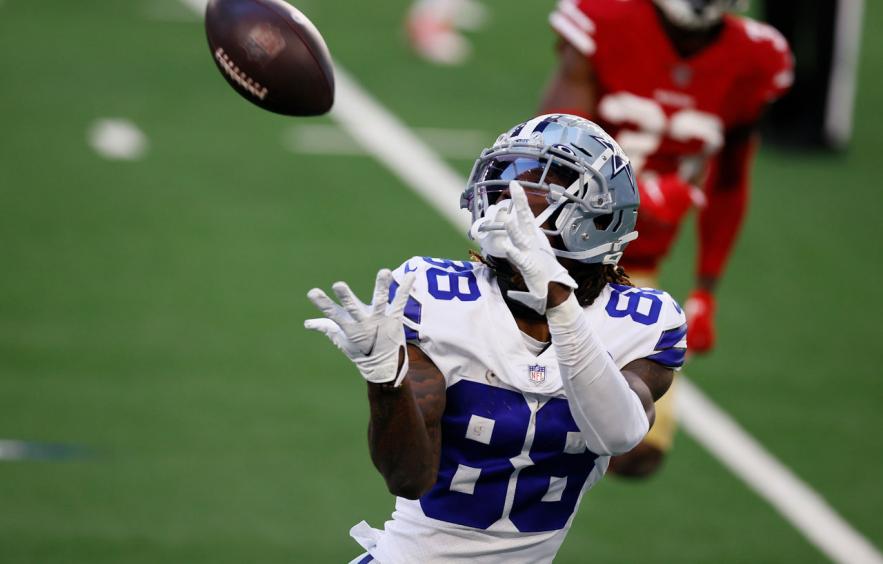 Tom Pennington/Getty Images
If you're like me, then Week 9 of your fantasy season, or even just the NFL season in general, is a week you'd like to completely remove from your mind. There were moments this past week where I felt like the league needed a hard reset, only for those thoughts to later be confirmed when I saw Elijah Moore and James Conner finish as the highest scorers at each of their positions for the week.
It's true. Most of what Week 9 had to offer was bad, underwhelming football, that came to a head on Monday night when Bears linebacker Cassius Marsh was penalized for the referee running into him.
You read that correctly.
Anyhow, here's hoping for a better tomorrow in the NFL, its on-field product, and of course, your fantasy teams.
Here are some players I like heading into Week 10 of the Underdog Battle Royale Tournament.
Week 10 Spread and Over/Under
Dallas (-9) vs. Atlanta - O/U 54.5
Los Angeles Chargers (-2.5) vs. Minnesota - O/U 52.5
Las Vegas (+2.5) vs. Kansas City - O/U 52
Washington (+9.5) vs. Tampa Bay - O/U 51.5
Green Bay (-3.5) vs. Seattle - O/U 49.5
Indianapolis (-10.5) vs. Jacksonville - O/U 47.5
New England (-1.5) vs. Cleveland - O/U 45
Tennessee (-3) vs. New Orleans - O/U 44.5
Arizona (-6) vs. Carolina - O/U 44.5
Quarterbacks
Matt Ryan

, Atlanta

Falcons

Both quarterbacks in this game are intriguing options in what is currently projected as the highest-scoring game on the slate, but Matt Ryan gets the nod if only for being at a lower cost to acquire in drafts and the fact that he could still come out with a productive day in a game that could unfold as a shootout.

On the season, Ryan is averaging 17.8 fantasy points per game but has high scores of 21.6, 28.5 and 29 points. Last week against the Saints, Ryan posted 28.5 fantasy points when he threw for 343 yards, two touchdowns and no interceptions in Saturday's 27-25 win.

Ryan has thrown for two or more touchdowns in all but two games this season, and should need to throw plenty in this weekend's matchup against the Cowboys. He could also be easy to stack with other Falcons teammates, given that drafters aren't currently paying up to draft wide receiver Calvin Ridley.

Our rankings project Ryan as the overall QB14 on the week at 17.1 fantasy points.
Carson Wentz

, Indianapolis

Colts

Next Sunday could be a complete and total trap game for Carson Wentz and the Colts when they face the Jacksonville Jaguars. Heck, it was for Josh Allen and the Bills last weekend when Jacksonville beat them 9-6. But I like Wentz as a potential value play this weekend.

Wentz may never be able to shake the fact that he's viewed as a meme quarterback by NFL watchers and fantasy gamers at large, but that doesn't mean he's been bad this season. On the year, Wentz is averaging 18.2 fantasy points per game, but does have two games of over 20 fantasy points on his resumé for the season.

Wentz has thrown two or more touchdowns in each of his last five games, and even managed to mix in a rushing touchdown against the 49ers in Week 7 when he finished the day with 20.3 fantasy points (QB10).

The Jaguars are allowing the 12th most fantasy points to opposing quarterbacks as it stands right now, and our rankings project Wentz as the overall QB9 for this week with 18.7 fantasy points.
Running Backs
Ezekiel Elliott

, Dallas

Cowboys

The best time to go after Ezekiel Elliott is when the market has appeared to sour on him after multiple disappointing weeks. Heading into Week 10 against the Falcons, it's safe to say that Elliott has reached "buy" territory for this weekend.

Elliott is averaging just 11.9 fantasy points per game over his last three contests, despite averaging 20.3 opportunities per game in the same span. Now, Zeke did exit early in Week 9's loss to the Broncos with what has been classified as a knee bruise, but head coach Mike McCarthy has already said he expects Zeke to play against the Falcons.

As it stands right now, Elliott is projected as the overall RB6 on the slate by Underdog at 16.0 fantasy points. Interestingly, our projections rank Elliott as the overall RB10 on the week, but at 16.5 fantasy points. The galaxy brain pivot here would be getting ahead of the market on Tony Pollard in case Zeke is either ruled out or sees limited snaps this week.
James Conner

, Arizona

Cardinals

The Arizona Cardinals will be without running back Chase Edmonds for the next several weeks after Edmonds suffered a high ankle sprain in Week 9's win over the San Francisco 49ers. As a result of that injury, Sunday turned into Turn Back the Clock night in San Francisco, as Conner gave us a vintage fantasy performance reminiscent of his 2018 season with the Steelers.

Conner finished as the overall RB1 on the week with 37.8 fantasy points thanks to a rushing line of 21/96/2 and a receiving line of 5/77/1. For at least a week, Conner looked like the best running back in football.

Now Conner and the Cardinals get a matchup against the Panthers which our rankings do suggest is the fifth most difficult matchup on the weekend. This makes sense given that Carolina is allowing the fourth-fewest fantasy points to running backs on the season.

If Conner is able to enjoy another solid fantasy day, it could be attributed to Arizona's commitment to running the ball this season. The Cardinals currently rank fifth in the league with an overall rush rate of 46%, and ninth in the league with a 45% rush rate in neutral game scripts.

Our rankings project Conner as the overall RB9 on the week with 16.5 fantasy points, while Underdog currently ranks him as the overall RB11. You could see him slip to you multiple times in Battle Royale drafts.
Wide Receivers
Michael Pittman

Jr., Indianapolis

Colts

Colts second-year wide receiver Michael Pittman Jr. has now scored in three-straight games for the Colts, and has a receiving line of 50/658/5 on the season with 77 targets. Pittman is currently the WR16 in fantasy points per game (13.5) and is averaging 19.7 fantasy points over his last three games.

He and Wentz appear to have developed a nice connection with one another this season, which could continue this weekend against a Jaguars team that is allowing the eighth-most fantasy points to wide receivers on the season.

Pittman has been putting in work all season for the Colts, averaging 5.6 receptions per game to go with 73.1 yards per game and 0.56 touchdowns per game.

What I love about this Pittman pick is that our rankings have him projected as the overall WR6 on the week at 15.3 points. Underdog fantasy rankings, which also set their default draft order, have Pittman ranked as the WR12.
CeeDee Lamb

, Dallas

Cowboys

If there's one group of players I want to leave Underdog Battle Royale drafts with this weekend, it's Dallas Cowboys wide receivers. As previously mentioned, this game currently has the highest projected total on the weekend, and our rankings project CeeDee Lamb and Amari Cooper to finish as the overall WR12 and WR17 on the week, respectively.

Lamb currently ranks as the WR15 on the season at 13.7 fantasy points per game, which is no surprise given how electric he has been throughout the year. He has gone for over 100 receiving yards in three games this season, and is averaging 5.1 receptions and 79 receiving yards per game.

Atlanta is allowing the 15th most fantasy points to opposing wide receivers on the year, as teams are posting 2.13 passing touchdowns on them per game - the third-most passing touchdowns/gm allowed in the league.

Tight Ends
Pat Freiermuth

, Pittsburgh

Steelers

Steelers rookie tight end Pat Freiermuth is quickly becoming a weekly must-start at the tight end position in start/sit leagues.

It's likely no coincidence that the Steelers lost wide receiver JuJu Smith-Schuster for the season in Week 5 due to a shoulder injury, and that since Week 6, Freiermuth is averaging 6.7 targets per game, 5.3 receptions per game, 48.3 yards per game and 1.0 touchdowns per game.

Since Week 6, has been the overall TE2 with 13.5 fantasy points per game, with his biggest game of the year coming last Monday night against the Bears. In that game, Freiermuth caught five of six targets for 43 yards and two touchdowns, finishing the day with 18.8 fantasy points.

Now, Freiermuth and the Steelers get their crack at the lowly Detroit Lions. Detroit has allowed the 11th fewest fantasy points to the tight end position this season, but our rankings still have him projected as the overall TE10 on the week with 9.2 fantasy points. After Kyle Pitts and T.J. Hockenson are off the board in drafts, Freiermuth is who I want next for this weekend's slate.
Dan Arnold

, Jacksonville

Jaguars

There aren't a lot of great tight ends available on this weekend's slate, with the Chiefs, 49ers and Raiders all playing on either Sunday night or Monday night. Mark Andrews and Mike Gesicki face one another on Thursday night when their teams collide in Miami, as we're left scrounging for what's left at the tight end position this week.

One steady constant at the tight position as of late has been Jaguars tight end Dan Arnold, who has turned into a top target for rookie quarterback Trevor Lawrence since being traded to Jacksonville ahead of Week 4's game against the Bengals.

Over the last four weeks, Arnold has averaged 7.5 targets per game, which includes a season-high 10 targets in Week 8 against the Seahawks. Arnold is only averaging 6.8 fantasy points per game since joining the Jaguars but is averaging 54.8 yards per game over the last four weeks.

The trouble with Jacksonville is that they don't score many touchdowns, but Arnold is seeing enough volume that should give drafters confidence in his ability to sneak in some top-12 TE weeks during the second half of the season.

Our projections have Arnold as the overall TE13 this week at 8.2 fantasy points.