Will Miles Sanders's Talent Equal Fantasy Success in 2021?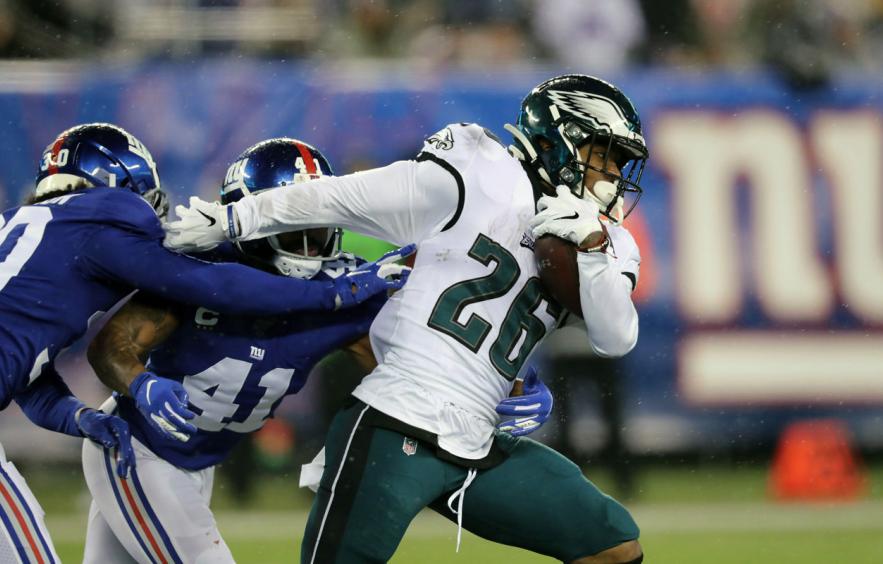 Al Pereira/Getty Images
After an injury-plagued 2020 season, Miles Sanders is one of the biggest fantasy mysteries at the running back position. Having displayed high highs in 2019 and low lows in 2020, fantasy managers are justified in being skeptical of Sanders' productivity for the 2021 season. Sanders is a risky pick this season but could pay dividends as a sneaky fantasy RB1, who currently has an ADP of RB19 in half-PPR scoring formats.
---
Editor's Note: Read more player profiles from the 4for4 staff!
---
Miles Sanders

's Career Review

Before we discuss what Sanders can do in 2021 for fantasy football, we need to go back in time to see what he already has done. Way back in the yesteryear of 2019, Sanders burst onto the fantasy football scene as a rookie. After veteran running back Jordan Howard was lost for the season due to a shoulder injury, the man who was Saquon Barkley's backup at Penn State, the 2019 second-round pick for the Philadelphia Eagles, quickly proved his worth as an NFL starter. Having only started 11 games as a rookie, Sanders accumulated 818 rushing yards, 3 rushing TDs, 50 receptions for 509 receiving yards, along with 3 receiving TDs. These impressive statistics led to an RB14 finish in half-PPR formats. It seemed like Sanders was well on his way to being the next great fantasy running back. So, what happened?
When Hype Rises, ADP Moves With It
Fast-forward to the 2020 season. Sanders was consistently drafted at the back-end of the first round and the start of the second round in fantasy drafts. He was every fantasy analyst's offseason breakout darling. Many are quick to call Sanders a fantasy bust, but that label doesn't tell the entire tale of the player. Contrary to popular belief, Sanders was not bad for fantasy in the games he played last season.
In only 12 games played in 2020, Sanders finished with 867 rushing yards, 6 rushing TDs, 28 receptions and 197 receiving yards. These statistics led to an RB23 finish in half-PPR, with a per-game average of the RB18. The issue with Sanders last season was not a matter of talent, but a matter of high expectations. Fantasy managers expected Sanders to take a massive leap forward into the elite tier of fantasy running backs. When a player doesn't make that leap, we are less prone to take another chance on them the following season. So, why didn't Sanders meet these lofty aspirations?
To put it lightly, the Philadelphia Eagles were not a good football team last year. The Philadelphia Eagles finished with the 26th-ranked scoring offense and a 4-11-1 record, good for dead last in the NFC East. With the inconsistent quarterback play from then face-of-the-franchise, Carson Wentz, the Eagles never found their stride as an offensive unit. Combine offensive inconsistencies with an injury-depleted offensive line, injuries to Sanders and it becomes easy to see why the running back didn't live up to your expectations in 2020.
Despite these challenges, Sanders actually got better in most rushing statistical categories in 2020. Sanders averaged 5.3 yards per carry (4.6 in 2019), 72.3 yards per game (51.1 in 2019), earned 3 more rushing TDs, and averaged 13.7 rushing attempts per game, up from his 11.2 rushing attempts per game in 2019. The one area of Sanders' game that got significantly worse was his passing game efficiency. Sanders's pass-catching statistics plummetted in 2020. In 2020, Sanders only had 28 receptions (50 in 2019) on 52 targets (63 in 2019), for 7.2 yards per reception (10.2 in 2019). Sanders also had no receiving TDs in 2020, compared to his 3 receiving TDs in 2019. In half-PPR leagues, this lack of receptions and receiving TDs will kill the value of a fantasy running back who was projected to match or exceed 50 receptions.
What to Expect for the 2021 Season
Going into the 2021 season, there are reasons to believe in Sanders again as a viable fantasy RB1. The return of a healthy O-Line, improved offensive weapons and namely, Jalen Hurts, shows good things are to come this year for Sanders's fantasy prospects. A popular narrative regarding Hurts and Sanders is that Hurts will take away from Sanders's fantasy value this year. This couldn't be further from the truth. Sanders's per-game averages across the three games he started with Jalen Hurts were: 78.6 rushing yards, 1 rushing TD, 3 receptions and 24.66 receiving yards. These numbers in terms of fantasy points averaged out to 17.82 points-per-game in half-PPR leagues, which would have been a better per-game average than the following running backs in 2020: David Montgomery, Aaron Jones, Jonathan Taylor, James Robinson, Josh Jacobs, Nick Chubb, Kareem Hunt, Ezekiel Elliot. The list goes on, but I think you get the point.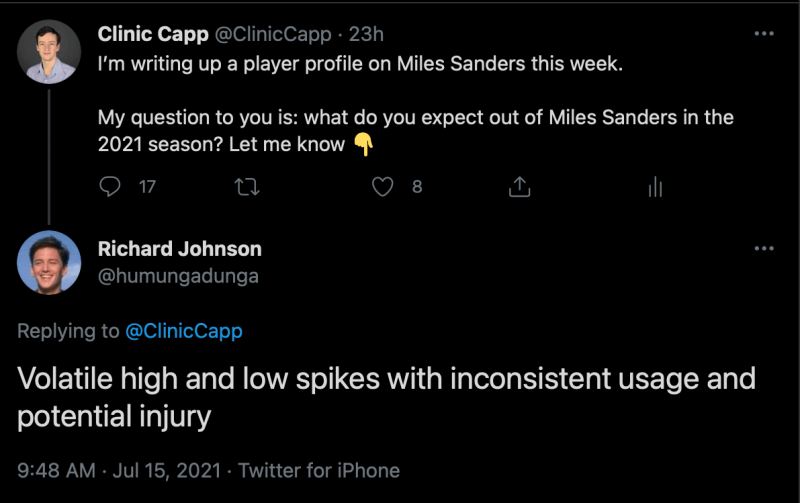 A true concern for Sanders' fantasy value in 2021 is new head coach Nick Sirianni's insistence on adding more mouths to feed in the backfield. The former Indianapolis Colts offensive coordinator is noted for running a committee backfield approach. In drafting Kenneth Gainwell, a 2021 fifth-round draft pick from the University of Memphis, the Philadelphia Eagles added arguably the best pass-catching back out of the entire 2021 class.
Coupling this with the addition of former Detroit Lion's running back Kerryon Johnson and it seems like Sirianni wants to build out a backfield that can absorb an injury to Sanders if it were to happen again. I am not betting on a fifth-round draft pick to significantly eat into Sanders's passing work, but he should cause some caution on the pass-catching upside of Sanders this year. Should Sirianni decide to use Gainwell as his new Nyheim Hines, Sanders will be more frustrating to roster in half-PPR leagues.
While Sanders's sample size with Hurts is small, it is an encouraging one. The rushing threat of Hurts forced defenses to prepare for more than just one rusher every week, which is likely what led to Sanders's increased efficiency in his last three games of the season. If Sanders can maintain the chemistry in the passing game we saw with Hurts in three games last season, then a path to a fantasy RB1 season becomes much more viable than previously believed for Sanders. At an ADP of RB19 in half-PPR formats, Sanders is a likely candidate to outperform his draft position and could be a potential league-winner if he hits his ceiling outcome.

The Bottom Line
Miles Sanders has proven to be a top-tier running back in fantasy football when healthy, finishing as the RB13 in 2019 (despite playing 11 games) and RB23 in 2020 (while playing 12 games) in half-PPR formats. He comes with his risks, but the upside is there.
The emergence of new starting QB Jalen Hurts increased Sanders's rushing and passing game efficiency, which should lead to a productive 2021 season.
Sanders's current ADP of RB19 in half-PPR format leaves plenty of meat on the bone at that value, as he could pay off as a discounted fantasy RB1 by the end of the 2021 season. Target him at his current price point in your fantasy drafts.
Per Underdog ADP, Sanders is being drafted at 25.7, just behind J.K. Dobbins. I would be targeting Sanders at the 21.0-23.0 range in Underdog ADP.