Myles Gaskin is Fantasy's Cheapest Bellcow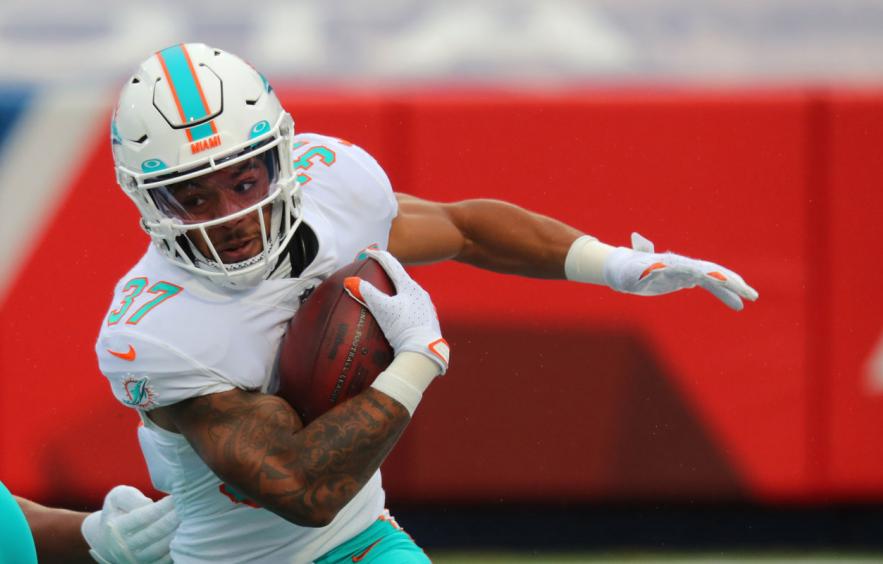 Timothy T Ludwig/Getty Images
A breakout sophomore season was marred by a sprained MCL and a brief stop on the COVID-19 list, but when Myles Gaskin was healthy he produced consistent numbers for us throughout the 2020 season. Returning a hefty yield on value in all formats of fantasy football, the 10 games Gaskin was on the field contributed mightily towards our bottom lines despite being waiver wire fodder to begin the year. Looking forward, the third-year running back out of the University of Washington might have even less competition for touches in 2021 than he did in his second season.
---
Editor's Note: Read more player profiles from the 4for4 staff!
---
Below we will look at his career up to this point and what sort of outlook we can anticipate from a player no one expected to sniff the top of the depth chart just 10 short months ago.
Young Dolphin Gets Fed A Boatload
Entering into Week 1 of the 2020 season, it was all but a certainty that Jordan Howard would be the number one option coming out of the Dolphins backfield, with Matt Breida —who had recently been acquired from the 49ers for a fifth-round pick— soaking up the passing down work. While offensive coordinator Chan Gailey laughed at all of our Howard and Breida fantasy shares (and how funny those shares seem in hindsight), Miami unleashed Myles Gaskin to the tune of a 63% snap share while Breida (23%) and Howard (15%) were afterthoughts from the onset of the season. While healthy, Gaskin remained in that 60-70% snap share while Howard was completely phased out of the offense and Breida floated between healthy scratches and special teamer. Football is a cruel mistress.
Miami

Dolphins

RB Production, 2020

| Player | Rush Attempts | Y/A | Yards After Contact/Att | Brkn+Missed Tkl% | Targets | Y/Target |
| --- | --- | --- | --- | --- | --- | --- |
| Myles Gaskin | 142 | 4.1 | 2.4 | 10.6 | 47 | 8.3 |
| Salvon Ahmed | 75 | 4.3 | 1.7 | 2.7 | 14 | 4.4 |
| Matt Breida* | 59 | 4.3 | 1.9 | 1.7 | 10 | 9.6 |
| - | - | - | - | - | - | - |
| Malcolm Brown** | 101 | 4.1 | 1.5 | 6.9 | 33 | 4.9 |
*Now with Buffalo Bills
**Played for Los Angeles Rams in 2020
Gaskin was the most efficient running back in all aspects of the game amongst his teammates (and challenging future number two running back, Malcolm Brown) in 2020, eschewing his relatively small (5'10", 195 pounds) size and grinding out yardage after contact. But where he earned a majority of his fantasy points was through the air, where he was targeted 47 times for 41 catches and 388 receiving yards, ranking 15th and seventh, respectively, despite playing in only 10 games. He was fourth in receiving yards per game amongst running backs behind Alvin Kamara, Christian McCaffrey, and Austin Ekeler, and, just as importantly, his usage didn't fluctuate when rookie Tua Tagovailoa took over at quarterback for Ryan Fitzpatrick.
As an added usage bonus, Gaskin also received 21 rushing attempts from inside the 10-yard line (16th-most), and though it would be reasonable to assume the signing of a much-larger Malcolm Brown could cut into that goal-line usage, you would have to do so while ignoring the 18 such carries that Salvon Ahmed and Jordan Howard combined for. It's fair to assume that our subject can hold tightly to a 50-60% touch share when near the opponents' end zone.

Myles of Usage
The 2021 NFL Draft came, and the NFL Draft went. The Miami Dolphins had seven selections to make, including five in the top-100. If any one of those picks would have been a running back, it likely would have meant a fantasy abyss for Myles Gaskin. Instead, they used two of them on new weapons for sophomore Tagovailoa and a third to select a mauling run-blocking offensive tackle. By the time the team addressed the position, it was with the 244th pick (Gerrid Doaks), all but cementing Gaskin in the lead role.
Joining them in the backfield will be Salvon Ahmed (who backed up Gaskin in college at Washington) and newly signed Malcolm Brown, who has two career starts since signing with the St. Louis (yes, St. Louis) Rams as a UDFA in 2015. Though he has been active throughout all those years with the Rams, he has accumulated a total of 1,515 scrimmage yards in his career. Brown will no doubt get some usage in short-yardage areas where the 30-pounds he has on Gaskin can be best utilized to move piles. Regardless, the fact that Miami was able to offer him the 11th-most guaranteed money amongst this year's free-agent running back class should give some insight into not only their usage plans for him but also how the rest of the league valued him, placing a higher price tag on 10 other RBs.
The Gaskin MCL injury is a concern purely from a re-aggravation standpoint but the team has made every indication that it is not apprehensive, all but screaming from the sandy beaches of southeastern Florida that Myles Gaskin will be the one standing beside or behind their franchise quarterback for the majority of 2021. On a seemingly ascending offense in which he is likely to flirt with 60% of the backfield touches, Myles Gaskin has arisen from fantasy afterthought to rock-solid RB2 over the course of the last calendar year. John Paulsen's RB21, Gaskin makes for a great second or third addition to your fantasy team, depending on your draft position.
Bottom Line