How Andy Dalton to the Bears Impacts Fantasy Football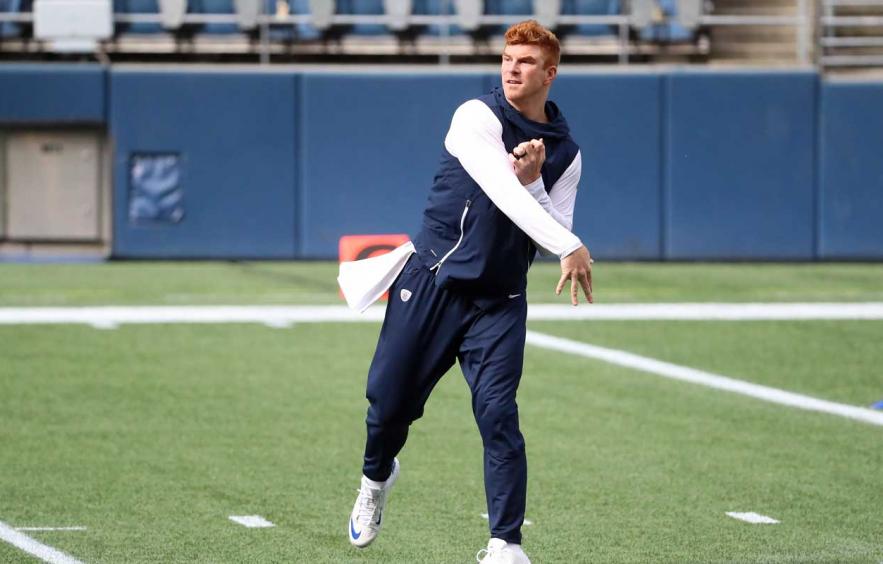 Abbie Parr/Getty Images
On March 16th after a failed attempt to acquire Russell Wilson for what seemed like a strong package that included three first-round picks, a third-round pick, and two players, the Bears ended up with Andy Dalton in a string of feeble attempts to acquire a quarterback. To understand where the Bears are now, we must understand where they came from.
Bears

Recent Quarterback History

Since the hiring of Ryan Pace, the Bears have been trying to replace Jay Cutler who played 20 games in Pace's first two seasons as GM. His first move was to pay Mike Glennon $43.5 million on a three-year deal and sell him as the future of the position, one that lasted from March 10th, all the way up until the end of April when Pace traded up from No. 3 to No. 2 in order to draft Mitchell Trubisky.

The Bears gave up the No. 3 pick, their third-round pick (No. 67), one of their fourth-round picks (No. 111) and a 2018 third-round pick to move up and take Trubisky. Not to mention drafting Trubisky over the likes of Deshaun Watson, and in hindsight Patrick Mahomes, the Bears moved forward with Trubisky as their quarterback after just four games from Mike Glennon. In 2018, the Bears added a backup to Trubisky in the form of Chase Daniel on a two-year, $10 million-dollar deal. Trubisky had a promising 2018 season, tossing 24 touchdowns to 12 interceptions and also adding some value with his legs before regressing in 2019 and 2020.

Due to his regression in 2019, a team with a Championship-level defense was forced to look for other options—the Bears traded their fourth-round pick (No. 140) for Nick Foles and the remainder of his fairly fat contract (3 years $24 Million). This deal also happened while Dalton was a free agent meanwhile, so I guess good on Pace for admitting he was wrong, yet again.

All in all, each and every move Pace and the Bears have made at quarterback has been an abject failure, and while many laughed at the Dalton move, it is probably the best move made by the Bears to address the quarterback position in the short-term, especially when considering five quarterbacks could be off the board when they pick in April. With a lame-duck GM, you don't want any more long-term assets paid out by a guy who won't be running the show, and Dalton accomplishes that. The Bears didn't want to be the hot girl who gets left with no date to the prom, so they tasked the red-headed nerd.
How
Andy Dalton

's Arrival Impacts the

Bears

In 2018, the Bears were a hot offense that everyone wanted a piece of. Since then the offense has basically devolved to Allen Robinson, David Montgomery, and no one else. Matt Nagy has shuffled play-calling responsibilities between himself and others on his staff—meanwhile, the "BE YOU" written on his play sheet has remained. In 2020, the Bears pass rate in neutral situations was 57.1%, good for 20th in the league. The Bears' offense struggled for much of the season, but they did seem to put it together late in the season on the back of David Montgomery 33 points per game average between Weeks 12–16. In those games, Montgomery had 100 scrimmage yards in each, and the Bears passing game averaged under 250 yards a game. The real funny (sad) thing is, if a Bears quarterback averaged just 240 passing yards a game for a full 16-game season, they would be the Franchise's single-season record holder for passing yards as the current record is 3,838. Dalton has thrown for over 4,000 yards twice in his career.

For fun, or torture, let's compare the Bears single-season franchise records in other categories to Dalton's:

Dalton may no longer be a cornerstone player, but after returning from injury in Week 10 last season, he completed 66.5% of his passes for 245 passing yards and totaled 13 touchdowns to five interceptions. Dalton did play in a more conservative offense in 2020, throwing deep just 15.2% of the time, and has not pushed the ball down the field at greater than a league-average pace since 2015 when he did so 21.2% of the time. The Bears, however, pushed the ball down the field at the seventh-highest rate in the league last season so it will be interesting to see how those merry up.

Dalton (no current ADP on BB10) will likely end up as a high-end QB3, with less value than Trubisky had when he was the starter since Dalton's rushing value has diminished since entering the NFL. While Dalton may not be an upgrade to the quarterback position, he could be a boost to other pieces in this offense. Dalton has long leaned on his number one receiver, which means good things for franchise-tagged receiver Allen Robinson to continue to see the near 10 targets a game as he has over the last two seasons. He also loves his tight ends near the red zone which is good news for Jimmy Graham coming off an 8-touchdown season.

Between 2011 and 2018 Andy Dalton targeted A.J. Green 9.25 times per game, just below A-Rob's 9.44 targets per game last season. Maybe pairing with Dalton will actually be a boon for Robinson as Green averaged nearly 15 yards a catch with Dalton in Cincy—the more likely scenario, though, is that he keeps his lower average target depth in his Bears uni for another season. While Dalton supported target rates below league average to tight ends in eight of his 10 career seasons, his Bengals TE groups had at least five touchdown receptions in every single season and ranked above league average in touchdowns every season during his tenure.

The Red Rifle is also adept at using his running backs in the passing game, and distributes the ball at league average rates to all three offensive skill positions. With Tarik Cohen returning from injury, David Montgomery's 88.5% share of the backfield was already slated for a decrease—it likely remains stagnant with the addition of Dalton. At this point, everything for the Bears offense looks relatively the same, except for a likely decrease in QB rushing productivity which has shown to have some effects on things like RB target rates and running back efficiency. For Dallas, who paid just $3 million for Dalton's service last year, they are hoping no one other than Dak Prescott has to take snaps for them for a while after signing his mega-deal, so the team will likely search for an experienced backup or go with the young combo of Ben DiNucci and Cooper Rush.
The Bottom Line
Robinson and Montgomery will remain as the main attractions, but getting more than WR5 production out of a secondary receiver looks to be a pipe dream. At Robinson's current ADP of 26th overall, he seems like a strong WR1 candidate for a fantasy team that starts RB/RB with legitimate 100 reception upside. Montgomery's ADP of RB20 and 58th overall also seems like a safe investment with Dalton under center. The rest of the Bears offense is likely no more than a bye-week fill or a touchdown-dependent boom or bust play most weeks. With the Bears, the more things change the more they stay the same. A passing game projection will likely look similar with Trubisky or Dalton under center, while there are likely slight adjustments to be made in the rushing game. This offense will likely be a bottom-10 unit in the league again in 2021.
Even with a new quarterback in town, the Bears are who we thought they were.
And fans need to stop letting the team off the hook.