Do the Bears Have Trustworthy Receiving Past Allen Robinson?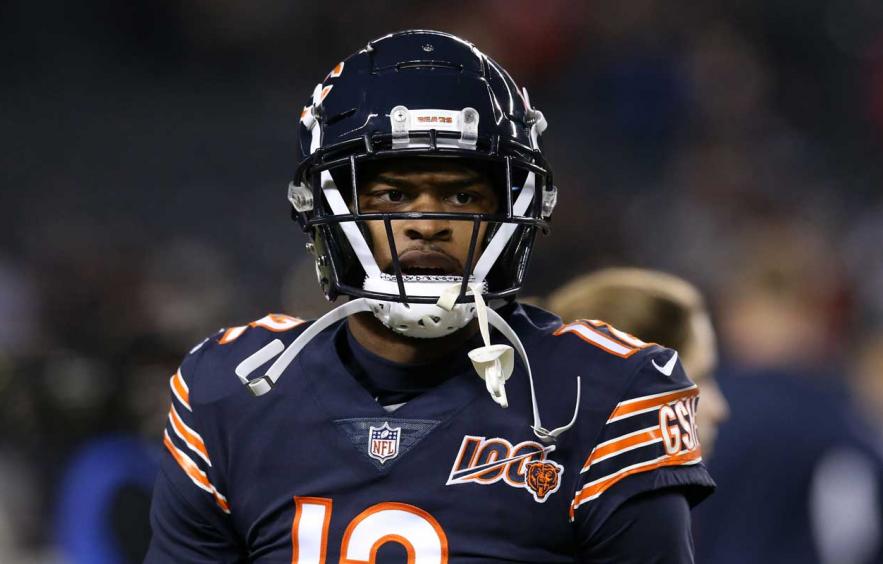 Dylan Buell/Getty Images
The Chicago Bears entered the offseason with a lot of holes to fill on their roster and little draft capital or money to do so. After their annual restructuring of contracts, Bears management had to move on from Kyle Fuller and Charles Leno (post-NFL Draft), creating more holes for a questionable roster. One of the bigger needs was reliable receivers past Allen Robinson, now and for the future that may not have him.
This article will break down why the Bears are where they are at, and what has been done heading into the quiet before the training camp storm.
---
Editor's Note: Read more player profiles from the rest of the 4for4 staff!
---
How The
Bears

Got Here

Chicago's quarterback was not the only position that was under the microscope heading into the 2020 NFL season at Halas Hall. Wide receiver has also been a position lacking talent in Chicago for the majority of the team's existence. That is why Allen Robinson's expiring contract was the second-most talked about topic prior to Week 1. The preseason came and went, no deal. Robinson had made it clear he did not want to play under the franchise tag in 2021 and wanted a long-term deal. The underrated wideout enters this season on his franchise tender.

There were question marks behind the unheralded wideout. Anthony Miller was not fulfilling his second-round price tag after being drafted in 2018, Darnell Mooney was a 2020 mid-round draft unknown, and the speed threat was going to be free-agent signee Ted Ginn Jr.

What was your favorite moment from the Ginn Jr. Bears era?

The additions of Ginn and Mooney helped contribute to 31 more receptions as a passing offense, but only increased Chicago's yards per reception 0.2 yards from 2019 to 2020.

The Bears spent this offseason reportedly ready to move on from Miller and were fielding trade offers. Nothing came of it, especially with the NFL Draft an easier way to get similar production without the second-round draft pick price tag. Naturally, no deal was made before or during the draft, indicating Chicago would need to add another receiver. New Bears QBs Andy Dalton and Justin Fields would need better weapons to throw to, right?

The Bears selected Dazz Newsome 221st overall. The Bears drafted one wide receiver.

Shortly after the draft, Chicago added veterans Damiere Byrd and Marquise Goodwin.
The
Bears

Receiving Corps

Below is the group of receivers Chicago will head to training camp with as of May 18:

It is still Allen Robinson and then everyone else.

The Penn State grad is an elite wide receiver that excels at nearly every receiving route on the route tree. He was asked to run slants the majority of the time (31.8%) in 2020 and worked as Mitchell Trubisky's and Nick Foles' safety valve. Robinson is also in the 97th percentile against man coverage, something he was used to seeing as Chicago's only receiving threat. Robinson was successful more than 70% of the time on seven of nine routes a receiver could run. No matter if it is Dalton or Fields under center, Robinson will be asked to do more of the same in 2021.

2020 was his first season with 100 or more catches and finished 14th among receivers in PPR points per snap (min. 50% team snaps). With Trubisky and Foles. He was the only Bears receiver to log 75% or more of the team's 1,071 offensive snaps last season. ARob did all of this despite being on an offense that ranked 27th in neutral situation pace and shaved only four seconds off in all other situations. Robinson is John Paulsen's WR13 in Standard leagues, WR12 in Half-Point PPR, and WR14 in George Kritikos' dynasty rankings. He is also being drafted as the WR11 at Underdog Fantasy.

With Anthony Miller in the doghouse after ending 2020 on a sour note, Mooney and Newsome have the most to gain from in-house options, while Byrd and Goodwin could steal targets as real-life help on offense. Mooney showed that talent can be found throughout the draft, but the list of fifth-round receivers remaining productive shortly into their NFL careers is not promising.

It is important to note that Tyreek Hill fell in the draft because of numerous off-the-field issues and was considered a much better prospect than where he was drafted. As the league continues to throw more, the fact that fewer receivers click later in drafts, the more concerning Mooney's future is as a fantasy option. Mooney is one of six receivers that played a role for their teams as rookies last season, making it not only the biggest group of pass-catchers taken in the fifth round since 2015, but one that could produce the most.

Mooney is Paulsen's WR71 in Standard leagues, WR70 in Half-Point PPR, and WR62 in Kritikos' Dynasty rankings. Mooney is also being drafted as the WR54 (134th overall) at Underdog Fantasy.

Dazz Newsome is almost a Miller clone. He is an advanced route runner and is a good blocker, according to Cyril Penn of Expand The Boxscore. Where Newsome is too much like Miller is using his body to catch the ball. That was not Miller's M.O. coming out of Memphis, but he saves his best handwork for contested catches. Newsome was also brought in to work on special teams, just like Miller.

You see what I am getting at? Miller has a few months to dominate Newsome in practice or be replaced. Newsome should see a lot of work with Fields as Dalton "starts" as QB1 in Chicago, and that should translate for Newsome whenever Fields usurps Dalton. Newsome is outside Kritikos's Top 50 rookies. Miller is Paulsen's WR103 in Standard leagues and WR98 in Half-Point PPR.

Damiere Byrd is the veteran speedster that had a career year in New England in a similarly bleak QB situation. He should line up primarily inside but can play outside. Byrd is insurance should Miller fade away and Newsome not immediately grab the starting slot receiver job. Byrd is Paulsen's WR119 in Standard leagues and WR121 in Half-Point PPR.

Goodwin has not stayed healthy in his career, but he has shown flashes of talent as a route runner and speed threat. Like Byrd, he is the direct insurance for Chicago's other young wideout in Mooney. Opting out could be a benefit for the 30-year old, but his leadership skills and unknown role in his third offense in as many seasons casts doubt on his fantasy prospects. Goodwin is Paulsen's WR132 in Standard leagues and WR133 in Half-Point PPR.
Bottom Line
There will continue to be more questions than answers surrounding the Bears wide receiver group heading into training camp. Robinson will be the only wideout that you can trust until either Andy Dalton or Justin Fields unlocks the potential out of Anthony Miller, Darnell Mooney, and potentially Dazz Newsome. Relying on Damiere Byrd and/or Marquise Goodwin is not a recipe for success.