Can Tom Brady Repeat as a Fantasy QB1 in 2021?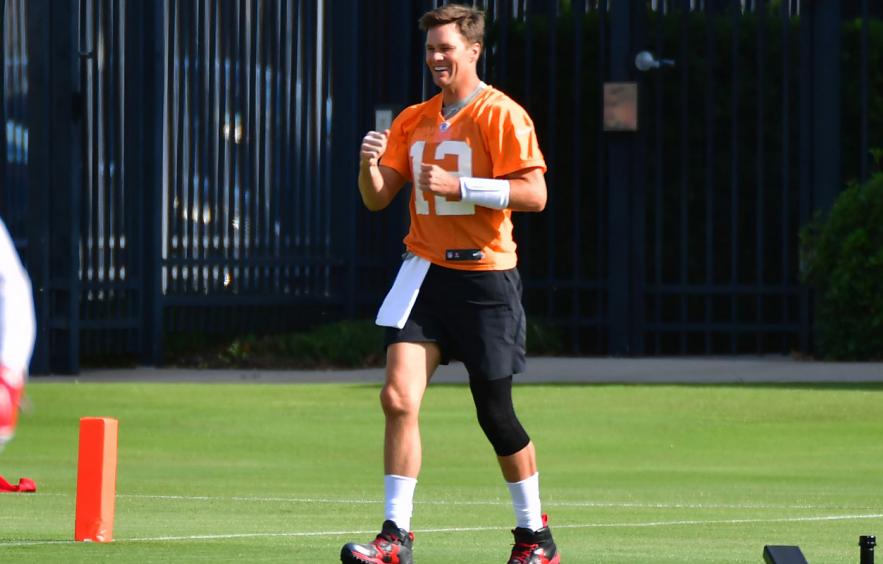 Julio Aguilar/Getty Images
It's surreal to even be writing about Tom Brady at this point in his career and actual life, but as he enters his 22nd year as a professional QB while turning 44 years old, the guy is still a legitimate fantasy quarterback. And not just prop him up back there behind the line of scrimmage and see if he can still throw like Dan Marino in his final season, but an actual viable draft-worthy QB.
---
Editor's Note: Read more profiles from the rest of the 4for4 staff!
---
As he begins yet another quest for a Super Bowl Championship, let's take a look at where he fits into the fantasy QB conversation in various drafting formats, and see if Brady can ward off Father Time for another trip around the sun.
Last Season was One of Brady's Best
Perhaps he's like a fine wine or maybe he was rejuvenated in a new system, but Brady's 2020 was quite impressive when looking at the numbers. Compared to the rest of his career, here's how some of his 2020 stats landed and where they stood among his fellow signal-callers.
Tom Brady

's Ranks & Output

| Stat | Number | Career Rank | 2020 NFL Rank |
| --- | --- | --- | --- |
| Passing Yards | 4,633 | 5th | 3rd |
| Touchdowns | 40 | 2nd | 2nd |
| Completions | 401 | 6th | 2nd |
| Attempts | 610 | 6th | 2nd |
| Touchdown % | 6.60% | 3rd | 6th |
| Passing 1st Downs | 233 | 5th | 3rd |
Another interesting tidbit on Brady's 2020 season was the lack of turnovers in Bruce Arians' complicated offense. Brady posted 12 interceptions last season which pales in comparison to Andrew Luck (18), Carson Palmer (22) and Jameis Winston (30) in their first years with Arians.

The Band is Indeed Back
Brady has the distinct pleasure of working with all of his weapons, his offensive line, stellar defense and coaching staff again in 2021 in their pursuit of a repeat Super Bowl. They also added more o-line help by drafting former Notre Dame OT Robert Hainsey in this year's draft to help keep Brady's uniform clean.
Let's discuss Brady's receiver room so that we can remember just what he's working with.
Mike Evans gets very little respect for what's actually accomplished in the NFL. He's busted out seven consecutive 1,000-yard seasons, in fact, he has never played in the NFL without one. The lowest he's finished in total half-PPR points in those seven years is WR24 in 2015, with five of those campaigns landing as a fantasy WR1. Last year with Brady, Evans found the end zone 13 times (fourth among pass-catchers), and their chemistry in the red zone was something special as he converted 19 targets into 12 receptions and nine scores.
Last season wasn't Chris Godwin's strongest, but he still managed a 65-840-7 line in 12 games while dealing with a litany of injuries. In 2019, the wideout was WR2 in half-PPR points per contest with Jameis Winston's erratic QB play, so Brady's arm should have no problem connecting with Godwin in 2021 if he's healthy.
Antonio Brown was the highest targeted WR per game last year in Tampa Bay (7.6) and surprisingly re-signed with the team this offseason despite minor knee surgery and a few various lawsuits. Tom Brady was the biggest recruiter in getting Brown to the Bucs, to begin with, and will look to push him the ball whenever applicable.
Tampa Bay has a trio of talented TEs capable of making big plays, which is frustrating for fantasy purposes, but not for Brady. The TE position saw a 22.8% target share in 2020, the 13th highest in the league.
I mentioned all the pieces of this title-winning team are reunited for another run, but one key element in all of this is the addition of Giovani Bernard. He's arguably the best blocker and pass catcher in this crowded backfield, and could be Brady's new James White. Gio and White are actually super tight going back to high school, so Brady could find some comfort there or something like that.
Tom Brady

's Fantasy Outlook for 2021

Last season Brady ended as QB10 in fantasy points per game with 21.1, but it was really QB9 if we take out Dak Prescott's small five-game sample. He still lacks the rushing upside of guys like Josh Allen, Lamar Jackson, Prescott and Kyler Murray so it's tough to see him cracking into the top 10 with other mobile QBs now in the mix a la Jalen Hurts.

His arm seems to be holding up just fine and with the number of talented players he has the luxury of throwing to, Brady still has fantasy QB1 potential. The soon-to-be 44-year old is being drafted as the Q10 in Underdog leagues and QB9 in redraft leagues according to 4for4's multi-site ADP tool.

Brady's ability to remain a viable NFL QB in his mid-40's is something many attempt and most fail to do. Don't expect him to fall off a cliff - this season at least- as this team tries once again to be the last team standing in the NFL.
Bottom Line
Tom Brady was pretty stellar last season, posting some of the best numbers in his 22-year career.
The Tampa Bay Bucs are the same talented squad as they were in 2020, with the addition of beautifully mustached, passing back Giovani Bernard, who only adds to Tom Brady's ability to produce fantasy numbers.
Expect QB1 fantasy numbers from Brady again in 2021, and he makes for a great choice when passing on the top tier of QBs in favor of elite pass catchers or rushers. His ADP is currently affordable as QB10 on Underdog in the ninth round but is pricier in redraft leagues as QB9 in the late sixth round.