Monkey Knife Fight Plays: Week 8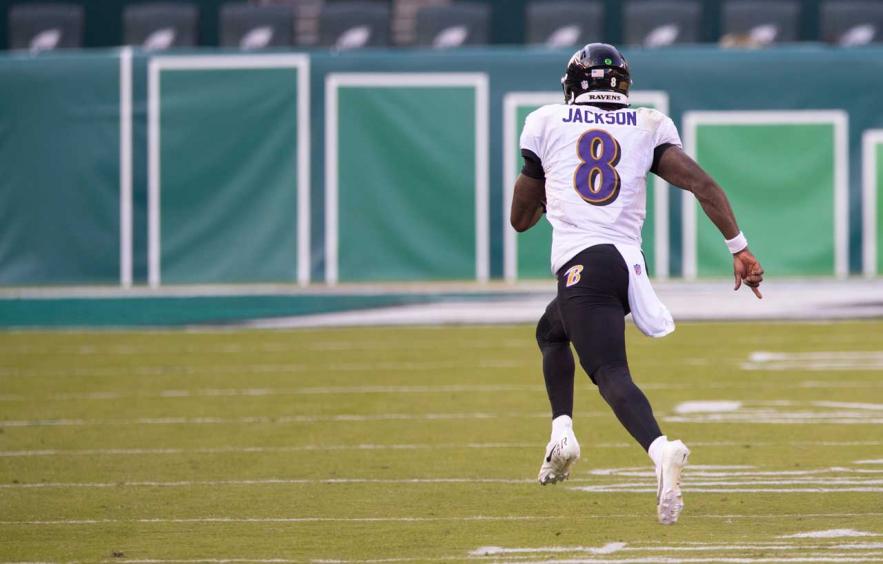 Mitchell Leff/Getty Images
Week 7 Recap: We hit on 7-of-10 recommended plays last week and hit both of the exact plays we sent out in our newsletter. Our projections continue to outperform Monkey Knife Fight's—something we need to take advantage of. The ones we lost: Baker Mayfield's passing yardage, Logan Thomas's receptions and Hayden Hurst's receptions. What's interesting is when the column was published we grabbed Mayfield at 263.5 passing yards. By the time Sunday rolled around the number dropped all the way to 235. Hopefully, that persuaded you to stay away from him because a 30-yard move is a massive swing. Logan Thomas has been revived with 4/60/1 and 3/42/1 lines the past two games. Mayfield set a season-high in passing yards against the hapless Bengals, including a game-winning touchdown pass to Rashard Higgins.
For those reading this column for the first time, we scrape Monkey Knife Fight's contests against our projections. I'll go through 10 plays we feel confident in exceeding (More Than) or failing to reach (Less Than) MKF's projections by the percent likelihood we give the outcome. The percentage you see in parentheses next to each player's name is the chance we believe the More Than or Less Than hits, according to our projections.
Most of our recommendations will be to side with the Less Than on MKF, as they know the majority of fantasy players like to root for more of everything—more points, more yards, more receptions, etc.—and set their numbers higher than a normal median projection. Be sure to check out our Discord server and the #mkf channel where I'll post the full list of how our projections stack up against those of Monkey Knife Fight. On to Week 8…
Editor's Note: Open a new MKF account and deposit at least $10 to get a free 4for4 subscription of your choice.
---
Before we dive in, a quick More or Less refresher:
More or Less - You will be drafting your team by choosing More or Less for a group of player statistics presented. You will be squaring off with your own predictions. Choose the coinciding number of tiers correctly to win the prize shown prior to entry.
Top Week 8 MKF More or Less Plays
Lamar Jackson

, QB –

Ravens

(86.9%)
MKF Line: 60.5 rushing yards
4for4 Projection: 34.6 rushing yards
I know we took the Less Than in the past and it failed but now isn't the time to jump ship. I think this is an even better spot. The Steelers have allowed the fewest rushing yards to opposing quarterbacks this season—53 yards through six games. Jackson has rushed for less than 60 yards in 4-of-6 games this season.
Damiere Byrd

, WR –

Patriots

(81.5%)
MKF Line: 4.5 receptions
4for4 Projection: 3.0 receptions
This is an interesting line after what we saw from Cam Newton last week. It was the worst we have seen him play this season as the Patriots struggled to get anything going on offense. Byrd has only recorded 5+ receptions in 2-of-6 games this season and saw less than five targets in games. Byrd Less Than 4.5 receptions is one of my favorite plays.
John Brown

, WR –

Bills

(75.3%)
MKF Line: 51.5 receiving yards
4for4 Projection: 34.6 receiving yards
These are Brown's receiving yard totals in the five games he has played this season: 70, 82, 0, 42, and 0. As you can see, he went under 51.5 yards three times. Something else to consider is that this game is expected to feature some inclement weather. The Patriots haven't been a particularly tough matchup but it's tough to envision Brown doing much damage with such minimal usage.
Dalton Schultz

, TE –

Cowboys

(74.2%)
MKF Line: 3.5 receptions
4for4 Projection: 2.5 receptions
Things were looking up with Dak Prescott at quarterback, but since his injury, it's been a slippery slope. Schultz was targeted just four times last week by the Andy Dalton and Ben DiNucci combo. The Cowboys were unable to put together much of anything on offense against Washington last week and I can't imagine that changes much in this spot against the Eagles. Maybe DiNucci locks onto Schultz but that's about the only way Schultz hits the More Than here.
Josh Jacobs

, RB –

Raiders

(73.3%)
MKF Line: 76.5 rushing yards
4for4 Projection: 61.4 rushing yards
Jacobs has gone under this total in half of his games this season and is seeing less work as the season progresses. After seeing 25 and 27 carries the first two weeks, he has carried the ball 16, 15, 23, and 10 times the last four games. A lot of that has to do with game script as the Raiders have lost three of their last four games. Cleveland's run defense isn't overly stout but it has only allowed James Conner to exceed 77 rushing yards this season.
Kendrick Bourne

, WR -

49ers

(73%)
MKF Line: 4.5 receptions
4for4 Projection: 3.5 receptions
This is a pretty big overreaction to the Deebo Samuel news. Bourne is yet to record a single game with more than four receptions this season (with four catches his season-high). George Kittle and Brandon Aiyuk are both healthy, and they are the No. 1 and No. 2 options in the passing game pecking order.
Danny Amendola

, WR –

Lions

(69.3%)
MKF Line: 3.5 receptions
4for4 Projection: 2.7 receptions
Amendola has less than 3.5 receptions in 5-of-6 games this season, including every game after Week 1. He is still playing anywhere between 35-55% of the snaps, a number that's likely to continue. There's a good chance he sees less than four targets in this one.
Nelson Agholor

, WR –

Raiders

(69.3%)
MKF Line: 3.5 receptions
4for4 Projection: 2.7 receptions
There is a lot of recency bias baked into this reception number. Agholor has hit this number just 2-of-6 times this season. Also, there is expected to be inclement weather that could impact both passing attacks. It would be surprising to see Agholor continue producing with the Raiders' weapons nearing full health.
Marquise Brown

, WR –

Ravens

(64.6%)
MKF Line: 52.5 receiving yards
4for4 Projection: 76.1 receiving yards
Brown's lines are a bit soft in this matchup. The Steelers rank 28th in explosive pass rate allowed and "Hollywood" Brown is seeing elite usage. He has 45% of the team's air yards and 27% of the total targets. He has exceeded 52 receiving yards in 4-of-6 games this season and the Ravens shouldn't be able to grind the clock away here as just 4-point favorites against a competitive Steelers team.
A.J. Brown

, WR –

Titans

(58.9%)
MKF Line: 70.5 receiving yards
4for4 Projection: 91.8 receiving yards
The Bengals rank 26th in passing defense DVOA and are 30th in explosive pass rate allowed. Brown is also finally hitting his stride after suffering an early-season injury. In four games this season, he is averaging eight targets. In a good matchup with great usage, it's easy to imagine Brown exploding here.
Thanks for reading and If you have any questions feel free to reach out to me on Twitter @ConnorAllenNFL or on Discord.
---
Editor's Note: The More or Less plays and projections were available at the time of this article being published. Please refer to MKF for the most up-to-date offerings.