Monkey Knife Fight Plays: Week 7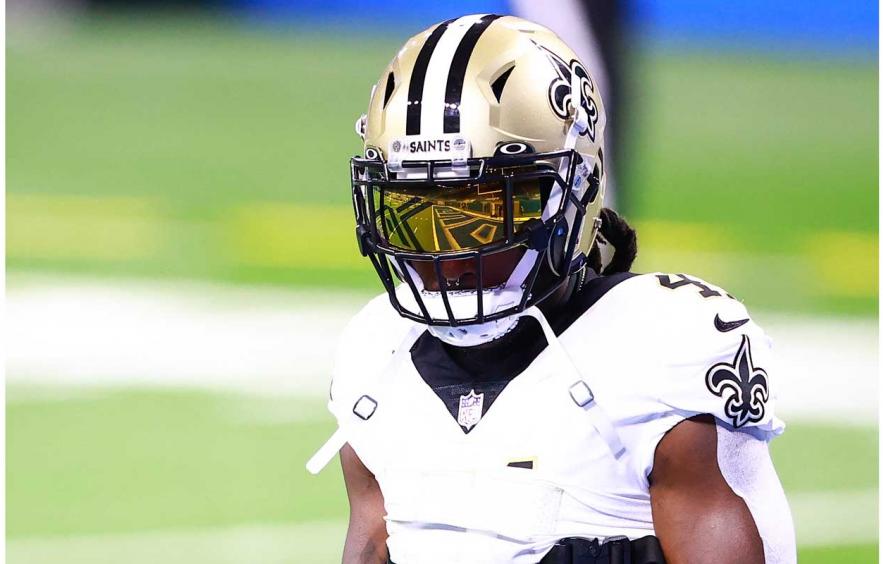 Rey Del Rio/Getty Images
Week 6 Recap: Week 6 was much better for our top plays. We hit on eight of our 10 top plays, with the two losses being Marquise Brown's receiving yards falling by two yards and Lamar Jackson exploding on the ground. The Packers fade in the Monkey Knife Fight contests was a massive win for us with Aaron Rodgers and Aaron Jones both hitting the Less Than the Monkey Knife Fight line, as we suggested.
For those reading this column for the first time, we scrape Monkey Knife Fight's contests against our projections. I'll go through 10 plays we feel confident in exceeding (More Than) or failing to reach (Less Than) MKF's projections by the percent likelihood we give the outcome. The percentage you see in parentheses next to each player's name is the chance we believe the More Than or Less Than hits, according to our projections.
Most of our recommendations will be to side with the Less Than on MKF, as they know the majority of fantasy players like to root for more of everything—more points, more yards, more receptions, etc.—and set their numbers higher than a normal median projection. Be sure to check out our Discord server and the #mkf channel where I'll post the full list of how our projections stack up against those of Monkey Knife Fight.
Editor's Note: Open a new MKF account and deposit at least $10 to get a free 4for4 subscription of your choice.
---
Before we dive in, a quick More or Less refresher:
More or Less - You will be drafting your team by choosing More or Less for a group of player statistics presented. You will be squaring off with your own predictions. Choose the coinciding number of tiers correctly to win the prize shown prior to entry.
Top Week 7 MKF More or Less Plays
Hayden Hurst

, TE –

Falcons

(76.3%)
MKF Line: 3.5 receptions
4for4 Projection: 2.4 receptions
Hurst has actually split this prop in 2020, hitting the over three times and the under three times. Our projection comes in so low because the Lions have somehow allowed only 10 receptions to opposing tight ends this year. This has come on 22 targets. I'm not sure the lackluster production by opposing tight ends is because the Lions are particularly stout against the position but given Hurst's 50/50 track record at this line, the Less Than is a good play.
Chase Claypool

, WR –

Steelers

(73%)
MKF Line: 4.5 receptions
4for4 Projection: 3.5 receptions
Claypool has fewer than five receptions in all but his massive 7/110/3 explosion game against the Eagles. He also has fewer than five targets in every contest except for that same game. Our projection is more than fair at 3.5 receptions.
Baker Mayfield

, QB –

Browns

(72.6%)
MKF Line: 263.5 passing yards
4for4 Projection: 229.8 passing yards
This is a very interesting line, to say the least. Mayfield's season-high in passing yards is 247, and he is coming off a game where he was benched and looked terrible. The Browns and Mayfield already played the Bengals this season, with the signal-caller throwing for 219 yards in that contest. Mayfield is still suffering from a cracked rib and winces in pain with every hit. I'd ride the Less Than all the way down to 240 passing yards.
Devin Singletary

, RB –

Bills

(69.5%)
MKF Line: 3.5 receptions
4for4 Projection: 2.8 receptions
Singletary is technically 3-3 on this prop so far this season but is 2-1 on the Less Than when Zack Moss is playing. Moss is expected to be active this week. Singletary has also only caught 75% of his targets this year, so at that pace, he would need to see five targets to have a good chance at hitting the More Than. I side with the Less Than here.
D.J. Chark

, WR –

Jaguars

(67.9%)
MKF Line: 4.5 receptions
4for4 Projection: 3.8 receptions
Chark has been up and down all season, recording four or fewer receptions in three of his five games this season. This week's matchup against the Chargers is no cakewalk. They rank No. 1 in explosive pass rate allowed on the season. I would also consider grabbing the Less Than on his receiving yards offering as well.
Josh Allen

, QB –

Bills

(67.3%)
MKF Line: 285.5 passing yards
4for4 Projection: 265.7 passing yards
After his explosive start to the season (312, 415, and 311 passing yards his first three games), Allen has calmed down significantly (288, 263, 122 passing yards in his past three games). Even with one of the easiest matchups possible against the Jets, divisional re-matches historically feature fewer points and less production from offenses.
Logan Thomas

, TE – Washington (66.1%)
MKF Line: 3.5 receptions
4for4 Projection: 2.9 receptions
Logan Thomas's utilization has declined in the last three weeks. He started the season seeing 8, 9, and 7 targets, respectively, in the first three games, but has only been targeted four times in each of his last three games. His season-high in receptions is four, with a high of three in Week 6 the last three weeks, and now has Kyle Allen starting again. With Allen at quarterback, Thomas has just an 8% target share this season.
Marquez Valdes-Scantling

, WR –

Packers

(65.3%)
MKF Line: 3.5 receptions
4for4 Projection: 2.9 receptions
Valdes-Scantling has recorded fewer than four receptions in 3-of-5 games this season and caught exactly four passes in the other two games. Davante Adams is healthy and figures to play against Houston as well. I lean towards the Less Than here.
Dontrelle Inman

, WR – Washington (63.4%)
MKF Line: 3.5 receptions
4for4 projection: 3.0 receptions
Inman has gone under this number in 4-of-6 games so far this season. He also only has a 10% target share from starting QB Kyle Allen this season. It would take Allen throwing all game for Inman to record more than 3.5 receptions here.
Alvin Kamara

, RB –

Saints

(57.5%)
MKF Line: 58.5 receiving yards
4for4 Projection: 86.5 receiving yards
Both Michael Thomas and Emmanuel Sanders are out for this matchup against the Panthers. Kamara could realistically clear 10 targets in this one as the Panthers have allowed the most receptions (47) and fourth-most receiving yards (327) to opposing running backs this season.
Thanks for reading and If you have any questions feel free to reach out to me on Twitter @ConnorAllenNFL or on Discord.
---
Editor's Note: The More or Less plays and projections were available at the time of this article being published. Please refer to MKF for the most up-to-date offerings.