TJ's #Taek: Week 4 NFL DFS Recap
Kirk Irwin/Getty Images
Week 4's winning lineups from the biggest contests on FanDuel and DraftKings can be used to tease out lineup-building strategies and offer clues on how you could have landed on a similar team. Reviewing your hits and misses each week is imperative if you want to be a profitable DFS player but examining winning lineups is also a useful exercise in cultivating a winning approach.
DraftKings Week 4 Millionaire Winning Lineup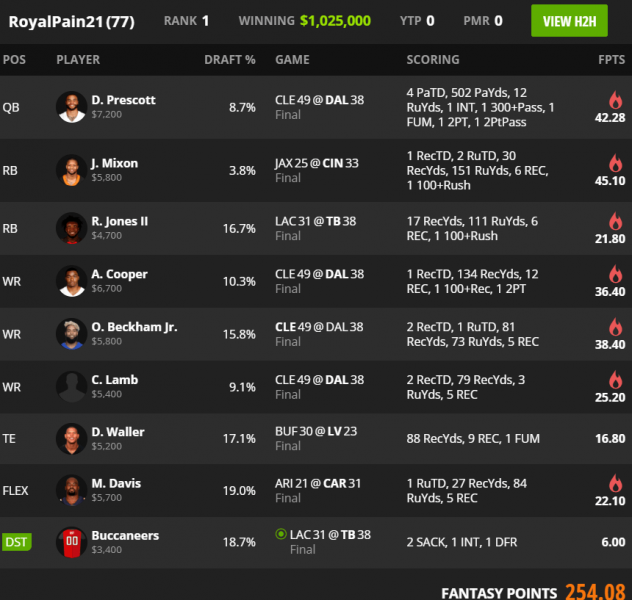 For the third time in as many weeks, the Millionaire winner used four players from one game, stacking a quarterback with two pass-catchers and an opposing pass-catcher. With so many high-scoring contests in 2020, there's a notable advantage to building around a game stack and running it back on the other side. The average ownership of Week 4's winning lineup was 13.2%, the highest for a Millionaire winner through the first month. As the season progresses, it's likely that the average ownership in winning lineups will climb since player and matchup data will only become more reliable.
On a player level, favoring a slightly more contrarian approach to running back than in recent years has proven to be a winning strategy. The elite tier has shrunk because of injuries, and salary restrictions on DraftKings have forced DFS players to target running backs with lower salaries in order to build game stacks in the highest-scoring games.
What Were the Indicators for the Low-Owned Plays?
As mentioned above, this was the chalkiest winning Millionaire lineup of the short season, with just three players in fewer than 10% of lineups, one of those the quarterback. The real differentiator was Joe Mixon, who went into Week 4 tied for the seventh-most touches in football but 37th among running backs in DraftKings points. An unpopular, high-volume running back is almost always a viable GPP option, especially as a favorite against a defense that ranked in the bottom 10 against running backs going into the week.
FanDuel Week 4 Sunday Million Winning Lineup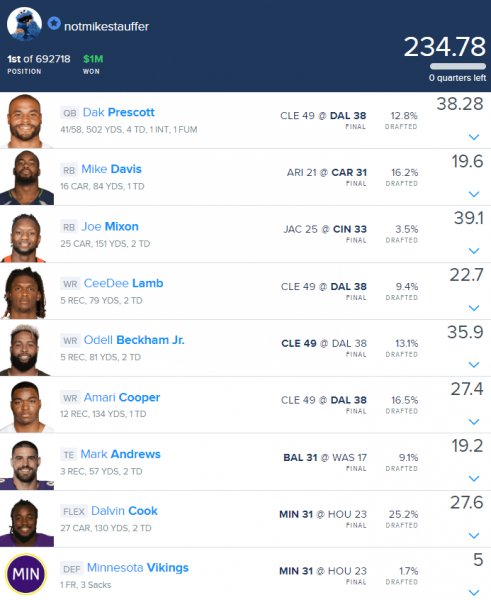 Contrary to Week 4's winner on DraftKings, the 11.9% average ownership of the Sunday Million winner was the lowest of 2020. As data becomes more reliable the deeper we get into the season, average ownerships in winning lineups will likely converge between FanDuel and DraftKings but FanDuel's loose salaries should mean slightly higher ownership in tournaments.
Probably the most notable nuance to successful FanDuel tournament lineups is how much correlation is used. In addition to game stacks, every Sunday Million winner this season has used a second stack with one of their running backs. Over the last three weeks, that stack has been RB/DEF, an approach that was one of the ultimate differentiators in Week 4, With Minnesota's 1.7% ownership rate.
On DraftKings, wide receivers and running backs are reasonable flex options but 15 of the last 21 Sunday Million winners have used a running back in the flex.
TJ's Final #Taek
With four games of data available for almost every team, there is enough of a sample to search for players that may be due for early-season regression—players that have not put up fantasy points reflective of their usage. Usually, these players will not project as great values and will be low-owned in upcoming slates since they haven't performed well but these are often great GPP targets. Joe Mixon was a great example in Week 4.
Running Backs
Kenyan Drake has been one of the biggest fantasy disappointments through the first month of the season. Week 5 will be a great spot to buy low as Arizona faces a Jets defense ranked 25th in schedule-adjusted fantasy points allowed to running backs.
Miles Sanders is seeing 20 touches per game in an offense that is lacking weapons. His pass-catching ability makes him a great DFS play and he is in a non-prohibitive matchup[ against an average Steelers run defense this week.
Wide Receivers
D.J. Moore has seen consistent volume throughout the first month of the season but that has yet to translate into a big fantasy day. While most thought that Robby Anderson would be the deep threat in Carolina, Anderson has seen the types of targets that D.J. Moore saw last year while Moore is seeing more deep targets. After busting as the chalk in Week 4, Moore is a post-hype target.
Tight Ends
Evan Engram and Logan Thomas may not be able to overcome their offense with volume but Zach Ertz has proven upside. WIth Dallas Goedert out, Ertz is arguable the only reliable pass-catcher in Philadelphia and his volume should spike in the coming weeks.