Monkey Knife Fight Plays: Week 3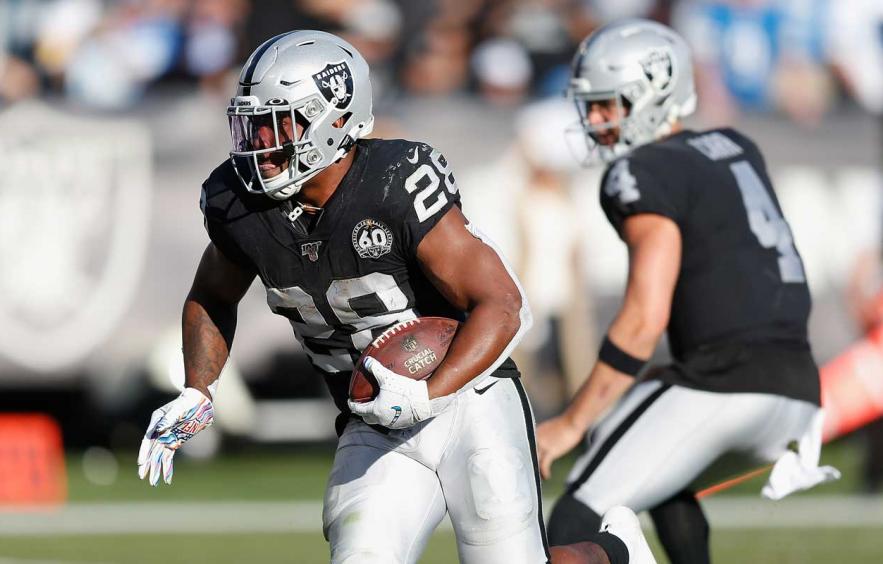 Lachlan Cunningham/Getty Images
Looking back on last week's results based on our projections leaves me a bit disappointed. Part of this is my fault with recommending volatile players such as Mike Evans, whose usage largely relied on the availability of Chris Godwin. Without Godwin, our projection of Evans's receiving yards rose to around 70 (from the mid-50s), which is the number Monkey Knife Fight floated. There will be better weeks to come as we get into our rhythm.
For those reading this column for the first time, we scrape Monkey Knife Fight's contests against our projections. I'll go through 10 plays we feel confident in exceeding (More Than) or failing to reach (Less Than) MKF's projections by the percent likelihood we give the outcome. The percentage you see in parentheses next to each player's name is the chance we believe the More Than or Less Than hits, according to our projections.
Most of our recommendations will be to side with the Less Than on MKF, as they know the majority of fantasy players like to root for more of everything—more points, more yards, more receptions, etc.—and set their numbers higher than a normal median projection. Be sure to check out our Discord server and the #mkf channel where I'll post the full list of how our projections stack up against those of Monkey Knife Fight.
---
Editor's Note: Open a new MKF account and deposit at least $10 to get a free 4for4 subscription of your choice.
---
Before we dive in, a quick More or Less refresher:
More or Less - You will be drafting your team by choosing More or Less for a group of player statistics presented. You will be squaring off with your own predictions. Choose the coinciding number of tiers correctly to win the prize shown prior to entry.
Top Week 3 MKF More or Less Plays
Miles Sanders

, RB –

Eagles

(82.1%)
MKF: 4.5 Receptions
4for4 Projection: 3 Receptions
Sanders caught only three of his seven targets last week, in a game Carson Wentz threw up 43 attempts while in furious comeback mode against the Rams. The Eagles are now 4.5-point favorites against a hapless Bengals defense that shouldn't force the Eagles into negative game script. Monkey Knife Fight's number is a full reception and a half higher than our projection. Even though Sanders will likely be involved in the passing game, five receptions would be a stretch without Wentz attempting another 40 passes.
Josh Jacobs

, RB –

Raiders

(76.6%)
MKF: 79.5 rushing yards
4for4 projection: 59.5 rushing yards
The Raiders are 2-0 heading into a big matchup against the Patriots. Jacobs has been rolling, rushing for 93 and 88 yards, respectively, the first two weeks. Despite his recent success, there should be plenty of room for concern—as our projections suggest. The Raiders may try to establish the run but the Patriots are 5.5-point favorites and have only allowed 118 offensive plays in two weeks. This is because their offense has been efficient and good at running the ball, helping them control the clock. With limited opportunities for Jacobs and neutral or negative game script, I'm comfortable pressing the button on "less than" here.
Aaron Jones

, RB –

Packers

(75.6%)
MKF: 69.5 rushing yards
4for4 Projection: 52.8 rushing yards
Jones stacked up 168 rushing yards against the Lions last week and 66 the week before against the Vikings. The recency bias is strong here as Jones only rushed for 70-or-more yards in seven of 20 games since the start of last season. The Lions also rank 29th in rushing success rate allowed, while the Vikings are 25th. Meanwhile, the Saints are 12th. Small sample defensive metrics shouldn't be the sole factor in decision-making but the point is the Saints have a better run defense than either of Jones's past two opponents.
Chris Carson

, RB –

Seahawks

(74.7%)
MKF: 68.5 rushing yards
4for4 Projection: 52.7 rushing yards
Even with ideal game script against the Patriots and Falcons the past two weeks, Carson only finished with 72 and 21 rushing yards, respectively. The Cowboys' defensive metrics are relatively average, which doesn't give us much to work off in this department, but it's worth noting the Seahawks are finally "letting Russ Cook." On first downs in the first three quarters, Seattle has been passing at a 60% rate—good for the sixth-highest clip in the league. This takes a good bit of luster off Carson's upside as his days of frequently seeing near 20 carries may be few and far between.
Teddy Bridgewater

, QB –

Panthers

(72.9%)
MKF: 260.5 passing yards
4for4 Projection: 225.7 passing yards
Two things lead me to agree with our projections here: potential lack of volume and a tough matchup. The Chargers gave up only 289 yards to Patrick Mahomes and Kansas City's elite offense last week. The week prior, they only allowed 173 to Joe Burrow. The Chargers currently rank seventh in passing success rate allowed. The Chargers offense will likely look to drain the clock by establishing the run against Carolina's pitiful run defense, potentially lowering Bridgewater's volume. Given these factors and our projection, playing this "less than" is a great play.
Cam Newton

, QB –

Patriots

(70.4%)
MKF: 254.5 passing yards
4for4 projection: 224.5
It felt weird actually typing out that top headline for the first time. Don't get me wrong, I'm as big of a Cam Newton fan you will find here. I wrote about taking the over on his passing props this season and debunking the silly anti-cam narratives that found their way to the Twittersphere. Despite my admiration for Cam's exuberant swagger and season-long outlook, I like the under here for some of the same reasons I talked about with Jacobs earlier. The Patriots are favorites and will likely try to focus on bullying the Raiders in the running game, as they did against Miami in Week 1. Newton only attempted 19 passes in that game, throwing for 155 yards. I'm not sure we see him wind up on that extreme but our projection is more than fair.
Deshaun Watson

, QB –

Texans

(68%)
MKF Projection: 262.5 passing yards
4for4 Projection: 238.5 passing yards
Watson's been a bit of a disappointment this season from a fantasy standpoint, and I'm not sure that changes here. The Steelers have a lethal pass rush which has forced the highest pressure rate in the league through two weeks at 42.6% (H/T FTN). They have a whopping 40 pressures, 11 more than the next closest team. They have also been blitzing at a 61.7% clip, the highest by 14.2%. A lot of Pittsburgh's success at pressuring opposing quarterbacks plays into their sixth-ranked pass defense (success rate allowed), which has given up 279 and 256 yards in Week 1 and Week 2, respectively. Watson has an uphill battle at crossing 262.5 yards in this one.
Terry McLaurin

, WR –

Football Team

(55%)
MKF Projection: 63.5 receiving yards
4for4 Projection: 76.9 receiving yards
I tend to shy away from playing the "More Than" in Monkey Knife Fight, but this is a number that could move. Browns CB Denzel Ward suffered a groin injury in practice on Thursday and didn't practice on Friday. He's been labeled "questionable" heading into the weekend. McLaurin's juicy outlook would only be enhanced by Ward missing this one. This is playable up to 70 yards.
TJ Hockenson, TE –
Lions

(64.6%)
MKF Projection: 4.5 receptions
4for4 Projection: 4 receptions
The key factor here is that Kenny Golladay is expected to return. Even without Golladay, Hockenson was fifth in target share (13%) behind Quintez Cephus, Marvin Jones Jr., Danny Amendola, and D'Andre Swift. With Golladay entering the picture, Hockenson may not even see four targets. Now, if Golladay doesn't play, I would probably stay away from this as Arizona has had some issues guarding tight ends in the past.
Nick Mullens

, QB –

49ers

(66%)
MKF Projection: 225 passing yards
4for4 projection: 266.8 passing yards
It's kind of gross to consider a "More Than" on Nick Mullens but here we are. Mullens started eight games in 2018, exceeding 225 yards in all but one of those starts (221 yards). The Giants' defense isn't very imposing with the 12th-lowest pressure rate through two weeks. Even with diminished pass-catching options for Mullens, I agree with our projections that more than 225 is very much in play this week.
Favorite Plays
---
Editor's Note: The More or Less plays and projections were available at the time of this article being published. Please refer to MKF for the most up-to-date offerings.