A Cam Newton Prop to Bet Now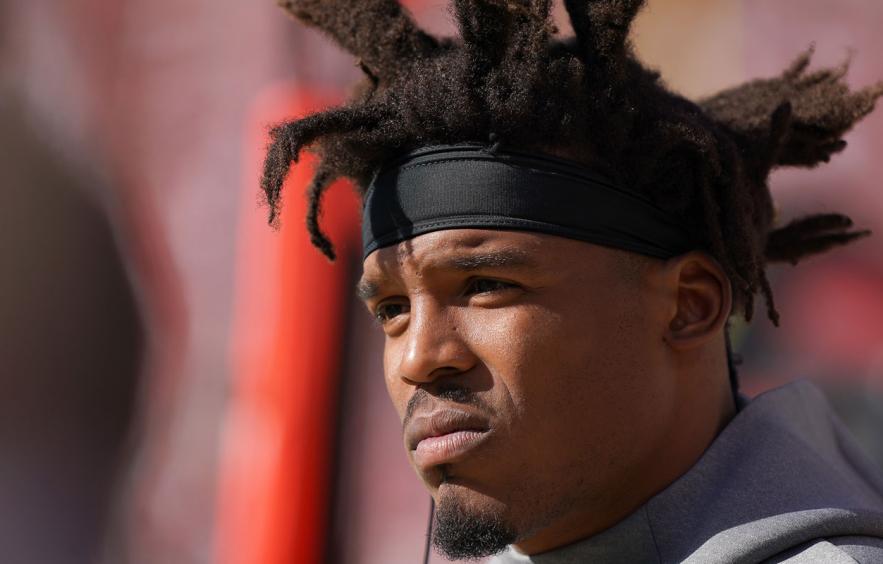 Thearon W. Henderson/Getty Images
Cam Newton signed with the New England Patriots on an incentive-laden deal this offseason. He'll technically be competing with Jarrett Stidham and Brian Hoyer for the starting job but I'm personally not sure there will be much of a competition as long as Cam's health holds up. The Athletic's Mike Lombardi reported that those who have been working out with Cam Newton say he has been "unbelievable." Before diving into the prop market on Cam it's important to go through what happened the past two seasons. Looking at when he was healthy gives us a more relevant sample of the type of player we will see on the Patriots.
Prior to injury in 2018 he was playing at an elite level:
The last time we saw a healthy Cam Newton (weeks 1-12

in 2018).....



-69.6% completion rate (T-3rd)

-4.6 CPOE (T-3rd in 2018 season)

-57% passing success rate (2nd)

-107.6 Passer rating (8th)

-7.5 YPA (T-16th)

-22/7 TD/INT Rate

— Connor Allen (@ConnorAllenNFL) July 22, 2020
His success came with rookie DJ Moore as his top pass-catcher along with a mixture of Devin Funchess, Jarius Wright, and rookie Curtis Samuel as the next-best options.
We saw a drop-off in play as Newton's shoulder continued to deteriorate. He was feeling sore at numerous points before Week 10, enough to be pulled out for a few Hail Mary's at the end of the half. He also suffered a big hit to his shoulder by TJ Watt against Pittsburgh in Week 10 which exacerbated his issues. Week 13 was when the wheels fell off against Tampa Bay, and by Week 15 he was put on ice for the rest of the season.
Fast forward to 2019. His shoulder was feeling strong during the preseason and had "no limitations." He then suffered what was thought to be an ankle injury during the Panthers Week 3 preseason game against the Patriots. He was seen in a walking boot afterward and it turned out to be a mild Lisfranc injury. Newton pushed through the pain and wound up starting in Week 1 against the Rams. He was clearly not his usual mobile self and ended up with -2 yards against the Rams, and zero yards against the Bucs in Week 2. His Lisfranc injury was made much worse during Week 2 and he was shut down for the rest of the season shortly after.
Newton now enters the 2020 season with nearly a year of rehab and training under his belt for his Lisfranc injury and over a year and a half for his shoulder injury. He passed the Patriots physical and has been training with new teammates Julian Edelman and N'Keal Harry.
Over/Under 2,950 passing yards and 19.5 passing touchdowns (Draftkings)
4for4 Projection: 3,624 passing yards and 23.5 passing touchdowns
This line is interestingly low compared to our projections. Oddsmakers seem to be very concerned about a combination of Newton's health, the uncertainty of him winning the starting job, and the lack of receiving weapons. I personally think all three of those potential issues shouldn't be weighed as heavily as they are. As I mentioned above, Newton has had a long time to recover from his past injuries and looks to be in great shape heading into the year. As long as his health holds up, it'd be shocking to see Jarrett Stidham beat him out for the starting job. Cam was -330 to be the Week 1 starter prior to the odds getting taken down. The argument against his lack of weapons this season is kind of silly considering he won an MVP with Greg Olsen, Tedd Ginn Jr., and Devin Funchess as his top pass-catchers. He also just flashed plenty of upside in 2018 when he was throwing to an extremely inexperienced pass-catching group. If N'Keal Harry or Mohamed Sanu show any signs of life and Julian Edelman continues to be able to get open in short-to-intermediate areas, that's more than enough for Newton to work with. The Patriots also have a good bit of cap space and it wouldn't surprise me if they tried to make another move for a pass-catcher by a trade.
Prior to 2019's two-game stint, Newton played in eight consecutive seasons. He surpassed 3,000 passing yards every year and had 20-or-more touchdowns in 5-of-8 years. This is all despite playing just 14 or 15 games in three of those eight seasons. Even as one of the best rushing quarterbacks in the NFL, Newton still surpassed this prop total routinely.
Another thing to take into consideration is the upgrade in the coaching staff. You are now pairing a mobile quarterback with coaching-savants Josh Mcdaniels and Bill Belichick. We aren't going to see the scheme we saw with Tom Brady, it will very likely be crafted towards Newton's strengths. We saw the Patriots utilize Jacoby Brissett's mobility in 2016 when he racked up 48 yards and a touchdown on eight carries against Houston in Week 2. Those weren't just scrambles either, they had him run a power option play where he gashed the defense up the middle for 15 yards. His touchdown run came on a naked bootleg where he was wide open and outran the defense. Mcdaniels even pulled out a triple-option at one point. My point is, we should expect to see Cam Newton's strengths utilized rather than trying to fit a square peg (Cam's skillset) into a round hole (scheme they ran with Brady).
There's been a lot of talk about the lack of time for Cam to learn the playbook, but it's worth noting that the Patriots playbook utilizes the same method of organizing and naming plays as the Panthers, the Erhardt-Perkins system. A good write-up of the Erhardt-Perkins system added that: "The backbone of the Erhardt-Perkins system is that plays — pass plays in particular — are not organized by a route tree or by calling a single receiver's route, but by what coaches refer to as "concepts."
It's not going to click immediately, but it'll be much easier for him to learn their offense than a rookie or someone coming from a different playbook system.
Can Cam Newton return to MVP form? Maybe not. But he doesn't need to for bettors to take a hard look at betting the over on his passing yards. I like the over at 2,950 and would bet it up to 3,200. I think he is also worth considering for comeback player of the year at +400 but it's a bit chalky for my taste especially when considering Ben Roethlisberger and Matthew Stafford will have a good case of their own.