Top DFS Stacks on FanDuel and DraftKings: Week 10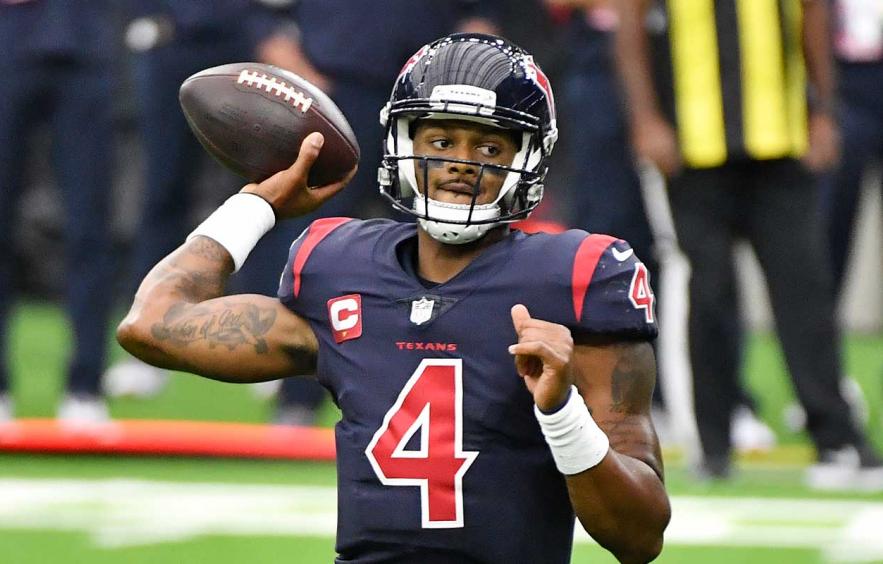 Logan Riely/Getty Images
Stacking players is a stairway to the top of daily fantasy tournaments, maximizing upside by creating the sort of volatility that can help your roster post a crooked score—one way or another.
Below are some of the most intriguing stacking plays I found while sifting through the week's matchups. Most of these options will leave room for high-ceiling studs. The goal, naturally, is to get a lot for a little. So let's get into it.
For up-to-the-minute and Sunday morning updates, be sure to join the 4for4 DFS subscription-only Discord channel.
Houston
Texans

(+3.5) at Cleveland

Browns

; O/U: 49
QB
Deshaun Watson

,

Texans

($8,300 FD/$6,900 DK)

WR

Brandin Cooks

,

Texans

($6,300 FD/$5,600 DK)

RB

Nick Chubb

,

Browns

($8,200 FD/$6,800 DK)

Once upon a time—Tuesday, to be exact—this game featured an over/under of 54 points. Houston got three points lopped off its implied total and the Browns' implied total was trimmed by two points. That doesn't change that each of these teams have various defensive weaknesses that can be exploited. And the Browns and Texans give up the fifth and sixth most offensive snaps per game, respectively. More plays is good for fantasy.

The Browns have become a pass funnel offense, meaning opponents aren't really trying—for various reasons—to run the rock against Cleveland. They've taken to the air, and proved quite successful. More than 71% of yardage gained against the Browns this season have come through the air—the sixth-highest rate in the league. Quarterbacks have posted ridiculous yardage totals against the Browns in 2020: Joe Burrow has 722 passing yards in two games against them; Dak Prescott had 502 yards in Week 4 against Cleveland; and even Dwayne Haskins had 225 yards and a couple scores against the Browns.

With David Johnson out and the Texans likely to see negative game script, Watson has a good shot to be the next QB to put up silly yardage numbers against the Browns. Watson, since Bill O'Brien's unceremonious departure, has averaged 308.3 yards and has eight touchdown tosses in three games. He's tearing it up—there's little reason to think that won't continue against the Browns. One could stack Watson with Will Fuller, but with Brandin Cooks priced well below Fuller on both sites, why? Cooks is dominating target share with 26% of the looks from Watson since O'Brien was axed, trailing Fuller by just 30 air yards over that span. Fuller's touchdown prowess and 12 air yards per target—compared to Cooks' 8.8 air yard per target—make him a slightly better option on FanDuel this week. On DraftKings, pairing Cooks with Watson is the play. Fuller or Cooks, the matchup is right: only the Seahawks allow more schedule-adjusted fantasy points to wide receivers than the Browns.

Houston, meanwhile, has become a classic run funnel, practically inviting opponents to hammer them via the ground game. Nearly 39% of the yards gained against the Texans this season have come on the ground; only four teams allow a higher rate. Rush volume against Houston could be related to them being gashed for 5.1 yards per carry, the second-highest rate in the NFL. Enter Nick Chubb, returning from his MCL injury and ready to take over as the primary early-down ball carrier for the Browns. In the two Cleveland wins in which Chubb played a full game this season—Week 2 against the Bengals and Week 3 against Washington—he saw 22 and 19 carries, respectively. Barring sideways game script for the Browns, Chubb should see somewhere around 20 rushing attempts against a truly terrible run defense. FanDuel seems far more prepared for Chubb's comeback against Houston than DraftKings, where Chubb is a bargain for all manner of contests. A big day for Chubb with lots of positive game script would generate opportunity for Watson and the Houston passing attack. It fits like a nice, little puzzle.
Tampa Bay
Buccaneers

(-5.5) @ Carolina

Panthers

; O/U: 50.5
QB
Tom Brady

,

Buccaneers

($7,800 FD/$6,300 DK)

WR

Chris Godwin

,

Buccaneers

($7,500 FD/$6,000 DK)

RB

Ronald Jones

,

Buccaneers

($6,400 FD/$5,300 DK)

RB

Mike Davis

,

Panthers

($5,400 FD/$4,000 DK)

This is the old-fashioned onslaught stack with a comeback. The bonus here is DFS players' disgust at the Bucs' Week 9 flop against the Saints, and the likely low ownership every Buc will see in Week 10.

Godwin runs a nice 69% of his pass routes from the slot, meaning he'll see coverage from Corn Elder on Sunday. Elder has been a generous slot cover guy this season—one Godwin could burn with ease this week. In Antonio Brown's debut with Tampa last week, Godwin led the team in targets and was second (behind Brown) in air yards. It's clear Mike Evans is going to be the odd man out with Brown in the mix. Godwin, recovered from his multitude of ailments, is a good candidate to benefit from a solid day from Brady. Teams are beating up on Carolina via the running game—more on that in a moment—but that doesn't mean the Panthers are good against the pass. Quarterbacks have completed 68.77% of their passes against Carolina this year, the seventh-highest rate in the NFL. They also allow a fairly high 6.8 yards per pass attempt. Brady won't need a lot of volume in this matchup to prove a DFS value.

Leonard Fournette has been the main guy out of the backfield in the passing game for Tampa, while he's split the workload on the ground with Ronald Jones. Jones has played far fewer snaps than Fournette over the past three weeks and seen just four fewer rushing attempts. Only five teams allow more schedule-adjusted fantasy points to enemy runners than the Panthers, who will (almost) certainly face the kind of game script that generates rushing attempts aplenty for the Bucs. The Panthers, even after last week's no-show by the KC running game, allow the ninth-most rushing yards on the year.

We'll run it back with Mike Davis. You may remember him as the workhorse who took over the Carolina backfield with Christian McCaffrey sidelined for almost two months. McCaffrey is out again this week, leaving Davis to see the targets CMC would have had in likely negative script. Any running back with Davis' pass-catching acumen should do just fine against a Tampa defense giving up the second-most receptions to running backs through nine weeks. When these teams met in September, Davis and CMC combined for 13 catches on 15 targets. Forget about Davis' ownership percentage and roll with him as the ideal run-back candidate alongside a Tampa stack.
San Francisco
49ers

(+10) @ New Orleans

Saints

; O/U: 48.5
RB
Alvin Kamara

,

Saints

($9,000 FD/$8,200 DK)

WR

Brandon Aiyuk

,

49ers

($6,500 FD/$5,700 DK)

This is a fine and dandy secondary stack you can use this week alongside a larger, more traditional game stack. Like most secondary stacks, this one is appealing because the (likely) game script is so blatantly obvious.

The Niners, massive underdogs who will be overpowered in every facet of the game, will probably have to drop back again and again against the Saints. That would be a decidedly good thing for Brandon Aiyuk, who should once again function as the 49ers' No. 1 wideout with Deebo Samuel and George Kittle sidelined. In a similar spot two weeks ago, Aiyuk led the team with 11 targets. He turned that opportunity into eight catches for 91 yards and a touchdown, leading the Niners in air yards along the way. A depleted 49ers receiver group should once again pay off for Aiyuk against the Saints. It doesn't exactly hurt that Aiyuk is excellent with the ball in his hands.

The pass-heavy, negative game script on which Aiyuk could thrive this week likely won't be possible without ample opportunity for Alvin Kamara. His receiving yardage was limited in Week 9 with Michael Thomas' return from injury, but he still caught five balls on seven targets in a blowout victory of comical proportions. A much cheaper stack would be pairing Latavius Murray and Aiyuk, though you're depending on a touchdown or two for that stack to pay dividends. Kamara is among the rare fantasy producers who can put up gaudy numbers without a touchdown. I don't hate his chances of delivering a Kamara-esque stat line with the Saints' implied total sitting at 29.25 points.