Optimal FanDuel and DraftKings Cash Lineups: Week 1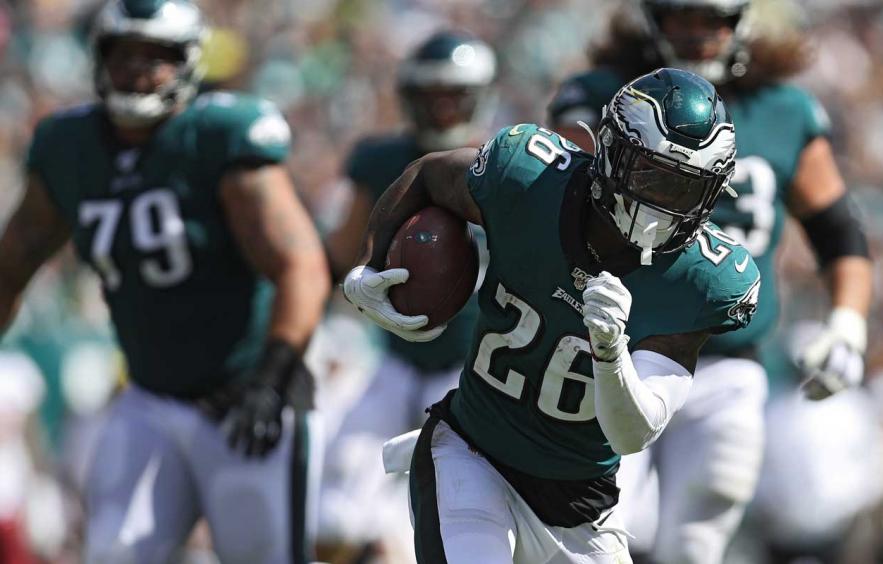 Patrick Smith/Getty Images
This is a free sample of premium weekly content contained in the 4for4 DFS subscription. Not a subscriber? Sign up now!
In this article, we walk through the process of constructing an optimal lineup that will dominate your cash games on the main slate of Week 1. We start with the optimal lineups for FanDuel and DraftKings determined by the Lineup Generator. Then, we identify the players that are irreplaceable and should be locked into your lineup. For the remaining players, we discuss the main alternatives that you can swap in to make a winning team that best fits your own style.
For up-to-the-minute and Sunday morning updates, be sure to join the 4for4 DFS subscription-only Discord channel.
FanDuel Week 1 Optimal Lineup
Here is the optimal FanDuel Lineup by projected points: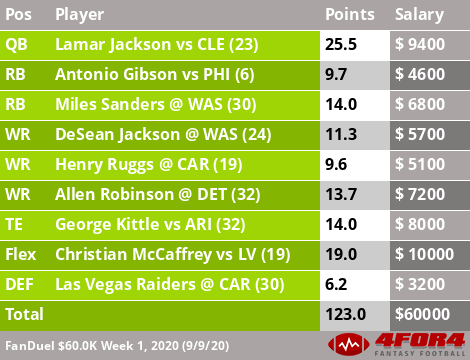 Locks
Potential Changes
It's always tough to suggest fading Christian McCaffrey ($10,000), especially when he's our top value at running back. However, this is a new Panthers offense. There are some questions if McCaffrey will get the same snaps or workload as last season, specially early on the season. Also, moving down would get us in range to upgrade Antonio Gibson and jam in two potential workhorses. Joe Mixon ($7,300) and Austin Ekeler ($7,700) are the next top projected values at running back. It may not be necessary to fade McCaffrey but it's definitely more of a debate this week than it ever was last season.
Update: With Miles Sanders being ruled out, the latest version of our optimal lineup recommends slotting Kenyan Drake ($6,600) into his spot.
Allen Robinson ($7,200) is a player I'll be all over on DraftKings but I don't trust the offense to put the ball in the endzone. I'd rather pivot on FanDuel over to a receiver with a similar target share but more potential to find the end zone. Chris Godwin ($7,700) costs a bit more but Mike Evans is battling a hamstring injury and may be limited. The Saints and Buccaneers have the highest projected total on the slate. Calvin Ridley ($6,600) is a pay-down option for the second-highest projected game of the slate and has shown a knack for finding pay dirt. He also had at least 75 receiving yards in four straight games to close the season.
The Las Vegas Raiders ($3,200) are a cheap defensive option but not all that exciting. The Raiders had the fewest takeaways in the league last season and are going against a quarterback in Teddy Bridgewater that doesn't take a ton of chances. They are fine if you're going with a full jam in your studs approach but I'd prefer to find a way to move up to the Colts ($3,700).
DraftKings Week 1 Optimal Lineup (The Update)
Here is the optimal DraftKings Lineup by projected points: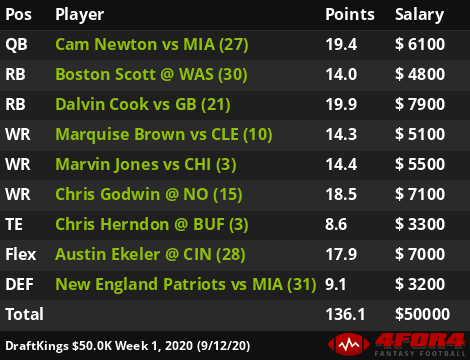 Note: DraftKings requires two players to be locked to produce an optimal lineup. In this case, those players were Cam Newton and Chris Herndon (established in the original article).
Locks
Miles Sanders has been ruled out for Week 1 with a hamstring injury. Boston Scott ($4,800) steps into a committee with Corey Clement ($4,000) but is now our top value play at running back. He's an intriguing move off of Antonio Gibson in our original optimal lineup due to his locked in role and pass catching prowess. Scott closed last season with at least six targets in four straight games.
Marquise Brown ($5,100) is our top wide receiver value play on the slate. The Ravens have the highest projected total and get matched up against a banged up Browns secondary, who will be missing two of their cornerbacks in this game.
For those fading Christian McCaffrey at his price, Dalvin Cook ($7,900) has the next highest projected ceiling. Over their last three matchups in 2019, the Packers defense allowed 188 rushing yards per game. Also, we have Cook projected for the best cash odds at RB on DraftKings (47%).
Potential Changes
Chris Godwin ($7,100) is our second best value at wide receiver on the slate. However, you can gain $600 simply by moving down to Allen Robinson($6,500) our fourth best value. The Lions defense allowed the most receiving yards in the league last season and the fourth most passing touchdowns per game. They did attempt to address it by adding rookie cornerback Jeff Okudah but it remains to be seen if that makes an immediate impact. Robinson closed out last season receiving double digit targets in six straight games.
Marvin Jones ($5,500) appears to be in a good spot for targets with Kenny Golladay getting ruled out due to injury. However utilizing the $600 we gained from dropping down to Allen Robinson, we can move up to Calvin Ridley and gain exposure to the Falcons and Seahawks 50 point over/under. Ridley had at least eight targets in three of his last four matchups last season.