How Cam Newton to the Patriots Impacts Fantasy Football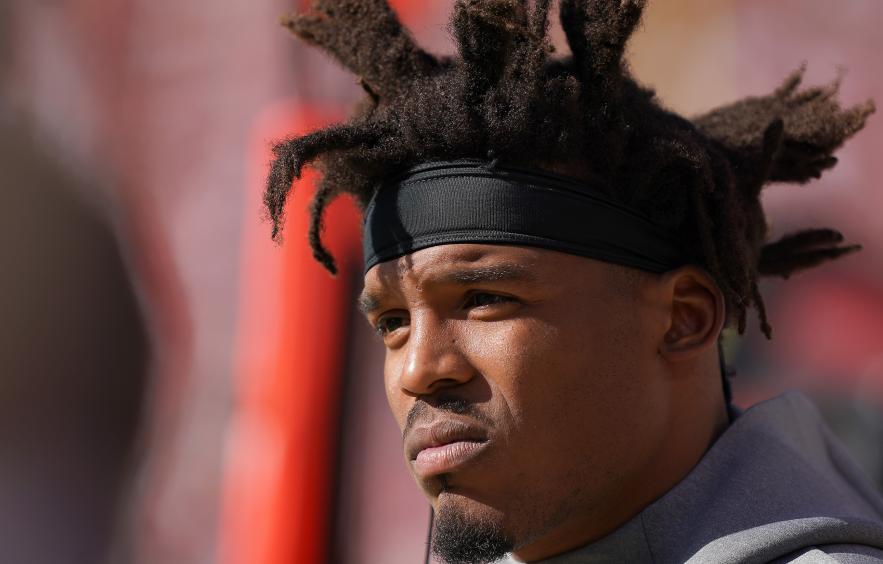 Thearon W. Henderson/Getty Images
It's happening! It's finally happening! Former Most Valuable Player Cam Newton has reached an agreement on a one-year deal loaded with incentives to join the New England Patriots in 2020.
Former NFL MVP Cam Newton has reached agreement on a one-year, incentive-laden deal with the New England Patriots, league sources tell @mortreport and me.



Newton now will step into the mix to try to help replace former Patriots' QB Tom Brady.

— Adam Schefter (@AdamSchefter) June 28, 2020
Newton now will join the Patriots 2019 fourth-round pick Jarrett Stidham and 11-year veteran Brian Hoyer in a battle royale to replace former New England quarterback Tom Brady. The 31-year old former No. 1 overall pick was released by the Panthers back in March. It was speculated that he'd be a perfect fit with the Patriots. Newton was adamant that he could still be a quality starter and was not looking to join an NFL as a backup quarterback or to mentor a younger quarterback. This patience appears to have paid off.
Newton has recovered from his shoulder and foot injuries and is determined to get his NFL career back on track. As a gentle reminder, he's suffered an ankle sprain, an ankle ligament tear, a chest rib fracture, a back vertebral fracture, a concussion, a knee strain, and a torn rotator cuff in his nine-year career. It's highly unlikely that Newton would sign with the Patriots if he didn't have a legitimate chance to earn the starting job. This union is a win-win on both sides. The Patriots are taking on minimal risk by bringing Newton into the fold.
This is very New England: Now if Cam Newton plays well in 2020, and leaves as a free agent, the Patriots could get back a compensatory 2022 third-round pick to help make up for 2021 third-round pick the NFL is taking away from New England for its videotape violation.

— Adam Schefter (@AdamSchefter) June 29, 2020
If Newton regains his form he could set himself for a satisfying payday next offseason. Most importantly he'll have an opportunity to work with future Hall of Fame coach Bill Belichick and offensive coordinator Josh McDaniels. The Patriots coaching staff have an uncanny ability to maximize a player's strengths while covering up their weaknesses. Do you remember how productive Matt Cassel, Jimmy Garoppolo, and Jacoby Brissett were in New England's offensive scheme when they had to start games?
Caesars Sportsbook moved New England from 25-1 to 20-1 to win the Super Bowl with the addition of Newton. Newton's odds to win Comeback Player of the Year moved from +1000 to +450. This ranks third behind Pittsburgh Steelers quarterback Roethlisberger and Buccaneers tight end Rob Gronkowski. This article will discuss his statistical body of work and provide you a rapid reaction to Newton signing with the Patriots.
Cam Newton

's Statistical Body of Work

Newton has finished as a QB1 in 54% of 125 active games averaging 22.5 fantasy points per game. He has thrown for 29,041 passing yards with 182 touchdowns and 108 interceptions and has rushed for 4,806 yards and 58 touchdowns. Newton holds a high percentage of the Panthers passing records and also earned three Pro Bowls. Newton's averaged 232.3 passing yards, 293 air yards, and 38.4 rushing yards per game in Carolina.
Here's what Bill Belichick said about Cam Newton in 2017: pic.twitter.com/VeixKSakaJ

— Doug Kyed (@DougKyed) June 29, 2020
Newton's passing ability is unfairly criticized. He's averaged 1.1 passing fantasy points per game over expectation since 2011. Quarterbacks such as Matthew Stafford (1.3), Matt Ryan (1.9), Ben Roethlisberger (1.9) haven't been much more efficient. Newton needs the right supporting cast and play-calling to succeed. His MVP season from back in 2015 is a great example of what he's capable of when all the dots are connected. He averaged 4.5 passing fantasy points per game more than expected that season. When healthy Newton's passing ability is underrated.
How
Cam Newton

Fits with the

Patriots

All the reports surrounding Stidham this offseason had been positive. He had practice time with Edelman in an attempt to develop chemistry for the upcoming season. Throughout the offseason, Belichick insisted that the Patriots were committed to him. New England was prepared to enter the 2020 season with him as their starting quarterback. It's easy to forget in the euphoria of the Newton signing that he's been readily available for three months. At this point, he was too good of a value to pass up for Belichick and McDaniels. It reminded me of the time the Patriots acquired Randy Moss over a decade ago. Newton is the frontrunner to win the starting quarterback job in training camp. In typical Belichick fashion, the announcement is unlikely to be officially made until shortly after the preseason.

The Patriots' decision to sign Newton could also be tied to Belichick and McDaniels' egos. The reality is that Brady has become larger than life. There have been numerous reports over the years of tension between him and the Patriots organization. The dynamic coaching duo now has a golden opportunity to win the AFC and possibly a Super Bowl without Brady under center. The Patriots offense will evolve and look entirely different in 2020. New England was left dazed and confused unsuccessfully trying to contain mobile quarterbacks such as Lamar Jackson and Deshaun Watson. The Patriots will build the offense around Newton's skill set and strengths.

Newton will have an opportunity to play with a very talented offensive line despite the recent retirement of longtime offensive line coach Dante Scarnecchia. The unit has consistently had a very high success rate in pass protection and has consistently ranked in the top-10 of Football Outsiders' adjusted line yards metric that is useful in evaluating run blocking.

The perception is that the Patriots don't have dynamic talent at the wide receiver position. Edelman has averaged an impressive 9.6 targets, 6.3 receptions, 70.7 receiving yards, 80.3 air yards, and 0.3 touchdowns per game in 67 games since 2014. The 34-year old receiver will become Newton's most reliable receiving weapon and will get on the same page with him relatively quickly.

Mohamed Sanu was acquired by New England from the Falcons for a second-round draft pick in the middle of last season. He didn't meet the expectations of fantasy players while playing on an injured ankle. Sanu had offseason surgery and is trending in the right direction with his rehab ahead of training camp. He's well-positioned to bounce back this season. Sanu has finished as a WR3 or better in 82% of his games from 2012 to 2018 in half-point PPR. He'll have an opportunity to rekindle that kind of production with Newton in 2020.

N'Keal Harry was the Patriots' first-round draft pick in 2019. He struggled with injuries during his rookie season and was only active in seven games this season. Harry has the draft pedigree, collegiate production, frame, and athleticism to break out this season. Newton has a history of throwing to big receivers. Harry stands to benefit the most from his addition to the roster. His average draft position should continue to rise in the coming weeks. Marqise Lee is also someone to keep on your radar in deeper formats. Here is a what I wrote about him in another article here at 4for4:
Did you know that Lee finished as a WR3 in 83% of his 59 career active games in half-point PPR formats? Lee's career started off slow, but he finally broke out during his third season. From 2016–2017 he finished as a WR3 or better in 70% of his games in half-point PPR scoring, averaging nearly 52 receiving yards per game. Lee played nearly all of his career games with Blake Bortles under center while competing with Allen Robinson, Allen Hurns, and other receivers for targets and air yards. Bortles's performances are up and down like the S&P 500. It should not be a coincidence that Lee's best two seasons were also Bortles's two best. The quarterback averaged an impressive 19.2 fantasy points per game in 2016 and 2017. Lee accumulated 119 receptions, 1,553 receiving yards, and six touchdowns across that time frame. It should be noted that Robinson missed the 2017 season after tearing his ACL in Week 1. Lee has made a career up to this point in his NFL career beating defenders with his frame and athleticism. It is not yet known whether he will regain his once-promising form with the Patriots in 2020. Let's walk through Lee's fantasy outlook in New England.
The Patriots also have James White, Sony Michel, and Damien Harris at the running back position. The Carolina offenses Newton was a part of from 2011 to 2018 only provided running backs an average of 5.7 targets per game. The Patriots have provided their backs an average of 7.5 targets per game from 2000 to 2019. It remains to be seen if Newton leverages his running backs more as receivers out of the backfield as a member of the Patriots. My initial takeaway is that his addition hurts the value of White.
The Patriots have averaged 25.2 rushing attempts per game over the last 10 seasons. New England is likely to provide Newton a number of rushing attempts per game and also use him in the red zone as a runner which hurts Harris and Michel from a fantasy perspective. McDaniels now has a quarterback with the mobility to make life very difficult for opposing defenders this season. A plethora of run-pass option plays is likely to give defensive coordinators headaches in 2020. Our very own John Paulsen had this to say about Newton:
The Patriots signed Newton to a one-year "prove it" deal. He missed most of 2019 with a foot injury, completing just 50-of-89 passes for one interception and no touchdowns while rushing five times for negative two yards. In 2018, he completed 67.9% of his passes and had a 24-to-13 touchdown-to-interception ratio while rushing for 35 yards a game. This looks like a great signing for the Patriots, who were obviously uncomfortable going into the season with Jarrett Stidham and/or Brian Hoyer as their only options. If Newton is fully healthy, he's a threat for QB1 numbers. He has five top 4 finishes in his career and has never finished outside the top 17 when he has played 14 or more games. The signing is good news for all of the New England offensive players (outside of Stidham/Hoyer, obviously).
Paulsen's initial projection for Newton in 2020 is 473 pass attempts, 310 completions, 3,407 passing yards, 21.6 passing touchdowns, and 12 interceptions. He also projects 130 rushing attempts, 482 rushing yards, and 4.6 rushing touchdowns. The stars are aligning for Newton to have a bounce-back season.
The Bottom Line
Newton finds himself in a great situation considering how dismal his offseason was. He has a chance to play meaningful games under the most stable coaching staff in the NFL.
Belichick did his homework on Newton prior to signing him. He spoke with multiple references around the league according to The MMQB's Albert Breer. It should not come as a surprise that Belichick decided not to rely entirely on Stidham considering he only has four career pass attempts as his starter in 2020.
Newton's ADP is guaranteed to rise in the coming weeks. He could be a top-10 fantasy QB in 2020.