What Everyone Should Know About Marqise Lee in 2020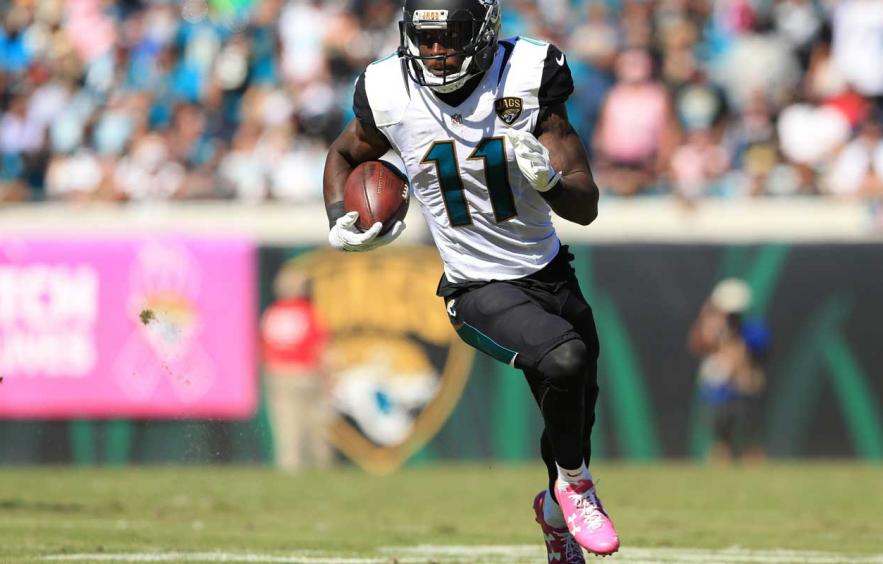 Rob Foldy/Getty Images
Two years ago Marqise Lee signed a four-year, $38 million contract extension with the Jaguars. Back in late April, the 39th overall selection in the 2014 NFL Draft was released by Jacksonville. This continues the trend of another high draft pick being sent to pound the pavement. Lee missed the entire 2018 season after suffering a severe knee injury during the preseason. He tore the ACL, MCL, and PCL in his left knee. Lee's 2019 season was limited to just six games due to a shoulder injury.
Editor's Note: Marqise Lee has opted out of the 2020 NFL season. See who else has opted out via our Fantasy Football Reserve/COVID-19 List Tracker.
---
The 28-year old wide receiver signed a one-year contract at the veteran minimum with the Patriots shortly after his release from the Jaguars. The contract comes with a $300,000 guarantee while Lee has the opportunity to earn up to $1.04 million. His cap number, if Lee earns a roster spot, will be $887,500.
Lee is looking to get his career back on track and saw the Patriots as the perfect destination to do so. He can count on head coach Bill Belichick positioning him to be successful. Lee struggled with injuries early in his career, He missed nine games from 2014 to 2015 prior to playing all 16 games in 2016 and missed only two games in 2017. The opportunity for Lee to find a defined role with the Patriots and along with one of the greatest coaches in NFL history is invaluable. He's at the bottom in New England and is embracing it. This article will discuss his statistical body of work and Lee's fantasy outlook with the Patriots.
Marqise Lee

's Statistical Body of Work

Did you know that Lee finished as a WR3 in 83% of his 59 career active games in half-point PPR formats? Lee's career started off slow, but he finally broke out during his third season. From 2016–2017 he finished as a WR3 or better in 70% of his games in half-point PPR scoring, averaging nearly 52 receiving yards per game. Lee played nearly all of his career games with Blake Bortles under center while competing with Allen Robinson, Allen Hurns, and other receivers for targets and air yards. Bortles's performances are up and down like the S&P 500. It should not be a coincidence that Lee's best two seasons were also Bortles's two best. The quarterback averaged an impressive 19.2 fantasy points per game in 2016 and 2017. Lee accumulated 119 receptions, 1,553 receiving yards, and six touchdowns across that time frame. It should be noted that Robinson missed the 2017 season after tearing his ACL in Week 1. Lee has made a career up to this point in his NFL career beating defenders with his frame and athleticism. It is not yet known whether he will regain his once-promising form with the Patriots in 2020. Let's walk through Lee's fantasy outlook in New England.
How
Marqise Lee

Fits with the

Patriots

Many fans are shocked that the Patriots will replace future Hall of Fame quarterback Tom Brady with Jarrett Stidham. With only 34-year old Brian Hoyer behind him on the depth chart, Stidham is apparently in line to become only the fourth starting quarterback to take the majority of New England's snaps during Belichick's tenure with the Patriots. Hoyer is my preferred choice to be under center in Week 1 given his experience, but ultimately this shouldn't impact Lee. Belichick and offensive coordinator Josh McDaniels will make the decision that is best for the Patriots. The expectation is that the Patriots' top three receivers would be Julian Edelman, Mohamed Sanu, and N'Keal Harry. The Patriots didn't add much competition to the receiver position this offseason.
New England Patriots wide receiver, Marqise Lee on his decision to come to New England this past offseason#NFL | #MarqiseLee | https://t.co/PsDIkSSy3F pic.twitter.com/3VEDJXjrlX

— NESN (@NESN) May 13, 2020
Outside of Edelman, the Patriots don't have many reliable receiving weapons. He has averaged an impressive 9.6 targets, 6.3 receptions, 70.7 receiving yards, 80.3 air yards, and 0.3 touchdowns per game in 67 games since 2014. Edelman was one of Brady's most reliable receivers. The Patriots sent a second-round draft pick to the Falcons for Sanu in the middle of last season. He did not meet expectations while playing on an injured ankle. Sanu had offseason surgery and is trending in the right direction to be ready by the beginning of training camp. He's finished as a WR3 or better in 82% of his games from 2012 to 2018 in half-point PPR.
It's unclear if Sanu can rekindle this type of production in 2019. Harry was the Patriots' first-round draft pick in the 2019 draft. He struggled with injuries during his rookie season and was only active in seven games this season. Harry is being heavily touted as a breakout candidate and has a lot to provide in 2020. It would be a surprise if Lee didn't make the team and immediately move ahead of Jakobi Meyers and Damiere Byrd on the depth chart. Sanu and Harry could account for up anywhere from 175 to 200 targets. Lee is in an excellent position to cut into that volume. The opportunity is there for the taking for him with the Patriots. Lee could climb the depth chart quickly considering who he's competing against.
The Bottom Line
Lee is a low-risk, high reward signing by the Patriots and this is the same mindset you should have when evaluating him through a fantasy lens.
He is essentially free in fantasy drafts when you look at his ADP. Lee is an intriguing end-of-bench stash especially in deeper formats if he can re-establish his statistical production from the 2016 and 2017 seasons.