Fantasy Debate: Davante Adams vs. DeAndre Hopkins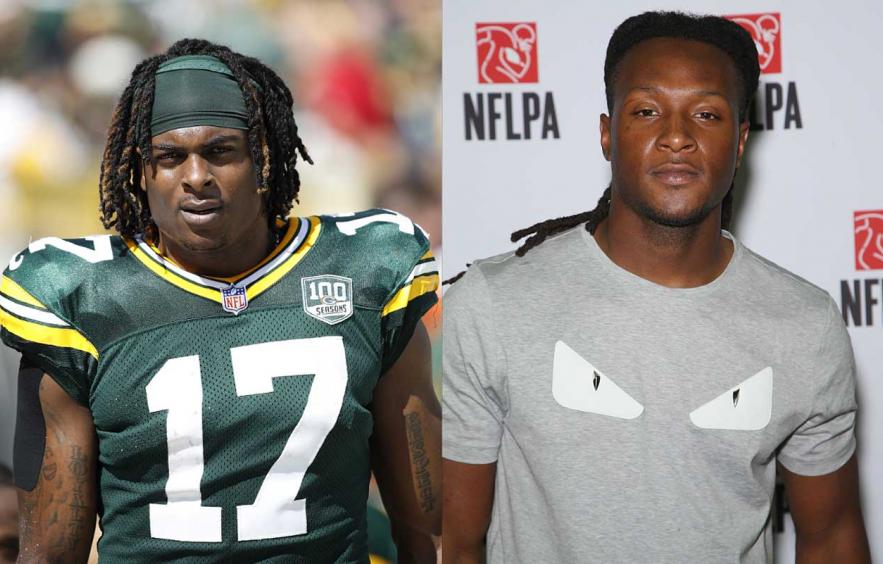 Joe Robbins/Gabe Ginsberg/Getty Images
Davante Adams and DeAndre Hopkins are both being drafted as top-four wide receivers and are sometimes separated by just one pick, depending on which platform you play on. In this debate, Kate Magdziuk makes her case for the Packers receiver as the superior option while Brandon Niles takes the side of Arizona's new stud.
Create or join a 2020 Yahoo Fantasy Football League for free today
The Case for DeVante Adams
Kate: The 2020 NFL Season is already off to a bumpy start, but at least we're off to a start, right? Training camp, for some, has officially kicked off, and the initial rounds of COVID-19 testing have commenced. With the unusual state of affairs, there will be one question that remains key for fantasy football managers. "Which NFL offenses can we predict will have the most stability?"
With the limited offseason workouts and lesser ability of quarterbacks to train with new team assets, it will be important to temper expectations for players changing offensive schemes: yes, even for the great DeAndre Hopkins. Between the Kliff Kingsbury's offensive style and what is sure to be a greater dispersion of targets for Hopkins compared to those he received in Houston, I'll bet on the performance of Adams over Hopkins in 2019 any day.
Prime Opportunity
The Green Packers shocked all when they neglected to draft a single wide receiver in the 2020 NFL draft. Instead, they drafted a backup for their two-time MVP, Aaron Rodgers. They drafted a backup to Aaron Jones, who tied to lead the league in rushing touchdowns in 2019. They drafted a tight end to complement the soon-to-be-sophomore Jace Sternberger, or perhaps the heir-apparent to Jimmy Graham, who was released by the Packers this offseason. In a historically deep wide receiver class, Brian Gutekunst didn't budge despite Rodgers' desire for depth at the position.
Davante Adams was drafted in 2014 with the 53rd-overall pick and by 2016, emerged as Rodgers' second-favorite target behind Jordy Nelson. Since the 2016 season, there have been only five wideouts to accumulate more total targets than Davante Adams: DeAndre Hopkins, Julio Jones, Michael Thomas, Jarvis Landry, and Mike Evans. Adams has totaled 40 total touchdowns in that span, which leads all wideouts. He showed no signs of stopping any time soon as he assumed the role of the team's WR1 in Nelson's absence... until 2019 struck.
Ready for a 2020 Bounce Back
Davante Adams's managers had a grim start to the 2019 fantasy football season. After many drafted Adams as the second wideout off of the draft board (behind Hopkins, ironically), we saw him get off to a slow start. Through the first four weeks of the season, Adams ranked as the WR20 in half-PPR formats,
Though Adams saw his fourth-straight season of 100 or more targets in 2019, he failed to surpass 1,000 receiving yards and saw his lowest touchdown total since 2015. He played 12 regular-season games after suffering a turf toe injury versus the Eagles that kept him out of the lineup in Weeks 5-8.
When he returned to the field in Week 9, however, he was on track for a whirlwind pace. In his next 10 games (including two in the postseason), he amassed 75 receptions for 917 yards and seven touchdowns. That translates to 208.7 fantasy points in 10 games alone, which would have him ranked as the WR25 in 2019, ahead of Odell Beckham Jr. who played a full 16-games.
Davante Adams is a top 5 Wide Receiver in the NFL...



We all agree on this right? pic.twitter.com/FASCVdlMaa

— Sports By Sollin (@SportsNewsD) July 28, 2020
Davante Adams is all but a lock for 160 (or more) targets in 2020 given the lack of another true top-tier receiver on the team. Next up on the depth chart is UDFA Allen Lazard, who joined the Packers to start the 2019 season. The 24-year old wideout came up big with 3/103/1 Week 13 versus the Giants, and since, he has enjoyed the praise of his quarterback for his reliability in important moments. It stands to reason that, outside of Lazard, the next best receiver is probably a running back.
To get Adams some "help" this offseason, the Packers signed wideout Devin Funchess. Funchess was looking for another opportunity after ending his first and only season with the Colts on IR after just 36 offensive snaps. Funchess has officially opted out of the 2020 NFL Season, leaving even more targets on the board for consumption.
Expecting A Dip for
DeAndre Hopkins
Though DeAndre Hopkins has some of the best and biggest mitts in the NFL, he is at a disadvantage compared to Davante Adams in 2019. Hopkins was traded to the Arizona Cardinals
Since 2016, Hopkins has amassed the most targets out of any wide receiver in the league. No matter who has been under center, he's been the clear-cut one for the Houston Texans, averaging a surreal 160 targets per season.
The Case for
DeAndre Hopkins
Brandon: Let me start by saying Davante Adams and DeAndre Hopkins are both stellar options to anchor the wide receiver corps of your fantasy roster. Both have proven track records and are the unquestioned top receiving options on their respective teams. Both players are going at the back end of the first round in most drafts, with Adams's ADP at pick eight and Hopkins at pick 11 in 12-team leagues. My love for Hopkins is based on three basic premises.
First, he's been better for longer. Hopkins was pretty good right from the start with 802 yards on 52 catches his rookie year. He then had at least 1,100 yards in five of the following six years, including 1,165 and seven touchdowns in 2019. Hopkins has only missed two games in his career and has three seasons with double-digit touchdowns. He's only 28 years old and is in the prime of his career.
Adams, while also in his prime at 27, only has one season with over 1,000 yards since entering the league in 2014. It took three years for him to get going before he started putting up consistent fantasy numbers. He was very good last season, but was injured for four games and has missed at least one game in four of his six seasons in the league, including each of the past three.
Per-game averages over the past four years—since Adams turned the corner—are pretty similar, with Hopkins getting a slight edge in receptions, targets, yards, and touchdowns. Adams has a little better per game averages looking only at last year, as shown below. Still, the numbers are similar enough to indicate they're both excellent and consistent when on the field. Hopkins has simply been more available and more dominant for a longer period of time.
Adams and Hopkins Statistics Comparison
Davante Adams
DeAndre Hopkins
Year
G
Rec
Tgts
Yards
TD
G
Rec
Tgts
Yards
TDs
2013
N/A
N/A
N/A
N/A
N/A
16
52
93
802
2
2014
16
38
66
446
3
16
76
127
1210
6
2015
13
50
93
483
1
16
111
192
1521
11
2016
16
75
121
997
12
16
78
150
954
4
2017
14
74
117
885
10
15
96
176
1378
13
2018
15
111
169
1386
13
16
115
163
1572
11
2019
12
83
127
997
5
15
104
150
1165
7
Totals
86
431
693
5194
44
110
632
1051
8602
54
Total Last 4 Years
57
343
534
4265
40
62
393
639
5069
35
Per Game Last 4 Years
6.0
9.4
74.8
0.7
6.3
10.3
81.8
0.6
Per Game 2019
6.9
10.6
83.1
0.4
6.9
10.0
77.7
0.5
Second, Hopkins is less quarterback dependent. I know that seems crazy when you're looking at Adams with one of the best quarterbacks in the modern era in Aaron Rodgers, but it's important when evaluating risk. Rodgers is 36 years old and they currently have an unproven backup in Tim Boyle and a project in rookie Jordan Love vying for the number two spot on the depth chart. If Rodgers goes down, Adams will need to deal with a potentially devastating blow at the quarterback position. The last time Rodgers missed significant time, Adams had to deal with eight games of Brett Hundley at quarterback. He averaged 5.8 receptions on 8.9 targets, for 67.9 yards and 0.6 touchdowns per game during that span.
Those aren't bad numbers, but they pale in comparison to what Hopkins was able to do in 2015 with the quartet of Brian Hoyer, Ryan Mallett, T.J. Yates and Brandon Weeden under center. That year, Hopkins caught 111 balls for 1,521 yards and 11 touchdowns. He even managed 954 yards and four touchdowns with Brock Osweiler taking the bulk of the snaps in 2016. Ironically, Brett Hundley will likely be backing up Kyler Murray this season, and I trust Hopkins' ability to overcome poor quarterback play more than Adams at this point, solely based on his track record. If Hopkins could make that quartet look good, he can manage to produce even if Murray went down. I'm less confident in Adams doing that.
Finally, Hopkins will be playing in an offense that is trending more to the pass, while the Packers are trending the opposite direction. While the Cardinals had 19 fewer pass attempts as a team than the Packers did in 2019, they had a 15.8% increase over the previous year with the addition of Murray and Head Coach Kliff Kingsbury. Contrast to the Packers, who saw a 13.4% decrease under new Head Coach Matt LaFleur. The Packers also added no significant pass-catchers this offseason, despite lacking another proven option aside from Adams, instead choosing to use their first two draft picks on an heir-apparent quarterback (Love) and a power running back in A.J. Dillon. The Cardinals are looking to throw the ball. The Packers seem to be seeking more balance as Aaron Rodgers winds down his career.
Game script should favor the Cardinals passing more than the Packers this year as well. Green Bay was ninth in the league in 2019 in points allowed, while the Cardinals were 28th. While rookie Isaiah Simmons should help the Arizona defense, they're still likely to struggle, making league-leading targets well in play for Hopkins. Hopkins will need to share more targets than Adams, since the Cardinals have Christian Kirk and the ageless Larry Fitzgerald still on the roster, while Adams is contending with the likes of Allen Lazard and Jace Sternberger. But that could also benefit Hopkins, who has arguably the best supporting cast of his career and may see less double-teams than Adams. Either of these players can eat against single coverage.
As I mentioned, both these players are fantastic options to anchor a fantasy team. I like Hopkins because he's a little safer. His proven track record of success, despite often terrible quarterback play, and the current trend of the offenses make him a higher-floor option, which is what I'm looking for when I take a receiver as high as I need to in order to get either of these players. You can't really go wrong, but I'm banking on the more proven Hopkins.