Draft Needs For All 32 Teams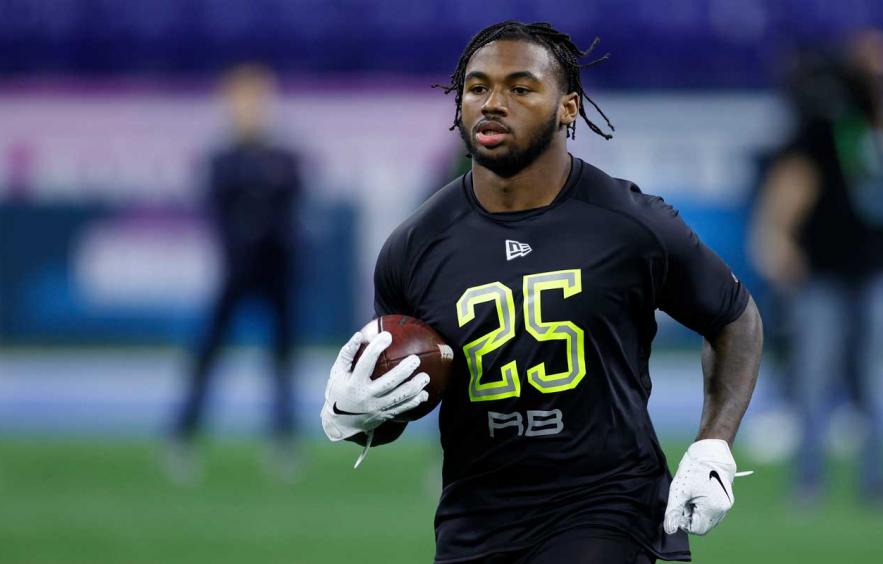 Joe Robbins/Getty Images
The NFL Draft has the potential to shake up dynasty values. This season's draft class includes a number of future stars, and while their dynasty values will rise, those of their future teammates may fall. In this article, we will look at the likely landing spots for the top talent in this draft class so that you can see which dynasty values are most likely to be affected.
We will focus our attention on the first three rounds of the draft, which includes most of the fantasy-relevant players, with special focus on the first round, where draft capital alone is likely to shift value toward the new players and away from their teammates.
Draft Needs by Team
This table shows all the teams with a reasonable possibility of selecting a skill position in the early rounds. Below, we discuss the results in more detail.
Early-Round Skill Position Needs

| Team | 1st Round | 2nd – 3rd Rounds |
| --- | --- | --- |
| ARI | | |
| ATL | | RB |
| BAL | RB | RB, WR |
| BUF | | RB |
| CAR | | QB, WR |
| CHI | | QB, WR |
| CIN | QB | WR, TE |
| CLE | | |
| DAL | | WR |
| DEN | WR | WR |
| DET | | WR |
| GB | WR | WR |
| HOU | | |
| IND | | QB, WR, TE |
| JAX | WR | WR |
| KC | | RB |
| LAC | QB | WR |
| LAR | | WR |
| LVR | WR | WR |
| MIA | QB, RB, WR | RB, WR |
| MIN | WR | WR |
| NE | QB, TE | WR, TE |
| NO | | WR |
| NYG | | WR |
| NYJ | WR | WR |
| PHI | WR | WR |
| PIT | | RB, WR |
| SEA | | RB |
| SF | WR | WR |
| TB | | RB, WR |
| TEN | | RB, TE |
| WAS | | WR |
Note that there will, as always, be a number of surprises in the draft. This analysis also does not consider possibilities like trading picks during the draft, which is likely to happen.
Round 1
The Bengals, Dolphins, Chargers and Patriots are all likely to spend significant draft capital (probably their first-round picks) on a quarterback. The first three are likely to take Joe Burrow, Tua Tagovailoa and Justin Herbert (probably in that order). The Patriots pick, if they make one, seems harder to guess.
The only team likely to take a running back in the first round is the Ravens. While Mark Ingram has two years left on his contract, he is 30-years old and could be cut without much dead money. This run-heavy team, then, looks like a fairly good landing spot for the first running back taken off the board.
The other possibility for a running back going in the first round could involve the Dolphins as a destination. Miami has a strong need at the position, even with Jordan Howard now signed. With three first-round picks, the Dolphins could easily take another skill player after drafting a quarterback and address another top need in the first round.
Jonathan Taylor, D'Andre Swift and J.K. Dobbins look like the top prospects here, so there is a good chance at least one of them ends up with one of these two teams. If they are looking for a pure runner, then Taylor would almost certainly be their choice.
Given the talent at the wide receiver position, a large number of teams have the potential to draft receivers in the first round. The Jaguars, Jets, Raiders, 49ers, Broncos, Eagles, Vikings and Packers all have strong needs at the position. The Dolphins are also a possibility, due to their three first-round picks, as noted above.
Jerry Jeudy, CeeDee Lamb and Henry Ruggs seem very likely to be taken here. Other strong possibilities include Denzel Mims, Justin Jefferson, Jalen Reagor, Brandon Aiyuk, Laviska Shenault and Tee Higgins.
The Patriots, a full season removed from Rob Gronkowski, look like the most likely team to draft a tight end early. Who they would take is anyone's guess, but Cole Kmet is probably the name mentioned most often.
Wide Receivers
As we saw above, several teams have a reasonable chance of taking receivers in the first round. Given the widespread use of formations with three or more receivers on the field at once, nearly every team has a need for more receiver depth, and with the talent on display this year, nearly every team has the potential to take a receiver in the first two days.
The primary exceptions are the Cardinals, Browns and Falcons, whose defensive needs are so strong as to make an early receiver pick unlikely. The Seahawks, Titans and Chiefs are also likely to skip on receivers due to needs at other positions and the relatively high quality of their current receiver corps. The Bills and Texans are in a similar situation, and also lack a first-round pick, which leaves them fewer excess draft capital to splurge on less-than-critical needs.
Rounds 2-3
While the Panthers, Bears and Colts all have their likely starting quarterbacks already, questions about their long-term future at the position make an early-round quarterback pick a possibility.
Several teams could pull the trigger on a running back in Rounds 2 or 3:
The Bengals, Titans and Colts all have the potential to draft a tight end on Day 2 of the draft due to losses at the position during this offseason.