Can Tee Higgins Carve Out a Role his Rookie Season?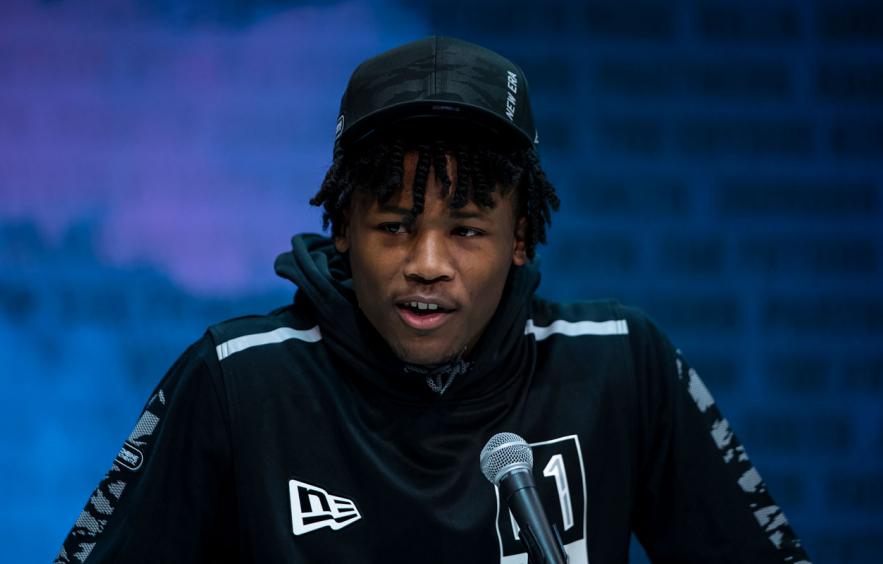 Michael Hickey/Getty Images
Shining beneath the shadows seems to be a talent for Tee Higgins. Whether it was fellow Clemson receiver Justyn Ross, uber-quarterback prospect Trevor Lawrence, or the inevitable rises and falls that the team saw chasing the National Championship each year; Higgins was an integral part of the offense. He gets another potential young star at quarterback in fellow 2020 NFL draftee Joe Burrow as they both land in Cincinnati, representing a new era for a crestfallen fan base and a chance to emerge under the cover of darkness in the form of a massive rebuilding effort.
With his Bengal-striped helmet in tow, Higgins will be looking to climb an uncertain depth chart, but can he be fantasy relevant in 2020? What about his outlook in 2021 and beyond?
Tee Higgins

' College Career

Higgins, unlike some of the other wide receivers who were drafted, was a ballyhooed recruit and routinely was ranked as a top-three receiver before eventually ending up at Clemson. That tends to be a great spot for recruits as they have excelled in developing wide receivers and positioning them for NFL success, with players like DeAndre Hopkins, Sammy Watkins, Mike Williams, and Martavis Bryant all having various levels of it in the last five years. It also means with such a deep, talented group of receivers, it can be difficult for freshmen to contribute.

With Higgins, that was partly the case. He was behind Hunter Renfrow, Deon Cain, and Ray-Ray McCloud but emerged as a field stretcher by averaging over 20 yards per catch on his 17 receptions. The bigger issue was at the quarterback position, where three different players started games and combined for just 17 total touchdown passes. It hampered the entire offense and made it difficult for a deep threat like Higgins to get catchable passes thrown his way.

Good thing a recruit named Trevor Lawrence came to town in 2018, even if it took the team a few weeks to make the commitment to him as a starter. It certainly helped Higgins as he led the team in receptions with 59 and despite having a team target share of 18.5%, he accounted for 32.4% of the team's touchdown receptions including four of his 12 coming from outside the red zone. The vertical ability remained as well, with 27% of those catches going for 20-plus yards, even with the presence of fellow elite wide receiver recruit Justyn Ross.

A full season with Lawrence also clearly helped in 2019, as with Higgins saw a five-point increase in catch rate and his yards per target went from a bland 10.0 to an otherworldly 13.4, which put him in the same space as CeeDee Lamb (14.6) and Henry Ruggs (13.6). Higgins had back-to-back seasons with over 20% of his catches going for a touchdown and an astounding 36% of those receptions gaining at least 20 yards.

The knocks on Higgins' college career were pretty low target shares (18.5% and 17.1%) in his two starting seasons, and the inconsistencies in his production. He had more games under 40 receiving yards (eight) in the last two years than he did over 100 yards (seven). Higgins came into the draft process with the potential to be a boom or bust weekly player, which may make it appropriate that he gets the chance to play alongside A.J. Green.
The
Bengals

Offense with

Tee Higgins

Before the NFL Draft, the team's positional needs simply read "all of them". Any talent injection is positive and it was clear that the Bengals saw offense as a priority, spending their first two picks on skill players. That partnership of Joe Burrow and Tee Higgins is turning the page on what was a largely disappointing pairing of Andy Dalton and A.J. Green. The latter remains, as mentioned, and should provide mentorship for Higgins and the other receivers while giving Burrow a seasoned option that should ease the transition into the NFL. The most important aspect is going to be where Higgins can capture targets in order to make an impact as a rookie.

A few outliers exist in terms of target share last year with Auden Tate and Alex Erickson combining for nearly 25% of the team's targets (the Bengals threw the ball 616 times) in 2019. That won't happen again and while that seems like a place Tee Higgins could get involved, remember that A.J. Green did not play at all last season. Tyler Boyd's 25% share won't sustain either and some of that could go to Higgins along with Green. Tyler Eifert, the team's fourth-most targeted option from last year is gone and that could also transfer some to Higgins if the team once again focuses on more three and four-receiver sets.

In 2019, over 80% of the pass plays came from three and four-receiver sets (from Sharp Football Stats), which was about 15 points higher than the NFL average. The talent at wide receiver should keep them above the mean once again, which gives Higgins more chances to see the field. Combine that with the ascension of Joe Burrow, who leveraged frequent three-receiver sets at LSU last year, and there is a good chance the Bengals try to keep him comfortable with plenty of options to target.
Bottom Line
Year 1 could be a big learning curve for Tee Higgins with his role focused more on specialization, likely as a deep threat to complement Tyler Boyd and A.J. Green.
Tee Higgins should beat out John Ross to be the outside receiver opposite Green, with Tyler Boyd returning closer to his 2018 slot percentage (67%) rather than 2019 (55%).
60-80 targets in year one is a reasonable range with large fluctuations week to week in both target share and performance. There is some long touchdown upside for fantasy leagues that reward bonus points for those plays.
His current ADP is at 116 right now, which makes him a 10th round pick and the WR42. That's too high for my liking and expect that number to lower as we get deeper into the post-draft offseason. For comparison, he is WR90 in 4for4's early rankings. He should be an upside selection in redraft leagues that you're willing to part with quickly if a waiver option emerges.
In dynasty leagues, Higgins is ranked as my 38th overall player and WR19. He should be considered in the late-first round of rookie drafts and has slipped into the early second in some instances.