Brandin Cooks's Fantasy Outlook for 2020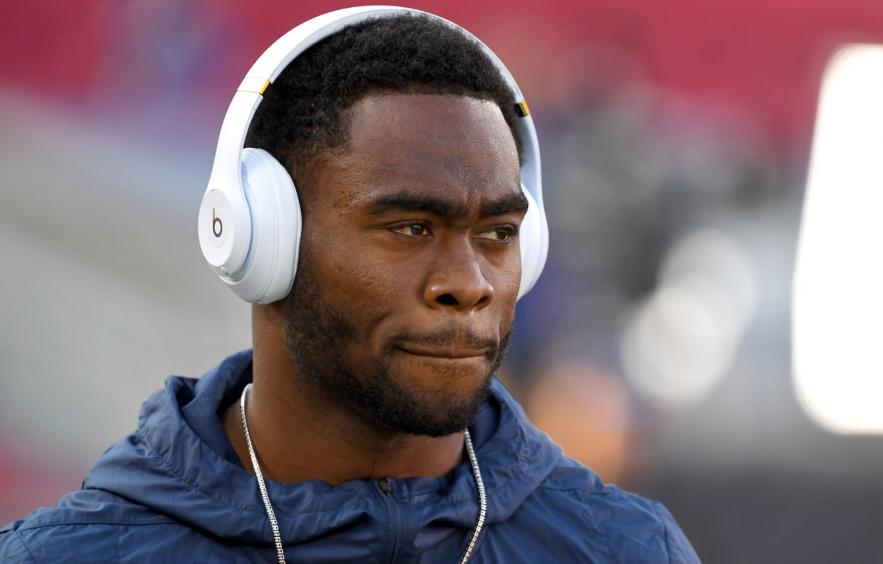 Jayne Kamin-Oncea/Getty Images
Did you know that the $21.8 million in dead money the Texans are eating in the acquisition of Brandin Cooks is a new record according to Over The Cap?
I believe that the $21.8M cap charge for Cooks will be the largest single year dead money charge ever taken for a player, surpassing the $21.12M the Steelers took for Antonio Brown last year.

— Jason_OTC (@Jason_OTC) April 10, 2020
The Texans acquired Cooks and a 2022 fourth-round pick from the Rams in exchange for the No. 57 overall pick in this year's NFL Draft. The addition of the soon to be 27-year-old receiver is not an adequate replacement for DeAndre Hopkins in the minds of the Houston fan base. This move smells like another knee jerk reaction from Texans head coach and general manager Bill O'Brien.
This is the third time Cooks has been traded in his six-year career. He was drafted by the Saints No. 20 overall in the 2014 NFL Draft out of Oregon State. Cooks was then traded to the Patriots and then went to the Rams. He has a terrible contract the Texans are inheriting and has suffered five known concussions. This is not ideal considering how reliable Hopkins was for Houston from a statistical and availability perspective. This article will discuss Cooks's statistical history, how he could be successful with the Texans, and what you can expect from a fantasy perspective.
Brandin Cooks

's Statistical Body of Work

Cooks has had a fascinating trek since being drafted as a 20-year old rookie. He has produced at an elite level, but Cooks's concussion history had many wondering if he would retire after last season. He has had three 1,000-yard receiving yards with three different teams.
Brandin Cooks

Yearly Stats, 2014–2019

| Season | Team | Targets | Receptions | Receiving Yards | Air Yards | TDs | HalfPPR PPG | Games |
| --- | --- | --- | --- | --- | --- | --- | --- | --- |
| 2014 | Saints"}" height="" style="" width="">Saints | 69 | 53 | 550 | 556 | 3 | 11.3 | 10 |
| 2015 | Saints"}" height="" style="" width="">Saints | 129 | 84 | 1,138 | 1,531 | 9 | 13.2 | 16 |
| 2016 | Saints"}" height="" style="" width="">Saints | 117 | 78 | 1,173 | 1,365 | 8 | 13.8 | 15 |
| 2017 | Patriots"}" height="" style="" width="">Patriots | 114 | 65 | 1,082 | 1,759 | 7 | 11.8 | 16 |
| 2018 | Rams"}" height="" style="" width="">Rams | 116 | 80 | 1,204 | 1,498 | 5 | 13.5 | 15 |
| 2019 | Rams"}" height="" style="" width="">Rams | 72 | 42 | 583 | 978 | 2 | 7.0 | 14 |
Cooks ran a 4.33-second forty-yard dash at the 2014 NFL Combine and continues to have a reputation as one of the NFL's premier deep threats. One thing is not often discussed is his target share. Cooks only has a target share of 18% in 88 active games since Week 1 of 2014. This doesn't profile as a prototypical fantasy WR1 even if he averages a career 14.3 yards per reception. Hopkins's target share in 110 active games for the Texans was 28%. He leads all wide receivers over the last three seasons with 487 targets. The Texans' acquisition of Cooks has been widely panned by NFL fans (and rightfully so), but it's unlikely that Houston intended for him to inherit all of those targets. Hopkins was traded because he wanted a "raise." Cooks's desire for affirmation and money are two reasons why he keeps bouncing around the league.
His departure from New Orleans was expedited by Cooks's public dissatisfaction with his offensive role and the emergence of then-rookie Michael Thomas during the 2017 season. Cooks was a major contributor in New England as the team made a Super Bowl run during the 2018 season. Cooks wanted to be compensated and the Patriots declined and traded him to Los Angeles. The Rams offered Cooks an $80 million dollar extension that had many scratching their heads. Then two seasons later he finished fourth on the team in receiving yards while dealing with concussions. Cooks is the NFL receiver everyone wants to date, but never marry. Will this trend continue in Houston? Let's walk through Cooks' fantasy outlook with the Texans this season.
How
Brandin Cooks

Fits with the

Texans

The fact that O'Brien said goodbye to one of Houston's two second-round picks is an indicator to Cooks will see his fair share of targets in what many perceive as a draft class with a high number of quality wide receivers. O'Brien could have saved the Texans plenty of salary space by adding a receiver in the 2020 NFL Draft, but he has a well-documented history of not always acting rationally. Cooks has 54 receptions of 20 or more yards over the last five seasons according to ESPN Stats and Information. Only Antonio Brown and Julio Jones have more. The Texans passing attack will be built around receivers Cooks and Will Fuller threatening defenses vertically.

This is something Houston will have to lean on often in 2020. The Texans have done nothing to improve their 28th-ranked passing defense that ranked 23rd in schedule-adjusted fantasy points allowed to quarterbacks last season. The irony is that O'Brien and the Texans offensive staff have built a house of cards by banking on Cooks and Fuller to stay healthy this season considering their injury histories. The good news is that Deshaun Watson thrives throwing the deep ball. Here is what I wrote about him in my player profile of Cooks' new teammate Randall Cobb:
Watson (81) had the fourth most deep-ball passing attempts last season. The only quarterbacks with more were Jameis Winston (113), Aaron Rodgers (94), and Russell Wilson (83). Watson's completion percentage (42%) on these passes was the highest among these quarterbacks.
The presence of David Johnson and Duke Johnson could also negatively affect Cooks's target share. Both of these running backs are accomplished route-runners and pass-catchers. Johnson has two seasons with 50 or more receptions on his NFL resume. Cooks still finds himself in a great position to bounce back in 2020 after a disappointing 2019 season. He's not likely to see a dramatic increase in target share considering the other offensive weapons surrounding him, but playing with Watson under center throwing Cooks a high number of targets elevates his fantasy outlook. Cooks has a history of maximizing his targets. He has positive receiving fantasy points over expectation in his career.
Bottom Line
The best approach to take if you choose to invest in one of the Texans receivers is to be patient and draft the last one standing between Cooks and Fuller as your WR3 or WR4. According to consensus ADP, Fuller is currently the WR33 while Cooks is the WR47. Cobb is the WR70. Hope is not a winning fantasy football strategy. The Texans' situation alludes to an even distribution of targets.