Is Allen Lazard Fantasy Viable in 2020?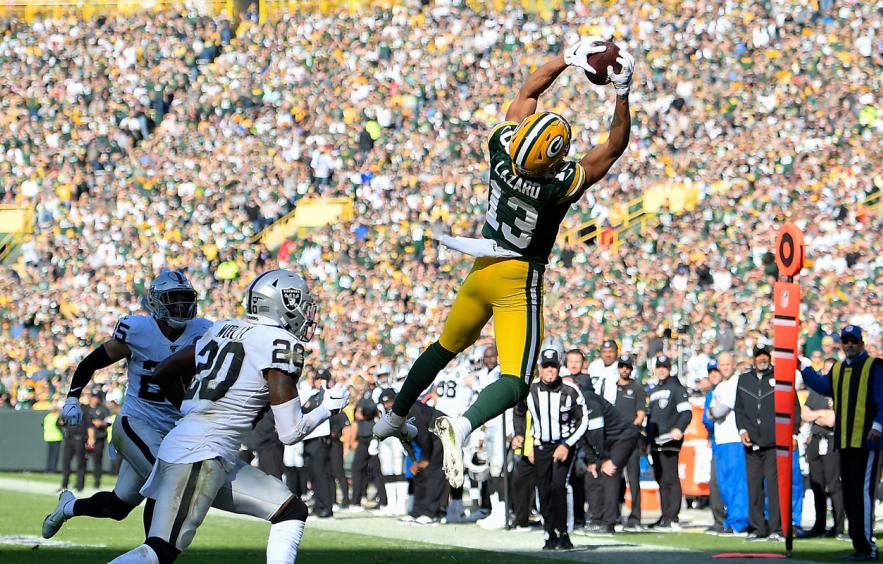 Quinn Harris/Getty Images
The Packers off-season thus far has produced more questions than answers when it comes to the passing game, Aaron Rodgers, and the offense around him. Though we can be sure that a healthy Davante Adams is going to run roughshod through NFC North secondaries, it's worth an investigation across the ancillary pieces of the offense to see if we can sift out any other contributions to our fantasy teams.
---
---
Enter Allen Lazard, who had a —albeit mild— sophomore year breakout in his first season with the Green Bay Packers. Can he become a reliable part of our rosters, or was his mini-breakout an anomaly before he recesses back to an NFL life relegated to special teams play?
Pegged as a Day 3 NFL Draft prospect, Lazard instead went to the Jacksonville Jaguars as an undrafted free agent in 2018. Coming out of Iowa State as a 6'4", 227 pound monster of a wide receiver, he was compared to the likes of Vincent Jackson or Marques Colston as a fight-for-the-ball, win in the red zone type of player. As a four-year starter in college, Lazard beat Big 12 cornerbacks consistently with contested catch ability on "box-out" possession routes.
The rookie didn't see a single snap with the Jaguars before Green Bay snatched him off of the Jacksonville practice squad in December of the same year. The Packers had managed to strike out with their wide receiver draft class of J'Mon Moore, Marquez Valdes-Scantling, and Equanimeous St. Brown.
Heading into 2019, with only MVS receiving playing time from that busted 2018 draft class (ESB landed on injured reserve), Lazard was relegated to special teams snaps until Week 6, when a Davante Adams injury and lackluster receiver play forced Green Bay's hand and got the former Cyclone on the field with the offense for his first sustained usage in his short career. He would log three starts from then on, averaging four catches and 52 yards on seven targets through those games. By the end of the season, Lazard was firmly entrenched as the number two wide receiver in terms of snap share, with Geronimo Allison (now a Detroit Lion), Jake Kumerow and Valdes-Scantling far in the rearview mirror.
Despite his short ten-game season as an offensive weapon, Lazard finished second on the team in air yards, yards per target, yards per game, and yards per route run.
It's hard to say so early in the season but with how quickly he came along in the offense and amid more recent praise (quote below) from quarterback Aaron Rodgers, it would seem we have an entrenched number two receiver to start 2020.
"By the end of the season, he (Lazard) was called upon many, many times in important situations to make big plays and he did," Rodgers said. "He's just a great teammate, and ascending player, loved his approach every week and he made some big-time plays for us."
Packers Off-Season and Historical Wide Receiver Usage
There were 37 wide receivers taken in the 2020 NFL Draft —including a record 15 in the first two rounds— yet Green Bay avoided taking a single one of them with their nine picks, instead choosing to add depth along their line and add competition to their quarterback and running back rooms. There's a lot that can be said about this strategy, but whether you agree or disagree with the blueprint doesn't change the vote of confidence the team gave the pass-catchers already on their roster.
So while the problem does not lie in what the coaching staff believes about the current wide receiver depth chart as it pertains to Allen Lazard's opportunity share, the problem may lie in recent historical passing game usage.
Packers Pass & WR Target Percentages, 2016-2019

| Season | Neutral Game Script Pass % | Rank | WR Target % | Rank |
| --- | --- | --- | --- | --- |
| 2019 | 62.00% | 10th | 57.80% | 21st |
| 2018 | 64.60% | 3rd | 62.10% | 9th |
| 2017 | 53.40% | 23rd | 65.10% | 3rd |
| 2016 | 62.40% | 2nd | 66.20% | 4th |
After seven straight years in the top 10 of wide receiver target percentage, the offense —under first-year offensive coordinator Nathaniel Hackett and head coach Matt LaFleur— finished 2019 in 21st place. Davante Adams accumulated 22.9% of the team's targets (17th-most among all pass-catchers) even though he only played 12 games. Green Bay's running backs accounted for another 24.5%, signaling more pass-catching opportunities out of the backfield.
Independent of the wide receiver target percentage, we also have an interesting drop in neutral game script pass percentage in 2019. While Green Bay finished 23rd in pass percentage in 2017 on the backs of Jamaal Williams, Aaron Jones, and Ty Montgomery, it was an outlier season with Aaron Rodgers only logging seven game starts on the season, leaving most of the heavy lifting to Brett Hundley. It made sense to keep the ball on the ground.
The two 'Rodgers' seasons before 2019 were both in the top three in terms of neutral game script passing, and while the 10th-ranked finish last season may have been an aberration in how the Packers will call plays moving forward, the picks they made during the draft paint a different picture.
We've seen recent big-bodied athletic receivers quickly fall by the wayside (Hakeem Butler) but we've also seen historical success with large receivers in an Aaron Rodgers-led offense who aren't afraid of contact over the middle or in the red zone (Jordy Nelson). Finding a space to place Lazard on the spectrum of Butler-Nelson is easy enough considering the wide barge between the two outcomes, but my point is that we have a lot of possibilities to consider, including that of a clear number two receiver behind Davante Adams.
At the time of writing, John Paulsen has Lazard ranked at the WR65 in Half-PPR scoring, with teammates Davante Adams and Devin Funchess ranked at WR2 and WR97, respectively. Adams is going to get his either way, and we haven't mentioned Funchess throughout this article because I'm convinced he was simply signed as cheap depth at the position. As one of the least efficient receivers in the game who was outperformed by Ed Dickson and Kelvin Benjamin in his most productive season, if Devin Funchess beats out Allen Lazard on the depth chart then we will have a big problem with the Packers offense.
Assuming Lazard sees the field early and often, he will contest against one of the softest schedules of defenses the league has to offer. The above graphic is a snippet of our Hot Spots app and shows the opponent with their 2019 average adjusted fantasy points allowed to the wide receiver position.
As a further statistical back-up to these hot spots, let's take a look at the first two opponents Green Bay will face, both "green" boxes in the strength of schedule. Both the Vikings (Xavier Rhodes - 77.4%) and Lions (Amani Oruwariye - 77.8%) had cornerbacks that ranked in the bottom-five according to Sports Info Solutions' Allowed Completion percentage. Minnesota drafted five defensive backs to attempt to mask the problem while Detroit has not moved on from Oruwariye.
It could be beneficial to buy into Lazard early in anticipation of early year usage against these teams.
Bottom Line
Green Bay is trending away from us seeing production by a handful of receivers and tight ends.
From the game in which he received his first target (Week 6 - Detroit Lions) until the end of the season, Lazard was on a 16-game pace that would have ended with a 51-694-4 receiving line. That would have ranked him as the WR50, 15 spots over his current ADP.
It's not possible to know with absolute certainty that Allen Lazard is for sure the number two receiver at this point in the off-season, but the chance of that upside is far more valuable than his 16th-round average draft position.