The Top DFS Contrarian Stacks: Week 8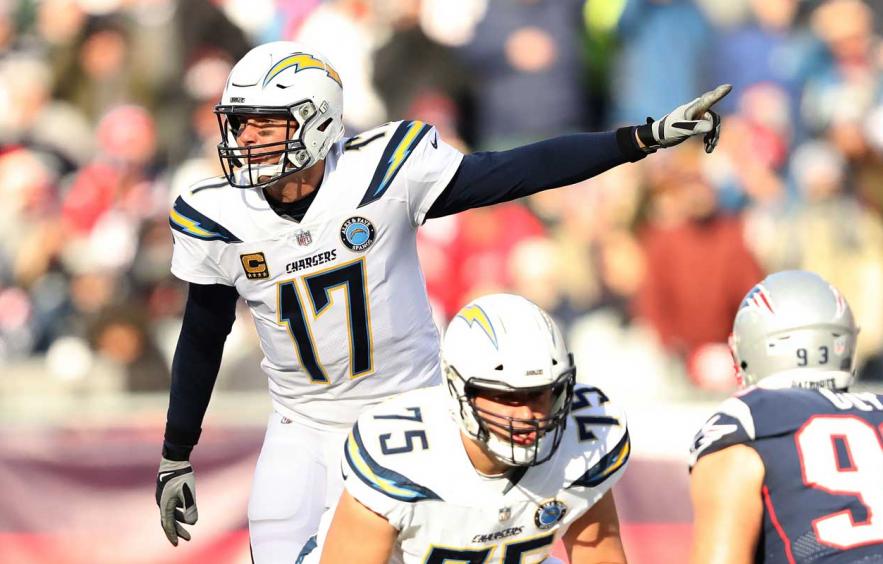 Elsa/Getty Images
When laying out Week 7 NFL DFS contrarian stacks, I'll be using a combination of our Stack Value Reports and GPP Leverage Scores to find unique stacks that can take down a tournament. I encourage you to read the series on how to win a GPP in the DFS Strategy Hub. You'll quickly realize that taking down a tournament requires a balance of players ranging from low-owned to chalky.
I like building contrarian stacks around my chalkier core of players because you only have to get one instance correct for it to hit. For example, if we hit on a contrarian quarterback play while having a pass-catcher or two from that same game, the positive correlation of those stacks is technically getting one contrarian play correct despite filling multiple roster slots. I feel this is easier than having a chalkier stack while trying to hit multiple individual low-owned plays throughout the rest of your lineup. Keep in mind that these are contrarian stacks, so you don't have to use these stacks in a large percentage of lineups to be overweight on the field. They should be used in tandem with a chalkier core of players.
QB/WR1/Opp WR1 Stack
QB
Ryan Tannehill

($5,100 DK/$6,900 FD)

WR

A.J. Brown

($4,100 DK/$5,500 FD)

WR

Chris Godwin

($7,100 DK/$8,100 FD)

The Buccaneers provide a true funnel defense for Ryan Tannehill and the Titans pass-catchers. Tampa Bay ranks dead last in passing yards allowed to opponents at 304 yards per game, but only surrender 68 yards per game to opposing running backs. If there was ever a week for the Titans to move away from pounding Derrick Henry into the line of scrimmage and letting Tannehill air the ball out, it's this week. The Titans are projected for 24 implied points, which is a touchdown over their season average. Tannehill looked sharp in his first start against the Chargers, securing the 300-yard bonus for DraftKings and tossing two touchdowns.

A.J. Brown notched the most targets from Tannehill in his debut at eight, despite the fact that Corey Davis found the end zone. Brown's eight targets in the game were good for a 27% target share. He also owns a 22% target share of the Titans' red zone looks. With Delanie Walker out of the lineup, Brown will see a bump in usage across the board. Walker accounted for 28% of the Titans' red zone targets, 18% of their overall targets, and 19% of their air yards share. I'm not sure if Tannehill will be contrarian as he put up a big game last week and is virtually free of charge, but locking in Brown will make this stack a bit more unique as Corey Davis will be the more popular stack with Tannehill.

Chris Godwin has been incredible. He is averaging roughly seven receptions, 110 yards and a shade under a touchdown per game. That's 26 DraftKings points on average. This week he gets a Titans team that looks stout on paper, but the true measure for me when diagnosing if I'm going to roster Buccaneers is sack rate. Despite the fact Jameis Winston had solid numbers against pressure to begin the season, those numbers regressed to the mean rather quickly. The Titans are league average in getting to the quarterback, giving me hope that Winston will have time to throw, giving Godwin an opportunity to eat up whoever they stick on him. I'm not sure why Godwin isn't the highest priced receiver on the slate, or at least why he isn't in the same ballpark as guys like Michael Thomas and DeAndre Hopkins. This stack allows you a ton of flexibility with a very cheap quarterback and receiver pairing.
QB/WR1/Opp RB Stack
QB
Teddy Bridgewater

($5,900 DK/$7,500 FD)

WR

Michael Thomas

($8,000 DK/$8,500 FD)

RB

Chase Edmonds

($6,200 DK/$6,100 FD)

Obviously, this recommendation only rings true if Drew Brees doesn't make his return to the field on Sunday. With the Saints' bye week on the horizon, I would expect them to hold Brees out again and get him the two-week rest period before returning in Week 10. Teddy Bridgewater needs to be commended for guiding the Saints to an undefeated record in Brees' absence. He's been a game manager in some instances but has also lit up the scoreboard in others. Even though Patrick Peterson has made his triumphant return, the Cardinals are still not a good unit in the secondary. The concentrated targets to Michael Thomas is what makes this stack so appealing. You don't have to guess who will be responsible for the bulk of the fantasy points if Bridgewater has a big day. In the last three weeks, Thomas leads the NFL in targets, receptions, yards, and fantasy points. He has a 33% target share and a 42% air yards share. The potential ownership on Thomas could be lower than expected due to the Peterson matchup narrative, but as his twitter handle indicates, you can't guard Mike.

To make this game stack unique, I like adding Chase Edmonds to the mix. There is a ton of uncertainty swirling around David Johnson. He was active for last week's game but only played three snaps, then the Cardinals go out and sign Alfred Morris and Zack Zenner. We don't really know how healthy Johnson really is. Despite that detail, it's tough to ignore what Chase Edmonds brings to the table. Even putting aside the monster three touchdown week he had last week in DJ's absence, he has amassed 161 yards on only 24 carries before Week 7—that's 6.7 yards per carry. He has been electric with the football on the ground and has contributed through the air when given the opportunity. The matchup with the Saints isn't ideal—in fact, it's one of the tougher ones on the slate, but that's what makes this stack contrarian. I'm not sure many people will be on Edmonds with the thinking that Johnson may be closer to full health and the fact he jumped up a ton in salary. Everyone is going to be on Latavius Murray and the Saints defense in this game, so projecting a potential shootout and rostering the necessary pieces from both teams to benefit we get some leverage on the field.
QB/RB1/WR2/Opposing WR1
QB
Philip Rivers

($5,300 DK/$7,300 FD)

RB

Melvin Gordon

($5,400 DK/$6,400 FD)

WR

Mike Williams

($4,000 DK/$5,700 FD)

WR

Allen Robinson

($6,000 DK/$7,100 FD)

This stack is about as contrarian as I get. It's pretty far off the beaten path for me to recommend three players from a team that has an implied total of 19. This is the type of stack you play with your chalky core plays to make it a unique lineup. Philip Rivers has five games of 20 or more DraftKings points. He also has five 300-yard games and five multi-touchdown games. He has played extremely well in stretches this season. This isn't the most ideal matchup, but the Bears are 13th in passing yards allowed to opposing quarterbacks, so they're hovering around average in terms of yards allowed. I love bypassing the chalky Hunter Henry and Keenan Allen for a super low-owned Mike Williams. Williams ranks second in the league in air yards and sixth in targets, but only 25th in fantasy points. He's seeing the requisite volume and targets to have huge fantasy performances but has yet to cash in. If Rivers and Williams connect on a touchdown or two at their current dirt-cheap salaries and low ownership, you're lapping the field to that point.

Adding in Melvin Gordon will make it probably the only lineup on the entire site with that combination of players. Gordon has been dreadful and Austin Ekeler is getting all the love, but a closer look reveals it may just be Gordon's week to shine. The Bears have struggled against the run, ranking bottom ten in adjusted line yards allowed, a FootballOutsiders.com metric to grade the effectiveness of a run defense. They also have the fourth-worst stuff percentage, a metric that tracks how often the defensive line gets penetration and halts a run at or before the line of scrimmage. To date, that's been Gordon's problem, he's faced good defensive lines that have impeded his progress before even getting started. He's seeing around 20 combined opportunities per game and the Chargers are dead set on feeding him. I like adding him to Chargers game stacks as he's involved in the passing game and has rushing upside this week.

Then there's my guy Allen Robinson. We were all over him last week despite the matchup with Marshawn Lattimore because we uncovered that Lattimore doesn't travel to the slot where Robinson sees 62% of his targets. This week it's the same deal. Casey Heyward is a great corner in the league, but he's only been in the slot covering a wideout on eight snaps this season. Robinson has a massive 52% share of the Bears air yards and a 30% target share since Week 5. Trubisky will continue to feed Robinson who showed superior route running against the Saints defense last week. We're hoping this low total game turns into a shootout and that Robinson and the Chargers passing game exceed salary-based expectations.