The Top DFS Running Back and Defense Stacks: Week 2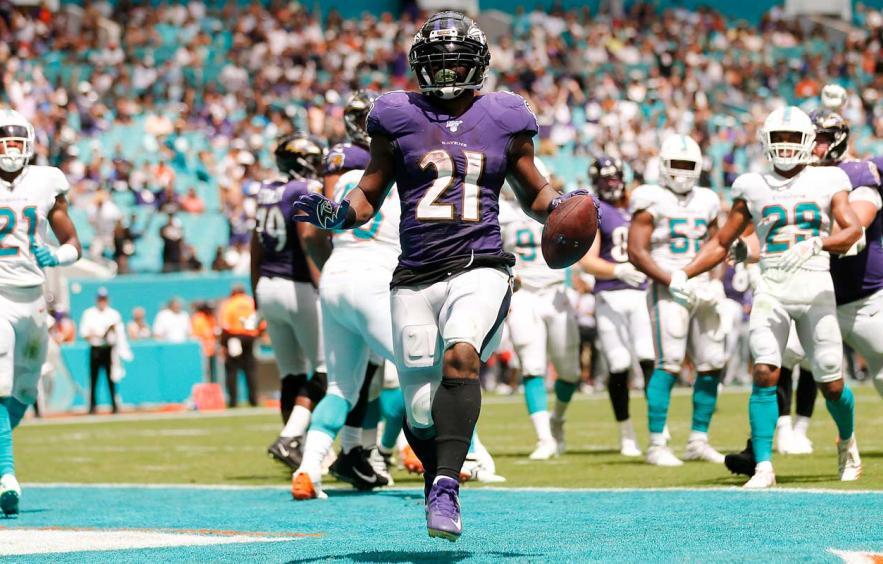 Michael Reaves/Getty Images
These are the Week 2 running back-defense stacks on FanDuel and DraftKings. I'll examine where we might be able to get a solid defensive performance and volume-driven running production, including at least one RB-defense stack that will have minimal usage.
One should not base their weekly DFS lineup composition on the RB-DEF stack, as the correlation isn't nearly as strong as the QB-WR1 combo, for example. But considering RB1s—and only RB1s—get a decent bump in production when their team's defense scores at least 15 fantasy points, it's worthwhile to see where this stack might offer upside and differentiation for those who play large-field DFS tournaments.
Running backs and defenses from the same team often face positive circumstances together. It's these conditions that lead to fantasy points. Sometimes a lot of fantasy points—the kind that swing DFS tournaments.
The process largely delivered for our RB-defense combos in Week 1, with Austin Ekeler and the LA defense putting up a combined 42 points in a high scoring affair; the Niners defense turning three picks into two touchdowns, scoring 33 fantasy points with an ineffective Matt Breida; and Chris Carson joining the Seattle defense to score 36 fantasy points, taking full advantage of neutral game script in a comedically run-heavy offense.
Let's get into Week 2's best and most cost-effective RB-defense stacks and double-dip on that positive game script.
Mark Ingram

/

Ravens

vs

Cardinals
Combined percentage of FanDuel salary: 20.8%
Combined percentage of DraftKings salary: 19.6%
Probably this will be the most common RB-defense stack mentioned in this space for Week 2, but I wouldn't shy away from it. I'm not sure DFS players are going to pay all the way up—an eye-popping $5,000 on FanDuel—for a defense against an Arizona offense that shredded the Lions last week in the second half. Holding one's nose and rolling with a high-priced defense is a superb way to secure differentiation in a large field DFS tournament.
The Ravens, with an ocean of good game script against the moribund Dolphins, ran that ball in Week 1 46 times, with Mark Ingram ($7,500 FD/$6,000 DK) getting 14 carries for 107 yards and two scores. Ingram likely would have had more than 20 totes if Miami had not waved the white flag midway through the first quarter. Meanwhile, Detroit attacked the Arizona defense via the run with 32 rushes in Matt Patricia's desperate effort not to lose. The Ravens are at home and favored by almost two touchdowns. We want any warm body taking handoffs in that scenario. Eleven running backs have a higher projected ceiling than Ingram in Week 2.
New England is the only Week 2 defense with a better projected ceiling than the Baltimore defense ($5,000 FD/$3,800 DK). Lost in Kyler Murray's 300-yard Week 1 outing against Detroit was the rookie completing a hideous 53.7% of his passes; he tossed one interception and at least one other pass that should've been picked. Faced with (likely) negative script, expect Murray to once more be forced to drop back early and often against a Ravens defense ready to tee off on the young passer.
Giovani Bernard

/

Bengals

vs

49ers
Combined percentage of FanDuel salary: 16%
Combined percentage of DraftKings salary: 15.8%
This stack, of course, is contingent on Joe Mixon missing this game with the ankle injury he suffered last week in Seattle. This combination constitutes a low-priced stack with plenty of upside: a mere 11 RB-defense stacks have higher upside, per the 4for4 Stack Value Report, and most of those combos are much pricier than Giovani Bernard ($5,900 FD/$5,300 DK) and the Bengals' defense. The striped ones enter this one as 1.5 point favorites.
Let's be honest with ourselves: Jimmy Garoppolo might be bad—really bad. Against a bottom-tier Tampa defense in Week 1, Jimmy G managed 166 yards, a touchdown and an interception, finishing with an abominable 5.22 adjusted yards per attempt. It sure seems like he's the kind of quarterback we want facing negative game script. Cincinnati's defense ($3,900 FD/$2,600 DK) continually applied pressure last week against Russell Wilson, sacking him four times. The Bengals posted the week's highest percentage of plays that resulted in sacks. The most appealing part of the Bengals defense this week: 18 defenses are priced above them on DraftKings, and 13 defenses are pricier on FanDuel.
Bernard, meanwhile, saw nine touches in Cincy's massively pass-heavy attack last week against the Seahawks, drawing three targets as Andy Dalton threw 51 times. While that's hardly overwhelming, Bernard will surely see a heavier workload if Mixon misses Week 2. The Niners' front seven seems susceptible to the run, as the Bucs piled up 120 rushing yards against San Francisco in Week 1, gashing them for 4.8 yards per tote. Perhaps more importantly for Bernard, a pass-catching dynamo: running backs averaged 6.18 receptions per game against the Niners in 2018. Five defenses gave up more catches to backs. That fits nicely with what Bernard does best. Bernard's ceiling stands at 25.7 PPR points, just slightly lower than runners priced well above him, according to the 4for4 Floor and Ceiling Projections Tool.
Derrick Henry

/

Titans

vs

Colts
Combined percentage of FanDuel salary: 20.1%
Combined percentage of DraftKings salary: 18.2%
You may have noticed that this stack is far more reasonable on DraftKings than it is on FanDuel, thanks to Derrick Henry ($7,500 FD/$6,000 DK) being the sixth-highest priced runner on the site's Week 2 main slate. The nearly 2% difference between DK and FD makes a not-insignificant difference in creating tournament lineups. If you don't believe me, try it.
It's hardly a state secret that Tennessee's primary offensive goal is to hammer enemy defenses with their giant running back. When they can, they will. We saw that in Week 1 when the Titans grabbed a lead against a feckless Cleveland defense and Henry saw 20 touches, including a fluky 75-yard touchdown catch. Henry's win/loss opportunity splits are tremendous: last year he notched 15.8 rushes in nine Tennessee wins and 10.2 rushes in losses. The Titans are a three-point home favorite here, taking on an Indy defense fresh off allowing 125 rushing yards to the Chargers. Colts opponents in 2018 attacked via the run, averaging 22.1 rush attempts per game. Henry will get his if the Titans can manage anything resembling neutral or positive script in this one.
I mentioned last week in this space that Jacoby Brissett had completed less than 60% of his passes in 12 of his 15 NFL starts. Of course, he read this column and completed 77.8% of his throws in Week 1 against the Chargers. Alas. I'm not sure we can write off Brissett as a target for fantasy defenses, especially when the Colts might be forced into a one-dimensional offense against a decent Titans defense ($4,600 FD/$3,100 DK). The Tennessee defense, which held the Browns to a measly 5.5 yards per play (6.3 yards per pass attempt) in Week 1, is reasonably priced on DraftKings; eight defenses are pricier on the main slate. Their prospects are good barring a game script nightmare.