The Top DFS Contrarian Stacks: Week 10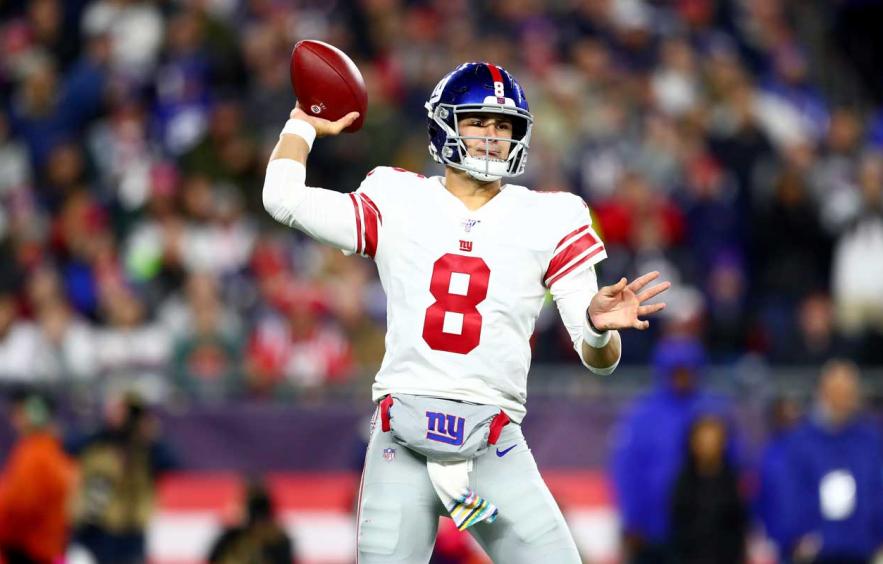 Adam Glanzman/Getty Images
When laying out Week 10 NFL DFS contrarian stacks, I'll be using a combination of our Stack Value Reports and GPP Leverage Scores to find unique stacks that can take down a tournament. I encourage you to read the series on how to win a GPP in the DFS Strategy Hub. You'll quickly realize that taking down a tournament requires a balance of players ranging from low-owned to chalky.
I like building contrarian stacks around my chalkier core of players because you only have to get one instance correct for it to hit. For example, if we hit on a contrarian quarterback play while having a pass-catcher or two from that same game, the positive correlation of those stacks is technically getting one contrarian play correct despite filling multiple roster slots. I feel this is easier than having a chalkier stack while trying to hit multiple individual low-owned plays throughout the rest of your lineup. Keep in mind that these are contrarian stacks, so you don't have to use these stacks in a large percentage of lineups to be overweight on the field. They should be used in tandem with a chalkier core of players.
QB/RB1/Opp WR1 Stack
QB
Kyler Murray

($6,500 DK/$7,700 FD)

RB

David Johnson

($5,700 DK/$6,800 FD)

WR

Mike Evans

($7,600 DK/$8,600 FD)

Murray is the classic boom-or-bust quarterback option on this slate. I am having a hard time getting a gauge on his ownership, but I don't think he'll be too highly owned because of the options around him in Lamar Jackson, Jameis Winston, Drew Brees, and even Matt Ryan. The Buccaneers present a pass-funnel defense that invites teams to call a disproportionate amount of pass plays due to their run blitz scheme. They give up the most raw fantasy points to quarterbacks, while also ceding the second-most passing yards to opposing offenses. Conversely, they only allow 78 yards (best in the league) to opposing running backs. Due to the fact that Murray spreads the ball around to his receivers, and also accrues a hefty chunk of his fantasy points on the ground, not stacking him with any pass-catcher will make this lineup extremely unique. Kenyan Drake and David Johnson are viable this week, so they are basically interchangeable in this contrarian stack. Johnson has come out and said he is 100% healthy. This is the lowest price tag we will see on him for a long time. He's an integral part of the passing game when he is on the field, When Johnson has had tournament worthy fantasy production it's been through the air. In the three games he eclipsed 20 DraftKings points, he turned in lines of 6/68/1, 8/99, and 6/55/1.

The Buccaneers passing offense is electric and it's headlined by Mike Evans. Since the Bucs' bye week, he's firmly supplanted Chris Godwin as the top target for Jameis Winston. In that span, he has racked up 23 receptions, 378 yards and three touchdowns. Evans could see Patrick Peterson for much of this game, but he hasn't made much of an impact since his return. Last week against the 49ers, Emmanuel Sanders roasted him on several plays en route to a monster fantasy outing. I wouldn't recommend doing it in more than one dart throw lineup, but we can also add O.J. Howard to make this lineup more unique as well due to the fact he's been absolutely written off by many daily fantasy players. We all know the Cardinals have been destroyed by opposing tight ends. They've given up nine touchdowns through nine games.
QB/RB1/WR1/Opposing WR1 Stack
QB
Daniel Jones

($5,700 DK/$7,400 FD)

RB

Saquon Barkley

($8,800 DK/$8,600 FD)

WR

Golden Tate

($5,900 DK/$6,300 FD)

WR

Robby Anderson

($4,700 DK/$5,900 FD)

Robby Anderson may have the largest discrepancy in opportunity and fantasy output now that Mike Williams actually turned in a useable fantasy performance last week. Since Week 5, Anderson ranks sixth in total air yards but 30th in DraftKings points. The Giants have allowed the second-most 100-yard games to receivers. Their ineptitude was on full display on Monday Night Football. When receivers get the ball in their hands, they lack the desire to bring them down. We saw Jenoris Jenkins basically let Blake Jarwin run right by him without even making an attempt to bring him down. Two safeties completely whiffed on Amari Cooper leading to a long touchdown for him, and Michael Gallup caught a pass on the sideline and managed to tiptoe and tumble into the end zone because no secondary bothered to put a hand on him to push him out of bounds. Anderson has struggled and that's apparent, but this is the matchup that can get him out of his slump.

Barkley should be popular, but pairing him with Daniel Jones and Golden Tate will undoubtedly make this a unique stack. Jones has flashed his ceiling, we've seen it. In Detroit, Jones three for 322 yards and four touchdowns. In Tampa, he threw for 336 yards and accounted for four touchdowns. He has the ability to eclipse 30 fantasy points in the right matchup. The Jets are a pass-funnel defense ranking 24th in passing yards allowed, but 6th in rushing. This game has sneaky shootout potential with explosive offensive pieces facing underperforming defenses. With the injuries to Sterling Shepard and Evan Engram, who account for more than half of the team's air yards, Barkley and Tate will scoop up extra volume. Tate has 30-point upside as the main end zone target in this offense. He displayed his seldomly shown deep threat skills against the Patriots, catching a long touchdown that resulted in a 6/102/1 line.
QB/WR1/Opp WR1 Stack
QB
Josh Allen

($6,300 DK/$7,500 FD)

WR

John Brown

($6,000 DK/$5,800 FD)

WR

Odell Beckham

($6,100 DK/$6,900 FD)

This recommended stack is an absolute one lineup dart throw around a chalkier core of players. It has the potential for a massive score, but the likelihood of it hitting isn't strong. We have this stack ranked in the top 15 of our stack value report in terms of highest ceiling for Week 10. Before the last three weeks, Odell Beckham Jr. hadn't been priced lower than $7,400 since the first few games of 2014. Like we saw with Zach Ertz last week, there comes a point where the salary just doesn't match the potential. I think we've reached that point with Beckham. It's not like he's not getting the opportunity, He has topped five receptions or 80 yards in each of his last three games. I don't think many DFS players will flock to Beckham given the matchup with the Bills and his relative lack of production this season. We all know what Odell is capable of, though. We saw it at MetLife stadium a few weeks ago when he crushed the Jets for 160 yards and a score. The game script of a shootout in this contest appears unlikely, however, it's not out of the question. The Achilles heel of the Browns is allowing Baker to get pressured, they are in luck this week because the Bills rank bottom ten in the league in adjusted sack rate. I could see this being one of the first instances all year that Baker has time to get the ball downfield.

Josh Allen always presents a high floor and ceiling due to his rushing prowess. We've seen him eclipse 100 yards rushing in his short career. Then we have his main target John Brown who has seen almost 40% of the Bills' air yards. Brown has fizzled out a bit in his last two starts and his salary has remained the same. Despite this 3-man stack projecting for one of the higher ceiling totals in our model, the ownership will not reflect that. We are counting on a game script that Vegas and the public are not, but if this game ends up being a faster-paced, back-and-forth contest, make no mistake Odell and Brown will be the beneficiaries of a high scoring affair