Vance McDonald: Your Typical Seventh-Year Breakout Tight End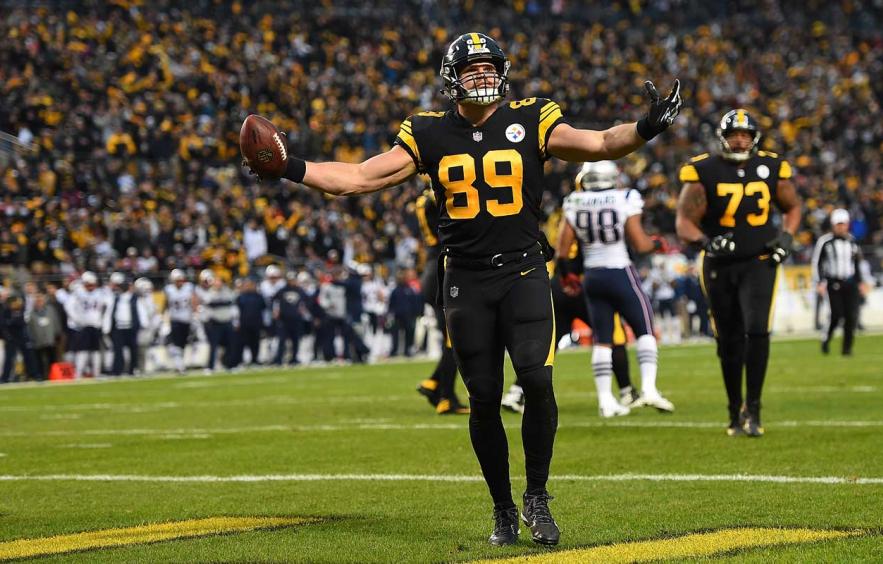 Joe Sargent/Getty Images
In 2018 Vance McDonald set career highs in targets, receptions and yards. McDonald, who was only in his second year with the Steelers, seemed to take over the receiving tight end role from Jesse James. It just so happens that McDonald is also entering his seventh season and will be 29 in a couple of weeks. What seems to be a late-career trajectory, McDonald has the circumstances to be an upper-end fantasy tight end at an already scarce position.
Antonio Brown

Gone Means More Targets Available

Antonio Brown accounted for 168 targets from Ben Roethlisberger in 2018. Will all these targets now be distributed among current Steelers players? Of course not. Big Ben had a career-high 675 pass attempts in 2018 and it is unlikely he touches that mark again. However, in each of the past three years, Roethlisberger has eclipsed 500 pass attempts. The Steelers also lost offensive line coach Mike Munchak who has been instrumental for their rushing attack. If the rushing attack struggles to be efficient, this could lead to more passes being called. Even if Roethlisberger doesn't hover around that 675 mark in 2019, there should be plenty of targets to go around to pass catchers such as McDonald.

Not only did Roethlisberger throw it often in 2018, but he also threw it short (passes that traveled 15 yards or less in the air) multiple times. Roethlisberger ranked 21st in average Air Yards per attempt as well as 11th in percentage of passes that were short passes. Big Ben also favored throwing it over the middle, ranking third in the NFL in percentage of passes that were thrown over the middle. So we know Roethlisberger liked throwing it short and also over the middle and now we'll see how those tendencies match up with McDonald's strengths.
McDonald and Big Ben Match Up Well
McDonald only averaged about five Air Yards per target in 2018 (third-lowest among 40 tight ends with at least 30 targets) but he still managed to gain 8.7 yards per target which was third on the team. On short passes, McDonald had a target share of 13%, which was behind only JuJu Smith-Schuster's 24% and Brown's 21%. On these catches, McDonald averaged 7.6 yards after the catch which was better than both Brown and Smith-Schuster
On passes over the middle, McDonald again had a target share of 13%, only again behind Smith-Schuster's 25% and Brown's 20%. McDonald gained 8.1 yards per target on these passes which was again better than both Smith-Schuster and Brown.
Finally, 2018's leader in Expected Points Added (EPA) per Target for tight ends was none other than Vance McDonald. EPA is the ultimate metric when measuring production since it takes into account the situation occurring in the game. It estimates how many points a player adds for each play they are involved in. McDonald led other tight ends such as George Kittle and Travis Kelce in this metric. What this means is that for what was given to McDonald in 2018, he produced very well.
Below is the distribution of Air Yards for multiple Steelers players. Notice how a majority of McDonald's game is under the 10 Air Yard mark. JuJu's distribution lines up perfectly with Roethlisberger's which makes sense since, after all, he had a bulk of those passes. James Washington was clearly used as the deep ball guy in 2018 and if he is used this way again in 2019, I don't see him as much of a threat for McDonald's targets.
Steelers.png" style="width:778px;height:600px;" />
Note: The Steelers also brought in Donte Moncrief who is another downfield receiver and averaged double-digit air yards in 2018, meaning he shouldn't be much of a threat to McDonald's type of targets.
The Bottom Line
First, Antonio Brown and his 150+ targets are gone. It is unlikely that Big Ben throws as much in 2019, but when he does it is to places on the field where McDonald thrived in 2018—these locations are short and over the middle. If Roethlisberger threw it short as often as he did with Antonio Brown on the team, I would hypothesize he throws it short even more now with Brown gone. Roethlisberger is also one year older and the team is now without their longtime offensive line coach Mike Munchak. Munchak has been pivotal to the Steelers' running success in recent years so it is fair to infer that without him, the team may not be efficient as they have been running the ball. And if they aren't efficient running, that may lead to more passes for Roethlisberger and targets for McDonald.
In EPA terms, McDonald was very productive in 2018 given his opportunity. EPA is important because the leading receivers in EPA per target were known studs such as Michael Thomas and Davante Adams. As long as that opportunity goes up, which is likely, McDonald should be rather productive in 2019. McDonald is currently the TE9 in 4for4's half-point PPR rankings and should be worth the low-risk flier in fantasy drafts with an ADP outside the top 100.