D.J. Moore Landing in Carolina Caps His Upside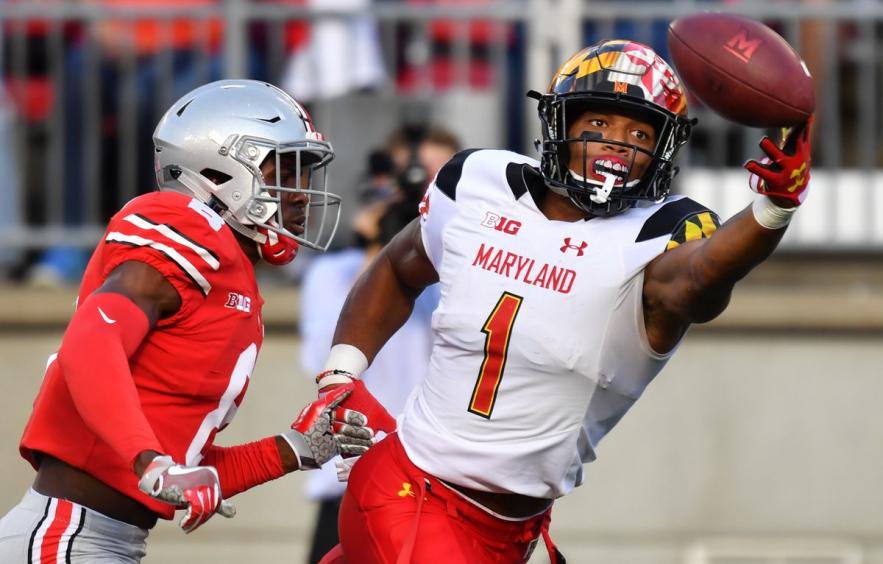 The Panthers made D.J. Moore the first receiver off the board when they selected him with the 24th overall pick in the 2018 NFL Draft. A riser throughout the season, Moore brings toughness and athleticism to a Carolina receiver corps that needed a serious influx of talent.
If you believe in production metrics for how good a receiver a prospect is, you are going to like Moore. He finished the 2017 season with 80 catches for 1,033 yards and 8 touchdowns, despite playing with four different quarterbacks. Per PlayerProfiler.com, Moore had a college dominator of 53.3 percent (97th percentile) and his breakout age of 18.4 was in the 98th percentile. Moore went from dominating on the field to dominating the combine. Weighing in at 6-feet-0 and 210 pounds, Moore showed off his speed by running a 4.42 40-yard dash, and his explosiveness with a vertical jump of 39.5 inches and a broad jump of 132 inches (90th and 96th percentile scores, respectively).
Editor's Note: Find all our 2018 Player Profiles here. If you're in a dynasty league or you're looking for more information on the incoming rookies class, you should definitely check out all the content from our friends at Dynasty League Football. ​
On the field, Moore dominated with strength after the catch, body control, and strong hands. I mentioned earlier Maryland played four different quarterbacks in 2017; each equally bad. A lot of Moore's production was manufactured behind, at, or just beyond the line of scrimmage. Maryland relied on Moore's running back-like strength, contact balance, and open-field vision. Moore is a raw route runner; his lack of separation led to a lot of contested catches, a situation he thrived in. Moore has incredible body control, and his ability to slow down and play in near slow motion near the sideline is awe-inspiring. He consistently high points the football, has extremely strong hands, and doesn't fear contact on routes over the middle—holding onto the ball even after big hits.
Moore turned 21 last month, and he will be one of the youngest players in the NFL. Naturally, he is a bit raw. Moore has yet to develop an established route tree. He can struggle versus press coverage, get stuck on contact, and isn't crisp in and out of his breaks. This leads to a lack of separation, despite his athletic testing suggesting he would be consistently open. He will likely develop in this area, but it will probably cause some growing pains.
Running Team
Moore brings a much-needed infusion of talent to Carolina's lackluster receiving group. However, Moore's landing spot for fantasy is worrisome, to say the least. The Panthers are one of the most run-heavy teams in the league, running the ball 47.04 percent of the time—fourth-most in the league in 2017. This was in line with the Panthers' 2015 season, where they went to the Super Bowl after running 49.84 percent of the time, which was second-most in the NFL. When the Panthers are winning games, they are running the football—which makes it difficult for the offense to support multiple fantasy relevant receivers. In 2017, the Panthers targeted receivers a total of 268 times, tied for the fifth-lowest total in the NFL. With their win total set at nine games, expect the Panthers to be a successful team in 2018, but a team likely to rely on the run game once again.
Can Cam Support Multiple Fantasy Relevant WRs?
While there was a major hole at the receiver position on the depth chart for the Panthers, there aren't a ton of available targets. The Panthers targeted former first-round pick Christian McCaffrey more than any other running back in the league last season. He figures to play an important part of the passing offense. Tight End Greg Olsen will return after missing part of last season with a broken foot. When Olsen was healthy, there was only one game when multiple receivers saw five or more targets. Moore steps into a role where there aren't many targets to go around at the receiver position; he will need to eat away at Devin Funchess' 111 targets from a season ago. When Olsen was healthy, the Panthers' second receiver had a target rate of just 13.17 percent. With the lack of volume, Moore will need to be extremely efficient to be fantasy relevant.
Another issue for Moore is that his best production came from underneath routes, when Maryland got him the ball on screens and he could use his vision and strength to produce after the catch. A lot of what he did well will help him in his transition to the NFL, but it's also what the Panthers ask McCaffrey to do.
On top of that, Cam Newton is one of the least accurate passers on underneath routes in the NFL. He completed only 75.1 percent of passes thrown 10 yards or less in the air last season, according to Scott Barrett of Pro Football Focus. This ranks second-to-last of all quarterbacks since 2011. Moore's greatest potential for fantasy is offset by the fact McCaffrey is already on the team and it's the area of Newton's game he struggles with the most.
Bottom Line
Moore is a talented player who finds himself primed for growing pains. His lack of route-running ability will make him more of an underneath receiver to start his career. He steps onto a team where that role is filled and the quarterback struggles to complete those throws. He also finds himself on a team that is one of the most run-heavy in the NFL and has struggled to produce multiple fantasy relevant receivers. Moore is a cheap player with his ADP currently sitting at WR63, but receivers similar to his price tag offer upside and should be taken over him.
---
Related Articles