Picking #5 in a 12-Team DataForceFF PPR Draft Every year, I co-own a team with a buddy of mine – let's call him Joe, since that's his name – and this year we joined another league at DataforceFF.com, a site that offers money leagues of various shapes and sizes. We picked a 12-team PPR, with a starting lineup of one QB, one RB, two WR, one TE, two flex, one PK and one team defense. The slow email draft started on August 1, and you can see the draft board below: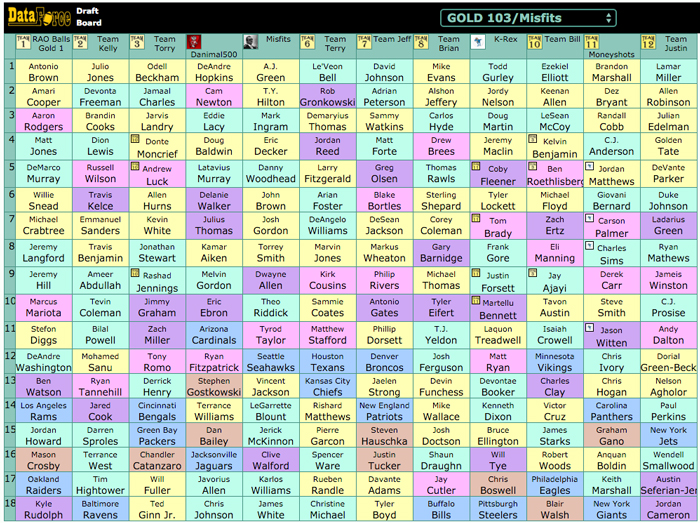 We had the #5 pick, and given the one-RB and two-flex requirement (and the PPR scoring), we elected to go WR-early. You'll see that we used a modified Zero RB strategy, drafting A.J. Green and T.Y. Hilton before snagging Mark Ingram in the 3rd round.
Eric Decker is a terrific value in the 4th round, and those readers who have paid attention know that I love Danny Woodhead in the 5th. In retrospect, we could have gone with a third WR in the 3rd round (Demaryius Thomas or Sammy Watkins), and ran Woody out there as our RB1 with a stacked receiving corps. But I like Ingram, so no regrets.
Speaking of regrets – my only one, really, was taking Josh Gordon in the 7th, but that pick may still pay off. Joe and I went back and forth on that one. It was just after he was reinstated, and given the strong makeup of the roster to that point, we felt good about rolling the dice. John Brown in the 6th looked better a few weeks ago, when there wasn't much concern about his ability to make it through the league's concussion protocol, but he's back at practice now, so fingers crossed.
Torrey Smith's lack of preseason production is a little worrisome, but if the 49ers can somehow sort out their QB situation – Colin Kaepernick to the rescue?!? – Smith should be able to produce in what should be a fast-paced (by choice) and pass-heavy (not by choice) offense.
Tight ends were flying off the board, so we decided to snag Dwayne Allen in the 9th since it was going to be a long time before we'd be able to pick again. Theo Riddick in the 10th gives us another spot-start PPR back we can run out there if necessary.
Tyrod Taylor was our target at quarterback after Philip Rivers went before our 10th-round pick. Hopefully, Sammy Watkins stays healthy, but if not, we should be able to stream the position.
The Seahawks in the 12th may seem early, but at the time, no one was jumping out and Seattle is the only defense to finish in the top-5 in each of the last four seasons.
If healthy, Vincent Jackson should offer starter-caliber numbers, so he was a pretty easy choice in the 13th. Then we started to make attrition picks at running back, collecting LeGarrette Blount, Jerick McKinnon, Karlos Williams (since cut for a kicker) and James White. Unfortunately, we missed out on Ingram's handcuff, Tim Hightower. Needless to say, I was happy to see White on our roster after the Dion Lewis news broke.
Full Roster:
QB: Taylor
RB: Ingram, Woodhead, Riddick, Blount, McKinnon, White
WR: Green, Hilton, Decker, J. Brown, Gordon, T. Smith, V. Jackson
TE: Allen, Walford
K: Santos
D: Seahawks
Still not a subscriber? Join here!
---
Related Articles