How to Approach the Chicago Bears New-Look Backfield for Fantasy Football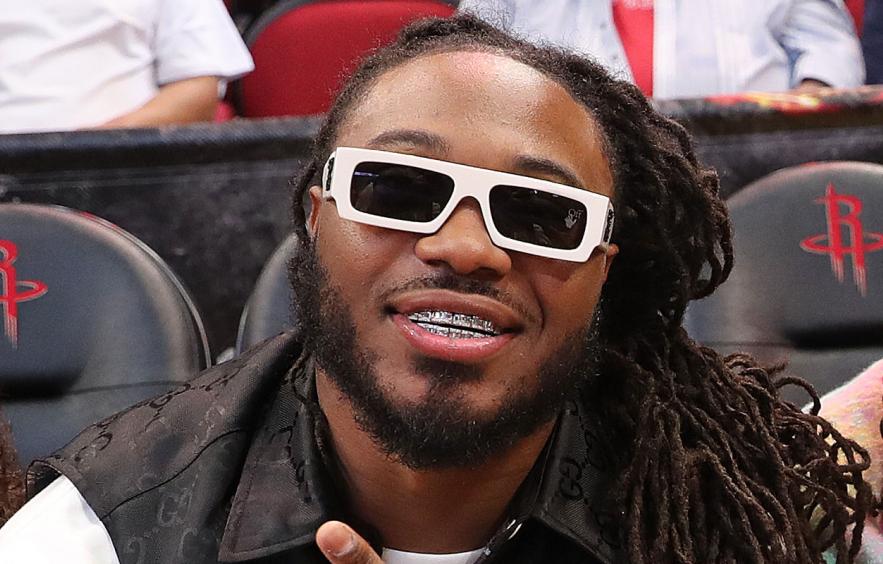 Bob Levey/Getty Images
After Chicago let David Montgomery swap out his Bear uniform for the silver and blue of Detroit, they signed two replacement running backs in D'Onta Foreman and Travis Homer within a few days of each other. Foreman got a one-year deal worth $3 million while Homer inked a two-year contract with a maximum of $4.5 million. Let's explore what these signings mean for the Chicago backfield from a fantasy football perspective.
---
Click here for more 2023 Player Profiles!
---
Career Review for D'Onta Foreman and
Travis Homer
Last season was a career one for Foreman in many ways as he played in all 17 games for the first time as a professional, and posted highs in all categories including rushes (203), yards (914), and touchdowns (5), and even averaged a meaty 4.5 yards per carry.
Foreman got some work before Christian McCaffrey was traded to the 49ers but really stepped up in the final 11 games of the season for Carolina, posting five games of 100+ yards, and averaging 11.3 half-PPR points as RB23 in that timeframe. His work was fairly one-dimensional though, catching just five balls for 26 yards as the lead back for the Panthers from Weeks 7-18.
Here's a look at Foreman's fantasy-relevant output when given the chance to lead his team's backfield, first replacing Derrick Henry in 2021, then in Carolina after the Christian McCaffrey trade.
Foreman's RB1, RB2 & RB3 Performances in Lead Role, 2021-2022

| | Week | Half-PPR Points | RB Finish |
| --- | --- | --- | --- |
| 2021 - Titans | Week 10 | 8.8 | RB26 |
| | Week 14 | 13.2 | RB14 |
| | Week 15 | 14.5 | RB11 |
| | Week 16 | 7.7 | RB32 |
| | Week 17 | 19.2 | RB9 |
| | Week 18 | 8.9 | RB27 |
| | | | |
| 2022 - Panthers | Week 7 | 15.5 | RB14 |
| | Week 8 | 31.8 | RB5 |
| | Week 10 | 19.0 | RB9 |
| | Week 12 | 11.3 | RB26 |
| | Week 14 | 8.0 | RB27 |
| | Week 16 | 22.5 | RB3 |
| | Week 18 | 6.8 | RB33 |
With at least three backs in front of him every season in an RB-hoarding room led by Pete Carroll, Homer has been used as a fill-in guy in Seattle. His NFL career consists of just 83 total carries for 453 yards and one rushing touchdown, along with 52 catches for 462 yards and two receiving scores in four years. Injuries have also played a factor, as Homer hasn't seen the field for a full season since his rookie campaign in 2019.
What to Expect from the Chicago
Bears

Backfield in 2023

After Atlanta, the Bears were the second most run-heavy team in the NFL last year with 558 rushing attempts on the season. Chicago did post the most yards on the ground, however, QB Justin Fields was responsible for 1,143 of those league-high 3,014 rushing yards.

Last year the backfield was split between Montgomery and Khalil Herbert, with Monty seeing 14.7 touches a game to Herbert's 10.6. Herbert is one of the more efficient backs in the game, ranking fifth among all RBs with at least 20 carries in both yards before contact per carry (2.9) and yards after contact per carry (2.5). Herbert was also first among RBs last year in average yards per attempt with 5.7, with only four QBs in front of him in that category.

The backfield should shake out with Herbert leading the pack in touches, followed by Foreman, with Homer getting any leftover scraps. Defenses will be focused on containing Fields' ground game—and we'd like to think a more functional pass game than in the last two seasons—which should open up more work for both Herbert and Foreman in 2023.
Fantasy Outlook for Herbert, Foreman, and Homer
Right now Herbert is being drafted in the late-eighth round as RB30 but has fantasy RB2 potential if he takes over Montgomery's pass-catching duties, relegating Foreman to a smaller role than Herbert himself held last year in Chicago. Monty boasted a 13% target share while Herbert saw just 4% of the targets from Fields.
Foreman has jumped from an ADP of 152.5 to 140.3 since the signing and is currently the 42nd RB off Underdog draft boards. He's an intriguing best ball candidate since he's shown to have spike weeks in previous years, but unless Herbert misses significant time, shouldn't be counted on for anything more than a bye-week fill-in or insurance policy in redraft formats as an RB4.
Homer is once again in a situation where he's only relevant for fantasy football if there's an injury to someone above him on the RB depth chart. His Underdog ADP did rise two full rounds since becoming a Bear but he's nothing more than a last-round dart as RB65.

Bottom Line
D'Onta Foreman is coming off a career year for the Panthers and has shown to put up some juicy fantasy numbers when given the chance to lead a backfield.
Khalil Herbert is one of the most efficient RBs in the NFL and will likely get the first crack at carries in a run-heavy Chicago offense, with Foreman cutting into that load.
Herbert will need to take over David Montgomery's receiving duties to approach RB2 numbers but is a solid RB3 heading into 2023 with an ADP of 8.07. We have him as RB35 in 4for4's Never-too-Early Rankings.
Foreman (RB44 in 4for4's rankings) should be considered an RB4 with spike weeks that could lead to RB3 upside, while Homer is best served as a last-round stab.
If anything were to happen to either Herbert or Foreman resulting in the end of either's season, both backs have league-winning potential.