Fantasy Football: Cam Akers Has the Role; Does He Have the Right Offense?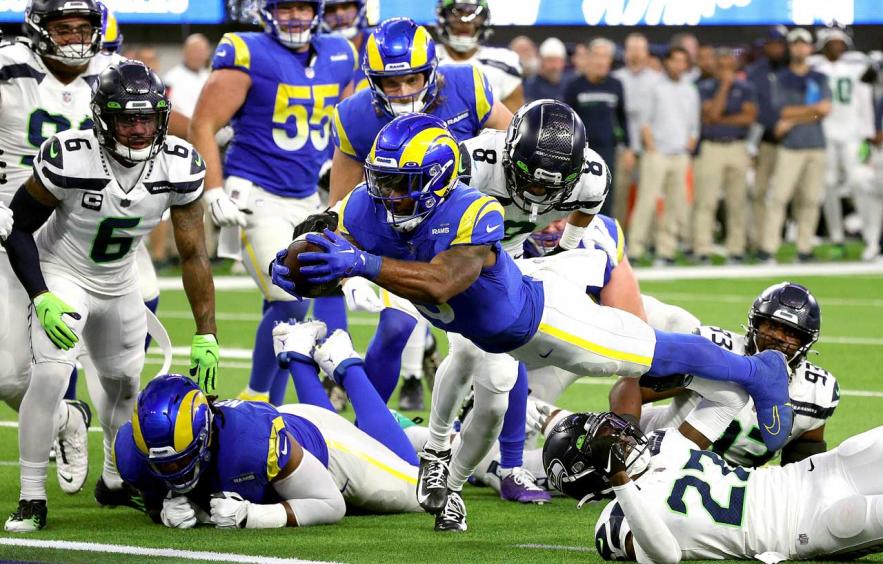 Harry How/Getty Images
It has been a short, if not wild, ride for Cam Akers' career as we head into the 2023 season. Drafted in the second round of the 2020 NFL Draft by a Los Angeles Rams team that was shaping up to be an offensive powerhouse, Akers only managed 625 rushing yards in his rookie year. In 2021, the Rams would ascend to the seventh-ranked offense in the year en route to winning the Super Bowl, but the sophomore running back carried the ball only five times before suffering an Achilles tear that kept him out of action until Week 18.
After one more mediocre year of production in 2022, what can we truly expect from a player we once believed was set up for years of success? Let's look into what the 2023 season may look like for Cam Akers.
---
Click here for more 2023 Player Profiles!
---
A Return to a Same, but Different, Offense
When Cam Akers went down after a cup of coffee during the 2021 season, he missed out on a revamped Sean McVay offense that saw Matthew Stafford throw for nearly 5,000 yards, Cooper Kupp go for nearly 2,000 receiving, and an eventual Super Bowl win. The only thing missing was an explosive running game, as Sony Michel and Darrell Henderson couldn't quite foot the bill. Though the offseason saw the offense lose some key pieces, such as left tackle Andrew Whitworth, a fully healthy Cam Akers was expected to lend a hand in boosting the rushing attack ahead of 2022.
It didn't quite work that way. The Rams rushing attack wound up finishing 27th in both rushing yards (1,661) and yards per attempt (4.0). Akers was, sadly, a large part of that.
Cam Akers

Efficiency Metrics

| Year | Rush Attempts | YPA (Rank) | Yds After Contact/Att | Breakaway% | Broken+Missed Tackle% | YPRR |
| --- | --- | --- | --- | --- | --- | --- |
| 2020 | 191 | 4.4 (25th/48) | 2.96 (22nd) | 25.9% (23rd) | 13.1% (29th) | 1.14 (18th) |
| 2022 | 188 | 4.2 (30th/45) | 2.78 (31st) | 20.4% (30th) | 16.0% (19th) | 0.71 (34th) |
Akers has been average-to-below-average while healthy at the professional level in most efficiency metrics. That's not necessarily something to avoid in fantasy football. But it certainly is when you've got an offensive line that doesn't hold a candle to what it once was.
Behind a much worse offensive line, Akers returned to health in the Rams' offense but lost a step in almost every metric you can think of, wrapping up the season as the overall RB33. Notable backs who finished above him include Latavius Murray (RB31), Jeff Wilson (RB29), and Cordarrelle Patterson (RB32).
Of course, this isn't all Cam Akers' fault. According to 4for4's Team Stat Explorer, the Rams' offense as a whole left a lot to be desired. They would rank in the bottom ten in each of the following metrics over the 2022 season; points per game (27th), drive success rate (27th), EPA per play (30th), and total yards per game (32nd). It's clear that the offense as a whole was struggling, not just a running back recovering from an Achilles injury.
Impactful (or lack thereof) Offseason Moves for Akers and the Offense
From an outside perspective, you can make a simple deduction that the masses don't think the Rams did much to bolster the offense this offseason considering they won five games last year, and their Vegas Team Total sits at 6.5 for the 2023 season. You would be right.
Though the return of a healthy Cooper Kupp is sure to help the offense dig itself out of its current jam, the team didn't make many off-season moves to bolster the offensive environment. Of course, much of that is due to the years of "eff them picks" mentality, but the fact remains that the surrounding cast around Cam Akers didn't get much of a talent boost. In the fifth round, the team selected fifth-rounder Puka Nacua to help the wide receiver room, and they took left guard Steve Avila in the second round to inject some life into the interior of the offensive line.
Avila was graded as a first-round pick, so at the very least, they are gathering some value while they continue this current retooling effort.
Projecting
Cam Akers

and the Los Angeles

Rams

Backfield

The good news in all of this is Akers finished the year with three-straight 100-yard rushing performances and even mixed in a little bit of receiving work which has been unusual to this point in his career. It may not seem like a lot, but his nine catches in the final four games of the year were by far the most he has had in any four-game stretch of his career. That passing-game boost was enough to make him the RB2 in half-PPR scoring over that span, with his 18.3 fantasy points per game trailing only Christian McCaffrey.

As touched on above, the Rams didn't have many bullets to fire into the NFL Draft, leaving the backfield to Akers, fifth-round 2022 selection Kyren Williams and sixth-round rookie Zach Evans to battle it out for touches. Williams is sure to be the incumbent No. 2 running back to start things off. Though, it's important to point out that during his rookie season, he was a complete ghost, particularly in the first half and final weeks of the season. By Week 18, he was relegated to only special teams snaps, as Akers incredibly took 100% of the offensive snaps.

It's completely reasonable to assume that Zach Evans will out-snap Williams in the offense by the midway point of the season, but it's hard to see that translating into fantasy success unless something were to happen to Akers. Evans didn't get a lot of run as the lead back in college, but he was explosive when given the opportunity. Over 48% of his yards came on 15+ yard runs. On the flip side, he dropped five of his lowly 35 career catchable passes, hinting that he's not going to offer any upside in the receiving game that Akers doesn't already offer.

The long and short of it is; this is Cam Akers' backfield. The offense isn't likely to reach the heights of the 2021 season, but the volume will be there. Sometimes that's all we need in Fantasyland, and 250 Akers touches in 2023 doesn't seem out of the question.

Bottom Line
Cam Akers looks as though he has completely returned to health after an Achilles tear shutdown his sophomore season.
The Los Angeles Rams offense is a shell of itself, but the genius of Sean McVay could easily bolster it to below-average, as opposed to moribund.
Akers had a great stretch to finish the 2022 season, and there's no reason to believe anyone in this backfield is going to push him for his job.
Current Underdog ADP has Akers coming off the board around 7.04 as the RB24. This is much too low. Our rankings currently have him as the RB21, which would likely land him a full round or more earlier. Kyren Williams and Zach Evans don't need to be drafted unless you are desperate for running back, are looking for a Rams stack, and don't already have Akers.