Aaron Rodgers' Fantasy Impact on the New York Jets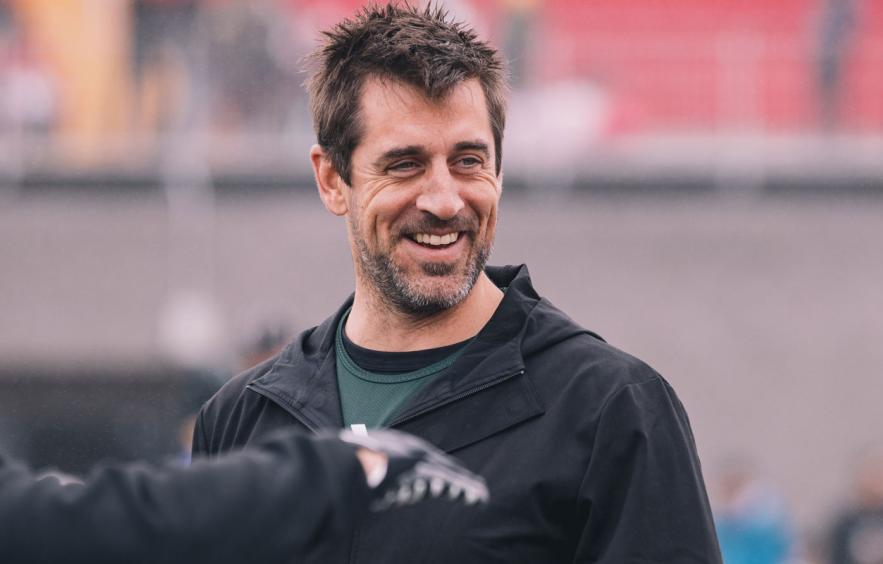 Aubrey Lao/Getty Images
Adam Schefter has reported that the Packers and Jets have come to a trade agreement. Rodgers will play for the Jets in 2023 and possibly beyond. Trade compensation as follows:
Trade compensation, per sources:



Jets get:

🏈Aaron Rodgers, pick No. 15, a 2023 5th-rd pick (No. 170).



Packers get:

🏈Pick No. 13, a 2023 2nd-rd pick (No. 42), a 6th-rd pick (No. 207), a conditional 2024 2nd-rd pick that becomes a 1st if Rodgers plays 65 percent of the plays. pic.twitter.com/Q2vUMfyZGH

— Adam Schefter (@AdamSchefter) April 24, 2023
---
Click here for more 2023 Player Profiles!
---
Rodgers' Recent Play
Statistically, in 2022 Rodgers had his worst year since 2019, the season that prompted the Packers to draft his eventual replacement, Jordan Love. That year, he threw for 4,002 yards, 26 touchdowns, and four interceptions. Last season, he threw for 3,695 yards, 26 touchdowns, and tossed an uncharacteristic 12 picks.
Of course, in 2020 and 2021, Rodgers amassed 8,414 yards and 85 touchdowns, earning back-to-back MVPs.
So which player will we see in 2023?
Range of Outcomes
Rodgers said on The Pat McAfee Show that heading into his now-infamous "darkness retreat" he was "90% retirement, 10% returning." However, by the time he emerged and found that the Packers were apparently shopping him around the league, he changed his tune.
A motivated Rodgers (e.g. 2020/2021 Rodgers) can still play at a very high level. There are certainly folks around the league who will point to his 2022 numbers as a sign of his decline, but the primary reason the Packers' offense took a major step back last season was due to the loss of Davante Adams, who surprisingly requested a trade to the Raiders in the offseason. After his departure, it seemed the whole season had a grey cloud hanging over it.
One metric I like to lean on in situations like this is to calculate fantasy points per pass attempt offered by the new quarterback and compare it to what the team enjoyed the previous season. Simply put, even without Adams, Rodgers offered 1.29 fantasy points (half-PPR) per pass attempt to his receivers. Contrast that with the 1.05 fantasy points per pass attempt that the Jets' quarterback position offered in 2022, and it's pretty clear that Rodgers is a sizable upgrade over Zach Wilson, Mike White, and Joe Flacco, though this will come as a surprise to no one.
Rodgers will presumably have 2022 Rookie of the Year Garrett Wilson, the newly-signed Allen Lazard, and perhaps Corey Davis to throw to, though Davis is apparently a cut candidate. The Jets have two decent tight ends–Tyler Conklin and C.J. Uzomah–along with a pair of good receiving backs in Breece Hall and Michael Carter. It's safe to say that Rodgers' weapons will be significantly improved in 2023.
From a volume standpoint, the Jets' quarterbacks attempted 623 passes last year, which is 10.7% more than the 563 combined passes that Rodgers and Love attempted in 2022. Rodgers hasn't attempted more than 600 passes since 2016, so I doubt he'll get to that sort of volume in his first season with the Jets unless the defense turns into a major disappointment. Besides, Rodgers likes to drain the play clock, and that limits his volume.
Allen Lazard

's Upside

As for Lazard and Davis, we'll have to wait and see how the receiver room shakes out. Given the Elijah Moore trade, we could see a trio of Wilson, Lazard, and Davis. In that scenario, both Lazard and Davis would check in as fantasy WR4/WR5 types with Lazard getting the nod due to his contract and familiarity with Rodgers.

Lazard caught 60 passes for 788 yards and six touchdowns on 100 targets in 15 games last season, and that is probably a best-case scenario for 2023, since he'll cede WR1 duties to the more-talented Wilson. Still, he'll play a lot of snaps with a quarterback that trusts him, so 60-800-8 is feasible, though unlikely. Those numbers would have been good enough for a top-30 finish in 2022.
The Bottom Line
During his back-to-back MVP seasons, Rodgers offered 1.72 and 1.54 fantasy points per pass attempt, and if he's able to get back to those numbers, then Garrett Wilson will be a fantasy WR1 and Rodgers will be back in the midrange QB1 conversation. If we split the difference and project an improvement on 2022 but not quite 2020/2021 numbers–perhaps something close to his career average of 1.47 fantasy points per pass attempt–then Wilson will be in the low-end WR1 mix and Rodgers should push for low-end QB1 numbers. I wouldn't be at all shocked if he has a bounce-back season, especially since the Jets hired Nathaniel Hackett, with whom Rodgers has a great relationship.
Rodgers is currently being drafted as QB14 while Lazard is going off the board at the bargain price of WR57. As the WR9, early drafters are expecting Wilson and Rodgers to have a great immediate connection.