2022 Dynasty Rookie Values: Then vs Now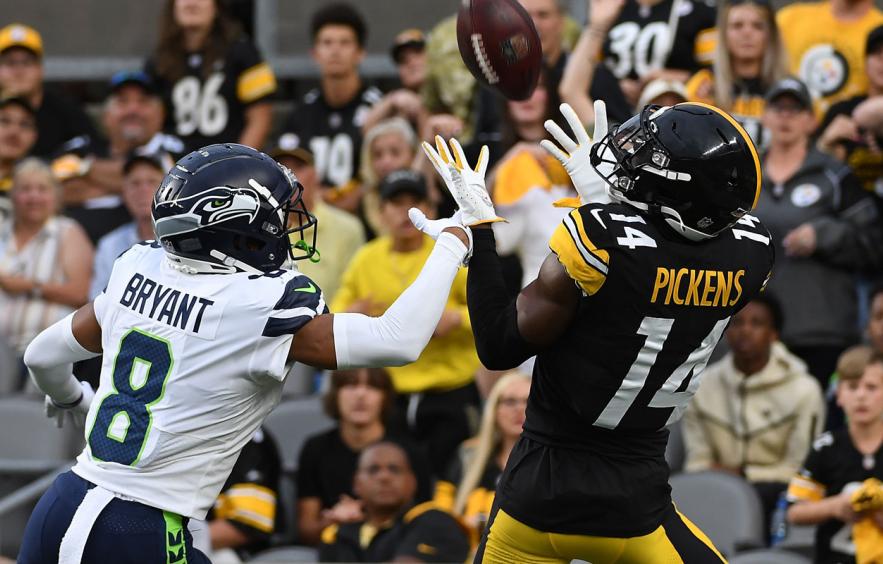 Justin Berl/Getty Images
I've always been intrigued by numbers and data, so when I started playing fantasy football, I dove heavily into facts and figures with no end in sight. Often I would find myself going into a rabbit hole of information that was negligible in helping me make quality decisions for my fantasy team.
Over the years, one piece of information that has helped me understand value is analyzing rookie performance and net worth as players progress through their careers. It's usually been the same with few outliers, so I've chosen to show you a sample of something I've discovered over time.
Below you will find data that I've come accustomed to organizing over the years. It's helped keep me grounded come draft day and through the first year of a player's career. I hope that you too will see what I see, thus helping you make more level-headed decisions on what is the most important day of the year for dynasty owners: rookie draft day.
If you like what you read, follow me on Twitter @MikeEHavens and catch my articles on DLF. I will soon be coming out with my signature series; Rookie Running Back Ranks. It's a process that takes hundreds of hours, simplified down into a few easy-to-read articles that I find to be one of the most accurate ratings you'll get anywhere on the web.
---
Dynasty Rankings: 4for4 Top 250 | 4for4 Top 250 Superflex | DLF 2023 Dynasty Rookies | DLF Dynasty Cornerstone Rankings | 2023 Rookie Superflex | Dynasty IDP Rankings | Dynasty Rookie Locks & Sleepers | Post-Combine Rookie Mock Draft
---
Rookie Dynasty Data & Analytics
First off, let's assess the one piece of information that organizes what most owners unfairly do to themselves. I call it the "hindsight draft", aka the "if only I knew then what I know now" 2022 re-draft.
Remember that time you had to choose between two players, and you selected Corey Coleman over Michael Thomas and it's been eating at you ever since? It's something we all do from time to time, and that's basically what the following is—a re-rank of rookie players based on mock drafts from May 2022 versus March 2023, color-coded with rising (green) and falling (red) positions in the rankings.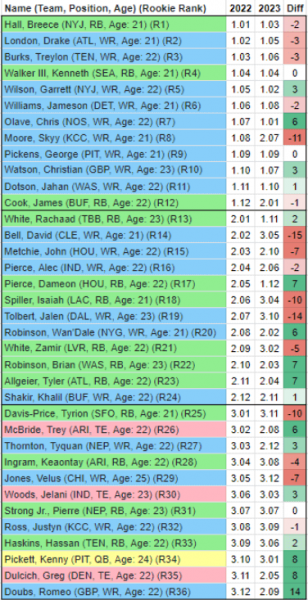 At first glance, it would appear that most people chose incorrectly in the first round, and the real value can be found in the second and third rounds. Dameon Pierce and Rachaad White were two second-round rookies who currently have first-round value, for example, and you may be beating yourself up for skipping them on draft day.
However, the real comparison shouldn't be made between rookies, it should be made with the league as a whole. For example, George Pickens looks relatively unchanged at 1.09, so anyone who drafted him may not feel like they've gained or lost any value when compared to his draft class. So did Pickens actually help one's dynasty team value or not? Let's take a look at the following data, this time comparing 2022 rookies' value overall from May 2022 last year to March 2023 this year.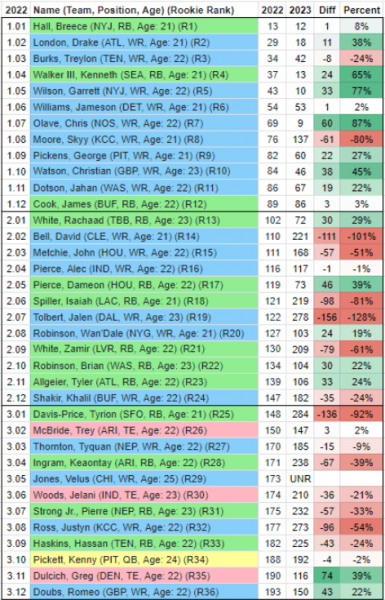 Did you select George Pickens at 1.09 when you could have had Christian Watson instead? Don't beat yourself up, because the value of Pickens went up 27% versus his May 2022 ADP. That's a win and you should be patting yourself on the back!
If you take a look at the numbers above, you'll see that nearly every first-rounder gained value over the last year. Even the oft-injured receivers Treylon Burks and Jameson Williams increased their initial price. The takeaway here should be that unless you draft a first-rounder who was healthy all season and didn't generate a positive stat line, you probably did just fine.
Most of these rookies didn't pop in the stats column in the first half of the season, and that's something that needs to be discussed. I watched as plenty of teams traded away Christian Watson and Kenneth Walker in all my leagues before these two exploded later on in the year. This happens all the time, and it's why you should always be patient with your picks, and buy first-round rookies when other owners become impatient.
In Round 2 you will usually see a different story. Half the players will increase in value while the other half will decrease. These players will have a lower career success rate than first-rounders, so if a player pops in their rookie season—such as Dameon Pierce—I am often quick to sell for a first-rounder the following year.
This is also why I usually ask for more than two second-rounders if I'm thinking about trading out of a late first-round pick. The outcome of value among second-round picks you see above is something I see every year. Unless I get two early seconds for my late first, I usually stay put.
The third and fourth rounds are usually crap shoots. Here's where you'll see quarterbacks and tight ends break even or gain in value the most, along with the occasional running back that came out of nowhere.
I usually use third-round and fourth-round picks as trade fodder to seal a deal or acquire a waiver claim I missed out on. I'd rather trade for a known quantity than try to draft a rookie who is likely to do nothing other than take a spot on my bench.
And finally is the 2022 rookie draft if it were to be held today. It has no actionable information, but many dynasty owners review their drafts and analyze the "could have been" scenarios.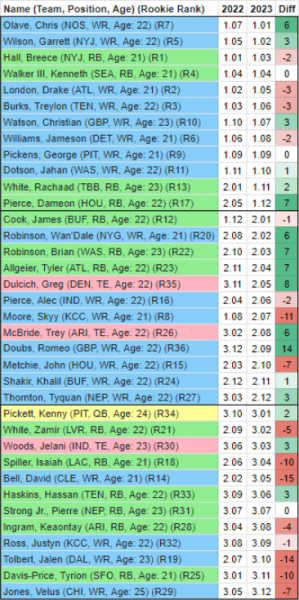 You should take it easy on yourself because drafting is hard. It's as hard to do a perfect draft in dynasty as it is to pick the perfect Sweet 16 in NCAA brackets. It's not impossible, but there are likely to be upsets and you shouldn't beat yourself up over it. Just be happy if you came out on top, and try to learn from your mistakes if you did not.

The Bottom Line
First-rounders retain value well going into Year 2.
Don't give up on a first-rounder during their rookie season, but do look to acquire them.
You have a 50% chance of hitting on a second-round pick, based on recent-season data that matches the 2022 class.
There are only one or two second-rounders who gain big value after their first year.
Third-round and fourth-round picks are better used as trade bait for known assets.
---
Once again, if you like what you see and want to read more, don't forget to follow me on Twitter @MikeEHavens and catch my articles on DLF. I'll see you next week!