Fantasy Football Week 16 Recap: 15 Things You Need To Know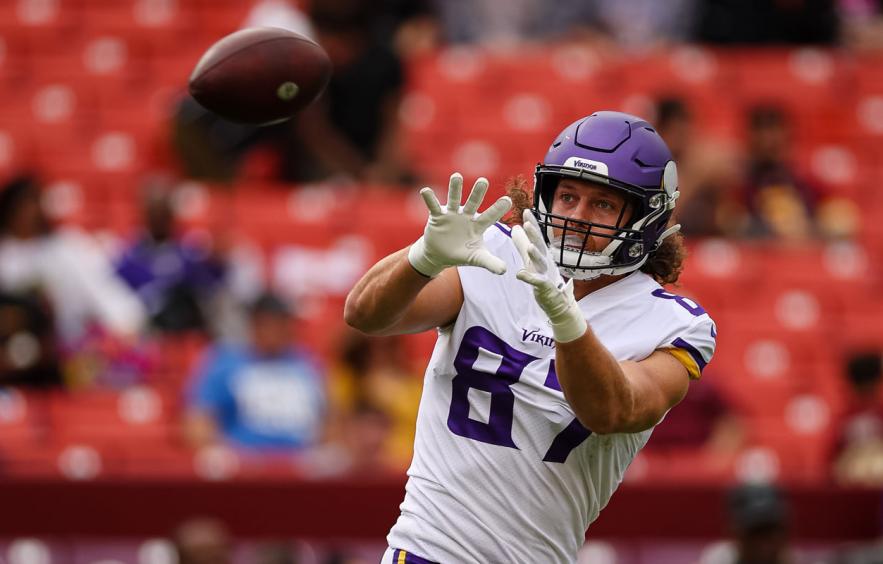 Scott Taetsch/Getty Images
Week 16 took place over the holiday weekend. With Sunday being Christmas Day, the NFL scheduled the majority of games on Saturday. It was a perfect setup if you are a football junkie, the way I am. Coupled with the semifinals in most fantasy leagues, it was a momentous week. If you were lucky enough to roster any of the bright stars this week, you likely find yourself heading to the finals. If you carried some of the dim stars, I'm sorry. Your results may have been rather disappointing. Let's get right to it.
Bright Stars
T.J. Hockenson led all scorers in PPR formats. He saw his career-high marks in targets with 16 and catches with 13. He compiled 109 yards receiving and made two trips to the end zone. The Vikings won the game on a 61-yard Greg Joseph field goal as time expired.
TJ Hockenson has played 8 games with the #Vikings.

Obviously very small sample, but his 17-game pace is 110-943-6.

— Adam Levitan (@adamlevitan) December 25, 2022
Cam Akers starred in a Rams' rout of the Denver Broncos. He gained 118 yards rushing on 23 carries. Most significantly, Akers reach pay dirt three times. Catching both of his two targets, he added 29 yards through the air.
CeeDee Lamb dazzled in a divisional matchup with Philadelphia. Seeing double-digit targets for the seventh time this season, Lamb managed to pull down 10 passes for 120 yards. He also celebrated a pair of touchdowns on the afternoon.
Dak Prescott posted his season-high in yardage. Going over 300 yards passing for the first time in 2022, Prescott totaled 347 yards against the Eagles. He tossed three touchdown passes. Prescott also reached a season-high in rushing yards with 41. Over the course of his last four games, Prescott has thrown 10 passing touchdowns.
George Kittle turned in a gem on Saturday afternoon. With third-string quarterback Brock Purdy at the helm, Kittle served as the proverbial safety blanket. He scored twice, one on a 34-yard dart from the rookie. The other was a 33-yard catch and run by Kittle. His day ended with six receptions for 120 yards. It was Kittle's second consecutive 25+ point day in PPR scoring. He is working on a fantasy playoff MVP role.
Dim Stars
Justin Fields lost his mojo against Buffalo. His 119 yards passing was his lowest total since his third start this year. It was the lowest output he has had in a game where he completed double-digit passes. Fields found his least amount of rushing yards this year by gaining just 11 on seven carries. If you had placed your playoff hopes in Fields, it is quite probable you saw them dashed on the holiday weekend.
Rhamondre Stevenson fell off the fantasy map facing the Bengals. Coming off a career-high against Las Vegas, Stevenson clearly ran out of gas this weekend. He carried 13 times but was only able to come up with 30 yards to show for it. He did add two catches for three yards. Stevenson fumbled the ball twice, losing one of them. Over the last three weeks, Stevenson has made six catches for a total of one yard.
Stefon Diggs saw season lows in targets, receptions, and receiving yards. Despite catching all his targets, Diggs had two catches for 26 yards. Delivering a devastating dud, Diggs doomed dedicated fantasy managers this weekend.
Davante Adams continued his season of peaks and valleys with a crater. Catching just two of his nine targets, Adams totaled 15 yards receiving on Saturday night. Despite being targeted 25 times over his last three games, Adams has recorded nine receptions. He also has no touchdowns over that span.
DeAndre Hopkins was silent on Christmas night. The prolific pass catcher snared only one of 10 targets for a four-yard gain. If you have been relying on Hopkins since he returned from suspension, there is no doubt Nuk just nuked your playoff run. It was a disappointing result from a typical reliable fantasy performer.
10th target of the game for DeAndre Hopkins and he has 1 catch. Not many of the passes have been catchable. D-Hop fantasy owners probably want to puke.

— Bo Brack (@BoBrack) December 26, 2022
Rising Stars?
Gardner Minshew looked impressive filling in for Jalen Hurts. After suffering a shoulder injury, Hurts was unavailable for the game. Minshew saw to it that the offense continued to move minus their MVP candidate. Throwing for 355 yards and two touchdowns, Minshew kept the Eagles in the game until late in the fourth quarter. He also reached the end zone on the ground. Turnovers, including Minshew's two interceptions, did the Eagles in. Minshew could attract attention as a potential starting quarterback next season. Therefore, he might be a dynasty league commodity this off-season.
James Cook reached a new career high in rushing yards. The rookie carried 11 times for 99 yards. He also found the end zone on a 27-yard rush. Cook averaged an impressive nine yards per carry on the day.
Isaiah Hodgins had a career day. The third-year wide receiver has been twice waived and then signed to the practice squad with Buffalo. He only signed with the New York Giants in November. On Saturday, he tied Richie James for the team lead in receptions with eight. His 89 yards were one fewer than James'. However, Hodgins also caught a touchdown, his third this month.
Shane Zylstra was a red zone machine on Saturday. The second-year tight end saw a career-high in targets with six. He was able to pull down three touchdown catches from quarterback Jared Goff. Zylstra finished with a career-high five catches for 26 yards and the three scores.

Injury Concerns
Hunter Henry exited the game with a knee injury. Henry was injured after colliding with teammate, Jonnu Smith. He did not return to the game.