Tom Brady: The Perfect Fantasy Football Mid-Round QB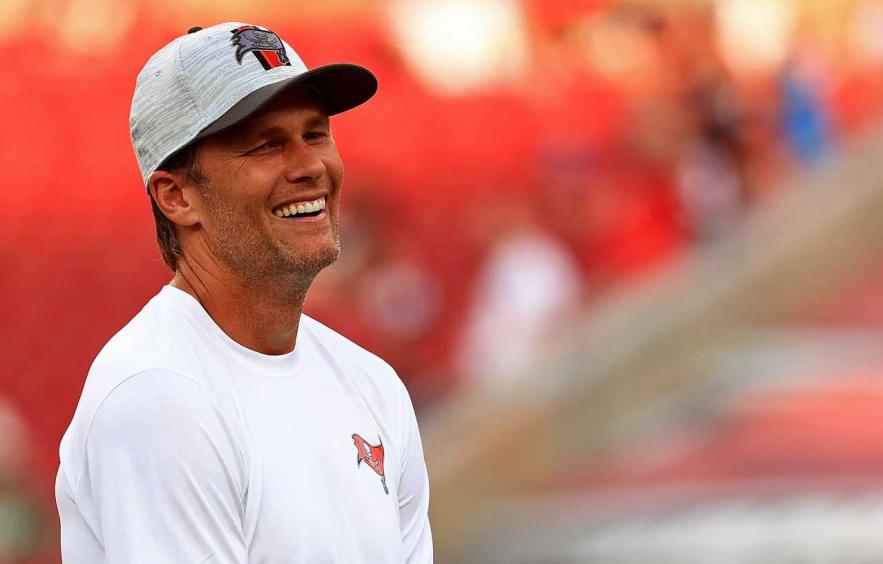 Mike Ehrmann/Getty Images
Tom Brady needs no introduction. After a crazy offseason where he retired and then unretired, the GOAT is officially back for his 23rd (!) NFL season. He is looking to build off a phenomenal 2021 output, where he threw for a league-high 5,316 passing yards and 43 touchdowns en route to an overall QB3 finish. Current Underdog ADP shows Brady being drafted in the middle of the 7th round as the QB9, which I think is the perfect spot for him to go. Here's a look at why Brady could be the ideal quarterback to steady the course for your fantasy team in 2022.
---
Click here for more 2022 Player Profiles!
---
The Middle Round Quarterback
Before getting into Brady specifically, I think it would be valuable to examine some recent trends in fantasy football quarterback. We've probably all heard of the "Late-Round QB" fantasy football strategy. Created by fantasy guru J.J. Zacharison, the Late Round QB strategy essentially states that due to the immense amount of talent at the quarterback position in the NFL (especially for fantasy purposes), it does not make sense for fantasy managers to draft a quarterback until the last few rounds of their drafts. However, in recent years, another trend has emerged alongside this—the middle-round quarterbacks (drafted roughly between rounds 6 and 10) have tended to deliver the most return on investment, finishing among the most elite at the position while still not costing too much.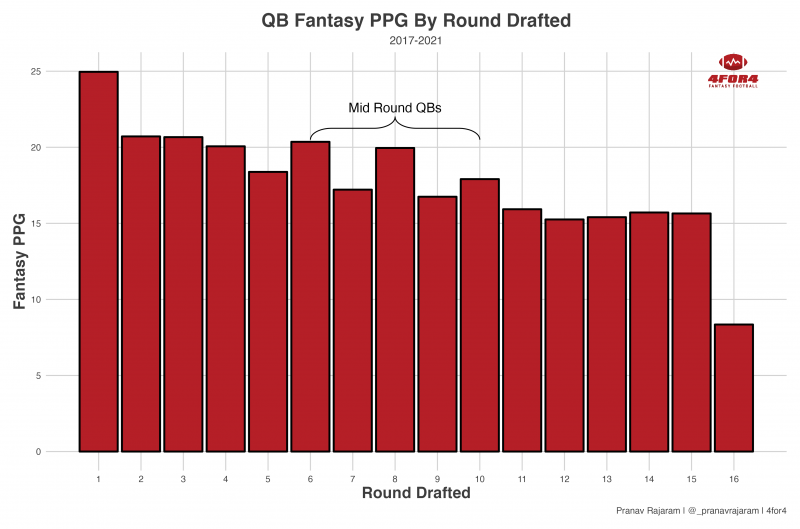 In this graph, we can see that while the early-round quarterbacks have understandably been the best of the best, the QBs taken in the rounds after them have not been that much worse, and have presented a bigger value based on where they are drafted (think Justin Herbert or Jalen Hurts from last season). This year, Brady falls right into this round 6-10 sweet spot and certainly can put up numbers similar to those being drafted ahead of him.
Usual Concerns
This wouldn't really be a Tom Brady article if I didn't address his ongoing battle against Father Time. Brady will be 45 when the NFL season starts, which is quite literally unprecedented territory for a quarterback. However, while one might say that the "cliff" is inevitable and Brady is bound to fall off at some point, there has not been any real reason to believe that might happen. Before last year, no quarterback had thrown for more than 15 passes in their age 44 season. In his age 44 season, Brady finished second in MVP voting. At every step of the way in his NFL career, Brady has defied expectations and proven to be simply a cut above the rest, and his age seems to be no exception. There is obviously a chance that he finally does see regression, but I wouldn't let that possibility affect the decision to draft Brady too much.
The other drawback against Brady that has been present for years is his lack of impact with his legs. The archetype for a fantasy superstar quarter nowadays is to be a threat in both the air and on the ground. Brady, who has averaged a whopping 51 rushing yards per year in his NFL career, is certainly not that. This will likely hurt the ceiling on his fantasy value—while players like Lamar Jackson and Josh Allen can parlay passing and running into dominance on a weekly basis, Brady will likely never be able to be a consistent top-three quarterback as his scoring will come solely from his arm.
Brady Bunch
One of the best things that Brady has going for him is his weapons. His worst career seasons have tended to come when he has little to no offensive help, but thankfully, that is not the case this season. While the Bucs likely will be without the eccentric Antonio Brown this season, Chris Godwin and Mike Evans still combine to form one of the best receiving duos in the league. Throw in Leonard Fournette at running back and a stellar offensive line, and the Tampa offense has the makings of a juggernaut once again. This bodes well for Brady, as good offenses generally lead to better fantasy quarterbacks. In his third season in Byron Leftwich's offense, it is not hard to imagine a reality where Brady throws for 5,000 yards once again.
The Bottom Line
Quarterbacks taken in the middle rounds have tended to be great for fantasy in recent years, and Brady has the makings of continuing that trend.
The risk of Father Time catching up to Brady is always present, but the GOAT has continued to prove that he is an exception to the rule and fantasy managers shouldn't pay too much attention to his age.
Brady's weaknesses with his legs hinder his fantasy football upside, and he will have a capped ceiling because of this.
The Tampa offense is full of elite weapons that will make Brady's life much easier.
Brady is an incredibly solid QB1 for your fantasy football team. His ADP of QB9 is a great spot for him to go in drafts, as he will be able to hold down the fort at the QB position for your fantasy team this season without costing too much.