Fantasy Football Debate: Breece Hall vs. David Montgomery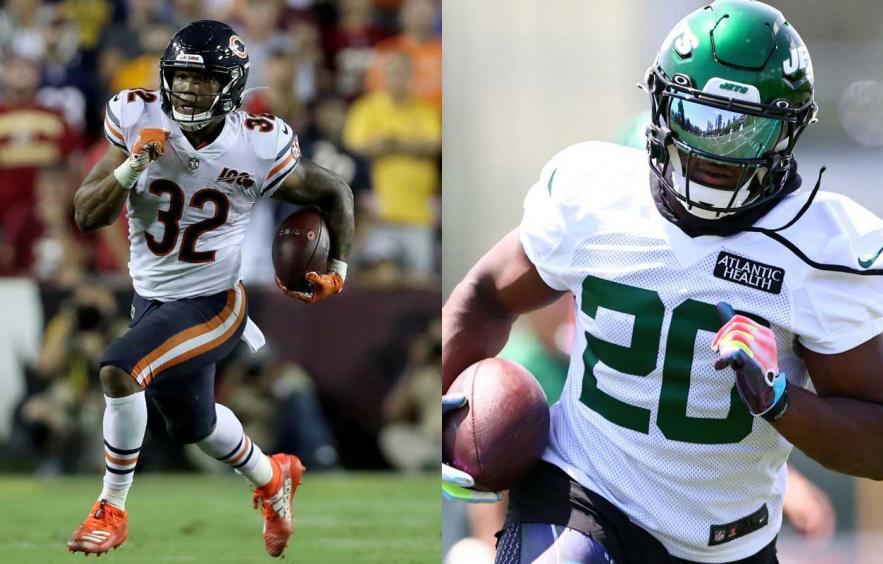 Rob Carr and Rich Schultz/Getty Images
Running backs Breece Hall and David Montgomery are being drafted as RB18 and RB21, respectively on Underdog Fantasy. In this debate, Bobby LaMarco argues for Breece Hall while Brandon Niles fights for David Montgomery.
---
Click here for more 2022 Player Profiles!
---
The Case for
Breece Hall
Bobby: Breece Hall was pretty much the top running back on most people's draft boards heading into the 2022 NFL draft. Coming off back-to-back seasons of at least 1,400 rushing yards and 20 TDs, Hall has shown he can carry the load heading into the NFL. Even more impressive is his ability to contribute to the passing game. Hall's 10.7% target share was 81st percentile according to playerprofiler.com. These traits have him linked directly to elite prospects like Jonathan Taylor, Ezekiel Elliott, and Matt Forte.
It is easy to see Hall has all the traits you want in a running back, but the question comes can he flourish in the NFL while playing on the New York Jets? The landing spot might be better than we think so let's dive in!
First, the Jets' offensive coaching staff is run by former Kyle Shanahan disciple Mike Lafleur. Lafleur, the brother of Packers Head Coach Matt Lafleur, coached under Shanahan from 2014-2020. During their time together with the 49ers they helped produce many productive running backs including Carlos Hyde, Matt Breida, Tevin Coleman, Raheem Mostert, and Jeff Wilson. Not a lot of these names stand out, but it wasn't for the lack of production. Many of these running backs never hit their full potential because they couldn't stay healthy.
After Hyde's RB1 season in 2017, Breida averaged 12.7 half-PPR PPG in the 10 games where he started and finished in 2018. In 2019, Breida was off to a hot start averaging 13.1 half-PPR PPG before suffering another injury in Week 10. Later that season, Raheem Mostert took over as the starter and broke out for 19.5 half-PPR PPG in the final eight games of the season including the playoffs. Then in 2020, once again due to injury the 49ers had four different running backs lead the team in rushing in a game. However, those running backs averaged a solid 15.2 half-PPR PPG. This led to the 49ers scoring the third-most fantasy points at the running back position that season.
Now that we know the offensive scheme is elite, let's look at the Jets' situation specifically heading into 2022. Currently, according to 4for4's offensive line rankings, the Jets sit in the middle of the pack at 14. Most of this is due to the hole at the right tackle position. The good news for Hall's outlook is the Jets signed a solid veteran tackle in Duane Brown to fill the void. Next, the Jets quietly were fourth in the NFL last season in carries inside of the five with 25. The issue for the Jets was they only converted eight for TDs. This shouldn't be an issue for Hall who had 20 TDs in back-to-back seasons. Another key to Hall's outlook is Micheal Carter's production when given more opportunities last season. Below is a chart outlining Carter's production based on the percentage of snaps he played in 2021. It is clear this offense can produce a top-12 running back, and Hall should be able to exceed the 50% snap threshold more consistently than Carter did last season.
2021

Michael Carter

Splits

| Snaps Played | Touches | Half PPR PPG | 2021 PPG Rank* |
| --- | --- | --- | --- |
| 70% snaps | 20.3 | 18.5 | RB4 |
| 50% snaps | 15.6 | 12 | RB23 |
| All Games | 13.1 | 9.9 | RB37 |
*2021 PPG Rank outlines where the half-PPR PPG would have ranked in 2021 for the running back position
This brings us to David Montgomery. Montgomery has been a model of consistency showing a high floor while receiving elite touches per game. However, news coming out of camp is the Bears might be looking for more of a committee approach as backup Khalil Herbert has shined at camp. Next, Montgomery wasn't as productive with Justin Fields at quarterback last season. In the games with Fields, his PPG dropped from 14.8 to 12 half-PPR PPG. This leads us to the offensive line play. According to 4for4's offensive line rankings, the Bears are currently dead last heading into 2022. This could hurt Montgomery's efficiency even more after only averaging 3.8 yards per carry last season.
Heading into your drafts when evaluating each running back side by side, Hall seems to have an edge in almost every category. The Jets are heading into their second season in the Shanahan-style run scheme vs. a first-year implementation for the Bears. The Jets' offensive line has an outside chance at being top 10 vs. a bottom-five offensive line in Chicago. The Jets have the better supporting cast which includes a wide receiver trio of Corey Davis, Elijah Moore, and Garrett Wilson vs. a Bears team with only Darnell Mooney going inside the top 200 picks. Hall's elite measurables and player comps make him the better prospect and most likely the better fantasy pick in 2022. Finally, go practice drafting Hall over Montgomery by using the Draft Hero tool over on 4for4.com!

The Case for
David Montgomery
Brandon: How comfortable are you really banking on the Jets' offense? Fifth-worst scoring offense in the league last year and sixth-worst in rushing yards per game with an injured quarterback who might stink and an offensive line that's already without their starting left tackle Mekhi Becton for the season. Not to mention, Hall may split carries and lose work on passing downs to Michael Carter, one of the few bright spots for the Jets a season ago. I like rookie running backs, but this isn't a great situation to start your career in, and with an early fourth-round price tag, you'll pay a premium for a lot of uncertainty.
Sure, the Bears might stink too, but they were 14th in the league in rushing yards per game in a forgettable 2021 and now have a theoretically competent head coach after finally jettisoning Matt Nagy. Monty isn't perfect. His career 3.9 yards per carry is alarming and he missed four games with injury last year – a stretch where Khalil Herbert looked better. However, Monty averages 84.8 scrimmage yards and 0.5 touchdowns per game over his three-year career. Even though he was underwhelming compared to Herbert, upon his return to action last season, he still had at least 15 touches in every game. In fantasy football, efficiency is nice but workload is still king, and Monty has that in spades.
There's not much reason to expect a dropoff in touches. New head coach Matt Eberflus comes over from a Colts team that just ran Jonathan Taylor into the ground and with Monty in a contract year, both sides are motivated to maximize his usage. Monty has also been productive enough in the passing game. He won't be confused with Christian McCaffrey, but he's caught 96 balls over the last two seasons, including 54 receptions for 438 yards and a pair of touchdowns in 2020. He's a complete back. Plus, he seems super excited about new offensive coordinator Luke Getsy, who comes over from a Packers attack that had two valuable fantasy assets at running back last year.
"He makes you want to run through a wall. He definitely brings the juice."



-David Montgomery on Luke Getsy

— Alex Shapiro (@AlexShapiroNBCS) August 21, 2022
All this is great. Workload, new coaching staff, room for improvement, and contract status all favor Montgomery over the rookie Hall. However, Monty is also the higher-floor player. Even on a dreadful Bears offense last season where he missed four games, he was tied for 11th in the league in rushing attempts inside the five-yard line, and tied for 14th in the league in rushing touchdowns from that field position with six, per SIS. Monty has averaged eight touchdowns per season and if the Bears improve at all offensively, those opportunities should increase.
Montgomery has the higher floor, solid upside, and is more than a round cheaper according to Underdog ADP. He's the better option.