2022 Offensive Line Rankings: 21-11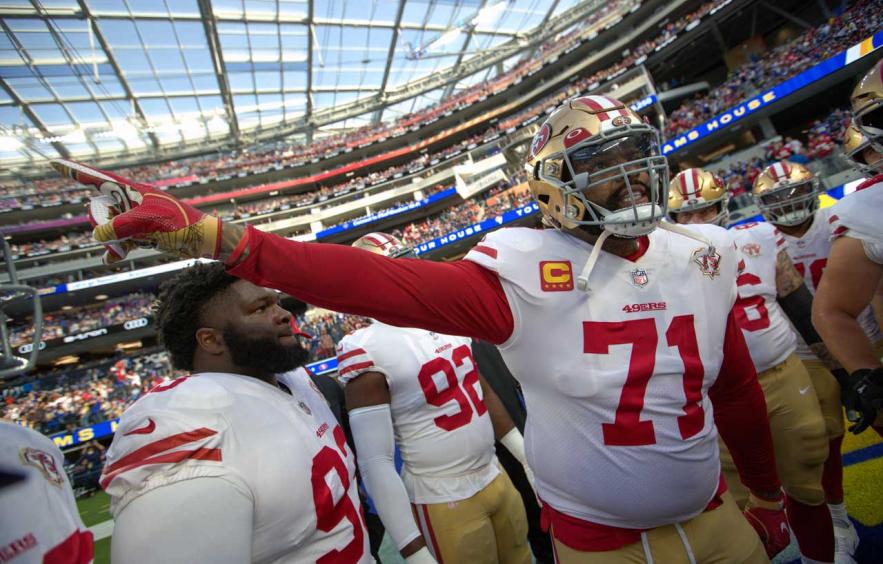 Michael Zagaris/Getty Images
As I'm sure you have hypothesized in the past, the play of a team's offensive line impacts the fantasy points that each NFL team can produce, and now we have statistical proof. By using the knowledge of good and bad units, we can better attack (or avoid) skill position players on a given team; another edge we can use against our league mates. With that caveat understood, it's time to figure out exactly where a team's offensive line compares to the rest of the league.
---
More Offensive Line Rankings: 32-22 | 10-1
---
Below I'll be counting down the middle-11 offensive lines heading into the 2021 season, with an accompanying "key stat" from last year's unit, plus new faces coming to the team. The offseason movement will denote either the most recent team that player played for, or the round of the draft they were selected. Additions and subtractions will be relegated to players believed to be immediately starting or at the least an immediate backup, and/or players selected in the first four rounds of the 2022 NFL Draft. Let's dig in.
21. Tennessee
Titans
Key 2021 Stat: 2.79 blown block% (30th)
Offseason Movement
Additions: Nicholas Petit-Frere (third round, Ohio State)
Subtractions: Rodger Saffold (Bills), David Quessenberry (Bills)
After Buffalo raided the interior of their line, the Titans have a bit of a climb if they want to get out of an o-line hole that saw them finish 30th in blown block% last season. They had one of the highest rates of blown blocks in both the passing and rushing game.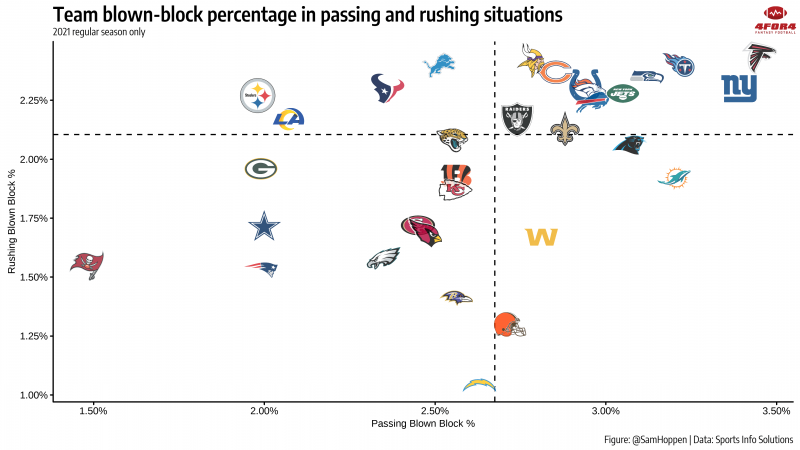 The selection of Nicholas Petit-Frere in the third round was an interesting pick, as it could signal that sophomore tackle Dillon Radunz could be sliding inside to guard, a position he took plenty of snaps at in training camp last season. If Radunz stays at tackle, it's worth noting that Petit-Frere has experience at both tackle positions, so he could operate in a swing-tackle role for the 2022 season and offer an option at left tackle if the team decides to part ways with Taylor Lewan after this year.
Lewan is no longer the high-level talent he was in his younger years and would offer no dead cap hit if he were to be let go ahead of 2023.
20. Pittsburgh
Steelers
Key 2021 Stat: 3.84 adjusted line yards (28th)
Offseason Movement
Additions: Mason Cole (Vikings), James Daniels (Bears)
Subtractions: Trai Turner (Commanders)
Pittsburgh's run blocking last season was pretty atrocious, something we haven't been used to seeing from the team through so many dominant offensive years. Though the replacement-level play of Dan Moore and Chukwuma Okorafor remains in place on the outside, I like what the team did along the inside of the line. Mason Cole offers camp competition at center so they will have options if Kendrick Green doesn't take a second-year leap, but the real piece of the puzzle that's keeping them from being a bottom-10 unit is the addition of guard James Daniels.
Daniels instantly becomes the best lineman on the team and should provide some "oomph" in the run game which will be appreciated by Najee Harris managers across the fantasy landscape. Though he will find his home at right guard for the time being, he proved well back in Chicago across all three interior positions, so he offers some versatility if the line needs to be shifted around during a rigorous 17-game season. With Kevin Dotson —who has already attributed Daniels with helping his game— ascending into a good player on the opposite side of the line, the Steelers are on the path to a respectable offensive line again, but they're still not all the way there.

19. Minnesota
Vikings
Key 2021 Stat: 4.7% adjusted sack rate (3rd)
Offseason Movement
Additions: Ed Ingram (second round, LSU), Jesse Davis (Dolphins)
Subtractions: (none)
The Minnesota Vikings have been building their offensive line from the ground up through the draft over the last four years, spending loads of high-capital selections to form the group they have, and this year was no different. While free-agent signee Jesse Davis is taking the reps at right guard in Spring sessions, it would be a little surprising if second-round selection Ed Ingram didn't have something to say about that slot by the time the season kicks off.
Ingram has the athleticism and the experience (2,682 snaps at LSU) to push for the starting role, but off-field issues caused him to miss nearly one and a half seasons of action during his college career. The allegations are something we won't get into here but they were enough to raise red flags and likely helped push him down draft boards until Minnesota took him with the 59th overall pick. If the risk pays off the team will have him slotted between tackle Brian O'Neill, a first-round selection in 2018 who is becoming one of the best right tackles in the league, and Garrett Bradbury, a first-round selection in 2019 who has had a rough go of it through his first three seasons.
Bradbury has finished near the top of the leaderboard in quarterback pressures allowed amongst centers in each year of his career thus far; negating some of the positivity the team is seeing from their great tackle tandem.
18. Denver
Broncos
Key 2021 Stat: 24 OL penalties (3rd)
Offseason Movement
Additions: Billy Turner (Packers)
Subtractions: Bobby Massie (free agent), Cameron Fleming (free agent)
Bobby Massie's one-year stop-off in Denver didn't go over too well, as he will join Cameron Fleming in free agency after leading the team with his 36 pressures allowed. He will be immediately replaced by former Bronco Billy Turner, who played here from 2016-2018 but didn't overlap with any of the current coaching staff during that stint.
Speaking of coaching staffs, the team has parted ways with offensive line coach Mike Munchak, who has consistently boosted the play of units since his first gig with Tennessee all the way back in 1997. In a (presumably) unrelated move, the team is moving to a predominately outside-zone rushing attack under new head coach Nathaniel Hackett. This should bode well behind a smallish offensive line that will be able to use their athleticism to the detriment of opposing defensive linemen.
Harkening back to Billy Turner, he has plenty of experience with Hackett from his time in Green Bay, where Aaron Jones and A.J. Dillon combined for 256 zone rushes just last year.
17. Baltimore
Ravens
Key 2021 Stat: 3.82 adjusted line yards (29th)
Offseason Movement
Additions: Tyler Linderbaum (first round, Iowa), Daniel Faalele (fourth round, Minnesota), Morgan Moses (Jets)
Subtractions: Bradley Bozeman (Panthers), Alejandro Villanueva (retirement)
The Baltimore Ravens are dealing with their second offensive line retirement in as many calendar years as left tackle Alejandro Villanueva is hanging up the cleats, putting them in a little bit of a pickle. Villanueva did have a bit of a down year —his 54 pressures allowed were a career-high— but the former Pittsburgh Steeler was still playing at a high level. Though it may come at a slight downgrade, former Jets and Football Team/Commanders/Braves tackle Morgan Moses could man the spot if Ronnie Stanley is not ready to go by Week 1. If Stanley is ready to go, they have themselves a very good tackle tandem with an interior that will need a little molding.
Much of that is going to depend on rookie center Tyler Linderbaum who, although undersized, and short on length, is an elite athlete and figures to step into the league as a legit, top-15 option at the position. His strengths should be maximized here in Baltimore where they're not going to ask him to sit and anchor down for long strings of four-or-five second pockets; on passing plays, Lamar Jackson is going to get the ball out of his hands or take off running. This isn't to say Linderbaum can't pass protect, just that his best film is on runs, particularly in zone runs where he can flex that athleticism and cut off defensive linemen an entire gap away before the defense can even react.
If Ronnie Stanley is truly all the way back to health, and if Linderbaum can quickly adapt to the speed of the NFL, the Ravens could honestly flip from a bottom-10 to top-10 unit by year's end, but the loss of Villanueva and the questions surrounding Stanley have them living here. For now.
16. Buffalo
Bills
Key 2021 Stat: 4.5% adjusted sack rate (2nd)
Offseason Movement
Additions: Rodger Saffold (Titans), David Quessenberry (Titans)
Subtractions: Jon Feliciano (Giants), Daryl Williams (free agent)
It could be said that this unit overperformed with the type of talent they had on the team last season, but they performed regardless, finishing the season with the second-best adjusted sack rate in the league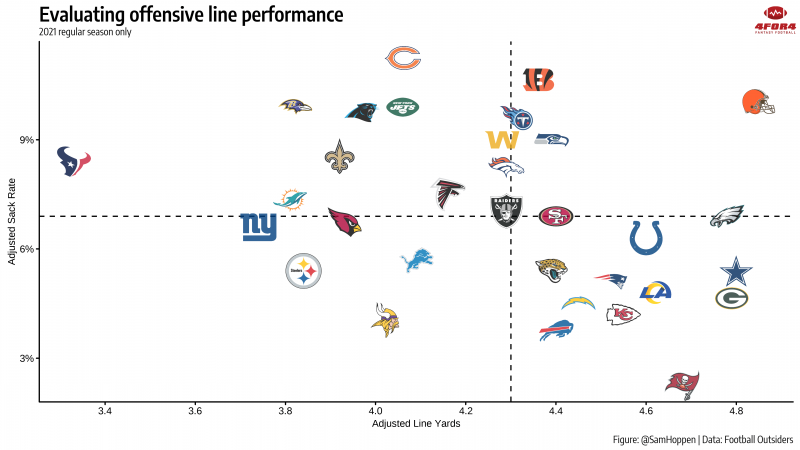 I wouldn't expect quite that sparkling of a repeat performance after the team is likely coming out of the offseason with a net negative in terms of skill on the unit. Rodger Saffold's days of elite-level play are far behind him as he heads into his age-34 season and David Quessenberry just completed his first full season on the field since being drafted in 2013. Though Quessenberry has an absolutely incredible story (no, really, Google it), the team would be hard-pressed to ask him to replicate the great season Daryl Williams just had.
Deciding to forego the entire line during the draft could come back to bite the Bills. James Cook, for instance, could be considered a luxury pick in hindsight when two interior linemen (Luke Fortner, Joshua Ezeudu) and two tackles (Nicholas Petit-Frere, Abraham Lucas) came off the board inside of the 10 succeeding picks. Maybe they're still reeling from their 2019 Cody Ford selection; the last time the team took a lineman before the third round did not go well.
15. Jacksonville
Jaguars
Key 2021 Stat: 233 QB pressures allowed (22nd)
Offseason Movement
Additions: Brandon Scherff (Commanders), Luke Fortner (third round, Kentucky)
Subtractions: A.J. Cann (Texans), Andrew Norwell (Commanders), Brandon Linder (retirement)
As we'll see with Washington's situation, the Jaguars are in a good spot with three solid, slightly above-average tackle options which is a difficult roster build, as many teams don't even have two of them. Add Brandon Scherff to the mix to replace Andrew Norwell and we have the makings of a great line. The other two spots are where we have to squint if we want to look at the entire line as a positive. 2020 fourth-rounder Ben Bartch is still slotted in at left guard even though he failed to show much improvement in his second year in the league while the team had to scramble a little to find a replacement at center after Brandon Linder announced his retirement at the end of March.
Rookie Luke Fortner seems to be leading the way as the presumed starter with the sudden hole in the middle of the line, but that decision raises some red flags; namely the fact that he has only one season of experience at the position. Heading into the draft Fortner was looked at as a developmental option who had issues with hand position and anchoring against college-level nose tackles, though mentally he should be prepared for life in the NFL after playing 36 consecutive games for Kentucky, calling "all the run-game calls, all the pass-game calls, all the protection calls", according to his college offensive coordinator.
14. New York
Jets
Key 2021 Stat:8.6% adjusted sack rate (29th)
Offseason Movement
Additions: Laken Tomlinson (49ers), Max Mitchell (fourth round, University of Louisiana at Lafayette), Nate Herbig (Eagles)
Subtractions: Morgan Moses (Ravens)
This ranking is closer to the pessimistic side of the spectrum and the reason is the continued worries surrounding Mekhi Becton, who has logged 741 snaps since being selected with the 11th-overall pick in 2020. Becton still hasn't shown up for OTAs yet —though it is for the birth of a child— which has further limited his reps as he works his way back from last year's season-ending injury. What's more, there are talks about shifting him over to the right side so that George Fant can remain on the left side and continue building on what ended up being a career year for him. This would leave Becton re-learning the right side of the line —where he hasn't played since a few 2018 games— while coming back from a knee injury that turned from six weeks of missed action into 16 games because he was having such an issue with his weight.
George Fant's fifth-year breakout may end up being an outlier but this team still has a strong interior with Connor McGovern, sophomore Alijah Vera-Tucker, and free-agent signee Laken Tomlinson, who spent many seasons in San Francisco with Robert Saleh.
13. San Francisco
49ers
Key 2021 Stat: 170 QB pressures allowed (3rd)
Offseason Movement
Additions: Spencer Burford (fourth round, UTSA)
Subtractions: Laken Tomlinson (Jets), Alex Mack (retirement)
How bad can an offensive line unit be while still sporting the best lineman in the league? The 49ers may be a case study for the upcoming season. We can assume that the 49ers weren't blindsided by Alex Mack retiring, but regardless of who fills in, it will be a downgrade from the veteran who only missed a handful of snaps in 2021. Rookie fourth-rounder Spencer Burford (UTSA) has some experience in the interior but has played tackle exclusively in each of his last two seasons. Currently slotted to start in place of Mack is Jake Brendel, a 2016 UDFA that I have honestly never heard of.
Aaron Banks, last year's second-round selection will have first dibs on replacing Laken Tomlinson, who is now in New York. Banks saw only five snaps in his rookie season which further exasperates a lack of experience in the interior. But, hey, Trent Williams.
12. Washington
Commanders
Key 2021 Stat: 25 OL penalties (t-4th)
Offseason Movement
Additions: Trai Turner (Steelers), Andrew Norwell (Jaguars)
Subtractions: Ereck Flowers (free agent), Brandon Scherff (Jaguars)
Though Washington lost two main contributors along the line this offseason, they moved quickly to fill the shoes. Andrew Norwell was basically swapped for Brandon Scherff, while former Steeler Trai Turner will plug in at right guard. Turner is more of the question mark here, as he is a five-time Pro Bowler but finds himself on his fourth team in as many years. His play has been slowly declining since his early career as a dominant Carolina Panther. Though, if former NFL player Logan Paulsen is to be believed, "In some ways, it might be an upgrade because they (Turner and Norwell) understand the scheme at such a high level."
The tackle trio of Charles Leno, Sam Cosmi, and Cornelius Lucas provide two solid starters and a swing tackle option in case anyone is to miss any time, and stud center Chase Roullier looks as if he is on pace to return to the lineup by the time Week 1 rolls around.
11. Los Angeles
Chargers
Key 2021 Stat: 5.0% adjusted sack rate (5th)
Offseason Movement
Additions: Zion Johnson (first round, Boston College)
Subtractions: Scott Quessenberry (Texans)
This Chargers unit is right on the precipice of becoming a great one, but the big glaring negative is their situation at right tackle. Trey Pipkins had two solid spot starts towards the end of last season but hasn't shown much else since coming off the board in the third round of the 2019 draft. Storm Norton allowed 60 pressures in his sophomore season, including three games with eight or more. It would seem that the job is in the air between the two of them, with training camp to decide the victor.
As for the Chargers' only major offseason addition, they've got a good one in Zion Johnson, the 17th-overall pick, and second interior lineman taken in the NFL Draft. Johnson allowed just three sacks in well over 1,000 pass-blocking snaps during his three years at Boston College and will get to spend his rookie season playing next to Corey Linsley, one of the best centers in the league. If they can scheme some help for the right tackle every once in a while, Justin Herbert might have a clean pocket to work from all season long.