2022 Offensive Line Rankings: 32-22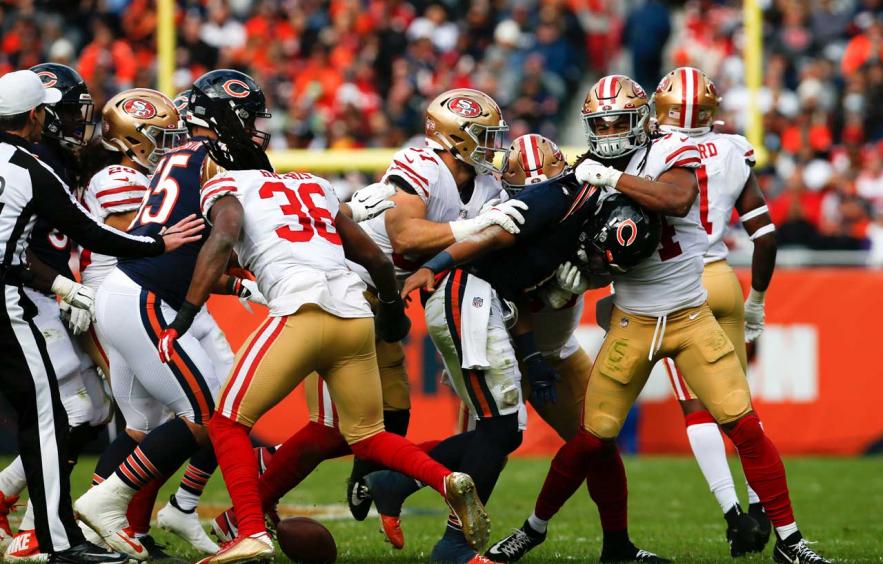 Michael Zagaris/San Francisco 49ers/Getty Images
As I'm sure you have hypothesized in the past, the play of a team's offensive line impacts the fantasy points that each NFL team can produce, and now we have statistical proof. By using the knowledge of good and bad units, we can better attack (or avoid) skill position players on a given team; another edge we can use against our league mates. With that caveat understood, it's time to figure out exactly where a team's offensive line compares to the rest of the league.
---
More Offensive Line Rankings: 21-11 | 10-1
---
Below I'll be counting down the bottom-11 offensive lines heading into the 2021 season, with an accompanying "key stat" from last year's unit, plus new faces coming to the team. The offseason movement will denote either the most recent team that player played for, or the round of the draft they were selected. Additions and subtractions will be relegated to players believed to be immediately starting or at the least an immediate backup, and/or players selected in the first four rounds of the 2022 NFL Draft. Let's dig in.
32. Chicago
Bears
Key 2021 Stat: 9.5% adjusted Sack Rate (32nd)
Offseason Movement
Additions: Lucas Patrick (Packers)
Subtractions: James Daniels (Steelers)
The Chicago Bears are in a tough spot after finishing in the bottom five of my rankings by the end of the 2021 season. They lost arguably their most talented piece in free agency when James Daniels signed with the Pittsburgh Steelers, they signed former Packers' UDFA Lucas Patrick to compete along the interior (most likely slotting in as their new center), and they were unable to pull the trigger on a rookie until the fifth round of the NFL Draft (Braxton Jones, Southern Utah).
No one would argue that the Bears are in rebuild mode and they certainly needed to spend draft capital on the defensive side of the ball, but it's worth questioning how this will impact the furthered development of sophomore quarterback Justin Fields. The team ranked dead last in adjusted sack rate last season and at this point in the Spring/Summer process, it's unclear if they even have their starting right guard on the current roster. OTA rumors are swirling that rookie Zachary Thomas or Ja'Tyre Carter —sixth and seventh-round picks, respectively— could very much be in the mix for the starting role if that gives an insight into where this unit is.
31. Atlanta
Falcons
Key 2021 Stat: 262 QB pressures allowed (31st)
Offseason Movement
Additions: Elijah Wilkinson (Bears)
Subtractions: (none)
After finishing the 2021 season near the bottom of the offensive line rankings, the Atlanta Falcons stayed mum during the offseason outside of signing Elijah Wilkinson, who will be on his third team in as many seasons after starting just eight games over the last two years. Left tackle Jake Matthews has been an absolute rock for the organization since being drafted with the sixth-overall pick in 2014 but the rest of the unit is league average at best, with 2021's third-round selection, Jalen Mayfield, struggling mightily during his first season. Mayfield allowed the second-most pressures (57) amongst all guards last season, trailing only Alex Leatherwood (65), who played 115 more snaps. In fact, Mayfield was the only guard in the league to log less than 1,000 snaps and give up more than 40 quarterback pressures.
While right guard, and one of the Falcons' first-round selections from 2019, Chris Lindstrom has been groomed into a usable piece along the line, '19 classmate and fellow first-rounder Kaleb McGary has had his fifth-year option declined after three shaky years in the league. If you think the coaching staff is questioning how the offensive line is going to hold up, just ask quarterbacks coach Charles London who recently quipped, "I think we'd be crazy if we didn't try to roll these guys out of the pocket…As coaches, we have to figure out the best way to get these guys in position to be successful."

30. Houston
Texans
Key 2021 Stat: 3.33 adjusted line yards (32nd)
Offseason Movement
Additions: Kenyon Green (first round, Texas A&M), A.J. Cann (Jaguars), Scott Quessenberry (Chargers)
Subtractions: Geron Christian (Chiefs)
In a game of inches, the Texans' offensive line was entire feet behind the rest of the league in regards to moving defensive lines off of their spots. Houston was dead last in adjusted line yards, and by a whole lot. The gap between their 3.33 adjusted line yards and the 31st-ranked Giants (3.74) was the same gap between 31st and the 20th-ranked Falcons. In a very heavy gap/man running scheme (they had 158 such attempts, third-most in the league), they managed 3.4 yards per attempt (29th), which shows a kind of stubbornness that was very difficult to watch at times. Although not exciting, if they do indeed maintain this type of "three yards and a cloud of dust" approach, it would be beneficial to rookie fourth-rounder Dameon Pierce who is an absolute bowling ball with the rock.
If the Texans are going to learn whether or not they have a starting-caliber quarterback on their hands in Davis Mills, they're going to need this unit to step up. A fully healthy Laremy Tunsil will help things, as will new interior options A.J. Cann and rookie Kenyon Green. Green started at four of the five o-line positions in college but is most likely to slot in as the Texans' new left guard after Lane Taylor and Tytus Howard combined for a shaky effort at the position in 2021.
29. New York
Giants
Key 2021 Stat: 2.94 blown block% (31st)
Offseason Movement
Additions: Evan Neal (first round, Alabama), Mark Glowinski (Colts), Jon Feliciano (Bills), Joshua Ezeudu (third round, North Carolina), Max Garcia (Cardinals)
Subtractions: Will Hernandez (Cardinals)
It's clear from the influx of new faces along the line, as well as the hiring of offensive line coach Bobby Johnson, that New York is attempting to replicate the recent success of the Buffalo Bills; throw mid-level talent at the wall and hope it will stick. It worked to such a degree with the Bills that their unit became one of the better ones in the entire league, but they weren't coming off of quite the negative season that this Giants unit is. New York was at the bottom of nearly all offensive line metrics but namely blown block%, which Sports Info Solutions uses to track how often players are unable to successfully block the defender they attempt to engage with.
The Giants were almost at the very top of both rushing blown block% and passing blown block% last season, as is visualized down below.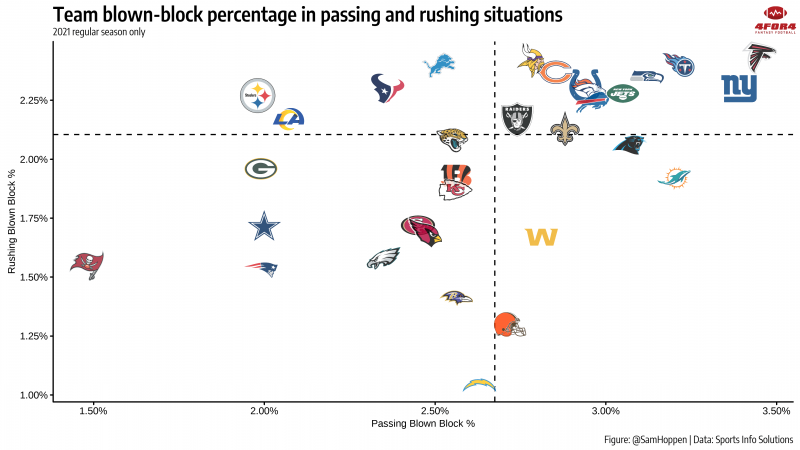 The team could far outkick this ranking and I wouldn't be shocked but even with all of these offseason additions, they have plenty of question marks. Left tackle Andrew Thomas has had consecutive offseason ankle surgeries —one after each of his first two seasons in the league— left guard Shane Lemieux played 17 snaps last year and presumed starting center Jon Feliciano has 39 starts in his eight-year career. I like how the team addressed their glaring weaknesses up front but it may take a while for it to pay dividends.
28. Carolina
Panthers
Key 2021 Stat: 266 QB pressures allowed (32nd)
Offseason Movement
Additions: Ikem Ekwonu (first round, NC State), Bradley Bozeman (Ravens), Austin Corbett (Rams)
Subtractions: Trent Scott (Steelers)
Despite making two moves to shore up the interior of their line, the biggest swing the Panthers made this offseason was spending the number six overall pick on tackle Ikem Ekwonu of North Carolina State. At six-foot-four inches flat, Ekwonu is very short relative to his peers but his outstanding athleticism should help him overcome his stature at the next level. A starter at left tackle since his true freshman season in 2019, Ekwonu has some experience at left guard if he is forced to slide inside, but I don't believe that would be in his, or Carolina's best interests.
The idea of Christian McCaffrey running outside zone behind Ekwonu is already enticing enough, but the pick looks even stronger when we consider how much more he can do in pass protection than incumbents Cam Erving (who should probably be a backup, to begin with) and Brady Christensen (who should be a guard where he isn't on an island as often, to begin with). Granted, he has some things to work on and elite-level edge rushers will probably give him a welcome to the NFL but he should be comparable to the Erving/Christensen pairing from last year, with a ton of room to grow.
27. Seattle
Seahawks
Key 2021 Stat: 2.77% blown block% (29th)
Offseason Movement
Additions: Charles Cross (first round, Mississippi State), Abraham Lucas (third round, Washington State), Austin Blythe (Chiefs)
Subtractions: Duane Brown (free agent), Ethan Pocic (Browns)
If we've seen the last of Duane Brown on an NFL field, we'll be missing one of the most consistent tackles in the league over the last decade and a half. There were times over his four-plus seasons with Seattle that he was the only above-average offensive lineman the team had to offer. To ease the transition, the team used the ninth and seventy-second pick on two tackles, and each of them has a clear path to beginning a new era of offensive line play for the team. Washington State's own Abraham Lucas will battle it out with incumbent Stone Forsythe on the right side while first-rounder Charles Cross should be expected to start at left tackle from day one.
Any trepidation about Cross comes from his history from a spread offense, and Mike Leach's famous spread offense at that. Over the last two seasons, the Mississippi State offense had a run rate of 21%, a mark that Pete Carroll smacks his gum at. On the other hand, Cross comes in with extensive time in pass protection, allowing a measly 16 pressures on 719 (!) pass-blocking snaps in 2021.
The interior of the line still needs some work outside of veteran Gabe Jackson but it's good that the team spent some draft capital on the line instead of another first-round running back. Too bad they didn't do this when they still had a potential Hall of Fame quarterback.
26. Las Vegas
Raiders
Key 2021 Stat: 52 OL penalties (31st)
Offseason Movement
Additions: Dylan Parham (third round, Memphis)
Subtractions: (none)
Alex Leatherwood, who allowed a league-high 67 pressures last season while lining up mostly at right guard, has been taking first-team reps at right tackle through OTAs thus far, presumably to see if a change of scenery will help last year's first-round pick. This could possibly open the door for Denzelle Good —who only logged 17 snaps last year— or rookie Dylan Parham to take over that guard spot, but neither option is going to solidify this line. At the other guard spot looks to be either 2020 fourth-rounder John Simpson or journeyman Jermaine Eluemunor.
Left tackle Kolton Miller remains the only true bright spot of this unit after he had a fantastic fourth-year breakout in 2021, but he alone is not enough to consider the offensive line a strength for this team.
25. Arizona
Cardinals
Key 2021 Stat: 3.93 adjusted line yards (26th)
Offseason Movement
Additions: Will Hernandez (Giants)
Subtractions: Max Garcia (Giants)
Though the Arizona offensive line finished middle-of-the-pack in terms of adjusted sack rate (6.5% - 15th), they had a hard time getting movement in the running game, finishing 26th in adjusted line yards.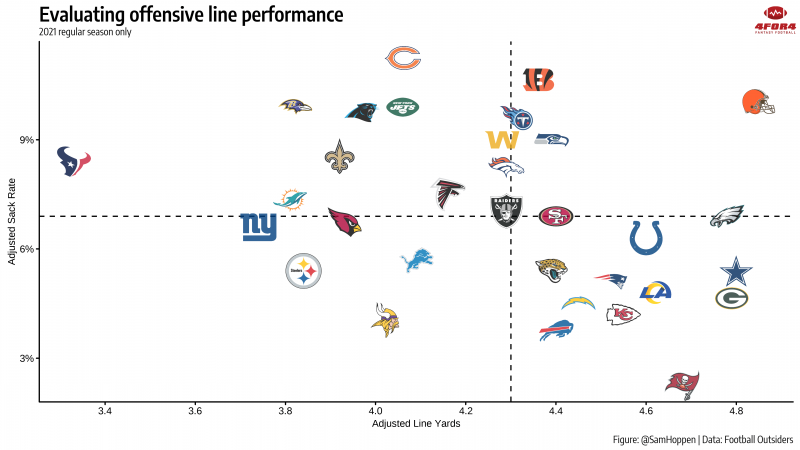 There's not a lot of room for improvement here either, as they have a number of aging pieces, they didn't draft any depth until the sixth round (Lecitus Smith, Virginia Tech), and the only move they made in free agency was to swap Max Garcia for Will Hernandez with the New York Giants. Hernandez never really played to his potential as the 34th-overall pick in 2018 but he does offer the Cardinals a small shot of youth, as he is four years younger than Garcia. Solid, consistent play from left tackle D.J. Humphries keeps this unit from sliding further than they are here.
24. Miami
Dolphins
Key 2021 Stat: 141.75 AEOL (31st), AEOL explained here
Offseason Movement
Additions: Terron Armstead (Saints), Connor Williams (Cowboys)
Subtractions: Jesse Davis (Vikings)
The Dolphins have been scraping near-or-at the bottom of the rankings for a couple of years now, so it's nice to see them make a couple of moves in free agency as they seemingly move all-in on Tua Tagovailoa. There are still some question marks in the unit, and two of the biggest marks surprisingly involve the two big splashes they made. Terron Armstead is an incredible talent but has had a long history of issues with staying on the field for an entire season and will be heading into his 10th year in the league, while Connor Williams apparently may be sliding over to the center position although he has never started a game there in his professional or college career.
There is nothing negative about adding above-average to great talent through free agency but I do wonder why they would go after Williams if their idea was to move him to center as opposed to say, going after the position in the draft. Part of that is due to the trade for Tyreek Hill that left them without a pick until number 102, but I digress. Pairing those questions with Austin Jackson flipping from the left to the right side of the line and we can say that the unit has undoubtedly improved from basement-level but will need to see how things shake out before they move much higher.
23. New Orleans
Saints
Key 2021 Stat: 3.92 adjusted line yards (27th)
Offseason Movement
Additions: Trevor Penning (first round, Northern Iowa)
Subtractions: Terron Armstead (Dolphins)
The Saints got younger along their rapidly aging offensive line but they had to do so by taking a temporary loss of talent, as is often the case in these scenarios. Between Terron Armstead, Andrus Peat, and Ryan Ramczyk, they were seemingly never going to field an entire healthy unit all at the same time, so the logical choice was to let one of them walk when/if they had the chance. The casualty ended up being Armstead, who is one of the best tackles we have in our league but has missed 33 games over the last six seasons. The Saints would go on to draft his immediate replacement with the 19th overall pick; Trevor Penning of Northern Iowa.
Penning will slot next to Andrus Peat, who himself has missed 20 games over the last three seasons and has already missed time during OTAs while he recovers from his torn pec. Cesar Ruiz was the only slated starter to play through the entire 2021 season and he has yet to return on the type of first-round investment the team used to take him with their 24th-overall pick in 2020. New Orleans will have to kick the injury bug and look for immediate usage from Trevor Penning if they're going to jump up in the rankings.
22. Cincinnati
Bengals
Key 2021 Stat: t-Most rookies receiving starts (three)
Offseason Movement
Additions: Ted Karras (Patriots), Alex Cappa (Buccaneers), La'el Collins (Cowboys)
Subtractions: (none)
The Penei Sewell/Ja'Marr Chase debate should be all but over after the type of rookie season that Chase had but there's no doubt the Bengals had plenty of offensive line issues all the way up to, and including, the Super Bowl. The team addressed the line through the draft last year but was not able to acquire the type of talent to make a surge as a unit. This year they took a different approach, spending more money in free agency on the o-line than any other team in the NFL.
Both Ted Karras and Alex Cappa are above-average interior talents while La'el Collins has been fantastic at right tackle for the Cowboys over the last three seasons, giving Cincinnati a solid tackle tandem for the first time in a very long time. This leaves the weak link along the line as Jackson Carman, who struggled during his rookie season, flipping back and forth between left and right guard. It was a rollercoaster of a season through and through, culminating in the team not trusting Carman's play enough to even put him on the field during the entirety of the Super Bowl after he gave up six pressures in the AFC Championship game. That would end a year in which he was demoted to third-team during the preseason because the coaching staff was unhappy with how out of shape he was.
Carman will have to fight for his job while fourth-round rookie Cordell Volson (North Dakota State) tries to lay his stake in the starting lineup during OTAs.