Is DeAndre Hopkins Done as a Top Fantasy Football Target?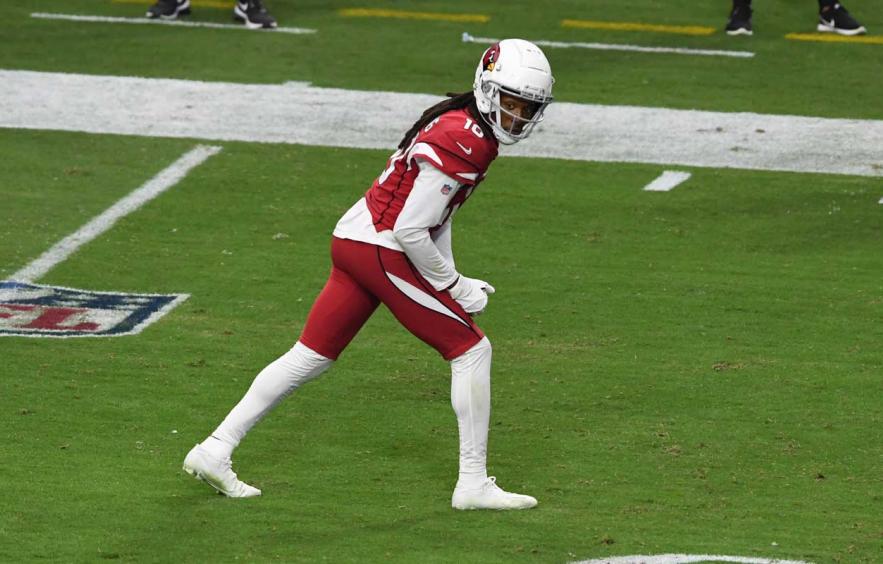 Norm Hall/Getty Images
DeAndre Hopkins has long been an automatic starter for fantasy managers, and a safe option in the early rounds of fantasy drafts for steady targets and high-floor production. Last season, he was hobbled by multiple injuries, played in only 10 games, and finished with career lows in targets, receptions, and yards. Now, entering his age-30 season and facing a six-game suspension for performance-enhancing substances, fantasy managers are left to wonder if he has anything left in the tank.
---
Click here for more 2022 Player Profiles!
---
The State of Hopkins
We'll start with the negative. Hopkins just turned 30, long considered to be a turning point for wide receivers in the NFL. Marvin Elequin did a study last year, tracking WR1 fantasy seasons by age since 2000. He found 26 to be the peak age for a wide receiver, and for a steady drop after age 29, with a massive decrease after age 32. Or as Marvin puts it, "Age 29-31… is the beginning of the end for most wide receivers." So, Hopkins is right in that range where a steep decline can be expected, especially considering he's coming off an injury-plagued season.
The bright side of the suspension is that it gives Hopkins extra time to recover from the torn MCL that cost him the final four games of last season. On the even brighter side, it doesn't sound like he needs it. According to Tyler Drake with Arizona Sports, Cardinals head coach Kliff Kingsbury just recently said "I think he's right on schedule. He'll be full-go for training camp." That's a good sign for a team that struggled down the stretch after a hot start last season and then fizzled badly in the playoffs.
While Hopkins took a deep nose-dive in overall production in 2021, he still caught eight touchdowns – his most since 2018 – and averaged 6.4 targets per game, despite being hobbled in many of his outings. If his health improves, it's not a stretch to think he could get back to his 2020 form, when he was second in the league in targets and third in receiving yards. Hopkins is also regularly considered one of the best in the league at doing his job – catching the ball. According to Sports Info Solutions, despite so many targets in 2020, he recorded just one drop. Then there's this tweet from NFL on CBS:
Lowest drop % in NFL over last 5 seasons

(min. 250 receptions)



Allen Robinson 1.7%

Larry Fitzgerald 1.8%

Antonio Brown 2.0%

DeAndre Hopkins 2.1%@AllenRobinson has got the clamps pic.twitter.com/J58UlJTjuo

— NFL on CBS 🏈 (@NFLonCBS) June 2, 2022
After such a great 2020 season, Matt Harmon at Reception Perception actually said "Hopkins isn't just maintaining his future Hall of Fame pace. He's actually getting better as his career goes on."
We definitely need to be concerned about Hopkins' decline, but it's encouraging that he's only two years removed from elite fantasy production.
The State of the
Cardinals

' Passing Offense

It was a tale of two teams for the Cardinals' offense last year. They kicked off the season with a blistering start, winning their first seven games. Only Patrick Mahomes had more fantasy points through the first four games than Kyler Murray and the third-year quarterback was in early MVP conversations. Then the injuries started to pile up. Murray started playing hobbled and eventually missed three games. The offense sputtered and the team lost five of their last six games including a wildcard loss to the Rams.

This year, the Cardinals should bounce back if they can keep the injury bug at bay. They retained Kingsbury at coach and traded for Marquise Brown on draft night. While Brown may eat targets and should play a large role in the offense, he profiles as a different style of receiver than Hopkins. As such, the attention he draws may actually help Hopkins rather than hurt him. Check out their respective route percentages on Reception Perception: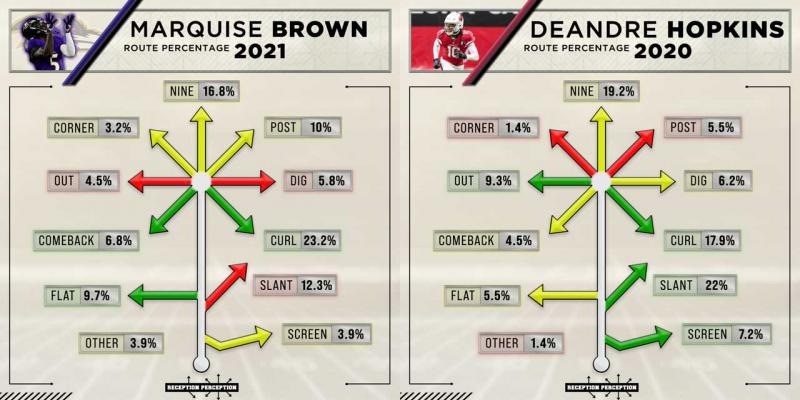 Obviously, the difference in years and teams make a difference, and Reception Perception is kind to both players on their success rates in running routes. But you can see the types of routes run by the two talented players couldn't be more dissimilar.
That being said, the emergence of Zach Ertz in the offense last year and the addition of Brown does create a logjam for targets, and it's worth monitoring.

Bottom Line
Hopkins is a tough decision for fantasy managers this year. On the one hand, he was great in 2020. On the other, he's 30 years old, coming off a knee injury, and suspended for six games. Luckily, all the risk associated with him is baked into his seventh-round ADP on Underdog.
I lean toward thinking he's worth the risk. There's too much talent in Hopkins to avoid him at his current price tag, and I'd rather have 11 games of him than bet on the players surrounding him in ADP (Brandon Aiyuk, Treylon Burks, Hunter Renfrow, etc). If everything goes right, Hopkins could wind up the WR1 in an elite offense by mid-season, ramping up just in time for the fantasy playoffs.
Proceed with caution, but a healthy Hopkins plus a stop-gap for the first six games still seems worth the price to me.