Alec Pierce Brings Much-Needed Speed to Indianapolis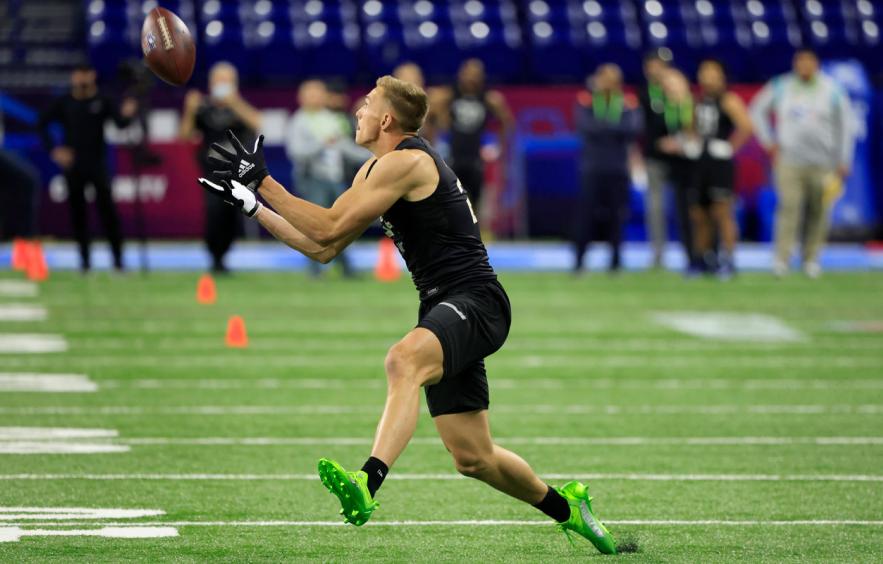 Justin Casterline/Getty Images
There's no denying the fact the Colts' 2021 passing offense lacked explosive plays. In fact, the Colts had almost double the number of explosive rushing plays (runs of 10+ yards) —72—than the 42 explosive passing plays (completions of 20+yards) they had in 2021. In the latter metric, the Colts ranked 27th in the NFL. The Colts needed to add more speed to their passing game.
Enter Alec Pierce, receiver out of Cincinnati. He may not be a household name or have a gaudy collegiate stat line, but he can fly and defenses are going to have to respect that in 2022. How will that kind of role translate to fantasy football success?
---
Click here for more 2022 Player Profiles!
---
Alec Pierce

– Speed Demon

You cannot talk about Alec Pierce without talking about his physical and athletic gifts. This is what he brings to the table and it's most likely one of the big reasons the Colts were interested in him. He didn't put up insane numbers in college. He wasn't a receiver that draft analysts couldn't stop talking about it. What he is though, is fast. Very, very fast.
Alec Pierce is a WR prospect in the 2022 draft class. He scored a 9.8 RAS out of a possible 10.00. This ranked 53 out of 2613 WR from 1987 to 2022. https://t.co/cQXuHGwMZp #RAS pic.twitter.com/Fwczn6fBHx

— Kent Lee Platte (@MathBomb) March 23, 2022
We are talking about a receiver in the top 2% of qualifying receivers in Relative Athletic Score (RAS) since 1987. He's a bigger receiver at 6'3 and 211 pounds, but that size didn't slow him down. He blazed a 4.41 forty and had a 40.5-inch vertical. If you're looking for a receiver that defenses are going to have to pay attention to downfield, this is the kind of guy you envision, but how did all of these physical gifts translate to college?
Pierce was a four-year player for the Bearcats but didn't get a chance to play until his sophomore season. With his first taste of collegiate action, he caught 37 of his 59 targets for 657 yards and 2 touchdowns. His 17.8 yard per reception ranked 31st in the country out of 290 qualifying receivers with at least 50 targets in 2019. His average depth of target was 17.1 yards, which ranked 15th.
Pierce missed the start of his junior campaign and was only able to appear in six games, including their bowl game. Pierce's game didn't really expand, but it did improve. The second-round pick still was almost exclusively used down the field, but he was more successful in that regard. His catch percentage jumped from 62.7% as a sophomore to 70.8% as a junior. He also increased his yard per reception average to 18.5. The real growth could be seen in his yard per route run average—1.95 in 2019 and 2.46 in 2020. While he may be classified as a one-trick pony, he was beginning to master that one trick.
Out of 123 qualifying receivers who had at least 75 targets in 2021, Pierce ranked 23rd with a 16.8 yard per reception average. He ranked 12th in yards per target with a 10.3 average. His 2.7 yard per route run average ranked 24th in the country and his average depth of target ranking was sixth at 17.1. His numbers indicate he is one of the better deep ball receivers in this class and his Reception Perception Draft Profile illustrates that same narrative.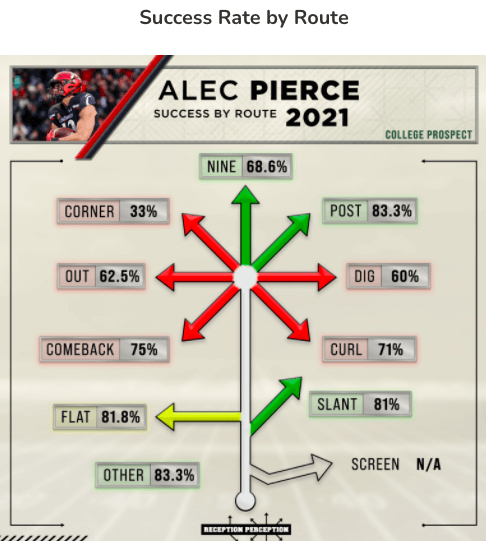 You can see from his route success rate above, that his most successful routes are the post and the nine route. This lines up with his collegiate numbers and his draft day reputation of being almost exclusively a deep ball receiver. Matt Harmon of Reception Perception had this to say about Pierce in his draft profile,
Pierce posted truly great success rates on nines and posts. He can shake loose in the vertical game and is a long-strider. His straight-line speed is no joke. He also comes with good ball tracking ability to win in tight coverage down the field. Those trickled into his 71.4% contested catch rate... Pierce could end up developing into a Kenny Golladay type of player in the NFL. Primarily a vertical threat who got better as a route-runner during his Detroit years, Golladay is a throwback pure X-receiver. Pierce could slide into a role like that with a team that wants to push the ball down the field.
We know who Pierce is and we know why that kind of player was someone the Colts were interested in. The real-life football match makes complete sense. The Colts were lacking a vertical element to their offense last year. With Pierce now in Indianapolis to fill that role, what can fantasy managers expect in his first year?
Will
Alec Pierce

's Downfield Role Translate to Fantasy Success?

The Colts passed the ball just 521 times last season, 27th in the NFL. The passing volume is always going to be a concern as long as Jonathan Taylor is healthy. He is the engine of their offense and that is not going to change in 2022. This team is going to continue operating as an old-school, smack-you-in-the-mouth kind of football team. They're going to want to play good defense, run the football, limit turnovers, and control the clock. That's the best recipe for success for the Colts in 2022, but it doesn't mean it'll be good for Pierce's fantasy prospects.

Last season, Michael Pittman earned 129 targets and ranked 16th in the NFL with a 25.9% target share. Pierce is being integrated with an alpha receiver already established on a low-volume offense. His opportunities are going to be limited. The second-leading target getter for the Colts last season was Zach Pascal with 69. That's a red flag.

There wasn't a single player on the Colts to finish with more than 400 yards other than Pittman, another red flag. Pierce's chances of being a fantasy-relevant player in 2022 are fairly slim. The other receivers on the roster are Parris Campbell and Ashton Dulin. It's not exactly a very deep group and Pierce will likely be a starter from Week One. They'll be hoping Campbell can stay healthy this season, a feat he hasn't been able to do since being drafted in 2018. He's missed 69% of his games due to various injuries, but as long as he's healthy, he'll be the starting slot receiver. Pierce and Pittman are locked in as starters on the outside.

Fantasy managers should be expecting a decent amount of 12-personnel for the Colts. They have two enormous tight ends in Mo Alie-Cox and rookie, Jelani Woods. They are listed at 6'5 and 267 pounds and 6'7 and 265 pounds, respectively. With the strength of their offense centered around the run game and the lack of quality receivers, it shouldn't come as a surprise if the Colts have one of the highest percentages of their plays with this personnel grouping.

The Colts will utilize a good amount of play-action to keep defenses on their toes and Pierce will get a handful of opportunities each game to make a play downfield. His quality as a route-runner is a bit suspect, so it's unlikely he's going to generate enough targets to be a consistent option for fantasy managers on a weekly basis.

Fantasy managers should expect Pierce to play something of a Marquez Valdes-Scantling role when he was with the Packers. While Pierce may be a more talented receiver overall than MVS, he won't be catching passes from Aaron Rodgers or playing in an offense that will generate as many scoring opportunities, but Pierce's role is likely to be very similar.

This type of assignment will likely result in Pierce finishing with around 80–90 targets in Year One. With what is expected to be a higher average depth of target, fantasy managers shouldn't be expecting a high catch percentage. Expecting around 45–55 catches for around 750 yards and a few touchdowns seems reasonable for Pierce given his expected role as the No. 2 option in a low-volume passing offense.

His early Underdog ADP is 169.5 and he's being drafted as the WR73. This is an accurate assessment of his value going into the 2022 season. At this time, he's just a dart throw. His game is better suited for best-ball leagues because there will be a few weeks where he catches a long touchdown and because of that, puts up a decent fantasy score. However, for redraft purposes, predicting when those weeks happen will be impossible.

The Bottom Line
Alec Pierce is an extremely gifted athlete. He's big, strong, and fast – incredibly fast.
His skill set is best defined as a one-trick pony – he looks the part of being an effective deep ball threat but lacks the polish to be much more than that as a rookie.
The Colts are a low-volume passing attack that already has an established alpha receiver in Michael Pittman.
Pierce is best suited in best-ball leagues where you don't have to worry about trying to predict his "boom" weeks.
He's nothing more than a late-round dart throw in redraft leagues – anything more than that and you're likely over drafting him