2022 NFL Draft: Top-10 Pick Longshots & Value Bets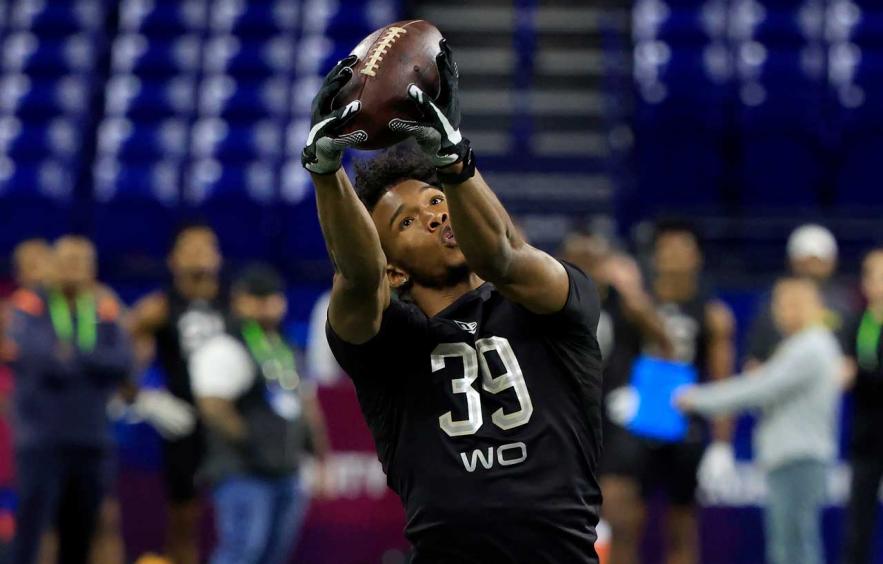 Justin Casterline/Getty Images
Every year someone asks me what my favorite time of the year is as a sports bettor. I'm sure they anticipate me saying the NFL or NCAAB season as those are the two core sports I bet on. The answer is neither one of those sports, though, it's the NFL Draft. Every year I have more action on the draft than half an NFL season combined. You might think that's insane but the reality is it's the softest market of the year, and it's solely information-based. Even if you have the right read on a football or basketball game, anything can happen. A corner trips and some fifth-string wideout burns the secondary for a 40-yard touchdown. College basketball's NCAA tournament has been coined "March Madness" for a reason.
In the NFL Draft, crazy things can happen relative to public expectation but there is no game to be played. It's just a group of people in a war room making what they consider to be educated decisions based on their evaluations and team needs. Reading the tea leaves, understanding each team and how they make decisions, as well as a few well-placed sources, can make betting on the NFL Draft extremely profitable. I'm coming off my fourth-straight year of beating the NFL draft prop market. We ripped off 12 units in the first round alone last year. If you want just our best bets, find out how to get a subscription ($179) for $10.
During draft season, I'll be breaking down a bunch of the different 2022 NFL Draft betting markets available on FanDuel Sportsbook. If you missed it, I already broke down both the top-5 and top 10 pick markets, the First Round Pick market, as well as the first QB, first WR, first OL, first CB, and first RB markets.
Below, I break down some of the better bets for each pick inside of the top 10 of the first round.
---
2022 Draft NFL Draft Date & Time
Date: Thursday, April 28 (Round 1), Friday, April 29th ( Rounds 2 & 3) & Saturday, April 30th (Rounds 4-7)
Time: 8:00 PM EST (Round 1), 7:00 PM EST (Rounds and 3), &12:00 PM EST (Rounds 4-7)
Channels: NFL Network, ESPN & ABC, also FuboTV Livestream
---
More 2022 NFL Draft Resources: Mock Draft | Big Board | Dalton Kates' Prop Bets | Draft Podcast Notes | Move the Line Props Betting Tracker | Draft Betting Odds & Tracker
---

Best Top-10 Longshot and Value Bets
| Pick | Player | Odds |
| --- | --- | --- |
| No. 1 | Travon Walker | +165 |
| No. 2 | Malik Willis | +900 |
| No. 3 | Aidan Hutchinson | +1800 |
| No. 4 | Ikem Ekwonu | +600 |
| No. 5 | Charles Cross | +500 |
| No. 6 | Jameson Williams | +5000 |
| No. 7 | Kayvon Thibodeaux | +700 |
| No. 8 | Garrett Wilson | +500 |
| No. 9 | Trevor Penning | +1200 |
| No. 10 | Drake London | +600 |
First Overall Pick: Travon Walker, DE, Georgia
Odds: +165

I'm fully on board with the Jaguars picking Travon Walker at this point. Beyond all the buzz being about Walker the last few weeks, there are a few other theories I believe make sense. GM Trent Baalke likes players with more upside and better physical traits. Aidan Hutchinson also has baby arms compared to Walker, a good three inches shorter. Right or wrong, this is something Baalke has historically valued. Another connection, while it sounds ridiculous, is that Baalke definitely doesn't want to give the Harbaugh family any satisfaction of drafting one of "their guys" first overall.
At this point, we likely should have heard more, or actually any buzz on the Jaguars' interest in Hutchinson. There isn't really much of a reason to only be talking up Walker and not Hutchinson at this point. If you are trying to drum up trade interest you should talk up both. All we have heard is analysts shouting, "Well, how could they not take him! He is awesome!" That could not matter less. All that matters is trying to figure out what Trent Baalke and the Jacksonville war room think. At this point, it's close to 50/50, if not 60/40 in favor of Walker, making +165 a great value.
Second Overall Pick:
Malik Willis

, QB, Liberty

Odds: +900

Malik Willis certainly doesn't have the accolades of a typical second overall pick but fits more into the Trey Lance mold of a top-five pick. Willis played against underwhelming competition in college but occasionally flashed serious upside. A lot of his upside stems from possessing NFL arm talent and rushing ability that will give opposing defenses nightmares at the next level. That being said, the Lions are very likely to pick one of Kayvon Thibodeaux or Aidan Hutchinson second overall if they want a defender. They are both +175, though, and don't provide much value at that price.

There is also an outside chance the Lions decide they want a quarterback. They have plenty of pieces in place to ensure Willis has a successful career, including a solid bridge signal-caller in Jared Goff, a middling offensive line that could be a strength when fully healthy, and two decent pass-catchers in Amon-Ra St. Brown and T.J. Hockenson. We have also heard the coaching staff really likes Willis. At +900, you could certainly do worse.
Third Overall Pick: Aidan Hutchinson, DE, Michigan
Odds: +1800

I bet this at 30/1 and 25/1 but still think it's a value at 18/1. If Walker goes No. 1, the Lions would very seriously consider picking Kayvon Thibodeaux over Hutchinson if they want a defensive player or could be completely locked in on Willis at quarterback. The Texans would then likely sprint to the podium to turn in the card with Hutchinson at No. 3. At 18/1, this converts to an implied probability of just 5.26%. I would peg this closer to 10-15% based on my previous assumptions. I'm not betting the house on this or anything but a small sprinkle on Hutchinson makes a lot of sense as a long shot.
Fourth Overall Pick: Ikem Ekwonu, OT, NC State
Odds: +600

Barring Aidan Hutchinson falling to pick No. 4, this pick comes down to three options: Ikem Ekwonu, Kayvon Thibodeaux, or a wideout. I personally rank those three options as I listed them. Jets insider Connor Hughes believes they are very likely to pick a wide receiver and EDGE rusher at picks four and 10, but they would strongly consider Ekwonu if he's still on the board. The Jets also made it very clear in their press conference that there are issues with Mekhi Becton and are not happy he isn't at workouts. With his status up in the air, they could very well opt to choose a player like Ekwonu and take the best available wideout or EDGE at pick No. 10.
Fifth Overall Pick: Charles Cross, OT, Mississippi State
Odds: +500

Charles Cross has been rumored to be the Giants' top offensive lineman on their board. With the Panthers sitting at No. 6, they will likely opt to pick an offensive lineman rather than wait until pick No. 7. With that in mind, this bet comes down to whether or not you believe Cross is their top lineman. I'm not sure I fully do but at +500 it's worth finding out.
Sixth Overall Pick: Jameson Wiliams, WR, Alabama
Odds: +5000

Outside of Hutchinson at No. 3, this is my favorite longshot bet in the top 10. I think there is next to no chance the Panthers themselves pick anything outside of a lineman or quarterback. So, why do I like this? They have been heavily rumored to be open to trading the pick and moving down. They have no second or third-round picks this year and need depth at a number of positions. Given they are a likely trade-down candidate, there aren't too many positions outside of quarterback that are worth trading up for. Wide Receiver is one of them.
This leads me to Jameson Williams, who is rumored to be a favorite of the Jets, Chargers, Cardinals, and Saints. The Falcons also linger at pick No. 8, putting them squarely in play to take a wideout and they may also be in on the Jameson sweepstakes. Again, there is a lot of projection here, but it could be worth taking a stab, especially if the Panthers' trade rumors continue to heat up heading into draft day.
Seventh Overall Pick: Kayvon Thibodeaux, DE, Oregon
Odds: +700

This is a tricky one as I think the Giants are looking to draft some combination of a cornerback and offensive lineman at picks five and seven. There are some scenarios, though, where they already have an offensive lineman with pick No. 5 and prefer Thibodeaux to a player like Derek Stingley Jr. I have heard through the grapevine the Giants' front office isn't inclined to take a risk on players with an injury history. Based on the odds, it's worth a risk at +700.
Eighth Overall Pick:
Garrett Wilson

, WR, Ohio State

Odds: +500

Wilson is currently the favorite to be the Falcons' pick at No. 8, but that is still at +500. It seems like they don't really know what to do with the pick, which is better for us, but doesn't really line up with their odds. Garrett Wilson is the current favorite to be the No. 1 wideout drafted and has gotten serious steam on his draft position, moving him from 10.5 to 9.5. Given that information, there are truly only two destinations on the board within that range: the Falcons (8) and the Jets (4).

The Jets' first pick would be steep but the Falcons' first pick makes a ton of sense. They currently sport one of the worst wide receiving depth charts in recent years and badly need difference-makers at the position if they want Marcus Mariota to even have a fighting chance. This should be closer to +250 rather than +500.
Ninth Overall Pick: Trevor Penning, OT, Northern Iowa
Odds:+1200

The Seahawks are always a massive wild card in the draft but reading some of the tea leaves can help us put together an idea of what they might want. They could particularly use help at cornerback, offensive lineman, linebacker, and quarterback with Russell Wilson cooking in Denver now. The Seahawks are now in a position to re-focus their mindset on playing smashmouth run-heavy football and get back to their roots of having a strong defense.
The Seahawks need a lot of help to do that and drafting a mauler in the trenches like Trevor Penning would make a ton of sense for them to get going on that game plan. Penning has also been linked to them by multiple plugged-in Seahawks beat reporters. I think Penning's odds should be about half as high as they are.
Tenth Overall Pick:
Drake London

, WR, USC

Odds: +600

The Jets hold the 10th pick and are rumored to be in the market for a receiver as mentioned earlier. With Elijah Moore in tow, the Jets siding for a big-bodied wideout capable of making contested catches like Drake London would make a lot of sense to balance the receiving room in terms of skillsets. Jameson and Wilson could certainly be in play here as well but there's a good chance one, if not both, are already gone.
---
This article is intended for entertainment purposes and adult users only. Call 1-800-GAMBLER if you have a gambling problem