2022 NFL Draft Big Board: Version 1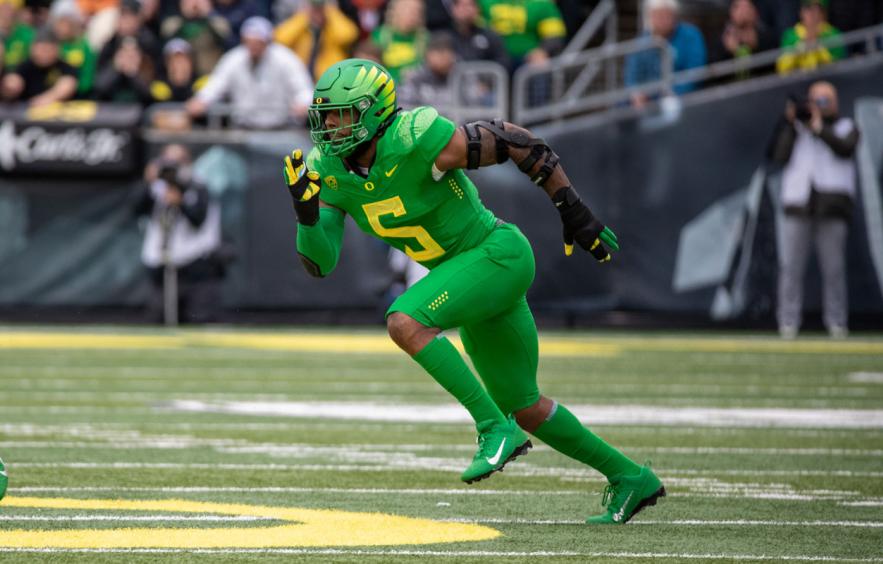 Tom Hauck/Getty Images)
With the NFL Combine picking up steam this week, it is time to release my initial big board rankings for 2022. By this weekend we will have some more solid numbers on this class' athleticism and will learn more from the press conferences on where teams feel where the depth in the class lies. Below are my top-150 prospects for the 2022 NFL draft with write-ups on the skill position players in the top fifty.
2022 Draft NFL Draft Date & Time
Date: Thursday, April 28 (Round 1), Friday, April 29th ( Rounds 2 & 3) & Saturday, April 30th (Rounds 4-7)
Time: 8:00 PM EST (Round 1), 7:00 PM EST (Rounds and 3), &12:00 PM EST (Rounds 4-7)
Channels: NFL Network, ESPN & ABC, also FuboTV Livestream
---
More 2022 Draft Content: 2022 Mock Draft Version 1
---
Last Updated: March 2, 2022
1. Kayvon Thibodeaux, Edge, Oregon
2. Aidan Hutchinson, EDGE, Michigan
3. Evan Neal, OT, Alabama
4. Kyle Hamilton, S, Notre Dame
5. Derek Stingley Jr., CB, LSU
6. Charles Cross, OT, Mississippi State
7. Ikem Ekwonu, OT, NC State
8. Sauce Gardner, CB, Cincinnati
9. Devin Lloyd, LB, Utah
10.Travon Walker, EDGE, Georgia
11. Nakobe Dean, LB, Georgia
12. Jermaine Johnson, EDGE, Florida State
13. Kenyon Green, IOL, Texas A&M
14. Tyler Linderbaum, IOL, Iowa
15. George Karlaftis, EDGE, Purdue
16.
Malik Willis

, QB, Liberty

Malik Willis has all the physical tools to be a great quarterback at the NFL level. Willis posted the top initial air speed (75.7 MPH) at the Senior Bowl confirming what we see on tape, elite-level arm strength. Willis' legs jump off the page when watching his film, and the current betting line at the combine is 4.48 which would put him on par with Vince Young among the top 10 fastest quarterbacks to record a forty-time at the combine since 2000. Over the last two seasons, Willis has averaged nearly 80 rushing yards a game (including yardage lost due to sacks) and has 27 rushing touchdowns over his last 23 career games. Willis should be considered a developmental prospect after taking 51 sacks last season behind a porous offensive line and offensive weapons that failed to haul in passes, some easy and some difficult. The physical tools are there, and the ceiling is immense, but Willis will likely be best in a place where he can sit for a season and develop, but with the current QB landscape that may not be possible.
17.
Jameson Williams

, WR, Alabama

Jameson Williams is an Ohio State transfer that turned into a WR1 at powerhouse Alabama and some team will take the injury discount on a former Crimson Tide wide receiver who was on track to be the top receiver in the class before being derailed by a torn ACL during the College Football Playoff. Williams possesses similar route-running savvy and quickness to former Tide receiver Jerry Jeudy, but has a second gear Jeudy has yet to display at the NFL level. Williams could be a run after the catch maven for an offense and when asked to win vertically can also do that. Williams could play inside or outside at the NFL level, but his release package and overall strength are areas he can improve on. With strong hands and an ability to snap in and out of breaks, Williams will be a coveted draft asset despite his injury.
18.
Garrett Wilson

, WR, Ohio State

Wilson is a dynamo after the catch but can create space at the top of his route with elite-level quickness. Wilson can also be used in jet action and in the RPO game. The Ohio State product also possesses refined route running prowess and has shown a knack for getting open against both man and zone coverage which is desperately needed in today's NFL. Wilson saw a jump in his numbers this season and outproduced his previously more heralded teammate Chris Olave on the same number of targets in 2021. Wilson lacks prototypical alpha wide receiver size, but guys like Antonio Brown and Stefon Diggs have helped change the stigma surrounding smaller wide receivers as a team's number one option in the passing game. Wilson may be pigeonholed into a slot receiver role at the next level, but his short-area quicks make his release package enticing at the NFL level on the outside as well.
19. David Ojabo, Edge, Michigan
20.
Drake London

, WR, USC

London is a towering 6-foot-5 210 pounds and has excellent body control to attack the ball in the air. London is an exceptional run blocker and is a better route runner than many give him credit for and knows how to use speed changes to his advantage in route running. While Drake will likely never lead the league in YAC, he can surprise after the catch much like former Trojan Michael Pittman. Drake averaged eight receptions for 135 yards a game last season and hauled in seven touchdowns in his eight games played. London's big play strength and ability to attack the ball in the air make him a strong candidate to play outside in the NFL from day one.
21. Jordan Davis, DT, Georgia
22.
Kenny Pickett

, QB, Pittsburgh

Pickett is an experienced passer who has good size and functional athleticism and wowed teams with his leadership presence at the Senior Bowl. Pickett showed off his athletic prowess with the now infamous fake slide in the ACC Championship and showed great command of the offense all season long setting numerous Pitt records. Pickett will likely measure in at average quarterback height and weight, but rumors have been that he will be knocked because of his small hands. Pickett doesn't have jaw-dropping arm talent but can put the ball in tight windows with his quick throwing motion and accurate ball placement. Pickett can operate in the confines of the offense but can also make plays off schedule, getting the ball to his playmakers when forced outside the pocket. Pickett could end up as the top overall quarterback selection as he hits all Parcell's model of quarterback commandments.
23. Andrew Booth, CB, Clemson
24.
Treylon Burks

, WR, Arkansas

Treylon Burks is a three-year starter who scored nine touchdowns as a freshman in the SEC. Burks is a specimen at 6-foot-3 225-pound receiver who can really run. The Arkansas product has proven he can be the centerpiece of an offense and excel in nearly every facet of the game, whether it be 50/50 balls, catch and run, or beating a defense over the top. Burks was the number one prospect in the state coming out of high school and his versatility is elite for a bigger-bodied receiver. Burks needs to show improvement as a route runner and can sometimes be lackadaisical coming out of his breaks, relying far too much on his thickness to shield defenders from the ball. Due to how Burks was targeted for the Razorbacks, there are still questions about his ability to separate from defensive backs in one on one situations at the NFL level.
25.
Chris Olave

, WR, Ohio State

Olave has former track prowess should add field-stretching ability to whatever team he ends up with next season. Olave is a crispy route runner who has track speed which allows him to get vertical against defensive backs whether it be from the slot or outside. Olave could be the centerpiece of an offense that draws up a lot of play-action shot plays, but does have more to his game than just pure speed. Olave has soft hands and can track the ball with the best receivers in this class. The Ohio State star does struggle in contested catch situations but his knack for creating separation doesn't create many of those situations. The senior would likely have been a first-round pick in last year's loaded class and will likely remain there this season, but offensive scheme fit looks more important now than this time last season.
26. Trevor Penning, OT, Northern Iowa
27. Dax Hill, S, Michigan
28. Trent McDuffie, CB, Washington
29. Roger McCreary, CB, Auburn
30. DeMarvin Leal, DT, Texas A&M
31. Zion Johnson, IOL, Boston College
32.
Jahan Dotson

, WR, Penn State

Jahan Dotson is a silky-smooth route runner who gets in and out of his cuts quickly and with explosiveness. Dotson is expected to run sub 4.4 in the forty and was a state champion in the 4x100-meter dash in Pennsylvania to highlight his need for speed. Dotson is a smaller receiver at 5-foot-11 and 185 pounds, but his quickness and overall speed profile are how he will win at the NFL level. Like many recent first-round picks from Penn State, Dotson will likely put on a show at the Combine in the timed portions and will likely exceed expectations in the jumps as well. The Penn State receiver can cause havoc at all three levels and should be able to play both inside and outside at the NFL level.
33. Arnold Ebitiketie, EDGE, Penn State
34.
Trey McBride

, TE, Northern Colorado

Trey McBride is the 2021 Mackey Award winner who put together an impressive season for Colorado State, posting wide receiver-like numbers with 90 catches for 1,121 yards and just one touchdown. McBride played nearly 70% of his snaps in line for the Rams and is an adequate blocker in both the run and pass game. The 6-foot-4 260-pound tight end was effective using his body to shield away defenders while also plucking the ball away from the opposition with his strong hands. McBride should put up strong numbers at the Combine but his lower body explosiveness and shuttle times will be the ones to monitor.
35.
Matt Corral

, QB, Ole Miss

Matt Corral excelled in the quick passing game and in the RPO game while also bringing a QB-run threat. The question with Corral is can he operate in a more traditional NFL offense, or will he be pegged into a heavy RPO scheme like the one designed for Tua Tagovailoa? Corral isn't a physical specimen at 6-foot-1 205-pounds and his overall arm strength doesn't fly off the field, but he can manipulate the pocket and make throws from a variety of angles. Corral improved his accuracy in his junior season completing 68% of his passes and also showing more effectiveness in the run game, particularly near the end zone finding paydirt 11 times. Corral will be questioned for his frame and arm strength at the NFL level, but his high level of play in the SEC could land him in a situation where a team views him as a developmental starter.
36. Kyler Gordon, CB, Washington
37. Tyler Smith, OT, Tulsa
38.
Desmond Ridder

, QB, Cincinnati

Desmond Ridder is another quarterback who checks off all the commandments of Bill Parcel's model with extensive experience as a starter and winning record. Ridder has extensive starting experience with four years under his belt and steady improvement season after season. Ridder has good size at 6-foot-4 220 pounds and can generate impressive throw power whether his feet are underneath him or not. Ridder is also an exceptional athlete who can break tackles and set defenders up with his shiftiness in the open field. Ridder's greatest weakness is accuracy and overall execution on timed routes, but his ability to make all the throws and work off schedule makes him a solid developmental pick, but one with massive upside. His ability to stretch the field vertically would work in a heavy play-action scheme, especially one with a strong run game that can feature QB run wrinkles.
39. Devonte Wyatt, DL, Georgia
40. Boye Mafe, EDGE, Minnesota
41.
Isaiah Spiller

, RB, Texas A&M

Isaiah Spiller was an uber-productive back in the SEC, gaining nearly 3,000 yards over the last three seasons at 5.5 yards per carry. Spiller has also caught 74 passes over the last three seasons and shown he can be a versatile offensive weapon. Spiller is scheme versatile and can run in either a power scheme or a zone scheme and get north and south with the best runners in this class. Spiller can run inside or attack a defense on the perimeter where his silky-smooth jump cut can shine. Spiller is unlikely to put-up eye-popping numbers in the forty-yard dash, but his explosiveness will likely shine in Indy. He isn't the most impressive open-field runner but can make the first man miss at the line of scrimmage and finish runs by putting defenders on their back with excellent contact balance.
42. Bernhard Raimann, OT, Central Michigan
43.
Breece Hall

, RB, Iowa State

Breece Hall has rushed for nearly 4,000 yards over the last three seasons at 5.5 yards per carry. Hall has also found the endzone fifty times over the last three seasons on the ground with an additional six coming through the air. The 6-foot-1 220-pound back also caught over 80 career passes showcasing his versatility. Hall will likely be best suited in a zone-run scheme where his patience and initial burst can be showcased. Hall has great vision and finds creases in the opposition and can burst through them but lacks elite level top-end speed to show off at the combine. Despite his size, Hall is more of a finesse back than a power one and can struggle in pass protection from time to time.
44. Kaiir Elam, CB, Florida
45. Nicholas Petit-Frere, OT, Ohio State
46.
Sam Howell

, QB, North Carolina

Sam Howell was once regarded as a potential number one overall pick this offseason and despite losing nearly all his passing game weapons, was still able to put up numbers in the passing game. Howell also showed off his wheels more last season and even found the endzone with his legs in the Senior Bowl game. Howell possesses a good feel in the pocket and can move around enough to get himself out of trouble. Howell was a former two-sport athlete and possess the ability to spin the ball with the best passers in this class. According to PFF, Howell broke 65 tackles this season which is the most by a power five quarterback since 2014. The UNC product is one of the younger QB prospects in this class at 21 but did struggle in sack avoidance at the collegiate level.
47. Daniel Faalele, OT, Minnesota
48. Quay Walker, LB, Georgia
49. Travis Jones, DL, UConn
50. Christian Harris, LB, Alabama
51. Jalen Pitre, S, Baylor
52. Perrion Winfrey, DT, Oklahoma
53.
Greg Dulcich

, TE, UCLA
54. Logan Hall, DL, Houston
55. Lewis Cine, S, Georgia
56.
David Bell

, WR, Purdue
57.
George Pickens

, WR, Georgia
58.
Christian Watson

, WR, NDSU
59.
Jeremy Ruckert

, TE, Ohio State
60. Kenneth Walker, RB, Michigan State
61. Kingsley Enagbare, EDGE, South Carolina
62. Phidarian Mathis, DL, Alabama
63.
John Metchie

, WR, Alabama
64. Jaquan Brisker, S, Penn State
65. Nik Bonitto, EDGE, Oklahoma
66. Cameron Thomas, Edge, San Diego State
67. Darian Kinnard, OL, Kentucky
68.
Jalen Wydermyer

, TE, Texas A&M
69. Jamaree Salyer, OL, Georgia
70. Wan'Dale Robinson, WR, Kentucky
71. Coby Bryant, CB, Cincinnati
72.
Skyy Moore

, WR, Western Michigan
73. Brian Asamoah, LB, Oklahoma
74. Sean Rhyan, OL, UCLA
75. Leo Chenal, LB, Wisconsin
76. Drake Jackson, EDGE, USC
77. Myjai Sanders, EDGE, Cincinnati
78. Josh Paschal, EDGE, Kentucky
79.
Jalen Tolbert

, WR, South Alabama
80. Chad Muma, LB, Wyoming
81.
Justyn Ross

, WR, Clemson
82.
Carson Strong

, QB, Nevada
83. Brandon Smith, LB, Penn State
84. Troy Anderson, LB Montana State
85. Kerby Joseph, S, Illinois
86.
Cade Otton

, TE, Washington
87. Dylan Parham, OL, Memphis
88. JoJo Domann, LB, Nebraska
89. Mario Goodrich, CB, Clemson
90. Ed Ingram, OL, LSU
91.
Kyren Williams

, RB, Notre Dame
92.
Isaiah Likely

, TE, Coastal Carolina
93. Tariq Woolen, CB, UTSA
94.
James Cook

, RB, Georgia
95. Marcus Jones, CB, Houston
96.
Alec Pierce

, WR, Cincinnati
97.
Bailey Zappe

, QB, Western Kentucky
98.
Hassan Haskins

, RB, Michigan
99. Alontae Taylor, CB, Tennessee
100. Sam Williams, EDGE, Ole Miss
101.
Zamir White

, RB, Georgia
102. Cam Taylor-Britt, CB, Nebraska
103. Kyle Phillips, WR, UCLA
104. Max Mitchell, OT, Louisiana
105. Derion Kendrick, CB, Georgia
106. Calvin Austin, WR, Memphis
107. Rasheed Walker, OT, Penn State
108. Tyreke Smith, EDGE, Ohio State
109. Abraham Lucas, OT, Washington State
110. Darrian Beavers, LB, Cincinnati
111. Kellen Diesch, OT, Arizona State
112.
Dameon Pierce

, RB, Florida
113. Martin Emerson, CB, Mississippi State
114. Neil Farrell, DL, LSU
115. Channing Tindall, LB, Georgia
116.
Khalil Shakir

, WR, Boise State
117. Dohnovan West, OL, Arizona State
118. Luke Fortner, OL, Kentucky
119. Marquis Hayes, OL, Oklahoma
120. Nick Cross, S, Maryland
121. Luke Goedeke, OL, Central Michigan
122.
Romeo Doubs

, WR, Nevada
123.
Tyler Allgeier

, RB, BYU
124. Bryan Cook, S, Cincinnati
125. Deangelo Malone, Edge, Western Kentucky
126. Rasheed Walker, OT, Penn State
127.
Brian Robinson

, RB, Alabama
128. Zachary Carter, DL, Florida
129.
Charlie Kolar

, TE, Iowa State
130.
Cole Turner

, TE, Nevada
131. Haskell Garrett, DL, Ohio State
132. Akayleb Evans, CB, Missouri
133.
Rachaad White

, RB, Arizona State
134. Mykeal Wright, CB, Oregon
135.
Jake Ferguson

, TE, Wisconsin
136. Tariq Castro-Fields, CB, Penn State
137. Terrel Bernard, LB, Baylor
138. Michael Clemons, EDGE, Texas A&M
139. Verone McKinnley, S, Oregon
140. Dominique Robinson, EDGE, Miami (OH)
141. Jesse Luketa, LB, Penn State
142. Amare Barno, EDGE, Virginia Tech
143. Braxton Jones, OT, Southern Utah
144. Mike Rose, LB, Iowa State
145. Alec Lindstrom, OL, Boston College
146. D'Vonte Price, RB, FIU
147. Otito Ogbonnia, DL, UCLA
148.
Abram Smith

, RB, Baylor
149. Isaiah Thomas, EDGE, Oklahoma
150. Tyreke Smith, Edge, Ohio State