2023 Dynasty Rookie Top 10 Running Backs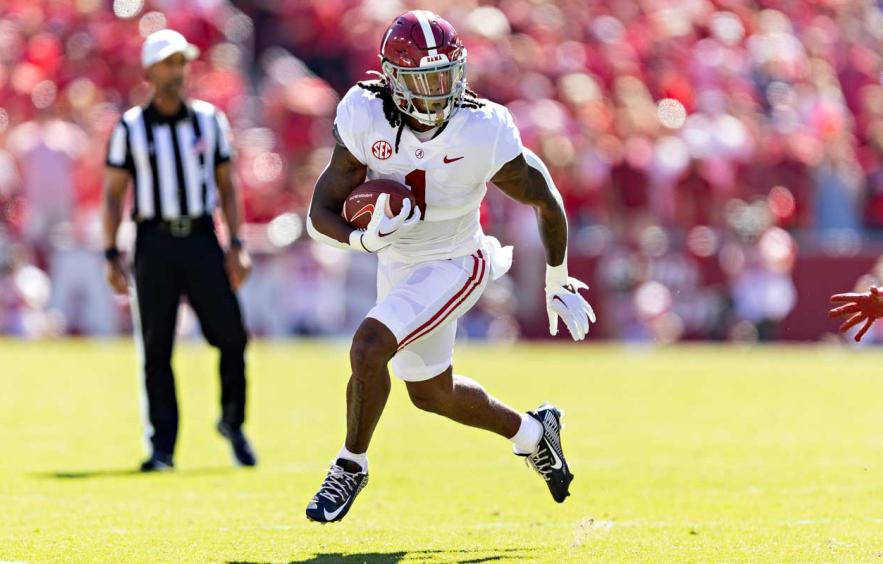 Wesley Hitt/Getty Images
Most recently I covered my first impressions of the incoming rookie class of 2023. This "First Look" article is a piece I've done for a decade and marks the starting point for my descent down the rabbit hole of each year's class, its talent, and its depth.
In that article, I broadly cover the breadth of the incoming class, loose tiering, pivot points, and my general impressions of the depth that dynasty coaches can use to preliminarily judge the value of those coveted dynasty rookie draft selections. Every incoming class has its own unique spread and depth of talent and it's important to understand the strengths and weaknesses of each one. For example, if, as a dynasty coach, you have a need at receiver, you should be devaluing rookie selections into a draft assessed to be weak at the receiver position. In that case, your best option may be to sell out of draft pick assets and, instead, invest in known production talent instead.
When it comes to assessment and scouting, I do all my own work, do not rely on nor trust social media analysts and, most importantly, eliminate all possible subjectivity before watching any film. Additionally, it's very difficult, if not impossible, to properly scout players by watching only highlight reels.
With that said, let's take a closer look at the 2023 rookie class of running backs from my first detailed assessments.
Two things before going on:
Please follow me on Twitter: @DLF_Jeff. I always try to answer every question.
I perform multiple rounds of assessment so values and rankings will change over time!
2023 Running Backs
The expectation for the 2023 class of rookies was off the charts, even as 2022 dynasty drafts unfolded. In many cases, dynasty coaches were moving 2022 first-round selections straight up for similarly assessed 2023 first-round selections. Moving a current first-round selection for a future-year first nearly always requires additional compensation in the form of an additional selection or player.
But as the 2023 collegiate season played out, the class, overall, began to lose value. Generally speaking, wide receivers are very important to draft class depth. Running backs tend to lose value very quickly in dynasty drafts and, unless you play in a superflex format, top quarterbacks won't be selected until the early to middle of the second round unless a transcendent player emerges. 2023's wide-receiver options fell materially during the 2022 collegiate season and it remains a very risk-on position.
When assessing running back potential, I always start with size. Historical player and production modeling over the decades has taught me to start with this physical trait before moving to other factors such as competition level (conference), production, style traits, etc. While size can be misleading, my research has shown that an ideal-sized running back will measure in at 5' 10 ½" and 218 lbs. All my other research flows from this starting point.
I can say with confidence the 2023 class of running backs possess size I'm excited about. Up and down my rankings I find players with enough bulk and build to withstand a longer career of NFL workload. This is very important for depth modeling, trying to identify those players who may fall in dynasty drafts but still have upside potential. When applying this to recent backs not garnering top-round grades, consider James Robinson (UFA), Austin Ekeler (UFA), Arian Foster (UFA), Dameon Pierce (4th round), Elijah Mitchell (6th round), and Isiah Pacheco (7th round), just to name a few examples who didn't carry a premium as rookies.
NFL coaching staffs continue to devalue the running back position, turning once highly-drafted backs into third and fourth-round selections. This trend continues to increase in popularity but it's important to note the selected round of the players doesn't suggest the abilities or upside potential of those players are less than in previous years. In fact, this is where scouts like myself become more important as we attempt to identify those backs with significant fantasy potential beyond their NFL-drafted round.
Let's not beat around the bush. Following are my top-10 running backs and where they currently place, overall, as part of my 2023 rookie rankings. Following the positional rank is the "Overall" rank when taking into consideration all positions within the class. Once again, these rankings are certain to change as I perform further rounds of assessment.
1 - Bijan Robinson, Texas
6'/222 lbs.
Rank: RB1 Overall: R1
There's a lot to like about Bijan Robinson. He profiles as a back on par with past transcendent players such as Saquon Barkley, Todd Gurley, Darren McFadden, and, arguably, even Adrian Peterson. Possessing size, angular agility, power, receiving ability, and character, Robinson is clearly the top back regardless of dynasty format, including superflex. He's the easy 1.01 and it's not close.
2 - Jahmyr Gibbs, Alabama
5'11/200 lbs.
Rank: RB2 Overall: R2
Alabama's Jahmyr Gibbs continues to draw comparisons to Alvin Kamara, a comp I can get behind. My hope is that he'll use the time from the end of the collegiate season to add weight, ultimately weighing in closer to 205 lbs. At less than this, he'll be considered more of a tweener, but his frame should support the greater strength and weight which will come with playing at the next level. Depending on drafted situation, Gibbs has the potential to be a three-down performer with a dynamic similar to that of Kamara. In this rookie class, he tenuously holds a rank as my second-overall player, closely followed by the receivers.
3 - Sean Tucker, Syracuse
5'10/202 lbs.
Rank: RB3 Overall: R7
If you're searching for a consolation prize for picking later in the first round of your upcoming dynasty draft, Tucker profiles as a good candidate. It's not hyperbole when I say I'm very excited about his potential in the NFL. Similar to Gibbs, I'm hoping to see added weight during the NFL Combine. Given his frame, the expected added strength shouldn't pose any concern. Tucker possesses legitimate track speed in a compact body with significant lower-body explosion. He has the physical traits to blow up the Combine to generate premium heading into the NFL Draft and subsequent dynasty drafts. I expect him to become a social media darling following the Combine. In this case, I believe it will be deserved.
4 - Kendre Miller, TCU
6'/214 lbs.
Rank: RB4 Overall: R8
TCU's Kendre Miller doesn't possess the dynamic 'wow' traits to create the same social media storm that Tucker does but, in fact, possesses more tangible carry-the-load qualities dynasty coaches should be targeting. He profiles extremely well to the next level with a mix of speed, angular power, agility, and size. I'm confident he'll appear lower in ranking across the industry than my placement and could be a third or fourth-round NFL selection. Don't let that dissuade you. Miller is a gritty player who runs with a chip on his shoulder and I think he'll measure in just less than 5'11", placing him in the goldilocks zone for runners with his combination of size and physical abilities.
5 - Zach Charbonnet, UCLA
6'1/220 lbs.
Rank: RB5 Overall: R10
The UCLA senior returned for his final year and put up career-best numbers, raising his draft stock in the process. In a league prioritizing size for three-down runners, Zach Charbonnet adds not only that but combines it with a downhill running style and receiving ability to complete his profile. His best running is found between the tackles and he doesn't possess the speed to run to the boundaries consistently but he'll be coveted for his power and zone-scheme potential. Those watching NFL runner James Conner will find a lot of similarities to that of Zach Charbonnet.

6 - Devon Achane, Texas A&M
5'9/185 lbs.
Rank: R6 Overall: R13
Sometimes dynamic is able to overcome size concerns and that's the case, at least to some degree, with Devon Achane. History has taught me to fade undersized backs in the NFL due to the fact that dynamic does not equate to fantasy production. I'll be watching Achane's measurables closely but I'd be lying if I said I wasn't impressed with the power he displays on tape. It may not be enough to convince me to draft him higher than this ranking but, at the same time, at the top of the second round in dynasty drafts, a chance at the next Austin Ekeler could be worth a swing. For this to occur, I'm hoping to see his listed height hold and, ideally, a weight at or greater than 190 lbs.
7 - Tank Bigsby, Auburn
6'/213 lbs.
Rank: RB7 Overall: R14
Tank Bigsby is a difficult projection for the NFL. On one hand, he's been a three-year producer in the SEC showcasing abilities as both a runner and a receiver. On the other hand, he doesn't possess the dynamic or tangible traits to suggest he'll produce well at the next level. The NFL is littered with backs with a similar profile who break through to have productive careers but are balanced against those who fade into anonymity. Drafted situation and long speed could help Bigsby's draft status and he's the back most likely to slip in my rankings.
8 - Zach Evans, Mississippi
6'/215 lbs.
Rank: RB8 Overall: R15
Here's another case where we have a dynasty second-round projection in a body that could push for first-round value. Discerning why a collegiate running back is underutilized when considering his upside profile is always a tricky proposition. As we saw with 2022 NFL rookie Dameon Pierce, similarly underutilized in his time at Florida, a limited resume' doesn't necessarily portend a limited NFL role. Evans is a difficult evaluation and, with my objectivity hat firmly on, I couldn't elevate him further when compared to other names on this list. But as I've noted multiple times, size does play a role and Evans' 6'/215 lbs. frame as my RB8 could make for an intriguing second-round value should he fall in dynasty drafts.
9- Chase Brown, Illinois
5'11/205 lbs.
Rank: R9 Overall: R19
Chase Brown is another difficult evaluation. On one hand, we find a player who will turn 23 in November of 2023, was a five-year player for Illinois, and struggled with health and role until his final season. On the other hand, Brown's profile projects well to the next level with a blend of speed, agility, elusiveness, and, if he can add weight, potential three-down potential. Which back emerges is anyone's guess and drafted situation will determine much. In a position already with limited career length, a 23-year-old rookie isn't ideal, and it's enough to drop him late into the second round of dynasty drafts.
10 - Roschon Johnson, Texas
6'2/223 lbs.
Rank: R10 Overall: R20
Backfield mate Bijan Robinson is the marquee name in this draft but Roschon Johnson continues to rise. One of the best-sized running backs in this year's class, he possesses a style and body to force current NFL defenders to make business decisions when they meet Johnson at the second level. In the mold of Patriot runner Rhamondre Stevenson, Johnson will have a place on an NFL team and may have a role as a rookie due to his size. Long speed and agility will be metrics to watch during the NFL Combine and, as long as the big back doesn't disappoint, he'll be on the rise as we head into the NFL Draft in late April.
I hope you enjoyed this look at my top 10 running backs of the 2023 NFL Draft. Give me a follow on Twitter (@DLF_Jeff) and let me know your thoughts on this list. Be sure to check back as I adjust these ranks as this offseason progresses leading up to the draft.
As always, be happy, be well and, please, be good to each other!