DFS Core Four Plays and Value Stacks: Week 2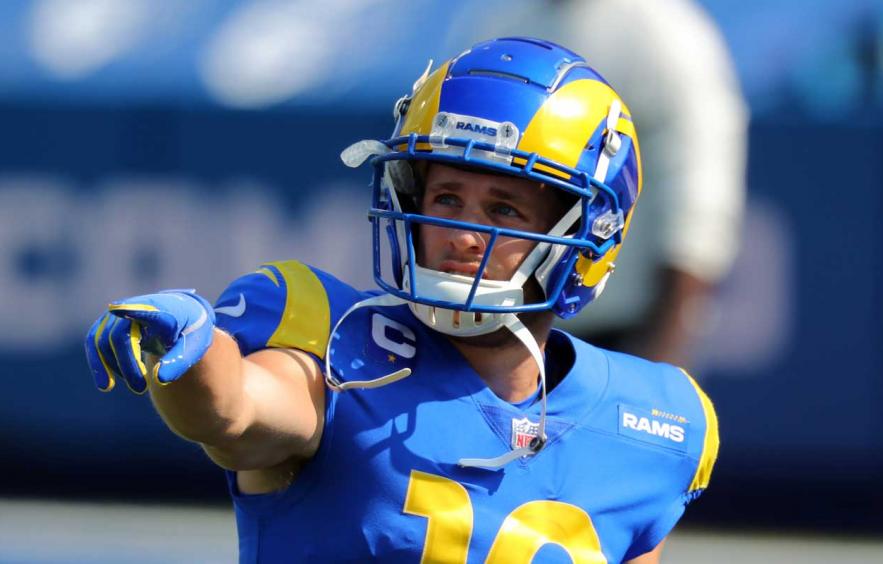 Timothy T Ludwig/Getty images
This Week 2 NFL DFS article consists of two parts, the "Core Four" and value stacks. The Core Four are my four favorite plays on the main slate for any game format, regardless of price or projected percent rostered. All four will almost assuredly be in my cash lineup and be an integral part of my GPP core plays (though they probably won't all be in the same GPP lineup).
For the value stacks, I'll be using our Stack Value Reports to find stacks that can take down a tournament. I like building contrarian stacks around my chalkier core of players because you only have to get one instance correct for it to hit. Though there may be a chalkier player or two within the value stack, I will usually add a piece from the game that makes the stack a bit contrarian.
For example, if we hit on a contrarian quarterback play while having a pass-catcher or two from that same game, the positive correlation of those stacks is technically getting one contrarian play correct despite filling multiple roster slots. I feel this is easier than having a chalkier stack while trying to hit multiple individual low-rostered plays throughout the rest of your lineup. Keep in mind that these are contrarian stacks, so you don't have to use these stacks in a large percentage of lineups to be overweight on the field. They should be used in tandem with a chalkier core of players.
For up-to-the-minute and Sunday morning updates, be sure to join the 4for4 DFS subscription-only Discord channel.
---
More GPP Strategy: GPP Stacks, Fades, and Leverage Plays | WR/CB Matchups
---
Core Four Plays
UPDATE:
Changing my core play to Justin Herbert at quarterback. I had Dak and Herbert super close, but Ian Rappoport came out and said Kellen Moore, Cowboys' OC, made it clear Zeke will get a ton of touches and that the massive passing split last week was dictated by the Bucs' defense.
QB Dak Prescott ($8,000 FD/$6,800 DK)
This matchup between the Cowboys and Chargers has fireworks written all over it. Both teams ran over 80 plays in Week 1, with Dak throwing over 50 times. The game script figures to be similar to Week 2 because I don't think the Cowboys will be able to stop the Chargers' offense. The total sits at 55 making this game hard to ignore and not have a piece of in cash games. Amari Cooper and CeeDee Lamb looked as dominant as ever against the Bucs which is the icing on the cake. In addition to the high total and elite weapons, we all know Dak has the ability to tack on rushing yards. Will Zeke get some more looks in this game? Maybe. But after a 400-yard, three-touchdown debut this season, the Cowboys should realize that Dak is back.
RB
Chris Carson

($6,700 FD/$6,100 DK)

The Seahawks offense is again clicking on all cylinders in a new up-tempo style. Carson approached 20 opportunities last week and was super efficient racking up over six yards per touch. They return home to face a Titans defense that is absolutely abysmal. Rashaad Penny won't suit up which should lead to more time on the field for Carson who played 77% of the snaps in Week 1. The potential game script bodes well for Carson as I can see the Seahawks getting out to an early lead. Though he has pass-catching upside as well, so he can flourish in either game script. I'm counting on some touchdown variance this week against the Titans.
WR
Cooper Kupp

($6,200 FD/$6,000 DK)

Kupp racked up 100 yards and a touchdown against the Bears in Week 1. According to Sam Hoppen's Insights and Analysis, Kupp saw near-elite weighted opportunity. I like using the weighted opportunity metric because you know the targets Kupp was getting were high-value. We just watched the Seahawks walk into Lucas Oil and slaughter the Colts' secondary. We can argue that the Rams' weapons are just as dangerous as the Seahawks'. It's only one week, but it looks like Kupp is Stafford's favorite target as he was the only player with more than four targets. His price on both sites makes him a solid value in cash games as the first receiver in if you are going with a stud-heavy RB construction.
WR Ja'mar Chase ($5,500 FD/$5,000 DK)
It turns out Chase remembers how to catch a football. As silly as that sounds many speculated the drops Chase had in the preseason would plague him during the regular season, but that wasn't the case in Week 1 as Chase also toped 100 yards and a touchdown. Chase played 90% of snaps and saw seven targets. The Bears have some solid defensive players, but as a unit, they aren't very scary. Chase averaged more than 20 yards per catch in his regular-season debut. He runs a nice mix of routes at different depths, so he provides a solid floor and ceiling in Week 2.

Value Stacks to Target
QB
Joe Burrow

,

Bengals

($7,100 FD/$5,800 DK)

WR Ja'Mar Chase,

Bengals

($5,500 FD/$5,000 DK)

WR

Tee Higgins

,

Bengals

($6,000 FD/$5,400 DK)

The sky is the limit for this three-man Bengals stack. It accomplishes two points of leverage that make it unique while still packing a pretty high ceiling. The first point of leverage is in not bringing this stack back with a Bears player. Most stacks will "run-it-back" with Allen Robinson, Darnell Mooney, or Cole Kmet. However, Andy Dalton is so washed that I think we can find players, albeit uncorrelated, at similar price points that will outscore them. The second point of leverage is not including Joe Mixon. After his massive touch share last week, Mixon will catch a good amount of ownership this week. We're counting on the passing game benefiting from some variance in this game. Chase and Higgins combined for nearly half of the Bengals' targets in Week 1. Chase averaged more than 20 yards per reception and Higgins is the preferred big-bodied end zone target for Burrow. We have this stack projected for a 71-point ceiling at just over $16,000 on DraftKings.
QB
Dak Prescott

,

Cowboys

($8,000 FD/$6,800 DK)

WR

Amari Cooper

,

Cowboys

($7,800 FD/$6,800 DK)

WR

CeeDee Lamb

,

Cowboys

($6,800 FD/$6,400 DK)

WR

Mike Williams

,

Chargers

($6,100 FD/$5,600 DK)

With Michael Gallup out of the lineup, the target concentration for the Cowboys has a chance to really tighten up for Cooper and Lamb. Dak threw for 400 yards and three touchdowns against the Buccaneers defense in Week 1, leaving no doubt that he is 100% healthy heading into this season. Cooper and Lamb looked equally as dominant in Week 1. They racked up 18 and 15 targets, respectively, while accounting for almost 55% of Dak's targets. This trio should all be priced in the $7K range or higher on DraftKings, especially in this matchup. A 55-point total with two teams set to run 70+ plays would lend itself to having the highest-priced skill players on the slate, but the value will be there given they all sit in the $6K range.

This four-man stack with a run back ranks third in points per dollar in our stack value reports if you add Keenan Allen to it. However, I like getting a bit contrarian with Mike Williams. The Cowboys/Chargers stack will be popular in general so pivoting to Williams instead of Allen makes the lineup a bit unique right off the bat. Mike Williams was not just a one-trick pony in Week 1 getting only deep shots. He worked the intermediate area often and was more like a 1B to Allen's 1A in terms of usage. Allen saw a 31% target share while Williams was close behind with 27%.