DFS Core Four and Value Stacks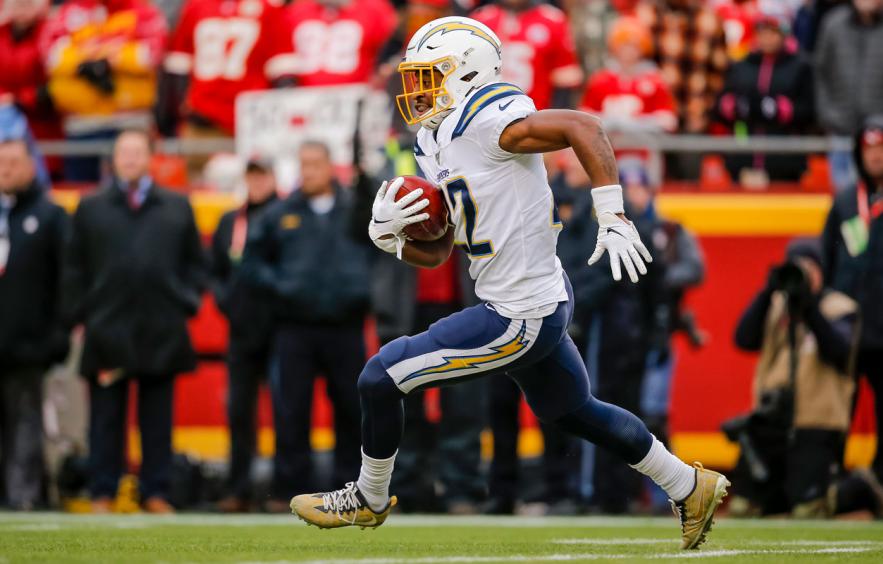 David Eulitt/Getty Images
This Week 16 NFL DFS article consists of two parts, the "Core Four" and value stacks. The Core Four are my four favorite plays on the main slate for any game format, regardless of price or projected percent rostered. All four will almost assuredly be in my cash lineup and be an integral part of my GPP core plays (though they probably won't all be in the same GPP lineup).
For the value stacks, I'll be using 4for4's Stack Value Reports to find stacks that can take down a tournament. I like building contrarian stacks around my chalkier core of players because you only have to get one instance correct for it to hit. Though there may be a chalkier player or two within the value stack, I will usually add a piece from the game that makes the stack a bit contrarian.
For example, if we hit on a contrarian quarterback play while having a pass-catcher or two from that same game, the positive correlation of those stacks is technically getting one contrarian play correct despite filling multiple roster slots. I feel this is easier than having a chalkier stack while trying to hit multiple individual low-rostered plays throughout the rest of your lineup. Keep in mind that these are contrarian stacks, so you don't have to use these stacks in a large percentage of lineups to be overweight on the field. They should be used in tandem with a chalkier core of players.
For up-to-the-minute and Sunday morning updates, be sure to join the 4for4 DFS subscription-only Discord channel.
Core Four Plays
RB
Justin Jackson

($5,400 FD/$4,400 DK)

Austin Ekeler has landed on the COVID list which has cleared the way for Justin Jackson to get the start and the bulk of the work against a Texans defense ranked 29th in schedule-adjusted fantasy points allowed (aFPA) to running backs. There really isn't much to contemplate here as Jackson is the top backup option. He saw 18 carries when Ekeler went out last week. Ekeler even mentioned that Jackson was the player who will see the most work in his absence on the weekly fantasy football show he appears on. This is the type of play that you take the free square and you play in every head-to-head or double up.
WR
Antonio Brown

($7,000 FD/$4,900 DK)

The Buccaneers will be without Chris Godwin, Leonard Fournette, and most likely Mike Evans for this game against the Panthers. Brown will most likely lock into the Chris Godwin role that has been so lucrative over the last few weeks. I can see Brady peppering Brown with upwards of 12 targets in this game. They'll most likely be short-to-intermediate type routes that let Brown maneuver after the catch which provides a safe floor and also a decent ceiling potential. There is obviously some risk in this as he hasn't been on the field since Week 6. During those six weeks, he averaged 19 fantasy points per game. It's a no-brainer to lock Brown into cash games especially at this price.
RB
James Robinson

($8,200 FD/$5,900 DK)

Darrell Bevell stayed true to his word that James Robinson would get the lead back duties. He jumped up to 84% of snaps in Week 15 despite lingering around that 50% mark the month prior and 62% as an average for the season. He now runs into the Jets defense who are abysmal at stopping the run and also have some COVID issues going on. If he approaches anything close to the 24 opportunities (18 carries, 6 targets) he saw in Week 15, he should smash value against this Jets' defense. Robinson is a bit priced up on FanDuel, but he's an easy play on DraftKings.
RB
Alexander Mattison

($5,500 FD/$6,800 DK)

Conversely to Robinson, Mattison is cheap on FanDuel and a bit pricier on DraftKings. Nonetheless, they are both in play on either site. The theme of this cour four section is obviously that there are a ton of missing pieces on teams this week. Mattison benefits from Dalvin Cook hitting the COVID list. He'll push for a combination of 20+ carries and targets in this Vikings offense that has been solid all season long. The Rams are middle of the pack against the run, but I do think Mattison will work a good bit in the screen game to keep the Rams' pass rush on their heels against Cousins. The bottom line is Mattison has seen 20+ touches three times this year and he's averaging 25 fantasy points in those three games.
Value Stacks to Target
QB
Joe Burrow

, Bengals ($7,100 FD/$5,900DK)

WR

Ja'Marr Chase

, Bengals ($7,100 FD/$7,100 DK)

WR

Tee Higgins

, Bengals ($6,500 FD/$6,200DK)

TE

Mark Andrews

, Ravens ($8,000 FD/$7,000 DK)

There is a bit of narrative around this recommendation as Wink Martindale has come out and said they aren't going to double-team Chase like they did Davante Adams because he's not as good and that Joe Burrow doesn't have a "gold jacket". I'm not sure why coaches think it's a good idea to give other players bulletin board material, but they continually do things like this. The last time out, the Bengals had success against the Ravens' secondary, specifically Chase who racked up 200 yards and a touchdown. With Joe Mixon banged up and all the hype surrounding Tyler Huntley, I like pivoting to the Burrow and the Bengals passing attack as a bit of a contrarian approach to this game. Burrow leads the league with 10 deep touchdown passes and the usual beneficiaries are Higgins and Chase who account for nearly 75% of the air yards in the offense.

Mark Andrews has really hit his stride with Huntley under center with two consecutive massive fantasy outputs. In the last two weeks, Andrews has 24 targets that have turned into an average of 34 DraftKings points. In that span, he leads the Ravens in target share (30%) and air yards share (35%). If you want to get extra contrarian you can flip to Marquise Brown who is cheaper and has seen a nearly equal target share from Huntley.
QB
Patrick Mahomes

, Chiefs ($8,700 FD/$7,500DK)

WR

Mecole Hardman

, Chiefs ($5,200 FD/$3,500 DK)

WR

Byron Pringle

, Chiefs ($5,200 FD/$3,300DK)

WR

Diontae Johnson

, Steelers ($7,400 FD/$7,500 DK)

Mahomes and his pass-catchers are popping in the value stack model for obvious reasons. Travis Kelce and Tyreek Hill will likely not be on the field which leaves 51% of targets and 62% of air yards unaccounted for against the Steelers. Despite the fact that Hardman and Pringle are the two pass-catchers listed, I would be fine with rostering any combination of two pass-catchers in this Chiefs' offense. It's probably a good idea if you're stacking the Chiefs to run multiple iterations of this stack. Noah Gray, Demarcus Robinson, and even the running backs are all viable options. The bottom line is that Mahomes will be throwing the football to wide receivers and tight ends that are priced like they are WR4s and WR5s despite the fact they'll be top dogs in this offense. I really like Pringle as he has been third in target share behind Kelce and Hill over the last month. We all have seen the flashes of greatness from Hardman as well. Noah Gray is a bit of a raw, unknown talent. However, a minimum-price tight end in this Chiefs' offense remains a great value.

Diontae Johnson is the main beneficiary in the passing game when the Steelers get into a shootout. He has 30% of the Steelers' targets and 37% of their air yards as well. The wind is a bit out of Johnson's sails after last week as he dipped under 10 targets for only the third time in 15 weeks. If this game turns into a slog, Johnson probably won't get there, but if Mahomes rips off three or four passing touchdowns like this stack projects, Johnson will return to his 12+ targets and hopefully a ceiling game.