Yahoo Single-Game DFS Breakdown: Rams at Cardinals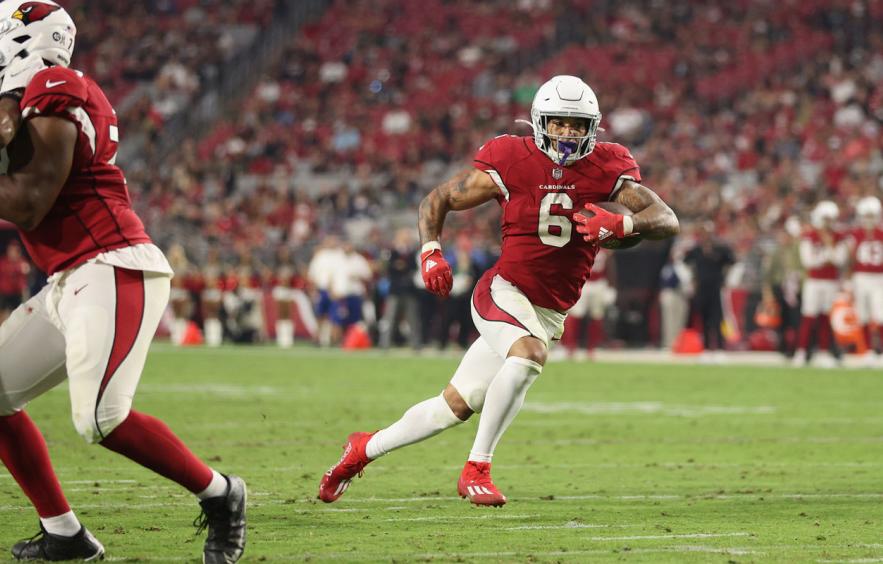 Christian Petersen/Getty Images
The NFC West could be won tonight when the Arizona Cardinals host the Los Angeles Rams. An Arizona win would put them three games ahead of the Rams with four games remaining. Can Arizona take advantage of their roster getting healthier while the Rams struggle with COVID-19 issues?
It is vital to remember that single-game slates are not simply a "max salary, play as many big names as possible, and submit" format, especially in larger tournament fields. We need to identify players that can be pieces in their offense's success, whether in the lead or trailing, as well as the players that could be focal points in a neutral game script. The ability to then take those players and identify which will succeed in the single-game format will put us in a better position to succeed as daily fantasy players.
Vegas Total and Spread
Arizona is a two-point home favorite with an over/under of 51 points. The Cardinals have an implied team total of 26.5 points, while the Rams have an implied team total of 24.5 points.
Potential Game Flow Scenarios
UPDATE: TE Tyler Higbee and CB Jalen Ramsey will miss Week 14's game due to health and safety protocols.
The first thing that sticks out with the Arizona Cardinals is their lack of scoring at home. The Cardinals average 22.6 points per game and have topped 30 points at home twice in five contests. Away from the desert, Arizona is averaging 32.9 points per game and have only scored fewer than 30 points once in seven away games. That also came with Colt McCoy filling in for an injured Kyler Murray ($37).
Murray and DeAndre Hopkins ($28) are back for their second straight game and will be looking to throw on the 26th-ranked defense against wide receivers according to 4for4's schedule-adjusted fantasy allowed (aFPA). Aaron Donald leads the Rams defense ($12) that has been stacked with high-end talent but low on depth. The loss of Ramsey not only gives Hopkins a better shot at a ceiling game, it opens the secondary for Christian Kirk ($16), A.J. Green ($15), and to a degree Rondale Moore ($14) since he is utilized in space.
James Conner is healthy and thriving under Kliff Kingsbury. He does enough—run for first downs, convert in the red zone—to keep defenses honest and allow Murray and his pass catchers to move the ball. With Chase Edmonds not activated from IR prior to tonight's contest, Conner is the unquestioned lead runner for Arizona. Much like Arizona's offense, his best has come on the road as the Cardinals have established leads and quieted opposing fans and offenses.
The Rams running back situation is a little more bleak with Darrell Henderson out because of health and safety protocols. The trade for Sony Michel ($17) as a backup prior to the season is now paying dividends as the team struggles with rostering healthy running backs. The Cardinals defense ($19) is a run funnel and with the Rams likely to not have OL Brian Allen and without OT Rob Havenstein, it would be wise for Sean McVay to see if Michel has another workhorse performance in him.
Cooper Kupp's ($37) worst game of the season came against the Cardinals. His 5-64-0 on 13 targets is the only game where Kupp did not eclipse 90 receiving yards in a game this season. The passing offense has taken its lumps with Robert Woods out for the season, but Van Jefferson ($18) and Odell Beckham ($16) as secondary receiving options is one way to spoil Matthew Stafford ($32). Woods did give Stafford an added level of security. Since losing Woods ahead of Week 10, Stafford has seven touchdown passes and three interceptions, a TD/INT ratio of 2.5. Prior to losing Woods, Stafford had a TD/INT ratio of 3.5.
Close, low-scoring game
Close, high-scoring game
Blowout for home team
Blowout for road team
Cheap/Unique Stacking Option
Traditional stacks such as QB/WR1 or WR2, QB/TE, and RB/DEF are stacks seen used in winning lineups. The obvious choice is not always the winning choice. Below is a cheap stack with at least one unique quality that could break the slate.
Zach Ertz

($19) and

Rondale Moore

($14)

One week after not being needed in Chicago, Ertz gets a chance to be the next Cardinals tight end to score on L.A. Maxx Williams put up 5-66-1 in Week 4, and prior to their Week 11 bye, had given up scores to tight ends in back-to-back games.

Moore becomes a lot more viable with the loss of Ramsey for L.A. The Rams corners are much worse behind Ramsey and the safeties will be asked to carry more of the load to keep the top on Arizona's defense. That is where Moore can thrive. His season-long aDOT is 1.4 yards, but he is averaging 35 receiving yards per game. Aaron Donald and company will have to get pressure on Kyler Murray to save the secondary from being exposed to the talented Cardinals passing attack, and dump-offs to the speedy Moore could turn into YAC monsters.
Low-Priced Volatile Plays
Ben Skowronek

($10)

In two games that the Rams have won, Skowronek has five targets, four catches, and 65 receiving yards. In one loss, he has five targets, one catch, and eight yards receiving. It is interesting to see Skowronek targeted that much in a loss, but also speaks volumes of what happens when the Rams passing offense is slowed down. UPDATE: Skowronek is much more appealing as the punt play for L.A. with Higbee inactive.
Eno Benjamin

($10)

For the season, 23 of Benjamin's 25 carries have come since Chase Edmonds was injured (four games). Benjamin is not utilized in the passing game so his upside comes from stealing rushing work from Conner and potentially vulturing red zone work/touchdowns.
Rams

Defense ($12)

In a very small sample size, the Cardinals kept the ball close to the line of scrimmage in Week 13 with the returns of Murray and Hopkins. Arizona had as many players with negative average target depths as with positive ones (four). Arizona could open the passing game with another week of practice, opening more opportunities for the Rams to create pressure and/or turnovers. It is important to note that the Rams allowed 37 points to the Cardinals in Week 4.
Brycen Hopkins

($10) and

Kendall Blanton

($10)

Hopkins and Blanton are pivots off Skowronek and carry fantasy floors below sea level, like the city of New Orleans.
Superstar Picks
Kyler Murray

($37)

I did not expect Murray to have a season-high 10 carries in Week 13 after missing one month of games, but it worked out and allowed Murray to have a spike week without throwing a lot. A week of practice, shaking off the rust, and Murray's rushing floor make him one of the better players to roster.
Sony Michel

($17)

Michel saw a season-high 28 touches in Week 13 and helped end a three-game losing streak for L.A. The Rams have run the majority of their plays while leading, but saw that script flip in Weeks 9-13. Regardless of script, the lead back for the Rams will see a strong workload. Michel is my favorite Rams Superstar.
Cooper Kupp

($37)

Will Kupp make it a point to make Week 4's "dud" be the exception and not the rule for his 2021 production? His usage makes him difficult to fade, but his salary will scare enough DFS players away from the Superstar slot while trying to construct a more balanced lineup. If the Rams do not replace Higbee's routes that are closer to the line of scrimmage, Kupp could be the player that runs some closer routes. Imagine Kupp seeing 15 targets because Higbee is out...
James Conner

($27)

Prior to stepping into the spotlight as the sole lead back, Conner's best weekly performance was Week 4 against the Rams. He saw 20 touches that game, a feat he would not see again until Edmonds was hurt.
Zach Ertz

($19)

The veteran has at least four targets and three catches in every game as a Cardinal and has caught almost 76% of targets thrown his way.