TJ's #Taek: Week 13 NFL DFS GPP Recap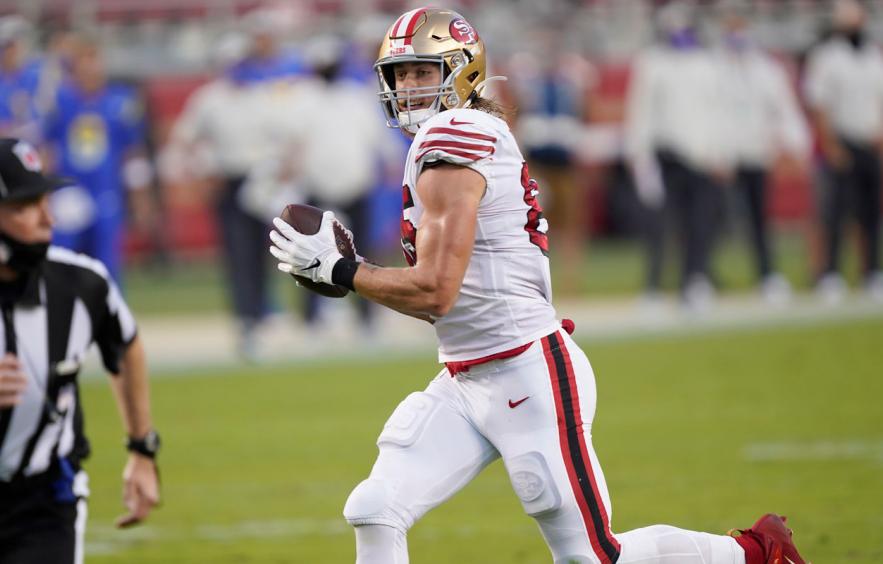 Thearon W. Henderson/Getty Images
Week 13's winning lineups from the biggest contests on FanDuel and DraftKings can be used to tease out lineup-building strategies and offer clues on how you could have landed on a similar team. Reviewing your hits and misses each week is imperative if you want to be a profitable DFS player but examining winning lineups is also a useful exercise in cultivating a winning approach.
---
More GPP Strategy: QB | RB | WR | TE | DEF
---
DraftKings Week 13 Millionaire Winning Lineup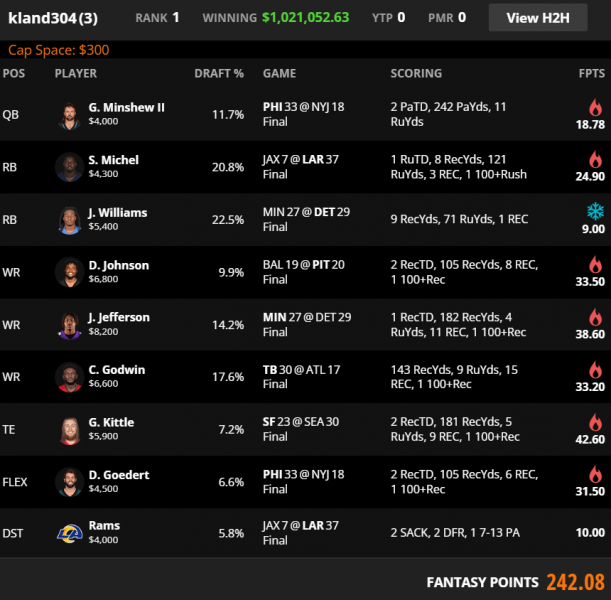 Week 13 was set up as one of the more interesting weeks of the season with a slate full of running back value and upside. With so many running backs projecting well, it was logical that a vast majority of tournament players would use three running backs, setting up an easy way to be contrarian by avoiding that strategy.
It turned out that a little over 60% of Millionaire lineups rostered three running backs but it was a two-tight-end build that took down the tournament. That subtle shift added a layer of uniqueness to a lineup that didn't have one player with a rostered rate below 5%. In addition to flexing a tight end, this week's winning lineup left $300 of salary on the table, the most for any winner this season. These two methods of being contrarian highlight how tournament players can think about separating from the field in terms other than player selection.
This was only the second time all season that the Millionaire winner rostered to running backs in the least 20% of lineups—probably not coincidentally, all of those running backs were $5,400 or less.
Correlation continues to dominate at the top as this lineup only paired the quarterback with a single pass-catcher but included two more mini-correlations. Through 13 weeks, winning lineups are averaging just over five players that are correlated to another player in their lineup in some fashion.
FanDuel Week 13 Sunday Million Winning Lineup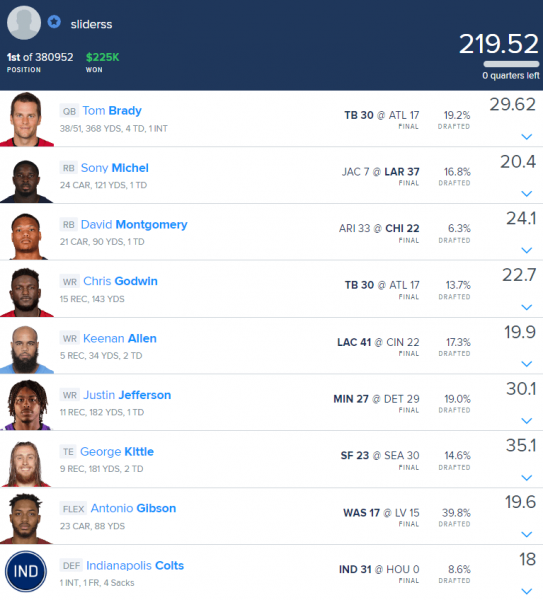 This was easily the chalkiest lineup to take down a Sunday Million, with an average ownership of 17.3% (155.3% cumulative). On the season, winners have an overall average of 11.6% ownership (104.6% cumulative).
On a slate full of running back value, this lineup separated with a sub-10% David Montgomery, whose workload has been as high as any running back's since he's returned from injury but didn't have a monster projection in a game where Chicago was a big underdog. With windy and wet conditions, targeting the rushing attacks on either side made sense.
Rather than leaning heavily on correlation, this week's winner only implemented a QB/WR stack with no other mini-stacks. This is the second time in three weeks that a Sunday Million winner has used two or fewer correlated players in their lineup. Avoiding correlation shouldn't be a primary strategy in tournaments but on slates that are expected to be high scoring, on a site that favors touchdowns, there may be some merit to chasing those scores rather than solely relying on correlated volume for upside.

TJ's Final #Taek
It shouldn't have been too much of a surprise that Week 13 was such a high-scoring DFS week—when there is already a ton of value at the most predictable position and then salaries open up even more with players such as Gardner Minshew and Sony Michel, DFS contests become a game of which roster full of studs hits the hardest. While this is exciting to watch, adjustments, specifically to bankroll management, should be made.
With loose salary structures, it's often best practice to dial back overall money in play in that slate and increase your allocation of money in play to GPPs while decreasing cash game exposure. The edge of advanced players to properly evaluate player values and discern how to allocate salary to each position is effectively stripped away when salaries are wide open. Variance increases on slates such as Week 13, hence the desire for more tournament action.
Another way to approach this is by playing more slates. By playing the early-only slate, for example, DFS players eliminated the uncertainty surrounding the Rams backfield situation and didn't have to wrestle with huge swings associated with that decision.
Since I argued that I want to play less cash-game volume when salaries are loose, it's logical that I generally want to play more of my bankroll with tight salaries. When it's difficult for an experienced player to put together a lineup, imagine what a novice player is going through.