Underdog Battle Royale Picks: Week 1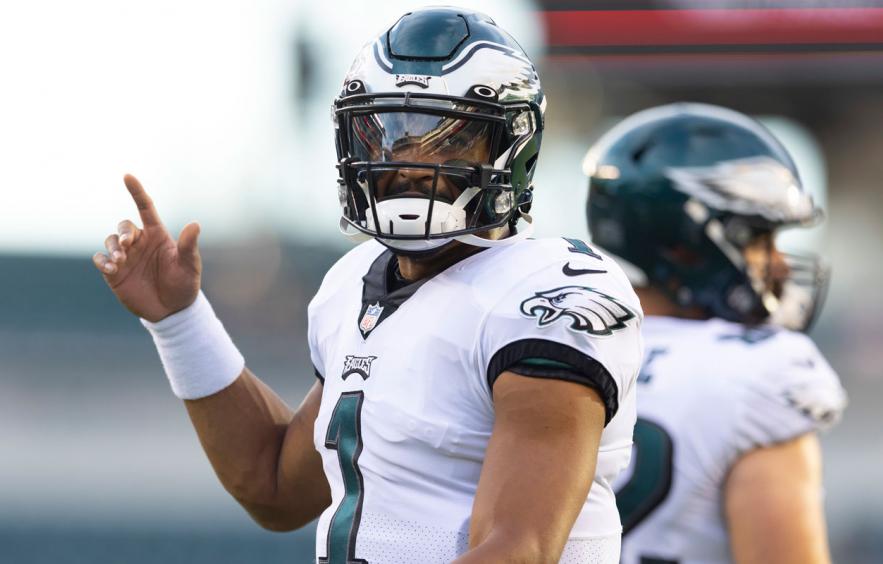 Mitchell Leff/Getty Images
Alas, the time of the year has arrived where we no longer have drafts to look forward to, but rather reveling in our glory our wallowing in our failures as our lineups take to the gridiron for yet another season of fantasy football.
If however the urge to draft is too strong. If it ends up being an itch you can't help but scratch; then the fine folks at Underdog Fantasy are here for you. Last season, Underdog Fantasy introduced its weekly Battle Royale drafts. This format, similar to the weekly contests of the once-beloved DRAFT app, offers you a chance to draft against a week-long league in which the goal is simple - outscore your opponents.
True to their half-PPR format, Underdog's battle royale format offers drafters a chance to cast a $5 lineup into a pool of 22,600 entrants for a shot at a $20,000 grand prize. Each draft consists of a six person pool and plays like a GPP tournament where your lineup needs to bring down 22,599 other teams to come out on top.
You will definitely want to go into these drafts with an awareness of the roster formats, which do vary a bit from Underdog's best ball leagues, as shown below. It will also be important to keep roster ownership in mind, as you very easily find several duplicated lineups with many players likely to be picking from the top of the projection pool.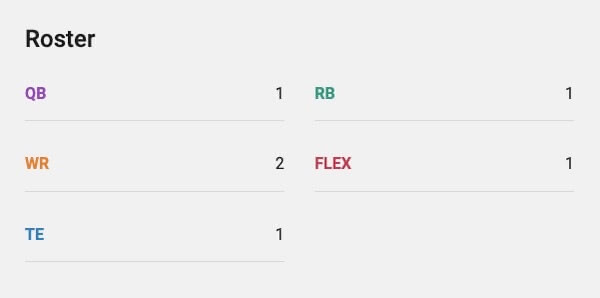 The biggest difference in roster formats for battle royale compared to best ball is the loss of one running back and one wide receiver in your starting lineup. This can make nailing your flex pick all the more vital, but it could also mean that deploying popular DFS tactics such as stacking teammates with one another or finding correlating players in the same game could present additional upside.
Another key component to drafting these teams could come down to Vegas totals.
If the goal is to score fantasy points, then it would make sense that chasing players in games that are projected to be higher scoring could yield a better outcome from a fantasy perspective. There's a reason we want to draft players in the Chiefs vs. Browns game, which has an o/u of 54.5 points, and not players in the Giants vs. Broncos game, which currently has an o/u of 42 on the DraftKings Sportsbook -- the lowest of any total this weekend.
It's not just because the Chiefs and Browns have good players it's because we expect these good players to put up real-life points, which then translates to fantasy points. Some of this could be old news to seasoned fantasy vets, but if there's any time to reiterate these points, it's Week 1 of a new season.
To ensure that we are looking at players in higher scoring matchups, we will look to focus on the highest projected games based on the DraftKings Sportsbook at the time this article drops, which will often be on Wednesdays beginning in Week 2.
Barring any bye week complications, the eight highest game totals will be laid out for the 1:00 PM battle royale contest. We will then point out a few players from those matchups to dive deeper into for the week. This doesn't mean that you shouldn't draft good players who are playing in games that are low totals, but this will hopefully give you a better sense of where upside may lie when building your battle royale rosters.
So, without further adieu, let's get into our totals and players for Week 1 of Underdog's battle royale slate!

Spread and Over/Under
Kansas City (-6) vs. Cleveland - O/U 54.5
Tennessee (-3) vs. Arizona - O/U 52
Indianapolis (-2.5) vs. Seattle - O/U 50
New Orleans (+2.5) vs. Green Bay - O/U 50
Buffalo (-6.5) vs. Pittsburgh - O/U 48.5
Cincinnati (+3) vs. Minnesota - O/U 48
Atlanta (-3.5) vs. Philadelphia - O/U 48
Los Angeles Rams (-7.5) vs. Chicago - O/U 47.5
Quarterbacks
Jameis Winston

, New Orleans

Saints

If there was ever a time to welcome Jamies Winston back to fantasy relevance, it may just be this week. Winston has reclaimed his throne as an NFL starter and appears set for a career revival in New Orleans. Even with star wide receiver Michael Thomas sidelined (ankle), Winston should have plenty of chances to put up fantasy points thanks to Alvin Kamara and the recent emergence of wide receiver Marquez Callaway. In Winston's last full season as a starter (2019), he averaged 18.7 fantasy points per game (QB8) while throwing for 5,109 yards and 33 touchdowns. The concern for Winston is that he loses out on fantasy points to Taysom Hill, but if you view him as a player worth the risk in Week 1, then he should cost you close to nothing at the end of your draft.
Jalen Hurts

, Philadelphia

Eagles

As it stands right now, Underdog has Jalen Hurts projected as the fifth highest-scoring QB on the week at 21.4 fantasy points, just behind Russell Wilson's 21.9 points. We aren't quite as bullish on Hurts this week, projecting him as the QB10 with 19.5 points, but he does have a matchup with the Falcons that we are currently ranking as the second softest of the week behind Jimmy Garoppolo vs. Detroit.

After taking over for quarterback Carson Wentz late in 2020, Jalen Hurts stepped in and immediately became a fantasy football superstar. He posted 19.3 PPG in his Week 14 matchup against the Saints and ran it back the following week against Arizona to the tune of 37.8 fantasy points. In the brief time that he was the starter for Philadelphia, Hurts was the overall QB10 in points per game (23.0).
Running Backs
Dalvin Cook

, Minnesota

Vikings

If you're going to take a shot on a chalky running back play, it might as well be an elite running back with a juicy matchup. And that's exactly what Dalvin Cook is. Cook gets a matchup against the Cincinnati Bengals who ranked 25th in schedule-adjusted fantasy points allowed per game to opposing running backs (22.8) and is ranked as having the eighth easiest matchup for running backs this week. Last season, Cook was the overall RB2 in half-PPR scoring at 22.6 PPG.
Clyde Edwards-Helaire

, Kansas City

Chiefs

Should you opt to pass on a first-round running back, a later shot could be had on Kansas City's Clyde Edwards-Helaire. CEH is projected for 12.9 points in Week 1 over at Underdog. Here at 4for4, we have him projected at 12.5 points.

In addition to offering receiving upside to your fantasy roster (2.8 recs/gm in 2020), CEH and the Chiefs are also favored in this home matchup against Cleveland (-6). If this holds, CEH could contribute multiple ways in this shootout between moving the chains early and running down the clock late.
Wide Receivers
DeAndre Hopkins

, Arizona

Cardinals

In what projects to be the second-highest total on the slate in the Titans vs. Cardinals matchup, wide receiver DeAndre Hopkins has a chance to feast on an underwhelming Titans defense that allowed 36.0 schedule-adjusted fantasy points per game. Per our Week 1 half-PPR rankings, Hopkins has the fifth easiest matchups for wide receivers in Week 1 and is projected to score 15.2 fantasy points. He averaged 10 targets per game last season, along with a receiving line of 7.2/87.9/0.38.
Diontae Johnson

, Pittsburgh

Steelers

Earlier this offseason I highlighted Steelers wide receiver Diontae Johnson as a player who fantasy gamers are valuing incorrectly.

Heading into his Week 1 matchup against the Buffalo Bills, Johnson is projected for 11.2 fantasy points against the Bills, and has a rather difficult matchup. That being said, with the Steelers being 6.5 point underdogs heading into this one, pass attempts could be aplenty in this one.

Last season, Johnson led all Steelers receivers in targets/gm (9.6) and finished the season with a receiving line of 88/923/7.
Tight Ends
Dallas Goedert

, Philadelphia

Eagles

The obvious TE1 now and forever is Travis Kelce. However, if you chose to avoid one of the top tight ends on the slate, Dallas Goedert makes for an interesting pick. Goedert is the projected starter in Philly and gets what should be a relatively soft matchup against the Falcons. He projects as having the third easiest matchup on the Week 1 slate and is projected as the overall TE8 on the week at 8.4 fantasy points.

While the over/under for this game sits at 48, it's not hard to imagine this game going higher than expected.
Kyle Pitts

, Atlanta

Falcons

Sticking with the same game in this one, tight end Kyle Pitts finally has a chance to show us why the Falcons made him the fourth overall pick in this year's NFL Draft.

Much like Goedert, Pitts projects to have an easy matchup on paper, facing off against an Eagles defense that allowed the seventh most scheduled-adjusted points per game to opposing tight ends (11.8). With the departure of Julio Jones this offseason, Pitts has a chance to be the second target in an offense that projects to be top-5 in pass volume. He is likely to be used all over the formation and is a matchup nightmare for any linebacker, cornerback or safety tasked with covering him.

Our weekly rankings project Pitts for 10.0 fantasy points in Week 1.