Trey Sermon is the 49ers Running Back You Want in 2021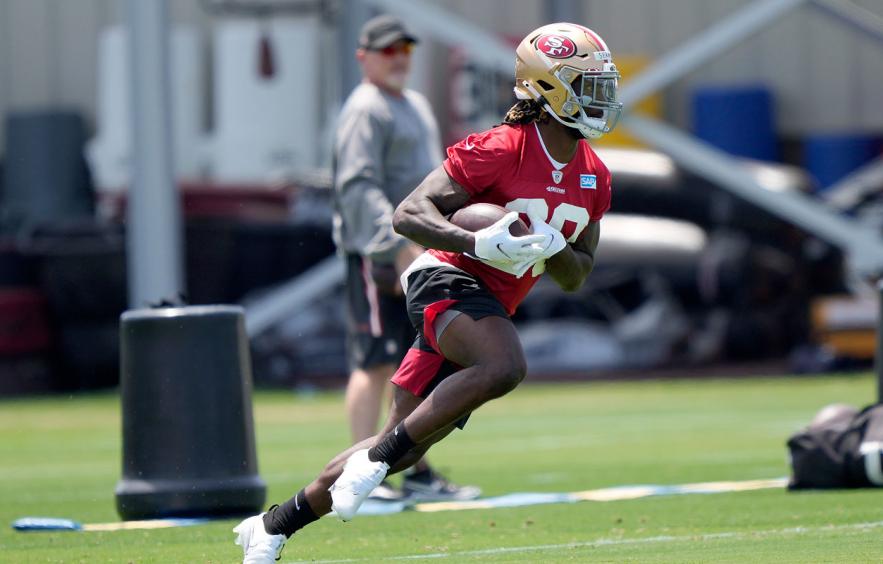 Thearon W. Henderson/Getty Images
By this point in the offseason, you've heard of the "Big Three" rookie running backs from the 2021 NFL Draft class. Najee Harris, Travis Etienne and Javonte Williams are all talented players who should make an impact on your fantasy rosters in year one. A lesser-discussed, but arguably more valuable running back for the 2021 fantasy football season is former Ohio State Buckeye and Oklahoma Sooner, Trey Sermon. The 2021 third-round pick by the San Francisco 49ers has the perfect combination of talent and situation to finish as a fantasy RB2. With a current ADP of RB27 in half-PPR formats, Sermon is being drafted just below his floor, but nowhere near his ceiling for the 2021 season.
---
Editor's Note: Read more player profiles from the 4for4 staff!
---
Trey Sermon

's Rookie Profile

Standing at 6-foot-1, 215-pounds with a 4.57 second 40-yard dash time, Sermon has the physical tools needed to be a productive NFL and fantasy football running back. Sermon also has the college productivity to back up his physical profile. At Oklahoma, Sermon made a definitive impact in the Sooner rushing attack. Sermon's best season came in 2018, which was his sophomore year. Through 14 games, Sermon accumulated 947 rushing yards on 162 rushing attempts (5.8 yards per carry), 13 rushing TDs, 12 catches and 176 receiving yards (14.6 yards per catch).

Pro Football Focus gave Sermon's sophomore season a 90.6 (out of 100) overall grade and he boasts an overall career college grade of 84.5. The most notable takeaway from Sermon's profile is his extremely high zone rushing grade of 88.9. This grade ranks just behind fellow 2021 Draft Class running backs Najee Harris (90.5), Javonte Williams (90.2) but ranks ahead of Travis Etienne (77.6) and Michael Carter (86.2). In terms of zone running, Sermon is in the upper echelon of this draft class.

It's important to pay attention to Sermon's zone rushing grade because it partially explains why he was hand-picked by head coach Kyle Shanahan and general manager John Lynch in the 2021 NFL Draft. Kyle Shanahan is famous for implementing a zone-run offensive scheme, which was pioneered by his father and former Super Bowl-winning head coach, Mike Shanahan. The Shanahans have long been known for their propensity to churn out high-end fantasy-relevant running backs. Since being hired as the head coach of the 49ers in 2017, Shanahan has done nothing but produce points from the running back position for fantasy managers, but where those points come from has been increasingly difficult to predict in recent years.
But What About the Running Back Committee in San Francisco?
In 2017, Carlos Hyde finished as the RB9 in half-PPR formats. Matt Breida finished as the RB25 in 2018, Raheem Mostert finished as the RB24 in 2019, with Jeff Wilson Jr. finishing as the RB30 last season, well below the fantasy RB2 threshold. I'm not spoiling a big secret when I say the San Francisco 49ers backfield is one of the most valuable for fantasy football productivity. There's only one catch: which running back can you start on a weekly basis? For the last three seasons, the answer has been: none.
The offensive snap percentages have varied for the 49ers' running backs over the years. Carlos Hyde had a 70% snap share in 2017. After Hyde's departure via free agency, the snap percentages get messy.
In 2018 the 49ers backfield snap percentages were: Matt Breida (34.5%), Alfred Morris (23.7%), Jeff Wilson Jr. (18.7%) and Raheem Mostert (8.4%). This was the beginning of the infamous San Francisco committee we fantasy managers know and despise to this day.
2019's splits look very similar, with Tevin Coleman (36.1%), Mostert (34.1%) and Breida (23.8%).
In 2020 we saw more of the same from the Shanahan offense, with Jerick McKinnon (34.0%), Wilson Jr. (28.4%) and Mostert (21.7%).
As you can see from the snap percentages, Shanahan has preferred a committee approach in recent years.
The committee has been used recently in San Francisco because Shanahan has not had a running back talented enough to warrant the majority of the snaps since Hyde in 2017. I'm not saying Hyde is an uber-talented running back but, in his prime, he was certainly a better player than the revolving door of average NFL talents in recent years.

Prior to coming to the 49ers in 2017, Kyle Shanahan also orchestrated one of the better offenses in recent memory as the offensive coordinator for the Atlanta Falcons. In 2015, Devonta Freeman finished as the RB1 for fantasy football in half-PPR formats and had a 67.4% snap percentage in the offense. In 2016, Freeman finished as the RB6 in half-PPR with a 58.1% snap percentage. The overarching point here is that we have seen Shanahan run backfields without a committee. For fantasy drafters concerned about Mostert being the lead running back this year, don't be. As you can see by his snap percentages over the last three seasons, Mostert has never cracked higher than a 35% snap percentage in this offense. Combine this information with his injury history and Mostert should only be a complimentary piece to the true lead back in this offense, Trey Sermon.
Sermon Strikes Gold with the
49ers

Backfield Situation

The San Francisco 49ers front office traded up by sending two fourth-round picks to the Los Angeles Rams in exchange for a third-round pick (88th overall) to select Sermon. When an NFL front office trades up for a player at a skill position, it should immediately raise intrigue in that prospect for fantasy football. Draft capital commitments from a franchise are usually an indicator that a player will get as many opportunities as possible, which is exactly what we're looking for in terms of fantasy football. Sermon's player profile meshes exactly with what the San Francisco 49ers are trying to do on offense. Sermon also draws favorable comparisons to current NFL running backs, with Playerprofiler.com comparing him to current New England Patriots running back, Damien Harris. Another popular player comparison for Sermon is former Falcon, Devonta Freeman.

Sermon also reaps the benefit of running behind an offensive line that Justin Edwards ranks as the 11th-best unit in the league, which should provide plenty of open running lanes for Sermon to take advantage of. Sermon has capitalized on other players' misfortunes, as NBC Sport's Jennifer Lee Chan reported that Sermon has shone on the field while taking first-team reps in OTAs. With Wilson Jr. projected to be out until at least November with a torn meniscus and Mostert yet to take the practice field due to injuries, it's easy to see Sermon getting every shot to win the starting job in training camp.
Bottom Line
With Sermon's current ADP of RB27 and a 77.5 overall ADP on Underdog Fantasy, he is screaming "draft me". If you're a Zero RB practitioner, Sermon is your dream come true at that price for his potential production on the field. We've seen fantasy RB2's produced from this offense regularly without a snap percentage above 36.1%. Even if you believe Sermon only gets 40% of the snaps in this backfield as a rookie, that will still be enough for him to pay off at his ADP and finish as an RB2 in your lineup. Sermon is the rare case of a player being drafted at his floor and nowhere near his ceiling. I am taking that gamble every time I draft. I believe Sermon has the potential to finish as a top-15 fantasy running back in this offense in 2021 if he can secure a majority of the backfield work.