Odell Beckham Jr: A Bounce-Back Season is Coming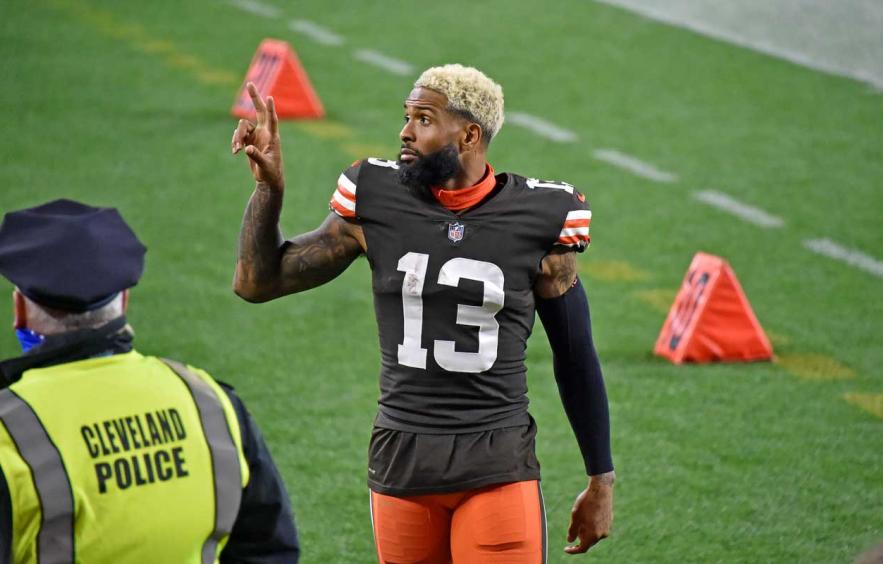 Jason Miller/Getty Images
When Odell Beckham Jr. was traded to the Cleveland Browns back in 2019, fantasy players were foaming at the mouth to see what he could do with first overall pick, quarterback Baker Mayfield. Unfortunately, the duo has been unable to get on the same page throughout Beckham's tenure in Cleveland. The man they call "OBJ" has finished as WR37 and WR34 in half-PPR fantasy points per game in each of the last two seasons. This is a far cry from his first three years with the Giants when he posted 1,300+ yards and 10+ touchdowns each season. Beckham's declining performance coupled with an influx of talent has made him an after-thought at the wide receiver position.
This has created a buying opportunity, as OBJ is currently being drafted as WR28 (59.5 ADP) in Underdog fantasy leagues. Beckham now enters his age-29 season with a chip on his shoulder, ready to prove to the football world that he's still one of the best receivers in the game. Don't underestimate the impact of a motivated athlete. Beckham will be playing in an elite offense with strengths at every level, including an efficient quarterback, dominant running game, elite offensive line, and capable ancillary pass-catchers. He'll be the number-one target for Mayfield in 2021. Let's dive deeper to find out why a bounce-back season is coming for OBJ.
---
Editor's Note: Read more player profiles from the 4for4 staff!
---
Addressing Beckham's Health Concerns
Beckham tore his ACL on October 25 and had reconstructive surgery on November 10. When targeting a player coming off such a significant knee injury, it's important to monitor any updates on his progress in the offseason. Browns beat writer Zac Jackson (The Athletic) reported in June that Beckham was on the field with "no brace or wrap on his knee" during OTAs. In the article, head coach Kevin Stefanski stated that Beckham "looked good," showing the ability to run, jump, and cut at his usual levels. It's always good to hear positive news like this, especially with a player recovering from injury.
Cleveland's Evolving Quarterback and Offense
Baker Mayfield is a different quarterback than the one that Beckham last saw. Mayfield really showed some improvement down the stretch last season. Check out his splits:
Weeks 1-11: 161-of-265 (60.75%), 1,850 yards (6.98 Y/A), 15 TD, 7 INT
Weeks 12-17: 144-of-221 (65.16%), 1,713 yards (7.75 Y/A), 11 TD, 1 INT
Mayfield averaged 36.8 pass attempts per game in his last six games, compared to 26.5 attempts per game in his first 10. This is a trend that continued in the playoffs, where Mayfield completed 61-of-98 (62.2%) of his passes for 666 yards with five touchdowns and one interception. Beckham will have more opportunities to make an impact with the Browns passing the ball at a higher rate. Having said that, we need to acknowledge that this is still a run-heavy offense that runs through Nick Chubb mixed with a bit of Kareem Hunt. Still, the increase in passing volume down the stretch is promising for Beckham's outlook going forward.
Beckham's Role in 2020
It's interesting to note that if you dive deeper into Beckham's numbers in 2020, he had a bigger role than you might expect when looking at his overall production. Beckham played from Weeks 1-6 before tearing his ACL. Consider where he ranked among wide receivers during this sample: 25.0% target share (10th), 33.3% red-zone target share (fourth), 13.5 average depth of target (10th), and 37.71% air yard share (ninth). Those are alpha WR1-type numbers. When you factor in the increase in passing volume shown by the Browns down the stretch, you come away feeling good about Beckham's outlook in 2021.

Bottom Line
Beckham is clearly one of the most talented wide receivers in the NFL. According to Player Profiler, Beckham grades in the 98th-percentile in Agility Score and 95th-percentile in Catch Radius. He's an explosive player who can make it happen after the catch, haul in contested catches, and take a slant to the house. At 29 years old, it's not like he's past his prime. This is a player who put up elite production at an early age, combining for 288 receptions, 4,122 yards, and 35 touchdowns between the age of 22-24. He has a high target share with touchdown equity in an offense that should be among the prolific in the NFL. Beckham looks like the ideal upside pick at WR2, especially if you can pair him with a safe target hog like Stefon Diggs or DeAndre Hopkins. The bounce-back is coming.