NFL Preseason Week 1 Recap: 15 Must-Know Facts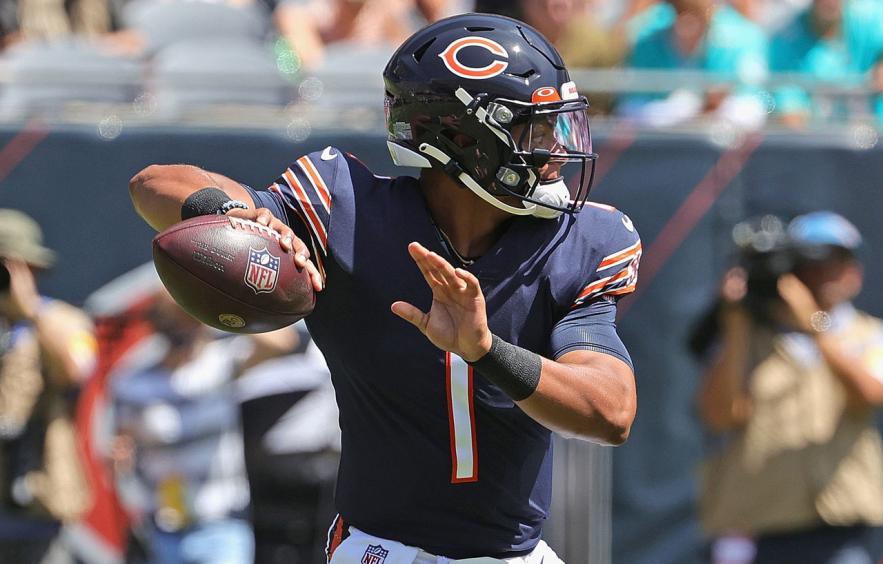 Jonathan Daniel/Getty Images
It's tough to get too excited about preseason football games, especially when they take place on weekend nights during the final days of summer. Week 1 usually offers a series from first-team players, maybe two if we're lucky. But fantasy players need some clarity before the bulk of drafting starts, so that's where I come in. Here's a position-by-position look at how Week 1 went down, so managers can plan and adjust accordingly for the onslaught of upcoming drafts.
---
More preseason resources: Week 2 Takeaways
---
Note: All ADP mentioned is courtesy of 4for4's Underdog ADP tool.
Quarterbacks
Dwayne Haskins looks like a quality next man up: If Ben Roethlisberger's surgically repaired arm doesn't hold up, Dwayne Haskins appears to be in line to lead the QB room. Haskins was impressive, completing 16-of-22 passes for 161 yards and a score, also orchestrating two more touchdown drives. Of course, the backup battle is not over yet, but if you're throwing a dart thinking Roethlisberger's arm may not make it through 2021, Haskins could be that guy.
Jared Goff wasn't off-ful: In limited action, the new Detroit QB got off to a so-so start but got it together to engineer an 18-play drive which included passes to five different receivers. He was 7-of-9 for 56 yards with Tyrell Williams and rookie Amon-Ra St. Brown among his favorite targets.
Prepare the mold for Justin Fields's HOF bust: Mild overreaction, of course, but Fields showed he's ready for the NFL in his first professional game. It wasn't the strongest start for the rookie when he replaced Andy Dalton in the second quarter, but the 22-year-old came alive after halftime. Fields was confident in the pocket, showed strength as a runner and completed 14-of-20 passes for 142 yards and a score, along with 33 rushing yards and a touchdown with his legs. It may be tough to keep the rookie off the field. For now, his Underdog ADP is 133.0 (QB16).
The Broncos' offense may actually be good no matter who's at QB: Denver fans finally got to see the team score some points, regardless of preseason status. Drew Lock completed 5-of-7 throws for 151 yards and two touchdowns, while Teddy Bridgewater added 7-of-8 passes for 74 yards and a score. A major issue with Lock in 2020 was his lack of consistency, so with such a short sample thus far, it's too early to call this QB competition over. The good news for drafters of Denver's other offensive pieces is they are all still fairly cheap in ADP.
Drew Brees's replacement is still TBD: New Orleans had six—yes, six—turnovers in their first preseason game of 2021. Taysom Hill was the starter, but Jameis Winston had the better full series, capped off by an eight-yard score to Lil'Jordan Humphrey. Both QBs threw interceptions, but also made enough decent throws to keep this a legit competition. It's not great for fantasy clarity, but this fight for the Saints' helm should be fun to watch unfold.
If Carson Wentz can't go Week 1, his job is still up for grabs: Both Jacob Eason and Sam Ehlinger made their cases for the gig with neither one emerging as a favorite. Eason closed out his time on the field with a touchdown-scoring drive, while Ehlinger led the Colts to the win with a combination of his arm and rushing prowess.

Running Backs
The Pats backfield is as cloudy as ever, but Rhamondre Stevenson is good: Sure, it was against Washington's backups, but the rookie ran for 127 yards and two touchdowns on 10 carries, which included a 91-yard score late in the fourth quarter.
Late-round flier Darrynton Evans got dinged up: The second-year back is coming off a shortened rookie campaign where he missed 10 games due to a hamstring strain. Evans got the start on Friday night, then injured his knee on the fourth carry and didn't return. It's certainly something to monitor moving forward, as the Titan makes for a great later-round target when healthy due to his place in a high-scoring, run-heavy offense.
Chuba Hubbard was as advertised: Carolina drafted the RB for depth behind Christian McCaffery and after this week it seems they found one with potential. Hubbard appeared to get swallowed by the pile on a short third-down run but somehow emerged for a 59-yard gain, which set up a score for the Panthers. He doesn't have stand-alone value with McCaffrey on the field, but Hubbard is a great handcuff option as the RB58 off draft boards.
Where's the Myles Gaskin panic button? I'm kidding, there's no need to freak out this early, but it is concerning Gaskin only saw five total touches in the preseason opener, while Malcolm Brown started for the Dolphins. Brown carried the ball nine times for a measly eight yards so that's not exactly job-stealing stuff. However, Gaskin's sixth-round ADP hinges on him getting the bulk of the work in that backfield, so we need to monitor this situation moving forward.
Wide Receivers
Remember the name Quez Watkins: With no relation to Sammy, or maybe there is, Watkins may just make a case for himself in an offense in need of playmakers. He exploded for a 79-yard touchdown on a quick screen for Philly on Thursday night, after already turning heads at training camp. He may not be fantasy relevant yet, but keep the sophomore from Southern Mississippi in mind as a flier in best-ball formats.
Rondale Moore's nickname should be Aqua Net: I thought this may be only an '80s reference but I actually looked it up and they still sell the volume producing hairspray in 2021. It was a small sample, but Moore was all over the field on Friday night, as they used him on deep balls, short passes and jet sweeps. The rookie had three catches for 23 yards plus an additional two rushes for 16 yards. His ADP is currently WR58 as a 10th-rounder but I suspect it will climb considerably as the preseason rolls on.
Tutu Atwell is still really fast: The Rams sat all of their first-string guys, which left plenty of opportunities for their rookies to show their stuff. Atwell caught two passes for 21 yards, and also impressively ripped off a long punt return by blowing past coverage, which was sadly called back due to a penalty. Atwell is still small, though, with a crowd of WRs ahead of him on the depth chart. However, if you're in a league that scores return yards, he could be a sneaky add.
Tight Ends
Jacob Harris may really be a thing: The converted WR has been gaining buzz in fantasy circles all summer long and held up to his end of the deal by having a productive opening night. Harris led all receivers with four catches for 43 yards and showed he's fully recovered from the minor core procedure he had done in late July. One thing about Harris this season is he's listed as a WR on some sites and a TE on others, so he could be an interesting option to flex. Of course, if he's involved as much as we think he could be, Tyler Higbee's volume takes a hit.
The fantasy world will have to wait at least one more week for the Lord and Savior, Kyle Pitts: The Falcons held out the rookie TE this week, much to the dismay of those awaiting his NFL arrival. Coach Arthur Smith said the decision to keep him sidelined "wasn't too difficult" and that "Kyle is right on schedule". His ADP is way too high for my liking, but Pitts is currently being drafted at TE4 (47.5 overall).