The Future is Now With Trevor Lawrence (Dynasty Fantasy Football)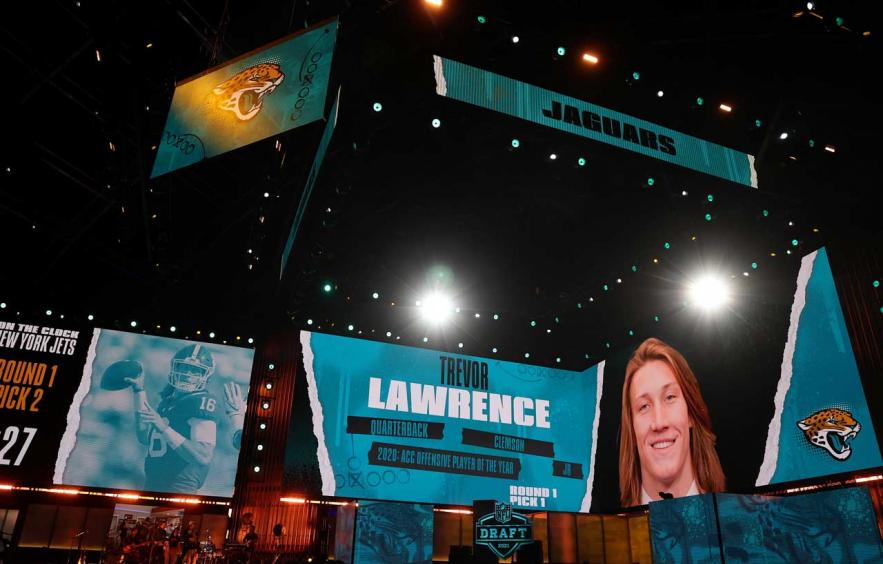 Gregory Shamus/Getty Images
Trevor Lawrence is a value almost everywhere. He's more than just a value—he's a player who can help you win fantasy leagues this year. He can win you a Superflex dynasty league. He can win you an Underdog best-ball league. He can help you win your redraft leagues, whether they are traditional roster or Superflex. I'm guessing I will like his Week 1 pricing on DraftKings.
I may be a little late to the Lawrence party. I do most of my film work after the regular season, but the more I watched Lawrence, the more comfortable I got with the idea of building a dynasty team with him as a core component. The thing is, I think roughly 95 percent of you are already with me on this.
I could get into an in-depth scouting report on Lawrence, but I wouldn't have much to say that hasn't already been said. He's a tremendous prospect and his abilities are proven. Film grinders, such as myself, and analytics gurus alike have signed off on this year's No. 1 overall NFL Draft selection.
---
Dynasty Resources: Rookie Rankings | Valuing Rookie Picks Post-NFL Draft | 16 Dynasty Sleepers | Superflex Dynasty Rankings
---
What to Like About
Trevor Lawrence
He's proven in big spots, and he's played the game at a high level consistently against big-time competition. His arm, while not huge, can make all of the throws you want from an NFL quarterback. He's a plus-prospect in terms of accuracy and timing. He has the size to scan the field with ease and also has the mobility to post foot-points at the next level. While mobile, he scrambles with his eyes up, scanning the field and finding the open targets. Lawrence is a player who's been coached well, and he's clearly accepted coaching—something you have to love. His game is tight and fundamentally sound. All of this and more would have anyone excited about Lawrence, even with a mediocre landing spot, which is the opposite of where Lawrence landed in Jacksonville.
Landing Spot
In a fantasy context, I love the Urban Meyer-coached Jaguars for Lawrence. If we had to evaluate him with a generic landing spot, we might be debating how much Lawrence would run. There would be some enthusiasm because he ran plenty as a collegian and because rookie quarterbacks tend to run a fair amount. The thing is, Jacksonville is not remotely generic.
Meyer is not a bend-the-scheme-to-fit-the-talent coach. He's a "get me the guys who can run my offense" kind of guy. It's one of the reasons I was concerned about James Robinson, despite him posting 16 weeks of high-quality NFL film in 2020. No matter what he did, it wasn't done for Meyer and it didn't happen in an Urban Meyer-style offense.
If you listened to the Rotobahn podcast last year, you heard me complain about the Ravens rotating their backs too much. It wasn't that I was clamoring for any single back to be the lead rusher, I just felt strongly they would be better off making a commitment. The reason I felt this way was because they run so many plays where the QB/RB mesh point is crucial—the more reps a particular pairing has, the better they will be. Maybe I was right. Maybe I was wrong. The thing that matters here is that, on some level, Urban Meyer agrees with me. Meyer values familiarity and reps at the mesh.
Urban Meyer's Offense
When Meyer and the Jaguars took Lawrence at the top, I was already on this train of thought, but what really pulled me into an all-in position was the selection of his Clemson teammate, Travis Etienne, at 25 overall.
As calls of "running backs don't matter" and "reach" cascaded all over my Twitter timeline, I was thinking "Meyer just drafted more than a running back." A few select quotes from Meyer on the spread offense and the RPO (run/pass option):
"The timing between the tailback and quarterback is absolutely essential."
"I don't think our viewers really appreciate what actually goes on between the quarterback and the tailback in what we call the mesh."
"The key to all that [...] is this, the amount of time spent (practicing the mesh) is hundreds and hundreds of reps. When I see teams that dabble [...] You want to see a bad team? Dabble in this (the spread.)"
It does not seem like the 2021 Jaguars have any intention of dabbling in the spread offense and the RPO. It seems they're planning to do quite the opposite, and that's all I need to know to get excited about Lawrence's early-career fantasy numbers.
As I alluded to, the Jaguars and Meyer were not just buying a running back when they took Etienne. They were buying time. As the old saying goes, "time is money."
What good coaching staffs want at the mesh point is a kind of football symbiosis. Think about the rhythm section of a great band or your favorite harmonies. The familiarity of the participants aided in the quality of the end result. The same concept that has fans giddy about the Joe Burrow/Ja'Marr Chase pairing should have those same folks excited about both Lawrence and Etienne. In both cases, the team bought time as well as talent.

The Dynasty Rookie QB1
The question for Etienne is about how long it takes him to get a fantasy-relevant share of the backfield, but with Lawrence, we know his day is coming soon—almost assuredly in Week 1. The big dynasty question for Lawrence is whether he should actually be the QB1 in rookie drafts. I think he absolutely should. There are very smart people calling for Trey Lance and even Justin Fields to jump Lawrence due to their athletic profiles and running styles. Folks think they will run more. Let's think about that for a second.
The 49ers traded an immense amount of draft capital to acquire Lance. Barring a trade up, they won't select in round one again until 2024. They have placed a lot of the organizational eggs in the Trey Lance basket. Shouldn't we at least contemplate a scenario where they do not use him in a student-body-left kind of way? Clearly, he will run plenty, but San Francisco runs the blank out of the football regardless of who the quarterback is. It's possible they show Lance as a ground threat enough to make teams play it, but his running is not embraced at Lamar Jackson levels. It could be used more as a back-breaking element rather than a foundational one. In boxing terms, if the ground game can typically be viewed as a jab, Lance keeping the rock from time to time could be seen as their right hook—less frequent but just as important.
There is another reason to be careful about passing over Lawrence for Lance or Fields. He's a better quarterback with a lower projected bust rate. It's hard to lose sight of just how proven Lawrence is. In the end, that and his own running potential makes it very hard for me to even contemplate leaving him on the board at the top of a Superflex rookie draft.
Some of you may be thinking that as Lawrence becomes more and more comfortable as an NFL quarterback, that he will be used less and less as a runner. Maybe you think Urban Meyer's time in Jacksonville will be over before Lawrence's rookie contract. I think these are both fair points to consider. The thing is, Lawrence's value, even in such a scenario, should still grow in 2021. For our purposes, that's the beauty of Meyer's offense.
Startup Value
If you read my first article as a 4for4 contributor, you know I place enormous value on quarterbacks in Superflex dynasty leagues. Lawrence is the QB7 in Superflex startups based on Dynasty League Football's data, and I'm fine with that. His overall ADP is 9.25. I would not hesitate to use a first-round selection on him in a Superflex startup. Even in a 10-team league, he makes my round-one cut. The only non-quarterback worth considering over him is Christian McCaffrey.
Historical Superflex startup data is a bit of a shape-shifting beast. The game is still evolving and its strategies are more fluid than what we see in single-quarterback formats. My general assessment is that the collective is catching up to the idea that signal-callers are the thing. Just look at the percentage of quarterbacks in the top 10 selections of recent Superflex startup drafts.
2019 = 30%
2020 = 40%
2021 = 80%
There is always a cyclical element to these things, but that is fairly compelling data. What it says is that if you want elite quarterbacks, you better be willing to pay the price. It also says the opportunity cost of going quarterback in round one could be smaller. More elite non-quarterbacks get forced into round two since as many as 10 signal-callers are being taken in round one.
I'm not saying we aren't assuming risk by going all-in on a player with no proven NFL value. We always have to assess the collective risks presented by any player. A lot of Lawrence's risk is about him being unproven. Deshaun Watson has a different kind of risk right now. Aaron Rodgers presents a third type. To my way of thinking, risk is risk and it needs to be assessed on a case-by-case basis.
In addition to everything put forth here, Lawrence does not turn 22 until October. He will have six full seasons in the league before his age 27-28 season in 2027. Unless he suffers a major injury that affects mobility, he should be a mobile quarterback throughout that window.
Now, consider the lifespan of the average dynasty league. In my experience, a good portion of the startups he gets drafted in will be defunct before Lawrence's mobility is. That sets up my last point. Even in the scenario where Lawrence, whether via injury or just mileage, becomes more of a pocket passer, he has the skill set to be a very good one. That gives him floor value that exceeds most other so-called running quarterbacks.
Bottom Line
As I said earlier, I can't think of a fantasy format where I am not interested in acquiring Lawrence. I'm that enthused about his year one fantasy prospects. In redraft, I project him to be a QB1—inside my top 12. In Underdog Fantasy best-ball leagues, he'll be a part of my draft plan and will reside in the same QB1 area.
For dynasty purposes, 2021 is a great year to load up on quarterbacks in rookie drafts. This is a tremendous class for the position. My board has nine compelling Superflex targets, and perhaps a few more worthy of pursuit. You should be able to find a compelling quarterback prospect at almost any point in the first four rounds of a 12-team Superflex rookie draft. Just be careful about taking any of them over Lawrence. He's the most proven and as I have, hopefully, demonstrated, his landing spot should lead to fantasy success right from the drop.
---
Related Articles